Chicken Finger & French Fry Meal Prep
Meal prep fam, we're doing our best. But it can't be all kale and green juices and oat cakes around here. Sometimes you just want a soul-warming nostalgic meal, but maybe without going full crazy-town and undoing all the great work you've done at the gym this week, right? Well, we really did it. We made a chicken finger meal prep, complete with sweet potato oven fries and a dairy-free ranch style dip. YES, it's an easy meal prep version of the delicious kid-friendly classic. But don't think we let you down just because we had some cravings. This chicken finger meal prep is still gluten free, dairy free, and paleo. Yes, you read that correctly: paleo chicken fingers. Are we wizards? Maybe, let's move on.
Chicken Finger & French Fry Meal Prep Nutrition
At only 600 calories and 46 grams of protein per serving, this easy meal prep is an insanely delicious and satisfying option for the kids, for a chilly winter week, or just because you feel like having chicken fingers! We're not judging you, we're joining you. We swapped traditional Russet potato fries for oven baked sweet potato fries, and they're such a perfect complement to these crunchy chicken fingers, we bet you won't even miss the other kind.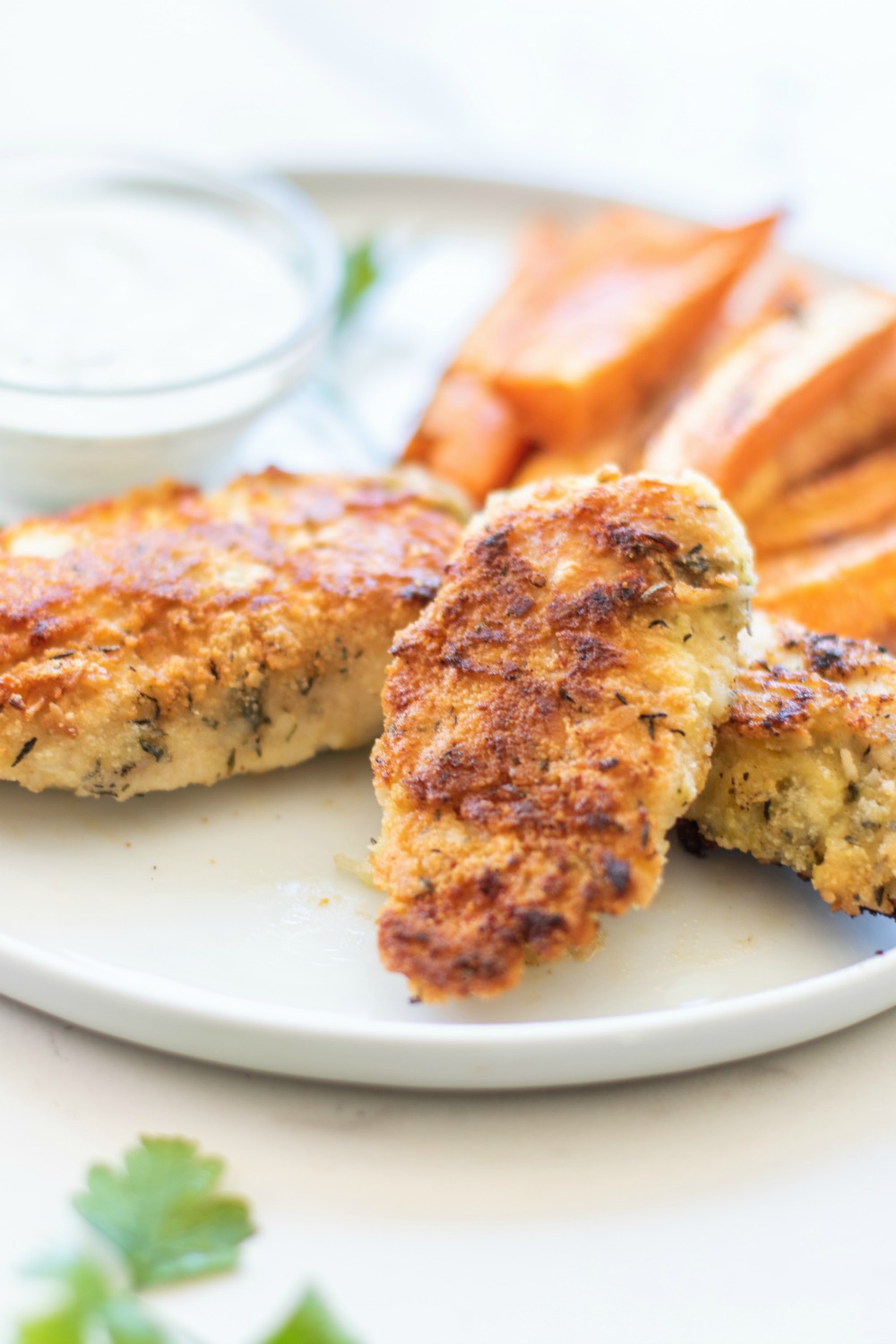 The secret dipping sauce
The secret to flavorful and moist chicken fingers is to let your chicken marinate in seasonings before adding a well-spiced breading. We used garlic, mustard, thyme, and cayenne- a super flavorful blend with just a touch of heat. This paleo chicken finger meal prep uses high protein almond flour and coconut flakes for extra crunch. And if you're a ranch lover, don't skip the dip – we've been told this dairy-free version is "better than ranch dressing." Make some extra to have on hand throughout the week for last minute salads, sandwiches, or wraps. One taste and this easy meal prep is going to be a new favorite in your rotation!
Chicken Finger & French Fry Meal Prep Ingredients:
Chicken Fingers:
1 ½ lbs chicken breasts, cut into 12 thin strips
1 tablespoon olive oil
½ teaspoon sea salt
¼ teaspoon mustard powder
¼ teaspoon thyme
1 egg
½ cup almond flour
2 tablespoons unsweetened coconut flakes
2 tablespoons arrowroot
½ teaspoon sea salt
½ teaspoon thyme
½ teaspoon garlic powder
¼ teaspoon mustard powder
Pinch of cayenne, optional
Sweet Potato French Fries:
2 large sweet potatoes, cut into fries
1 tablespoon olive oil
Sea salt and pepper, to taste
Better-than-Ranch-Dressing:
¼ cup Primal Kitchens Avocado Mayo
2 tablespoons full fat coconut milk
2 tablespoons Italian parsley, chopped
1 clove garlic, minced
¼ teaspoon dill
¼ teaspoon onion powder
Pinch of sea salt & black pepper to taste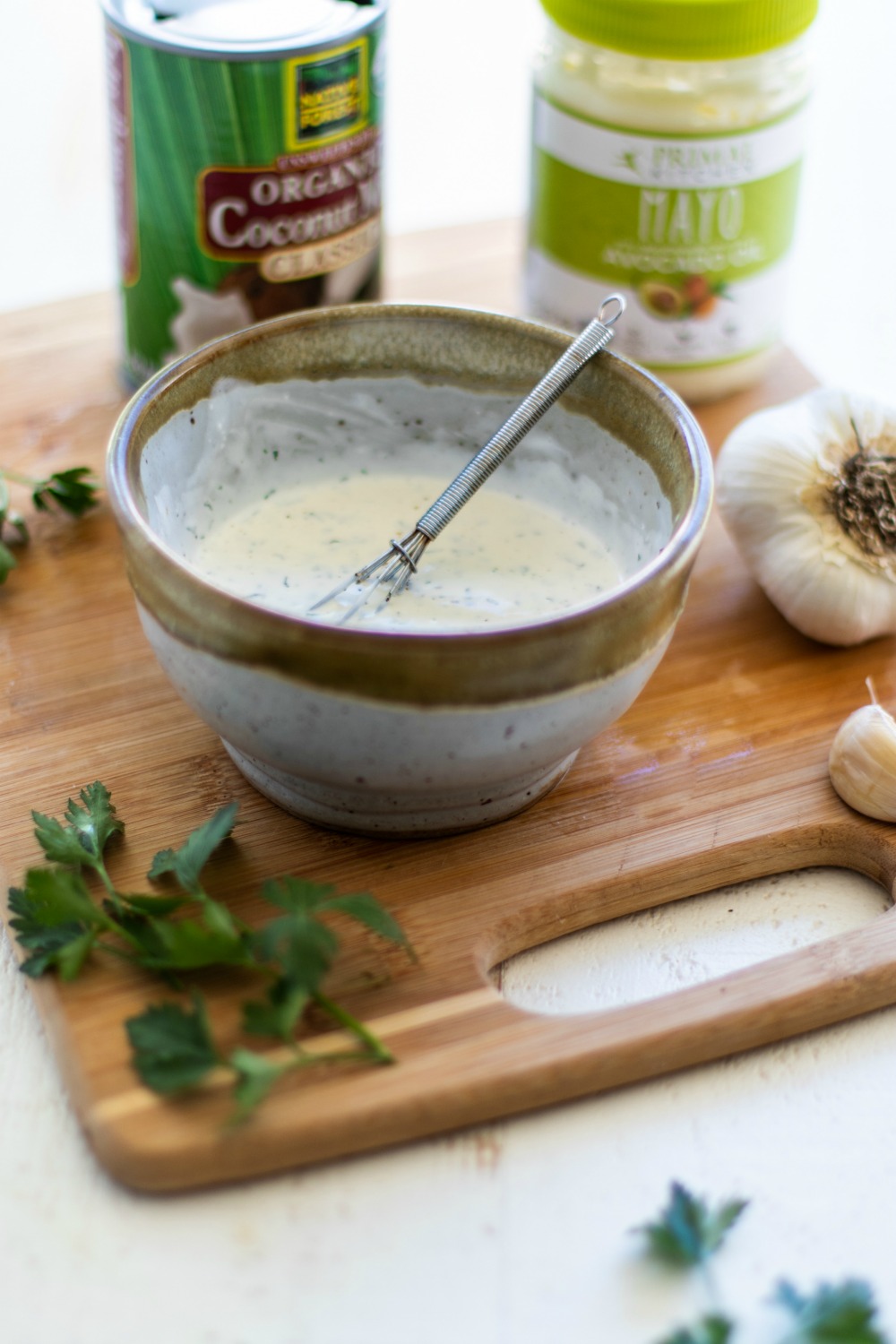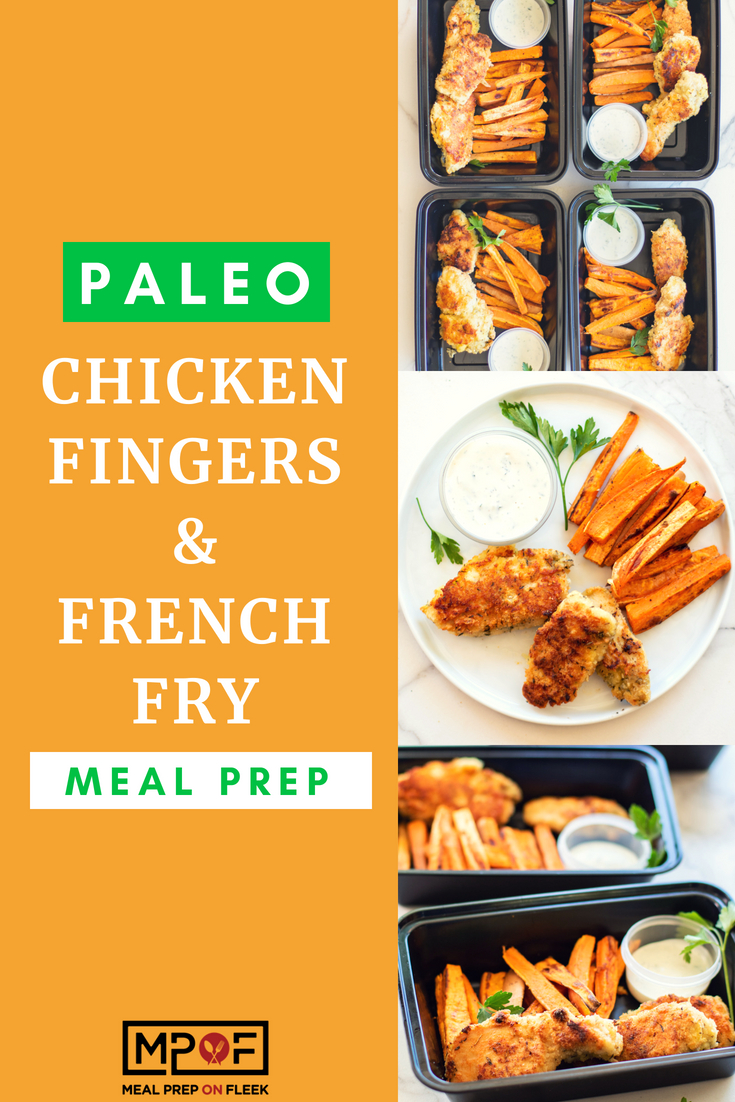 Ingredients
Chicken Tenders
1.5

pounds

chicken tenders

1

tbs

olive oil

1/2

tsp

seas salt

1/4

tsp

mustard powder

1/4

tsp

thyme

1

large

egg

1/2

cup

almond flour

2

tbs

unsweetened coconut flakes

2

tbs

arrowroot

1/2

tsp

Sea Salt

1/2

tsp

thyme

1/2

tsp

Garlic Powder

1/4

tsp

mustard powder

pinch

cayenne pepper

optional
Sweet Potato Fries
2

large

sweet potatoes

cut into fries

1

tbs

olive oil

Salt and Pepper

to taste
Better-Than-Ranch Dressing
1/4

cup

Primal Kitchen Mayo

or can sub Primal Kitchen pre-made ranch dressing

2

tbs

full fat coconut milk

2

tbs

italian parsley

chopped

1

clove

garlic

minced

1/4

tsp

dill

1/4

tsp

onion powder

pinch

salt & pepper
Instructions
Add chicken to a bowl, drizzle with olive oil, and then add sea salt, mustard powder, and thyme. Refrigerate and allow to marinate for 30 minutes or longer. This step isn't a requirement, but the longer, the more tender the chicken will be.

Preheat oven to 450 degrees F.

Add an egg to a bowl, and beat the egg.

Add almond flour, coconut flakes, arrowroot powder, and the rest of the seasonings to another bowl, and mix well.

Coat each piece of chicken first in egg, and then coat well with the almond flour mixture. Place on a cookie sheet, and then repeat with the rest of the chicken.

On another cookie sheet, lay out cut sweet potato fries, sprinkle or spray with olive oil, and season to taste with sea salt and vinegar. Bake for 15 minutes, then remove chicken fingers and flip each one carefully. The coating will seem soft at this stage, but as it continues to cook, it will firm up and brown.

Return the chicken to the oven, and continue cooking another 15 minutes.

Prepare the ranch dressing by whisking all the ingredients together. Serve chicken fingers and fries with ranch dressing or other favorite paleo dip.
Notes
Nutrition for 1 out of 4 servings:
46.4g Protein | 29.6g Carbs | 32.8g Fat | 5.5g Fiber | 603 Calories
Nutrition
Serving:
1
meal
|
Calories:
603
kcal
|
Carbohydrates:
29.6
g
|
Protein:
46.4
g
|
Fat:
32.8
g
|
Fiber:
5.5
g