Chicken finger and French fry meal prep is a classic fast food meal made into a healthy meal prep by making it at home!
Meal prep fam, we're doing our best. But it can't be all kale and green juices and oat cakes around here. Sometimes you just want a soul-warming nostalgic meal, but maybe without going full crazy-town and undoing all the great work you've done at the gym this week, right?
We made a chicken finger meal prep, complete with sweet potato oven fries and a dairy-free ranch-style dip. YES, it's an easy meal prep version of the delicious kid-friendly classic that adults will love, too. (See nostalgia factor, right?) This chicken finger meal prep is still gluten-free, dairy-free, and paleo. Yes, you read that correctly: paleo chicken fingers.
Chicken Finger & French Fry Meal Prep Ingredients
For the chicken
1 ½ lbs chicken breasts, cut into 12 thin strips
1 tablespoon olive oil
½ teaspoon sea salt
¼ teaspoon mustard powder
¼ teaspoon thyme
1 large egg
½ cup almond flour
2 tablespoons unsweetened coconut flakes
2 tablespoons arrowroot starch
½ teaspoon sea salt
½ teaspoon thyme
½ teaspoon garlic powder
¼ teaspoon mustard powder
Pinch of cayenne, optional
For the Sweet Potato Fries
2 large sweet potatoes, cut lengthwise into fry shape
1 tablespoon olive oil
Sea salt and pepper, to taste
Better-than-Ranch-Dressing
¼ cup Primal Kitchens Avocado Mayo
2 tablespoons full-fat coconut milk
2 tablespoons Italian parsley, chopped
1 clove garlic, minced
¼ teaspoon dill
¼ teaspoon onion powder
Pinch of sea salt and black pepper, to taste
Chicken Finger & French Fry Meal Prep Nutrition
At only 600 calories and 46 grams of protein per serving, this easy meal prep is an insanely delicious and satisfying option for the kids, for a chilly winter week, or just because you feel like having chicken fingers! We're not judging you, we're joining you. We swapped traditional Russet potato fries for oven-baked sweet potato fries, and they're such a perfect complement to these crunchy chicken fingers, we bet you won't even miss the other kind.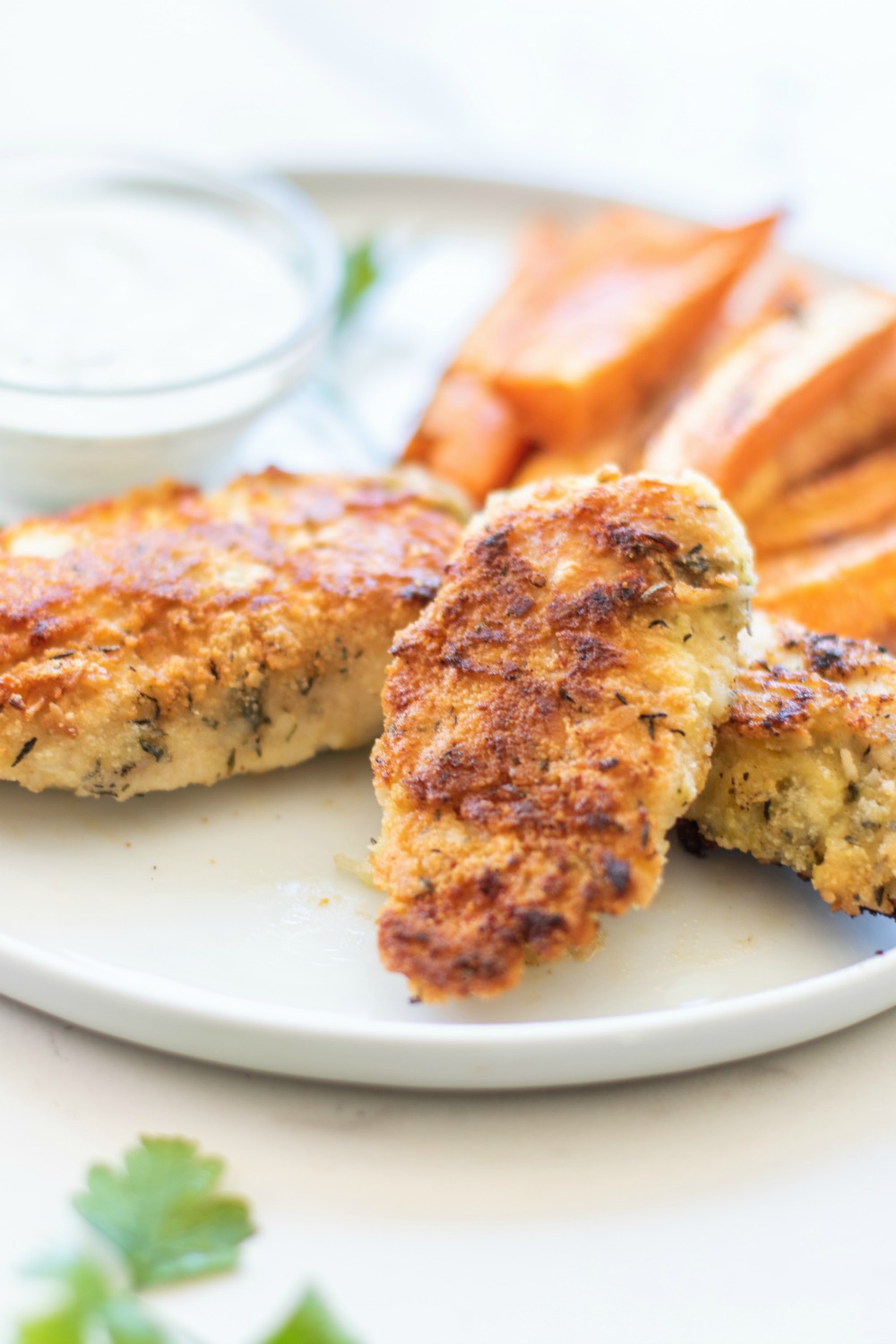 How to Make Chicken Finger and French Fry Meal Prep
The secret to flavorful and moist chicken fingers is to let your chicken marinate in seasonings before adding a well-spiced breading. We used garlic, mustard, thyme, and cayenne, which makes for a super flavorful blend with just a touch of heat. This paleo chicken finger meal prep uses high-protein almond flour and coconut flakes for extra crunch.
And if you're a ranch lover, don't skip the dip; we've been told this dairy-free version is "better than ranch dressing." Make some extra to have on hand throughout the week for last-minute salads, sandwiches, or wraps. One taste and this easy meal prep is going to be a new favorite in your rotation! (The chicken will freeze great, too! There's something to be said for making double batches....)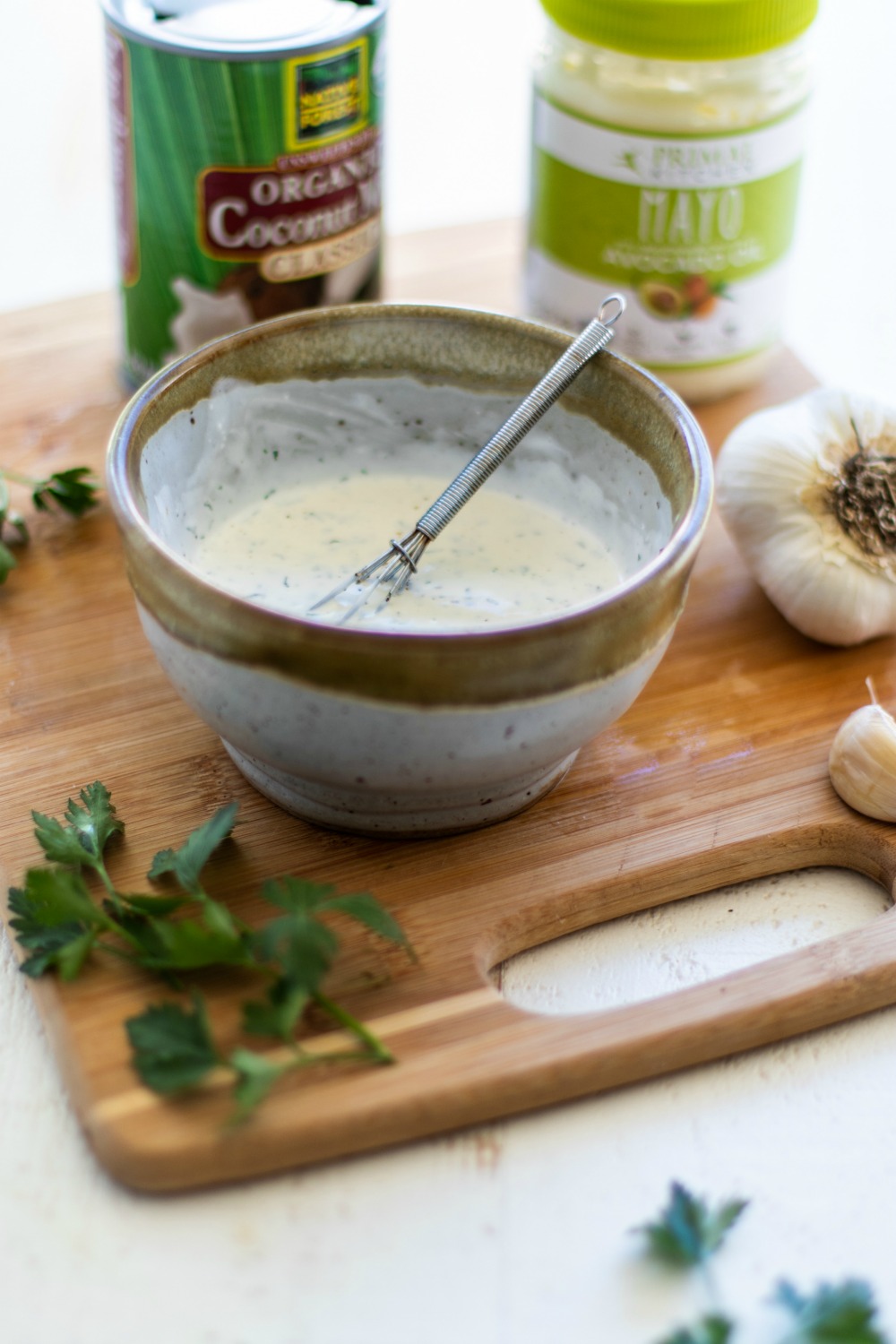 How to Store and Serve Chicken Fingers and French Fry Meal Prep
Once this has been prepped and transferred to airtight containers, store these meals in the fridge for up to 4 or 5 days. Reheat in the microwave if desired or, better yet, in a 350 F oven on a baking sheet, tented loosely with foil so everything doesn't dry out!
Serve it just like this, with the ranch dressing on the side. We like this either some steamed broccoli or a big Caesar salad.
Freeze any chicken you want. Wrap it tightly and date and label it. The chicken will keep in the freezer for up to 3 months. Defrost in the fridge and then reheat, or cook it right from frozen, in the oven, for about 20-25 minutes at 350F.
More Chicken and Sweet Potato Meal Preps