No more dry chicken!
Don't let boring chicken keep you from enjoying meal prep! Add tons of flavor with ease! These 5 Easy Chicken Marinades are easy to put together and can work on almost any kind of protein! Whether you're slow cooking, grilling chicken, or baking it in the oven, keep these marinade recipes on hand for easy access and massive flavor. BONUS, they are all Gluten Free.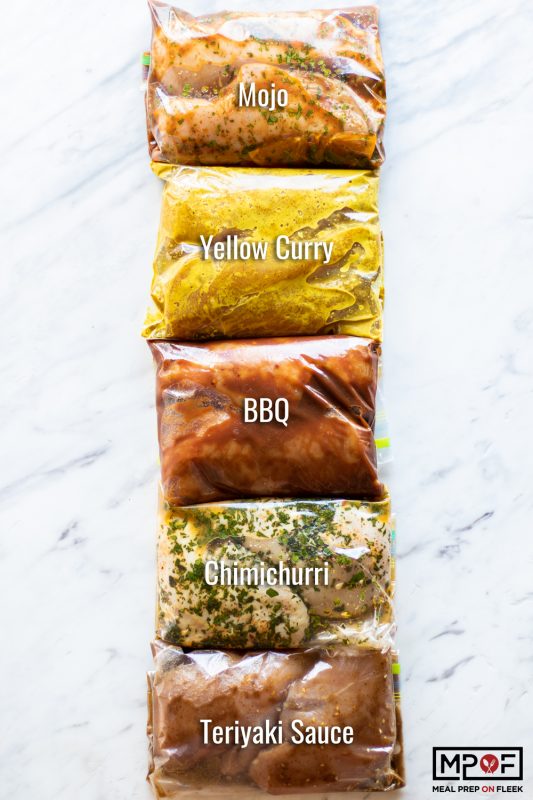 One of the easiest ways to add flavor to otherwise boring chicken is to use a good marinade! We love chicken as a meal prep protein option because it is cheap, low in fat, high in protein and so versatile! But, if you aren't keeping your flavors fresh it becomes that meal you dread!
These 5 Easy Meal Prep Chicken Marinades are the answer to your meal prep dreams! You will go crazy over how incredible all of the flavors are and how easy they are to make!
PRO TIPS:
Use 1 pound chicken breast for each marinade unless otherwise indicated
All marinades are freezer friendly. Seal tightly and freeze for up to 3 months. Let fully thaw prior to cooking.
Marinade chicken for at least 2 hours prior freezing, longer if possible (up to 12 hours).
The marinades can easily be made by whisking the ingredients together in a bowl, or using a blender if you'd like. The teriyaki sauce uses whole dates. If you'd prefer not to use your blender, you can sub honey or date syrup.
For food safety concerns, never freeze chicken twice. Marinade fresh chicken and then freeze.
Chicken should be cooked to 165 degrees.
Once everything is done marinating you can grill, bake, or even cook in a crockpot (minus the chimichurri, which isn't crockpot friendly). The cooking options are endless!
BBQ Marinade:
You can use it in this recipe by swapping out the lentils for the chicken. Or, if you are looking for a vegan option, just skip the chicken and make that recipe with this easy BBQ sauce instead!
Ingredients:
¼ cup tomato paste
1 cup water
2 tablespoons date syrup (sub honey for non-vegan)
1 tablespoon molasses
1 tablespoon white wine vinegar
1 teaspoon paprika
1 teaspoon garlic powder
1 teaspoon onion powder
¾ teaspoon sea salt
¼ teaspoon cumin
Serve this recipe with
roasted potatoes
roasted broccoli
Easy Mojo Chicken Marinade:
Use this gorgeous orange chicken marinade in this recipe and swapping the pork for the chicken. Or, keep it fresh and just go with the pork if you have already marinaded chicken in something else! (this recipe is enough for 2 pounds of chicken)
Ingredients
¼ cup orange juice (fresh squeezed)
2 tablespoons olive oil, divided
2 tablespoons tomato paste
2 tablespoons lime juice (fresh squeezed)
2 tablespoons coconut aminos
1 teaspoon cumin
1 teaspoon sea salt
½ teaspoon chili powder
½ teaspoon oregano
Serve with:
brown rice
black beans
fried plantains
Yellow Curry Marinade:
Give your meal prep flavor and an anti-inflammatory boost with this yellow curry marinade made with turmeric. Use it in this recipe for a fast crockpot meal! You can also swap in beef or pork if desired.
Ingredients
1 tablespoon olive oil
4 cloves garlic, minced
2 tablespoons ginger, grated
2 tablespoons lemongrass, very finely chopped
2 tablespoons cumin
1 tablespoon turmeric
2 teaspoons chili powder
1 ½ teaspoons sea salt
2 cups coconut milk, full fat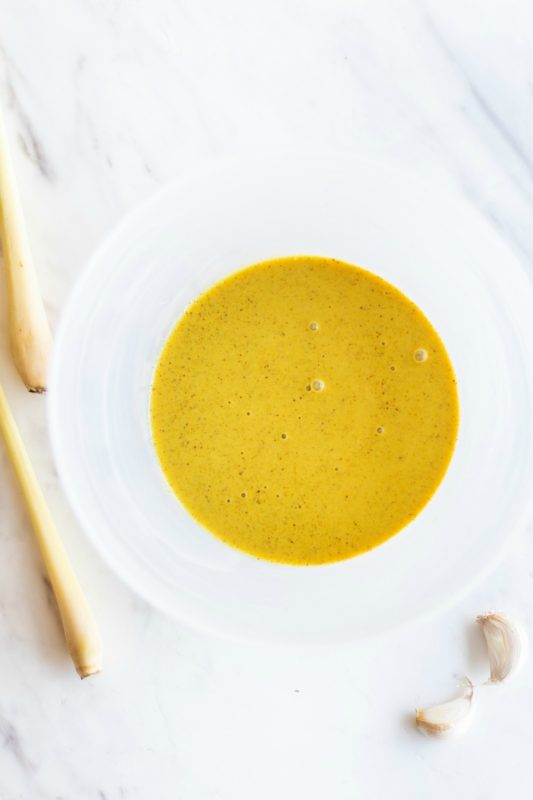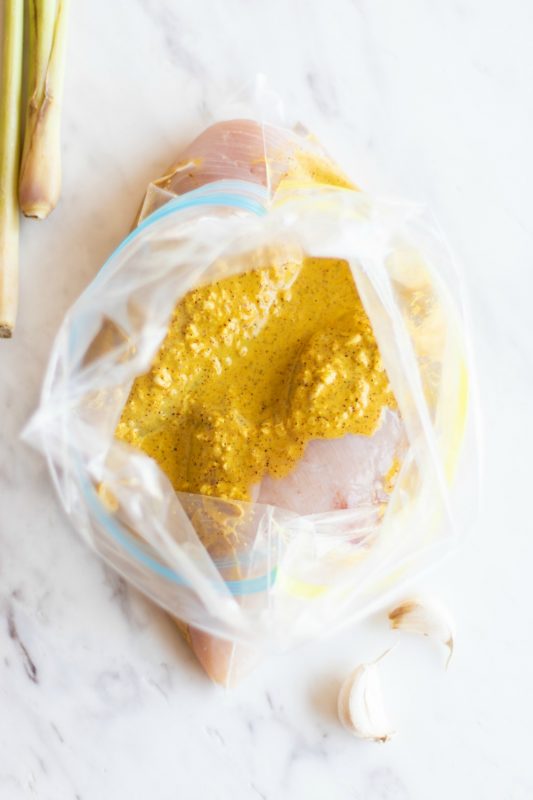 Serve with:
basmati or jasmine rice
riced cauliflower
roasted carrots
Whole30 Teriyaki Sauce:
Use this healthier teriyaki sauce to add tons of Asian flavor to your favorite protein! You can also sub 2 tablespoons of honey or date syrup for the dates if you need a Whole30 sauce, and then it can be hand whisked instead of made in a blender. Give it a try in this recipe by replacing the salmon with chicken. Want fish instead? Keep the recipe as is!
Ingredients
½ cup coconut aminos
2 medjool dates, pitted and chopped
2 teaspoons white wine vinegar
1 clove garlic, minced
1 teaspoon sesame seeds
½ teaspoon arrowroot
½ teaspoon ginger powder
¼ teaspoon sea salt
water, optional, to thin to desired consistency
Serve with:
riced cauliflower
mixed veggies
Chimichurri Chicken Marinade:
This recipe is not recommended for the slow cooker, but is excellent for grilled chicken, baked or fried! Swap the steak for chicken in this recipe.
Ingredients
1 cup Italian parsley, packed
1 tablespoon thyme, fresh, packed
3 tablespoons olive oil
3 tablespoons white or red wine vinegar
1 tablespoon lemon juice
1 clove garlic, finely minced
½ teaspoon sea salt
¼ teaspoon paprika
¼ teaspoon red chili flakes (more of less, to taste)
Serve with:
mixed greens
avocado
sliced tomatoes