Sheet Pan Recipe – Chicken and Asparagus Bowl
We get it, meal prep fam. You're really, super busy in your life, especially if you work or go to school full-time. Just like any other human being, you have to take care of your physical needs in order to perform well, but sometimes it can be extremely challenging to find the time to do things like cook all your meals. But don't let yourself fall into the trap of eating fast food just because cooking is impractical! That's truly one of the coolest things about meal prep—It's a one-and-done solution for those of us who are trying to time-manage our busy lives! This sheet pan chicken and asparagus bowl are easy to make ahead and perfect for any weeknight.
If that sounds like one of the challenges you face, then you will love what we've got cookin' for you today—A chicken asparagus sheet pan meal prep recipe! Using only 4 main ingredients and 25 minutes to prepare and cook, we love this meal prep recipe for its absolute simplicity. Simple doesn't mean bland, though, because the chicken in this meal prep recipe is seasoned with savory oyster sauce and bits of minced fresh garlic! What's more, this is a fantastic option for anyone because it yields large portion sizes, meaning you get more food for when your body needs it, for less effort!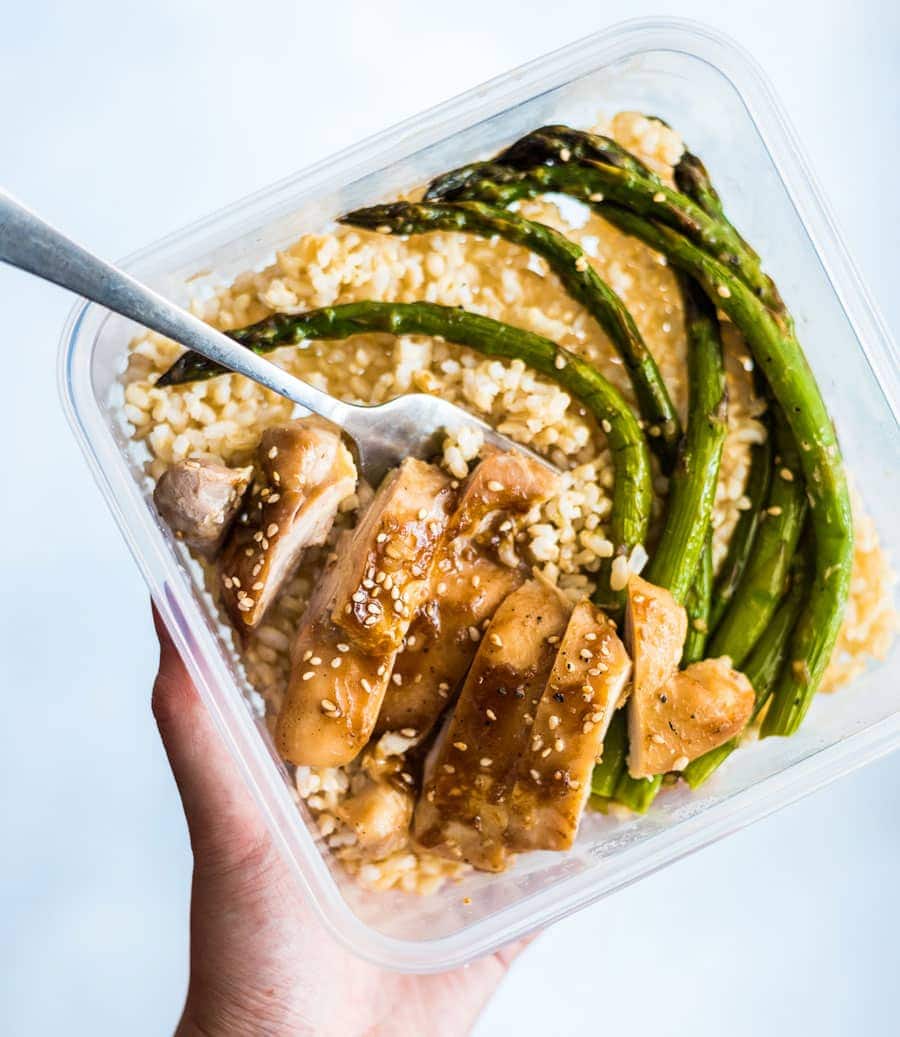 How long will the Sheet Pan Chicken Recipe last for?
In general, a cooked chicken will last about 4 days in the refrigerator when stored properly. This is perfect because this meal prep recipe yields 4 portions—enough for you to eat it once a day if you want!
Can this Sheet Pan Chicken Recipe be frozen?
Yes, it can! Chicken and veggies are great for freezing and should last around 6 months. Just reheat and eat!
How do you make this Sheet Pan Chicken Asparagus?
As we mentioned earlier, one of the best parts of this meal prep recipe is its pure simplicity! To make it, begin by preheating your oven to 425° F. While you wait, line a baking sheet (like one of these fantastic commercial ones from Nordic Ware) with foil, and spray with a thin coating of oil for easy cleanup. Next, arrange the asparagus onto the baking sheet without overlapping. Now place chicken on the stem side of the asparagus,— Remembering not to overlap here as well is important because it ensures uniform cooking! Time to make the seasoning! Do this by mixing oyster sauce and minced garlic in a small bowl, then brush over the chicken and the asparagus. Bake until the chicken is cooked through, which will take about 20 minutes. Serve hot or cold over steamed rice. Delish!
How to portion this Sheet Pan Meal Prep Recipe?
We think this meal prep recipe is best enjoyed in a simple-yet-efficient single-compartment meal prep container! If you're new to this world of meal prep and need guidance, we suggest heading over to our article, Ultimate Guide to Meal Prep Containers.

More Sheet Pan meal prep recipes:
Sheet pan meals are delicious and oh-so-simple, and that's why we love them so much at MPOF! If you want even more of sheet pan meal prep recipes, check out these Zesty Stuffed Poblano Peppers or Sriracha Honey Glazed Salmon, if you're in the mood for something sweet yet spicy!
Other tips for making this Sheet Pan Meal Prep Recipe:
We suggest using steamed brown rice, or any healthy rice alternative (like cauliflower rice!)

Delicious whether served hot or cold!
Sheet Pan Chicken and Asparagus Ingredients
Oil spray
1.5-pound chicken boneless skinless thigh or breast
1 pound asparagus, tough ends trimmed
1/4 cup oyster sauce
2 large cloves garlic, minced
The recipe produces a juicy chicken and tender asparagus combo that is super flavorful. It goes perfect with steamed brown rice or other healthy rice alternatives.
For 35 More Sheet Pan recipes, Click Here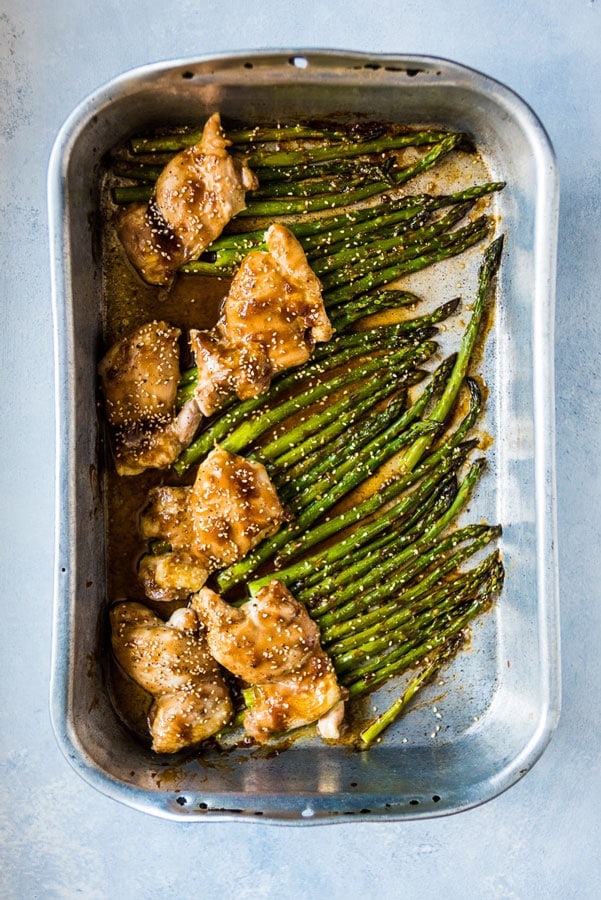 Ingredients
Oil spray

1.5

lbs

Chicken boneless skinless thigh or breast

1

lb

Asparagus

tough ends trimmed

1/4

cup

Oyster sauce

2

cloves

garlic

minced
Instructions
Preheat oven to 425 degrees F. Line a baking sheet with aluminum foil for easy clean. Spray on a thin layer of oil.

Arrange asparagus onto the baking sheet without overlapping. Place chicken on the stem side of the asparagus without overlapping.

Mix oyster sauce and minced garlic in a small bowl. Brush over the chicken and the asparagus.

Bake until the chicken is cooked through, about 20 minutes.

Serve hot or cold over steamed rice
Nutrition
Serving:
1
meal
|
Calories:
241
kcal
|
Carbohydrates:
9
g
|
Protein:
30
g
|
Fat:
11
g