Yummy-yum! Check out or Chicken Zucchini Burgers paleo meal prep recipe! Doesn't this meal look so delicious? And, you cannot tell that these are chicken zucchini burgers because they look like beef burgers. Your friends, family, and coworkers will be surprised as you devour these burgers in front of them. We combine ground chicken thighs, Paleo powder, and grated zucchini to make the burgers. The protein-packed goodness is paired with sweet potato fries and topped with ketchup, mustard, and lettuce to give you all of the burger-joint feels without the beef, fat, and cost. Our Chicken Zucchini Burgers are perfect for lunch or dinner and are ready to heat & eat in our Goodcook Meal Prep containers.

Ground chicken makes a great alternative for these paleo and whol30 compliant Chicken Zucchini Burgers. High protein. Gluten Free.
Chicken Zucchini Burgers Ingredients:
1.5 lbs. Ground Chicken (thigh)

1 cup grated Zucchini (about 1 medium zucchini)

6 Tbsp. Paleo Powder Almond Flax Coating

3 Tbsp. Chopped Parsley

4 Sweet Potatoes

1-2 Tbsp. Avocado Oil

Salt

Fixings: Lettuce Leaves, Ketchup, Mustard, etc.
How long will Chicken Zucchini Burgers last for?
The chicken zucchini burgers will last up to 4 days when properly stored in the refrigerator. Proper storage means putting your burgers in a ziplock bag or storing them in an airtight container after they cool. The sweet potato fries can last up to 5 days in the refrigerator.
Can Chicken Zucchini Burgers be frozen?
Yes! Chicken zucchini burgers freeze well and stay fresh in the freezer for up to 3 months. Feel free to cook up a batch of burgers and prep some sweet potato fries to freeze for later meals. Save time and money!
How do you make Chicken Zucchini Burgers?
For being such an amazing meal, Chicken Zucchini Burgers and sweet potato fries are a cinch to make. Both parts of the meal are baked in the oven on a sheet pan, but not the same one because the burgers cook longer than the fries and go into the oven first. This Paleo meal prep recipe is ready in less than 1 hour.
As mentioned, start with the burgers. Prep the ground chicken and zucchini, then combine with the Paleo Powder Coating in a mixing bowl. Place the burgers on a parchment paper-lined sheet pan and bake in the oven at 375 degrees for 25 minutes. While the burgers cook, cut the sweet potatoes up into fries and coat with olive oil and salt. Bake the fries in the oven for about 15 minutes, flipping and then browning them. All that's left after is cool and store!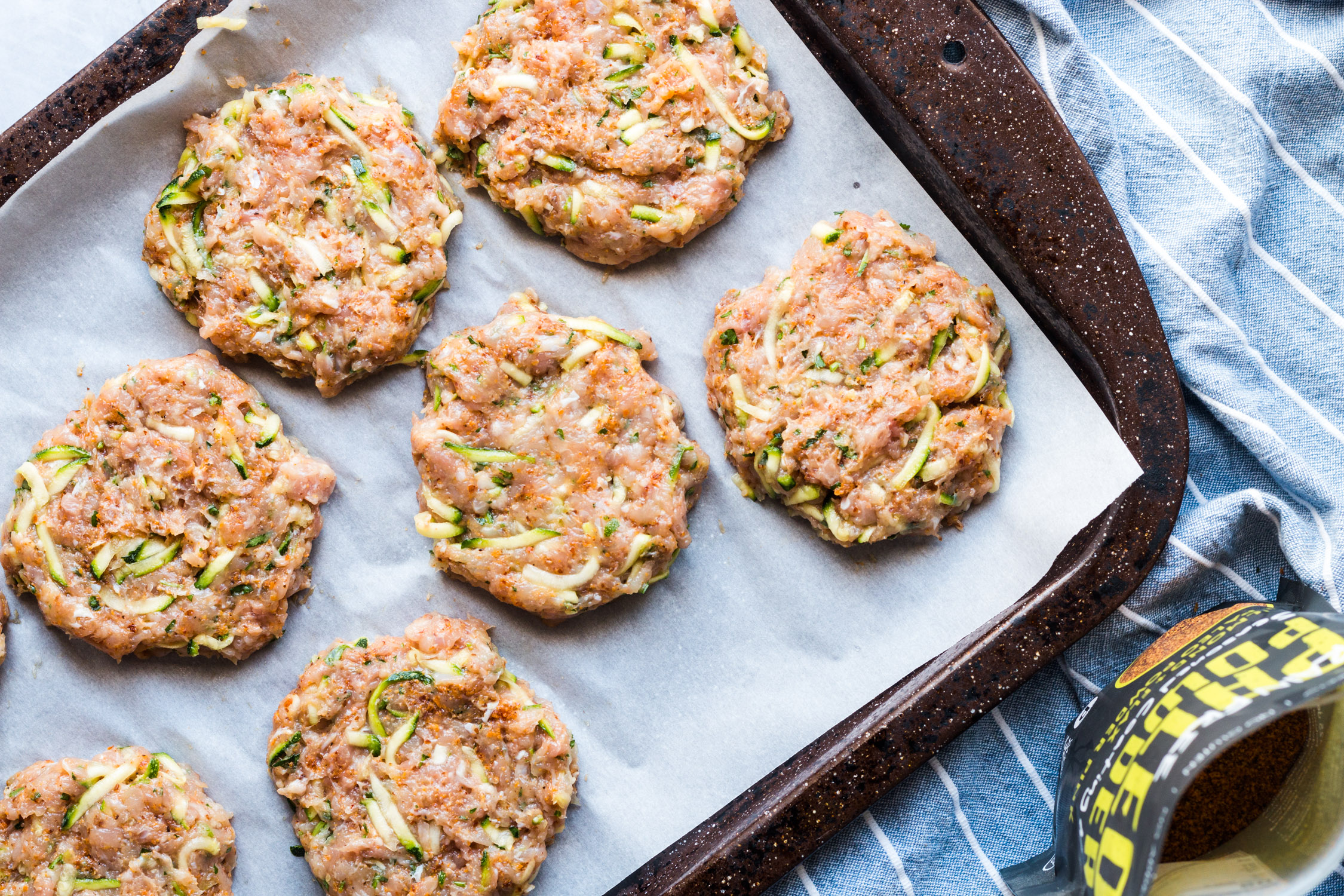 How to portion Chicken Zucchini Burgers?
Store your chicken zucchini burger meal in our Goodcook Meal Prep containers, placing the burgers on top of lettuce to wrap and the fries in the other compartment. Don't forget to pack your ketchup and mustard in dipping sauce cups!
More burger meal prep recipes:
Are burgers your thing? Try these other variations!
Sweet Potato & Black Bean Veggie Burger Meal Prep
Jalapeno Sliders With Sweet Potato Bun Meal Prep
Other tips for making Chicken Zucchini Burgers:
Use fairly firm zucchini. It should feel slightly more flexible than a cucumber.
For a leaner burger, use ground chicken breast. Remember to amp up the flavor since chicken breast is leaner.
Play around with different types of lettuce to wrap your zucchini burgers in.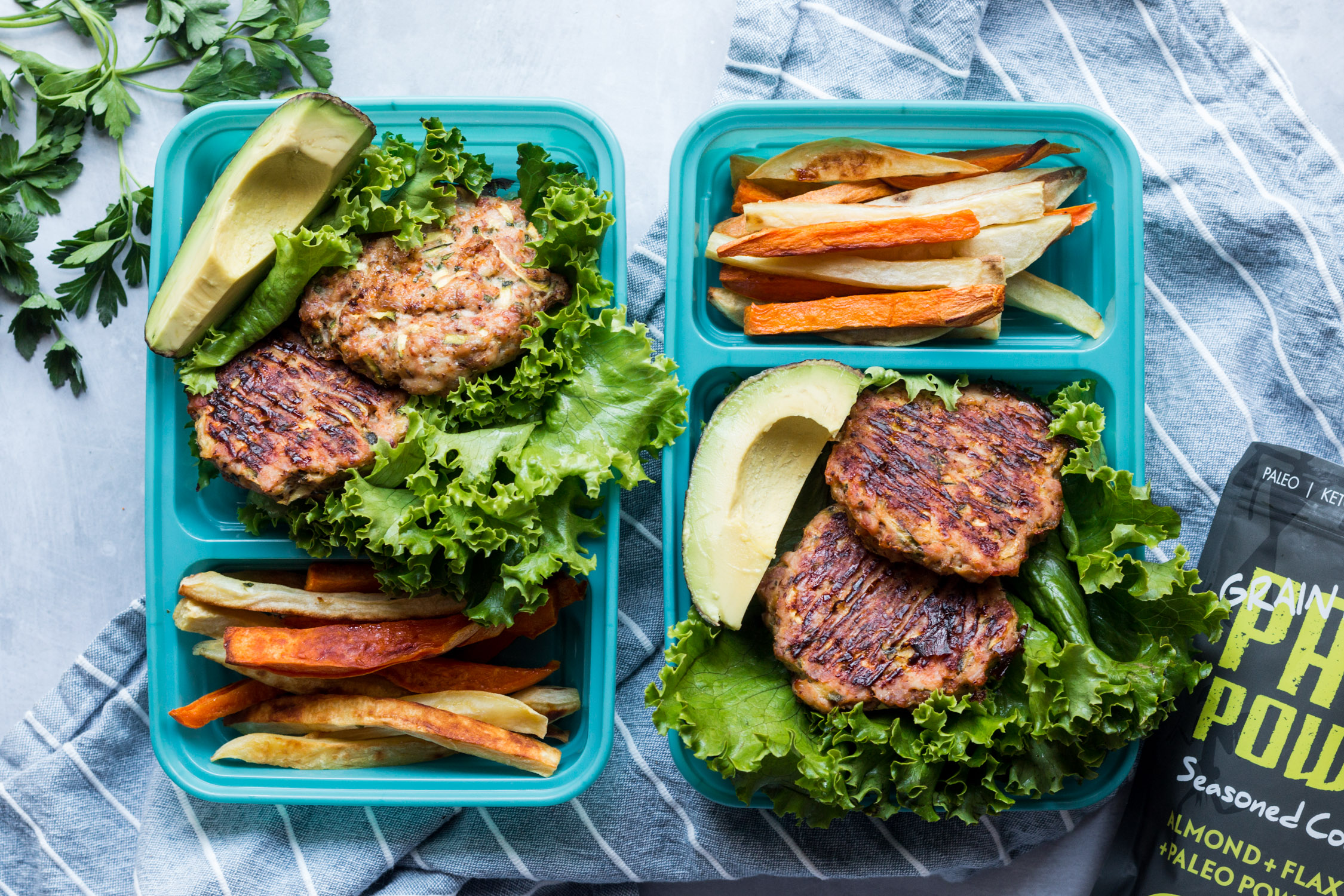 Ingredients
1.5

lbs.

Ground Chicken

thigh

1

cup

grated Zucchini

about 1 medium zucchini

6

Tbsp.

Paleo Powder Almond Flax Coating

3

Tbsp.

Chopped Parsley

4

Sweet Potatoes

1-2

Tbsp.

Avocado Oil

Salt

optional
Optional toppings
lettuce leaves

ketchup

mustard
Instructions
Preheat your oven to 375 degrees Fahrenheit. Grate a zucchini using a box grater. Squeeze out any excess liquid from the zucchini. In a bowl, combine the ground chicken, zucchini, Paleo Powder Coating and chopped parsley. Mix everything together and form the mixture into 8 patties.

Place the patties on a parchment covered sheet pan and bake for about 25 minutes, or until they reach an internal temperature of at least 165 degrees Fahrenheit.

While the chicken burgers are cooking, prepare the sweet potato fries. Peel the sweet potatoes and cut them into fries. Toss them in avocado oil and sprinkle with salt. Bake them in the oven for about 15 minutes, then flip them over with a spatula and continue baking until they are golden. Serve your burgers wrapped in lettuce with your favorite fixings and condiments.
Notes
macros do not include optional toppings such as ketchup, mustard, etc. or the use of salt. 
Nutrition
Calories:
539
kcal
|
Carbohydrates:
55
g
|
Protein:
40
g
|
Fat:
15
g
|
Fiber:
10
g