Pork Burger Meal Prep (Keto – Whole30 – Paleo – Gluten Free)
Here at MPOF, needless to say, we love veggies. But nothing is better than in-season veggies, and that's why we're so excited to show you today's pork burger meal prep recipe! Farm-fresh flavors come together in this dish, combining a seasonable grilled eggplant bun, fried egg, pork patty, zucchini, and a rich homemade pesto.
Let's talk nutrition, meal prep fam! First of all, our primary seasonal ingredient, eggplant is chock full of healthy goodness—Containing potassium, fiber, and vitamins C, plus B6, the nutrients in eggplant have been known to reduce heart disease by 34%! Eggplants also contain flavonoids that help lower blood pressure and reduce the risk of heart disease and stroke! You're welcome. =)
When you want to meal prep burgers but also want to stay on track with your Whole30… Get creative with your grilling! These pork burgers are topped with grilled zucchini and sandwiched in an eggplant bun. A delicious Whole30 (and Keto) compliant pesto and a fried egg put them over the top!
Healthful ingredients
Zucchini, our secondary seasonal ingredient, also boasts an impressive number of health benefits. These benefits include the regulation of cholesterol levels and lowered blood pressure, and can even include healthy weight loss!
One of our favorite flavors in this pork burger meal prep recipe is the egg! While you are certainly free to cook it any way you like, we recommend sunny side up—The rich flavor of the yolk pairs wonderfully with the pork! Did you know that eggs are totally nutrient-rich? In each egg, you get 6.5g of protein and almost 200mg of healthy cholesterol. Eggs are also rich in choline, an essential nutrient that is vital to a healthy brain, liver, and immune function.
Whoever said burgers were unhealthy never had this dish before! This pork burger meal prep recipe is actually a trifecta of dietary compliance—You can eat it whether you're on keto, paleo, or Whole30! The primary reason for this is that unlike the traditional cheeseburger, this pork burger lacks any kind of dairy. Dairy is neither Whole30 nor paleo compliant primarily because whey, a naturally-occurring dairy protein, causes insulin in the body to spike.
We were incredibly impressed with the protein and fat content in this pork burger meal prep recipe! For a single serving of one burger, you get a whopping 39g of protein and 45g of healthy fat! Ketoheads, we see you jumping for joy over there! ?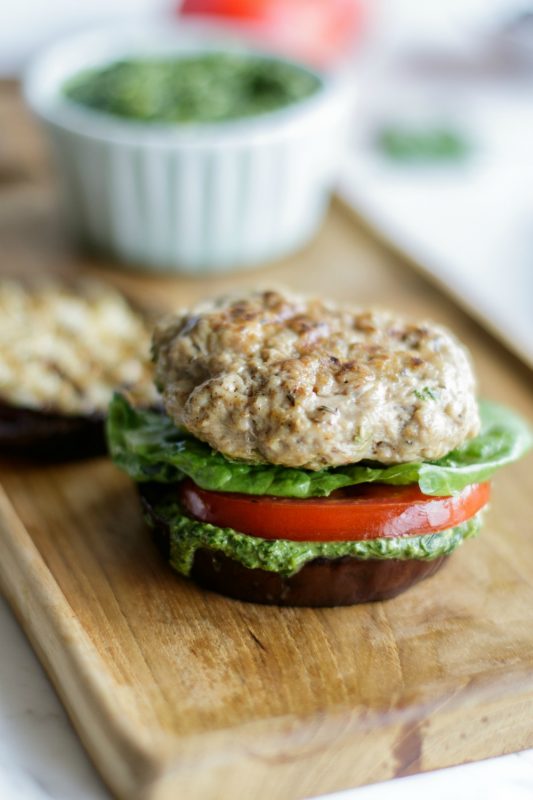 This meal prep recipe makes 4 juicy, delicious pork burgers. If you're planning on making these as one of your meal prep options this week, consider using fresh eggplant, or lettuce as a wrap, instead of the grilled eggplant. We found the grilled eggplant lasted around 3 days, while the lettuce or fresh eggplant lasted around 4. With the eggs, also be sure to fully cook them; otherwise they will spoil and discolor after a few days. Mustard is, of course, a compliant condiment, just be certain that there is no added sugar.
No matter what dietary program you're following, we're certain this pork burger meal prep recipe will satisfy you in only the healthiest way. If you love burgers as much as we do, consider making this Sweet Potato Black Bean Veggie Burger meal prep recipe, or even our Cheeseburger Pizza Chicken meal prep recipe, for a fun twist on the traditional.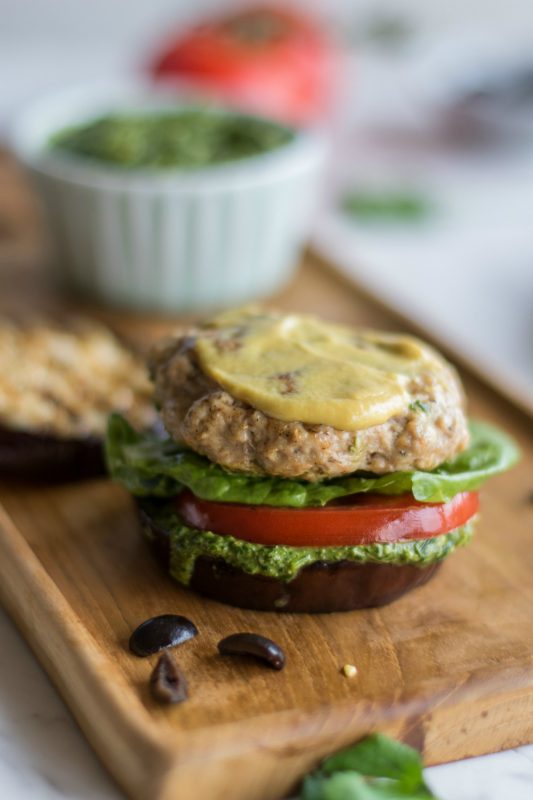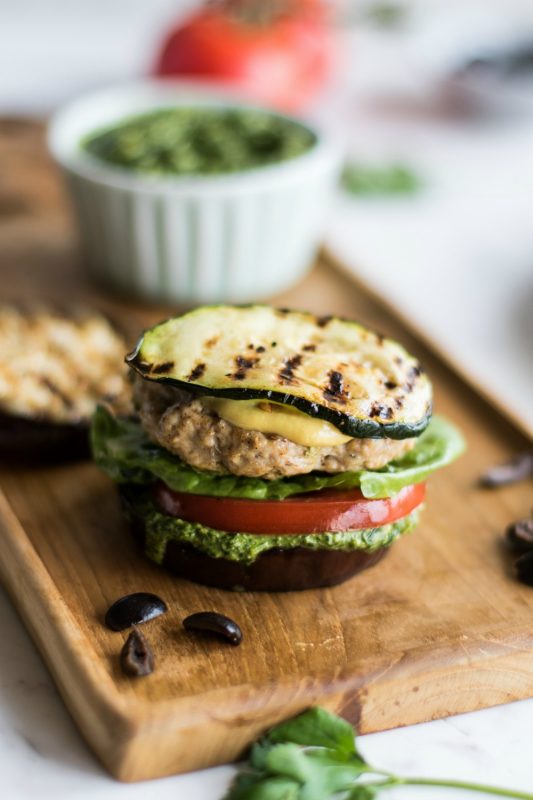 Whole30 Pork Burger Meal Prep Ingredients:
Whole30 Pesto:
4 cups fresh basil
3 tablespoons olive oil
2 tablespoons lemon juice
2 tablespoons walnuts
Garlic, minced, to taste
Sea salt, to taste (⅛ teaspoon, or more)
Pork Burgers:
1 pound ground pork
½ teaspoon sea salt
½ teaspoon thyme
½ teaspoon paprika
Black pepper, to taste
1 eggplant, cut in ½ inch round slices
½ zucchini, cut in thin slices
1 tablespoon olive oil, for grilling
Sea salt and pepper, to taste
1 tomato, sliced
4 leaves lettuce
4 eggs, cooked to liking*
Olives, optional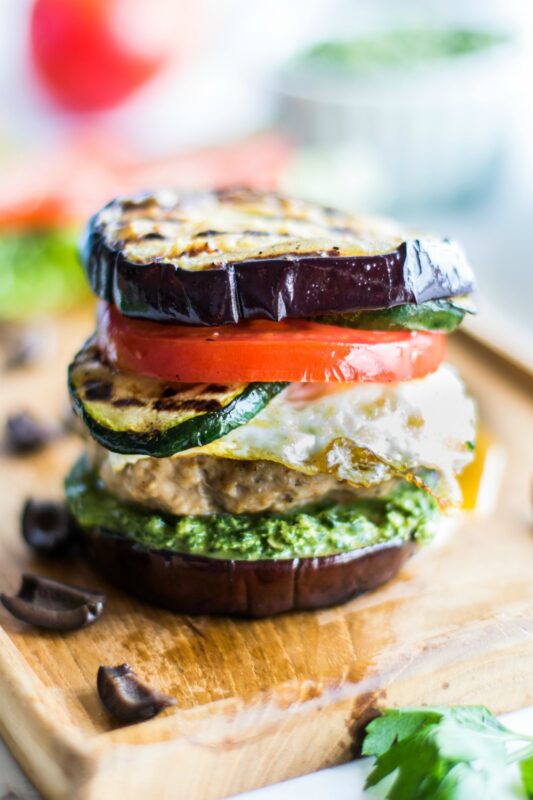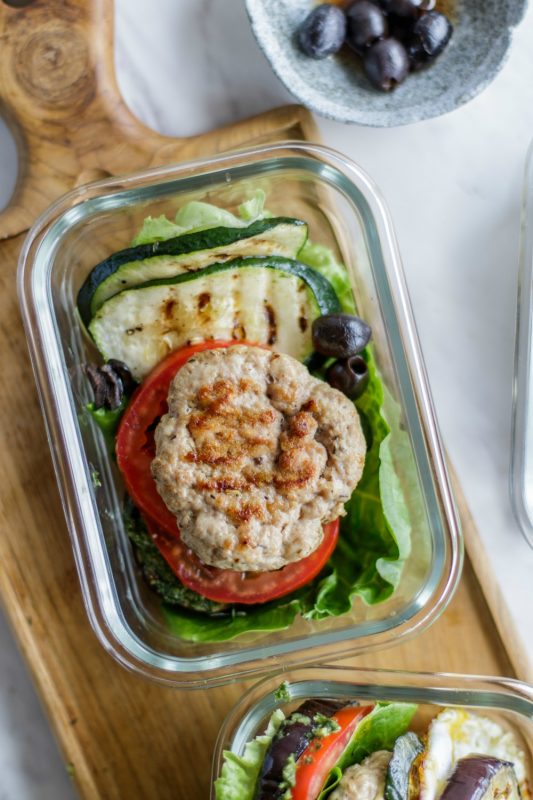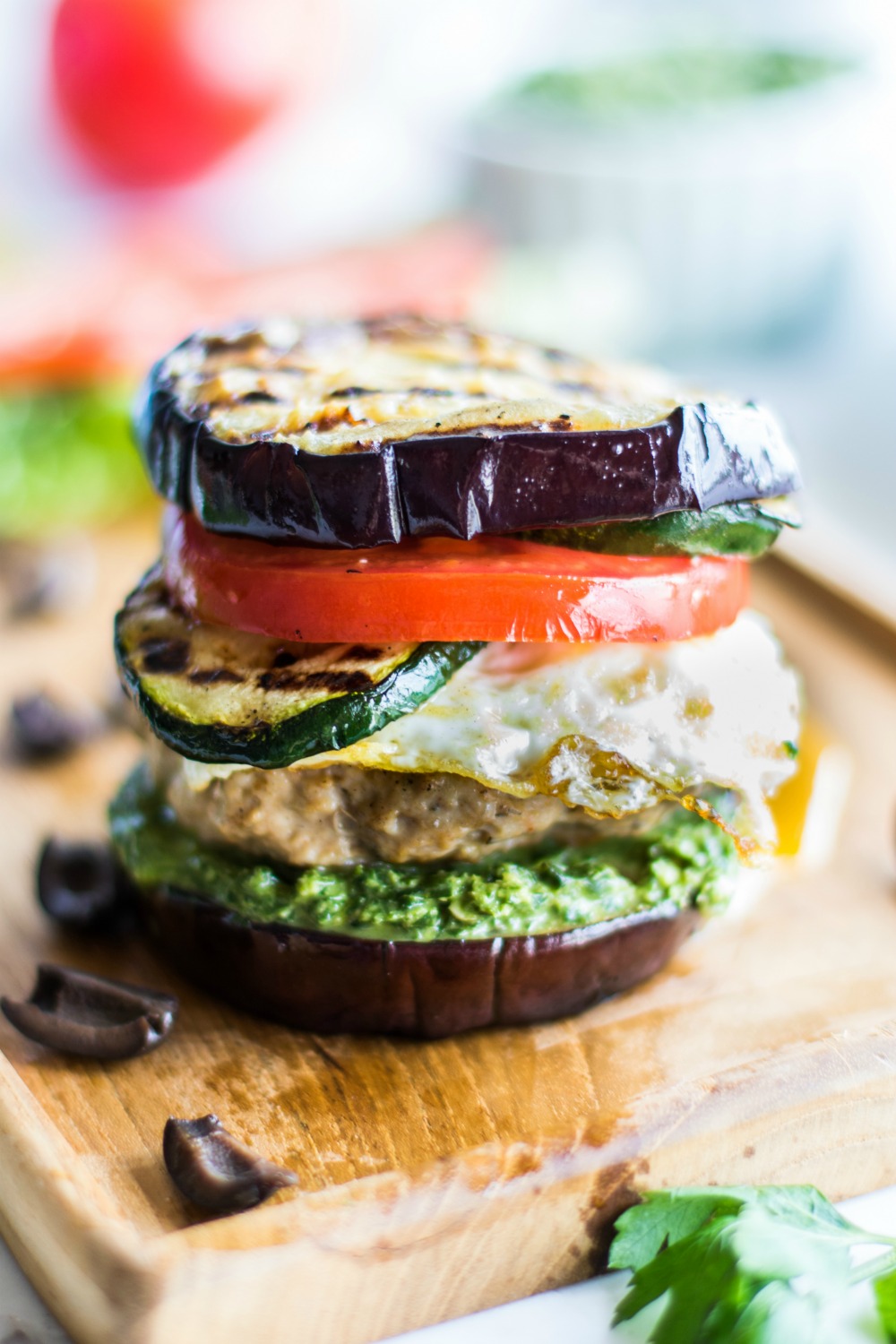 Ingredients
Whole30 Pesto
4

cups

fresh basil

3

tbs

olive oil

2

tbs

lemon juice

2

tbs

walnuts

garlic

minced, to taste

salt & pepper

to taste
Pork Burgers
1

pound

85% ground beef

1/2

tsp

Sea Salt

1/2

tsp

thyme

1/2

tsp

paprika

black pepper

to taste
Other
1

eggplant

cut into 1/2 inch rounds

1/2

zucchini

cut into thin slices

1

tbs

olive oil

for grilling

salt & pepper

to taste

1

tomato

sliced

4

lettuce leaves

4

large

eggs

cooked to liking

olives

optional (not included in nutrition facts)
Instructions
Prepare pesto by adding all the ingredients to a food processor, and processing until the basil is broken down into a smooth mixture. Adjust garlic and sea salt to taste.

Prepare the pork burgers by mixing in the seasonings, and forming 4 patties.

Prepare the grilled eggplant and zucchini by spraying or brushing each piece with olive oil, and lightly seasoning with sea salt and pepper.

Grill the eggplant for 7-8 minutes on each side over medium heat on a BBQ. If the eggplant is charring too quickly, move away from the heat. The eggplant needs to cook until well softened.

Grill the zucchini quickly over high heat, and set aside.

Grill the pork burgers over high heat for 4-5 minutes per side.

Assemble burgers using the eggplant as buns, and the pesto as a healthy Whole30 compliant condiment. Dijon mustard (check for sugar added) also makes a great addition.
Notes
Nutrition for 1 out of 4 meals:
39g Protein | 10.8g Carbs | 45g Fat | 6g Fiber | 603 Calories
Notes:

These are also great as lettuce wraps. The eggplant holds up well for 3 days, but consider using fresh eggplant or optionally wrapping in lettuce if you keep these for 4 days.
*If meal prepping an egg, fully cook the eggs that will be stored for more than a day. Undercooked eggs will discolor if kept for several days
Nutrition
Serving:
1
meal
|
Calories:
603
kcal
|
Carbohydrates:
10.8
g
|
Protein:
39
g
|
Fat:
45
g
|
Fiber:
6
g