Carrot Cake Pancakes
Are you looking for a quick, nutritious breakfast for those crazy mornings? Well, you're in luck! We have a delectably healthy meal prep pancake recipe. Our easy Carrot Cake Pancakes recipe is the nutritious morning pick up your body needs and that you will enjoy.
Carrots have so many health benefits. They're packed with antioxidants and vitamins that support you throughout the day. The nutrients provided metabolize into Vitamin A. Vitamin A supports vision, immunity, and reproduction. It also supports vital organs like the lungs, heart, and kidneys. All of these health benefits make carrots the perfect food for those busy mornings.
We're excited to share this meal prep recipe with you! Carrot cake is is a dessert that is usually enjoyed around Thanksgiving. We assume that's the case because of the aromatic spices and sweetness that pair with the holiday. But with our Carrot Cake Pancakes recipe, you can enjoy dessert for breakfast guilt-free! So let's get right into the recipe, shall we?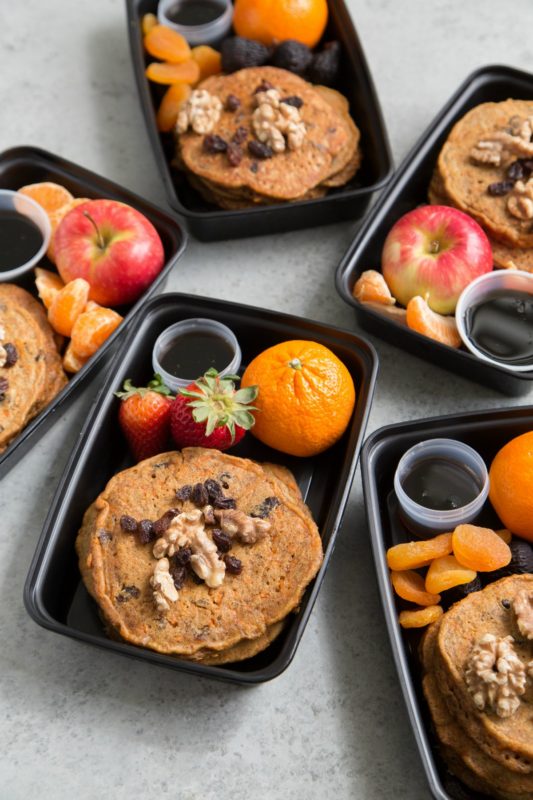 How long will these last for?
Cooked pancakes last for up to 4 days. The best way to store your Carrot Cake Pancakes is to put them in an airtight container and store them in the refrigerator.
Can Carrot Cake Pancakes be frozen?
They sure can! This meal prep pancake recipe yields 8 servings, so you may want to freeze the rest. Carrot Cake Pancakes will last for 2-3 months in the freezer. The most efficient way to store pancakes in the freezer is to use plastic gallon freezer bags. Here are some high-quality reusable freezer bags on Amazon.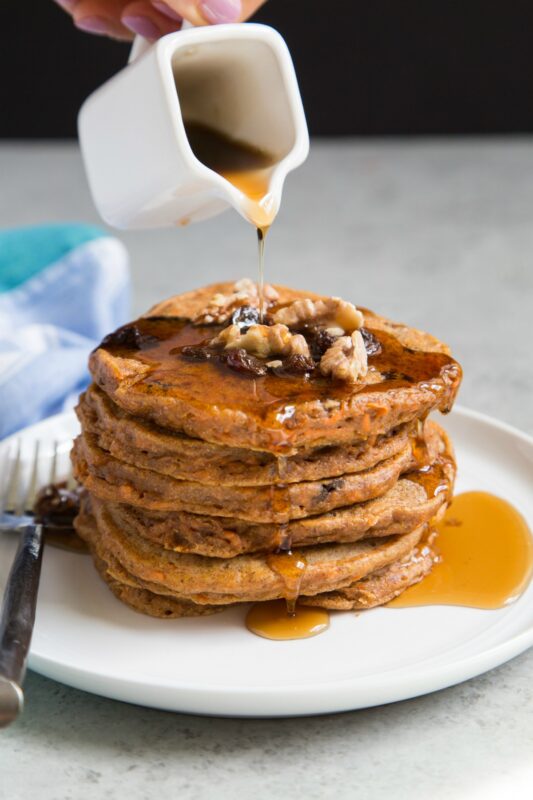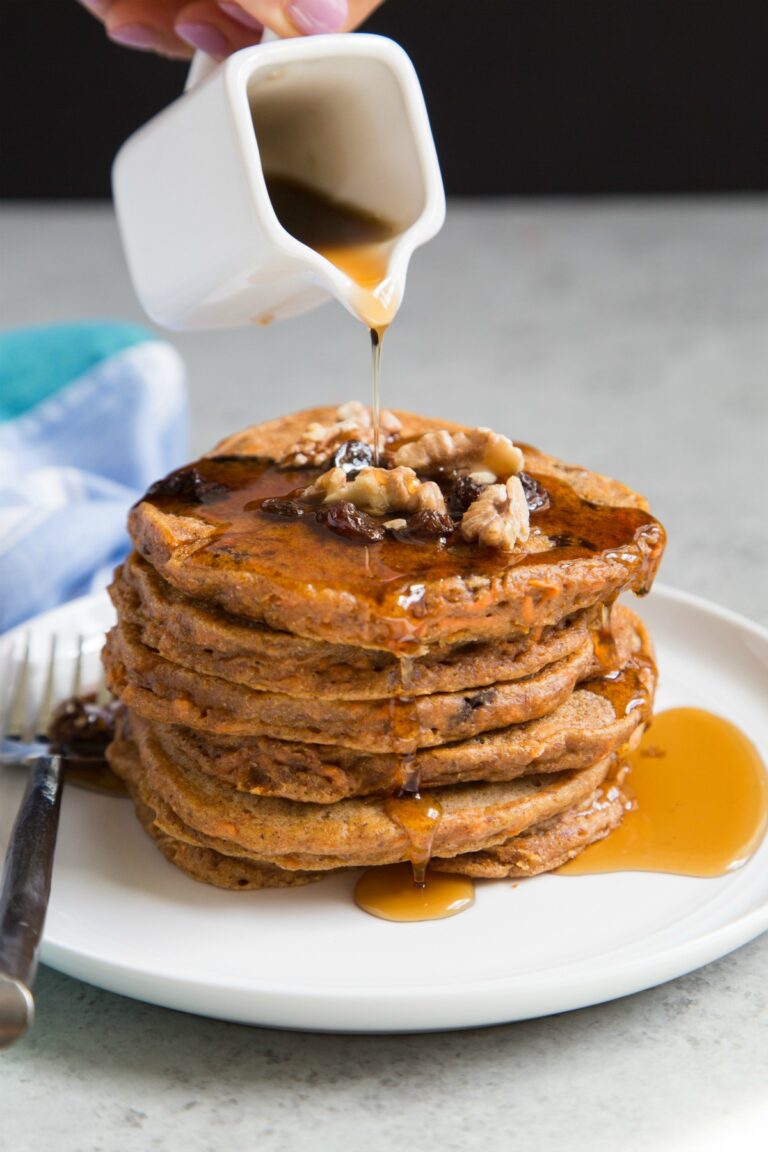 Carrot Cake Pancake Meal Prep Ingredients:
2 ½ cups whole wheat flour
• 1 Tablespoon baking powder
• 1 teaspoon fine sea salt
• 1 Tablespoon ground cinnamon
• ½ teaspoon ground nutmeg
• 2 cups soy milk or almond milk
• 1 Tablespoon apple cider vinegar
• ¼ cup ground flaxseed meal
• ½ cup water
• 1 Tablespoon pure vanilla extract
• 1 ½ Tablespoons molasses
• 5 Tablespoons dark maple syrup
• ¼ cup vegetable oil
• 2 cups finely grated carrots
• ¾ cup raisins
How do you make Carrot Cake Pancakes?
Carrot Cake Pancakes are simple to make and only take 35 minutes. Just like any other pancake recipe, whisk all of the ingredients into a bowl to make the batter. Then measure out 1/3 cup scoops and dabble them onto the heated griddle. Repeat this process until you've used all your pancake batter. When Carrot Cake Pancakes are ready, serve them with fruit and nuts or seeds.
FYI, it's best to use a flat griddle for easy pancake flipping. We found this flat non-stick griddle for you.
How to portion Carrot Cake Pancakes?
Place two Carrot Cake Pancakes in a meal prep container with fruit, nuts, and syrup. Be sure to separate fruit, nuts, and syrup in mini cups until you're ready to enjoy. You can use a one-compartment or two-compartment container for meal prep purposes.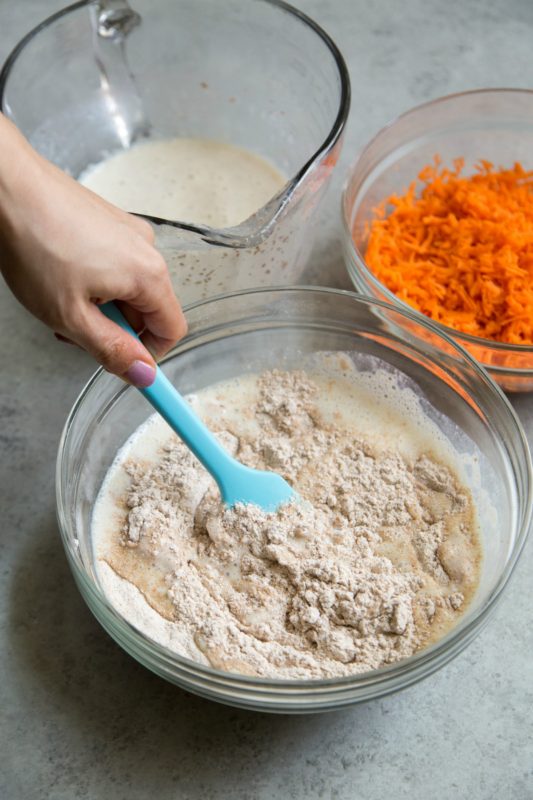 More Pancake Meal Prep recipes:
Crazy for our Carrot Cake Pancakes? Then we're sure you'll love these meal prep pancakes too! We also threw in a waffle and French toast recipe. Note that some recipes are not vegan but you can make adjustments if needed. Happy breakfast-ing!
Portable Chocolate Chip Pancakes
Sheet Pan Paleo Protein Pancakes
Stuffed French Toast Meal Prep
Other tips for making Carrot Cake Pancakes:
Ready to get started on your new meal prep recipe? Here are a few tips to ensure Carrot Cake Pancake success:
Common sense – cook pancakes thoroughly. We say this because pancakes need to be thoroughly cooked before freezing. Cooking them all the way ensures the best reheating results.

You can reheat frozen Carrot Cake Pancakes in the microwave, oven, or toaster. You can thaw them beforehand but don't have to. They're still tasty any way you choose to reheat them.

Pancakes are awesome, but the star of the show is the syrup! We found some of the best maple syrups for you to use. Try

Anderson Pure Maple Syrup

and

Whole Foods Market Organic Maple Syrup.

Buy the freshest carrots that you can. When you do, store them in a plastic bag and store them in the back of the fridge, which is the coldest. Rinse before using.

Add a bit of

candied

or

powdered ginger

on top of Carrot Cake Pancakes to enhance the carrot flavor.

Make sure your carrots are finely grated.

Soak raisins in warm rum and toast nuts in a dry skillet for richer flavoring.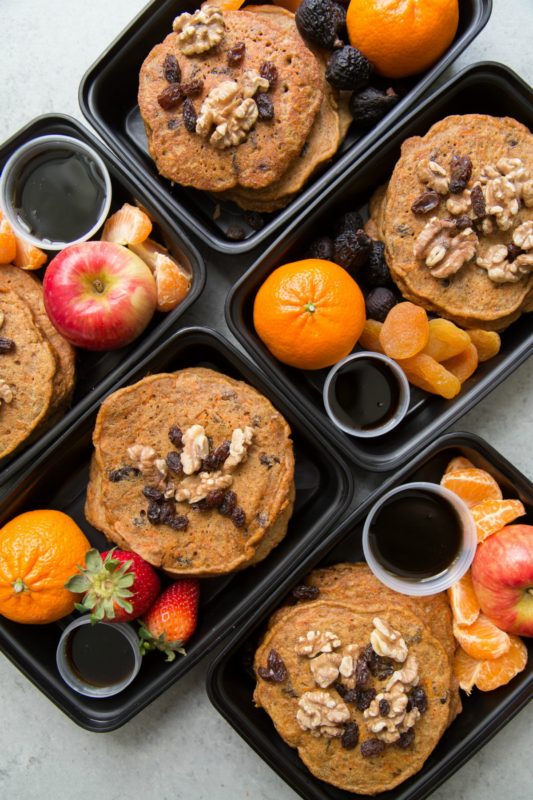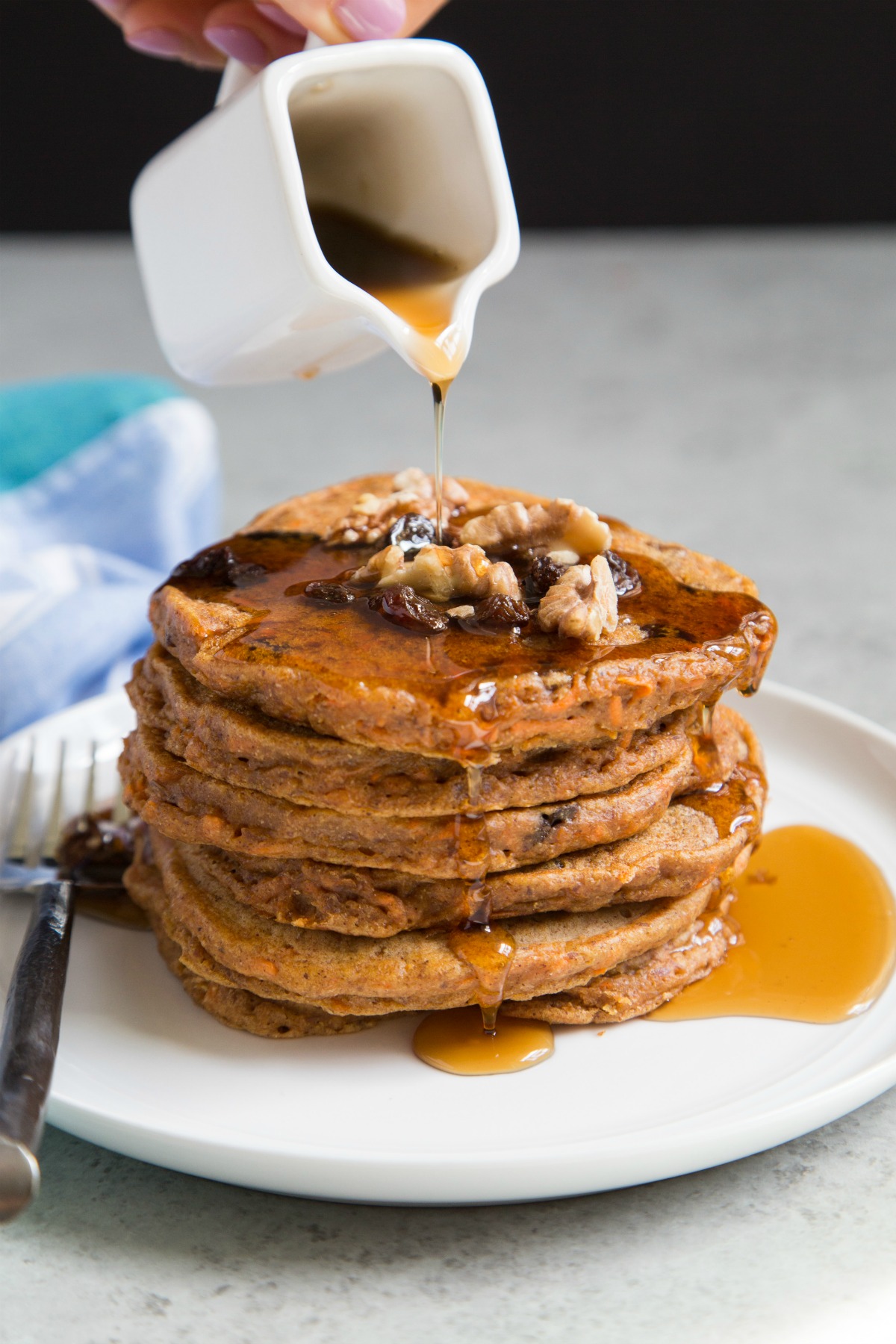 Ingredients
2.5

cups

whole wheat flour

1

tbs

baking powder

1

tsp

Sea Salt

1

tbs

ground cinnamon

1/2

tsp

nutmeg

2

cups

almond milk

1

tsp

Apple Cider Vinegar

1/4

cup

ground flax seed

1/2

cup

Water

1

tbs

Vanilla extract

1.5

tbs

molasses

5

tbs

dark maple syrup

1/4

cup

Coconut Oil

2

cups

grated carrots

3/4

cup

raisins
Instructions
In a large bowl, whisk together flour, baking powder, salt, cinnamon, and nutmeg. In another bowl, whisk together soy milk, vinegar, flaxseed, water, vanilla, molasses, maple syrup, and oil. Add wet ingredients to dry ingredients. Stir until well combined. Fold in grated carrots and raisins until well distributed. Allow batter to rest for 10 minutes while you prepare skillet or griddle.

Heat a lightly oiled skillet or griddle over medium high heat. Scoop ⅓ cup of batter onto hot skillet. Cook until the surface of pancake bubbles, about 2-3 minutes. Use a spatula to carefully flip pancake. Cook on the other side for another 2-3 minutes, until both sides of pancake are golden brown. Transfer to wire rack set over baking sheet.

Repeat process with remaining batter. Continue to oil skillet between pancake batches. You many need to adjust cooking heat as skillet warms up.

Serve pancakes warm with maple syrup, toasted walnuts, and raisins. Store any leftovers in the fridge and reheat before serving.

*Freeze extra pancakes for next weeks meal prep!
Notes
Nutrition for 1 out of 8 servings:
7g Protein | 57g Carbs | 10g Fat | 8g Fiber | 326 Calories
Nutrition
Serving:
2
pancakes
|
Calories:
326
kcal
|
Carbohydrates:
57
g
|
Protein:
7
g
|
Fat:
10
g
|
Fiber:
8
g