Sheet Pan Paleo Protein Pancakes! This is a super easy way to make a ton of pancakes in a short amount of time! Paleo, Gluten-Free, and Sugar-Free.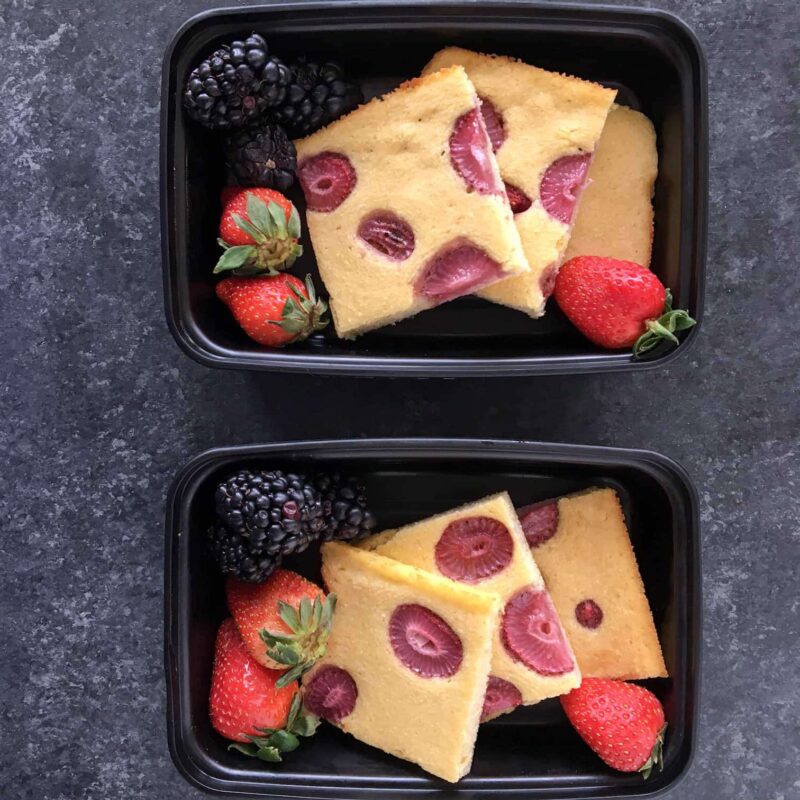 Yes! You can have pancakes and follow a paleo diet. It's true. It can happen. And there's never a shortage of delicious ways to make them happen in the kitchen, such as these Nutty Keto Pancakes Meal Prep. But this recipe for Sheet Pan Paleo Protein Pancakes makes it a lot easier because you make them once, and then can eat them for several days. Using a sheet pan makes it a breeze. And we're not going to be shy about our love of pancakes; it's one of our favorite things for breakfast. This just makes it too easy to not enjoy them all week long!
Pre-made Mix to the Rescue
These sheet pan paleo protein pancakes are SO easy! You simply prepare pancake batter as you usually would, then pour it into a sheet pan and bake until done. This skips a messy skillet and endless flipping of pancakes, which can make an easy meal take forever.
The other shortcut here, of course, is the mix—specifically, a standard Paleo pancake mix with cassava, almond, and coconut flour. Sure, you can make up a combination on your own for this purpose, but a mix is beneficial here. Yes, it saves time but with paleo flours, it's super helpful to not have to create your own ratios to get the mix right. These types of flours can be a bit tricky to work with on their own.
Tips and Substitutions for Paleo Pancakes
Feel free to substitute other berries such as blueberries, raspberries, or blackberries.
You can even use frozen berries if you like. It is helpful (but not necessary) to defrost and drain them before adding them to the batter, because they tend to add moisture. Pat them dry with a paper towel if they seem to need it. Then add them to the recipe as directed.
And if you really love berries, serve with more fresh ones.
How to Store and Freeze Protein Pancakes
These sheet pan paleo protein pancakes (say that three times fast!) will keep in the fridge for several days if wrapped well. Reheat in the oven, in a toaster, or on a warm skillet until heated through. It should only take a few minutes.
Freeze any pancakes you somehow don't get around to eating. Wrap them in foil, label them in a zip-close bag, and use them within a couple of months. (The sooner, the better. Don't let them disappear in the freezer!) You can reheat them in the oven directly from frozen, or right in the toaster.
READ MORE: Paleo Recipes That Don't Suck!
Sheet Pan Paleo Protein Pancakes Ingredients: