Keto pancakes are not an oxymoron. These sugar-free pancakes are paleo and gluten-free friendly. Serve with an almond butter drizzle and chopped nuts for a fun start to your day.
If you're on a keto diet, you know traditional carbs are out of the question. They're just not permitted. Or if you're keto curious? Maybe you've heard about it, maybe you haven't, maybe you're even already on it. But keto-style eating is a low-carb way to eat that isn't going anywhere anytime soon. And just because you're on a keto diet, doesn't mean you have to cross pancakes off your list. It's all about using the right ingredients, in the right way.
What is Keto?
Keto, short for the ketogenic diet, refers to the process of limiting carbs and skyrocketing fat intake to train your body to focus on using the latter for burning energy. After two to seven days, according to the diet's proponents, the body enters a metabolic state called ketosis. This means it no longer has access to enough carbs to process into energy. Instead, the body then begins to burn fat at a significantly higher and faster rate. This diet was actually first developed to support patients suffering from seizures, but it has since taken the weight loss industry by storm.
Nutty Keto Pancake Meal Prep Ingredients
½ cup + 2 tablespoon almond flour
1 tsp cinnamon
½ tsp baking soda
3 large eggs
¼ cup milk
¼ cup chopped nuts
¼ cup almond butter
How to Make Nutty Keto Pancakes
You don't have to be on the ketogenic diet to enjoy this meal prep recipe. But we love pancakes, and wanted to make sure that we have a version of this beloved breakfast favorite for everyone! These Keto Pancakes are made with a base mixture of almond flour, eggs, and milk- lots of healthy fat, lots of protein, and very little in the way of carbs.
And we took the nutty theme all the way to the toppings. Almond butter and chopped nuts (we used hazelnuts) make the perfect texture combination of smooth and crunchy, and we simply can't get enough. There's no special trick or difference here, they come together by mixing wet and dry ingredients just like any other pancake recipe.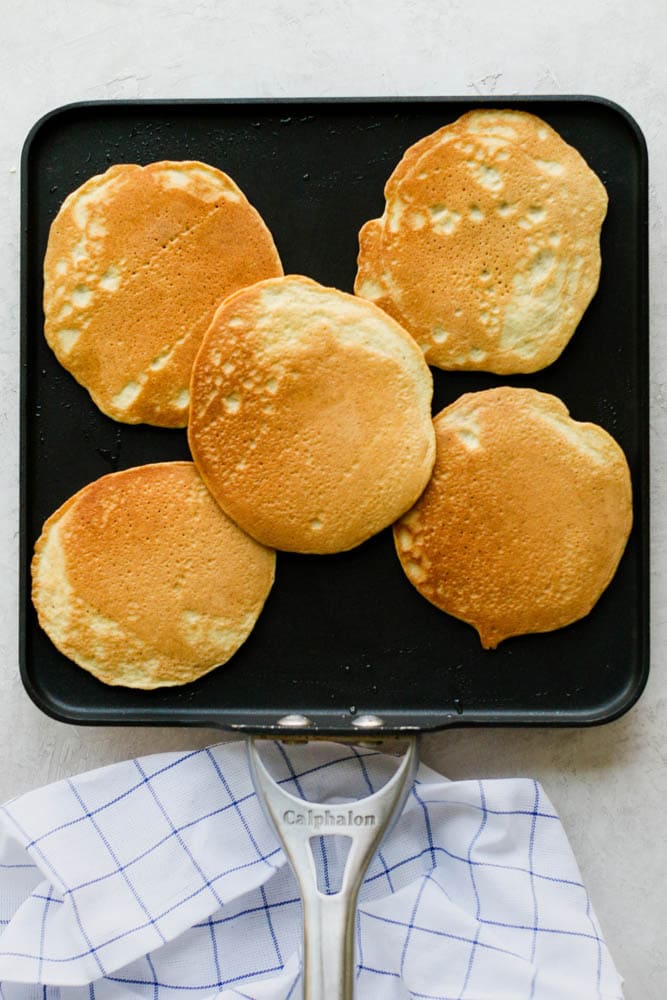 Benefits of Cinnamon
Cinnamon is an important part of this Keto Pancake recipe as well. It's delicious ingredient in both sweet and savory cooking, but cinnamon also has some health benefits, too. It's a powerful anti-inflammatory spice, supports healthy blood sugar levels, and can even stimulate the metabolism. If you are here because this meal prep recipe is keto-friendly, then cinnamon is the icing on the ketogenic (pan)cake! With 27 grams of protein per serving, these Keto Pancakes are the perfect addition to any morning!
How to Store and Serve Nutty Keto Pancakes
Pop these prepped pancakes into an airtight container and store in the fridge for up to 4 days. You can reheat in the toaster or toaster oven really easily, or in the oven, on a baking sheet that you've loosely tented with foil. (You don't want them to dry out, right?) Store the almond butter drizzle separately so they don't get soggy before serving.
These keto pancakes also freezes well. Wrap them well (individually works great so they don't stick together) and label them with the contents and date. Reheat in the toaster or toaster oven, or in the oven. They'll keep for a few months that way.
We also like to serve these pancakes with berries if you're able to eat them while on keto. (They're permitted, but everyone's approach is a little different.)
More Keto and Paleo Breakfast Meal Preps!