Egg Potato and Broccoli Breakfast Meal Prep will make your mornings amazingly delicious and easier!
Hey there, Meal Prep family. Our friend Laura (@cookathomemom)made this amazing meal prep that will make your busy morning routine just a tiny bit easier. Here's what she had to say about this nutritious breakfast she loves to make to support her healthy eating goals.
I recently started planning and prepping each week's meals to help uncomplicate my whole30. And even more helpful than all the time it saves? The mental energy! I grocery shop once a week, so there are no more "quick" runs just to pick up the one or two things I forgot, and I never have to wonder what in the world I'll be making for the next meal.
Every week, I pre-cut a ton of veggies, and I try to pre-pack at least one meal for us (usually lunch, sometimes breakfast). Here, I prepped a few meals with soft-boiled eggs, duck fat roasted potato wedges, and broccoli rice.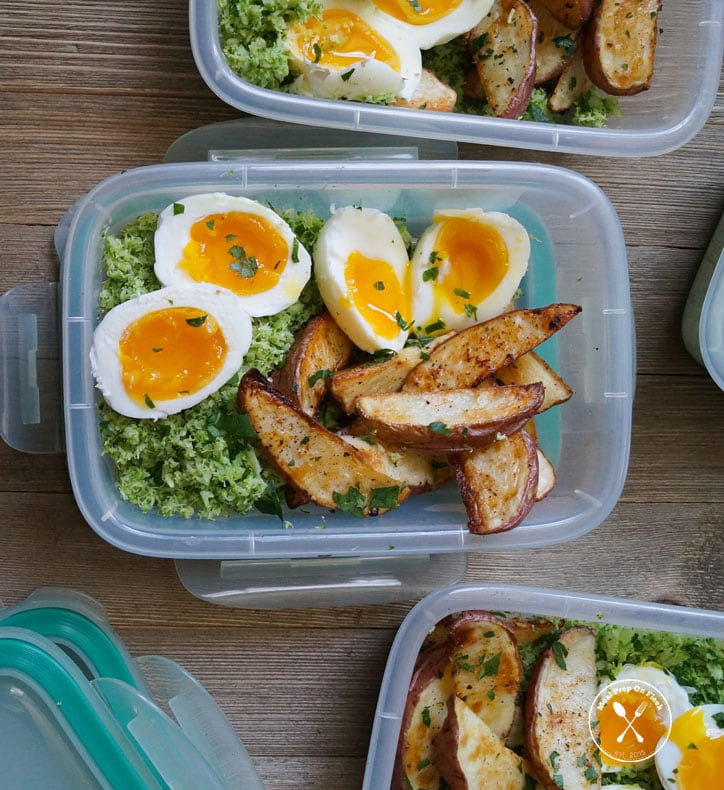 Egg Potato and Broccoli Breakfast Meal Prep Ingredients
8 eggs
2 broccoli crowns
4 medium red potatoes
4 tbsp. rendered duck fat, or olive, coconut, or avocado oil
1 tsp. salt
½ tsp. pepper
½ tsp. garlic powder
⅛ tsp. cayenne pepper, optional, or paprika
How to Make Egg Potato and Broccoli Meal Prep
This is one easy breakfast and can be prepped in stages, which is helpful. All the components are cooked separately but none of it is difficult to pull off for this healthy meal prep. Boil the eggs ahead of time and peel and stash them in the fridge in a sealed container. The broccoli basically becomes "riced" like we often like to do with cauliflower rice, and then cooked in a skillet. Additionally, the potatoes can roast ahead of time. Store it all in the fridge and reheat the potatoes when it's time to eat. 
How to Store Egg Potato and Broccoli Breakfast
All of these components can be stored together right in meal prep containers. They'll keep for 4 to 5 days. You could make the potatoes and broccoli "rice" and freeze it after cooking or even ahead of time if needed. Hard-boiled eggs, however, do not really freeze well. 
How to Serve 
The egg can be served at room temperature or even straight from the fridge. Either way is fine. Reheat the potatoes and rice together in a warm skillet with a bit of oil or rendered duck fat (if you're feeling a little decadent!) Potatoes are always better when they're hot. 
Substitutions and Alterations
Definitely use cauliflower rice if you've got a head of it in the fridge, or you have already meal-prepped it for the week (and if so, good on you!)
Use sweet potatoes instead of Russets or Yukon golds, if you like. 
Toss the potatoes with dried or fresh herbs if you don't want the cayenne. Potatoes are great with rosemary, thyme, paprika, tarragon, chives, and parsley. Or mix and match. 
Tips
You can cook the eggs for this breakfast meal prep just slightly under completely hard-boiled if you like. That's how you'll get a yolk that looks a bit runny like hers do here. Or cook them until they're totally done. It's your call! (Check out our post on How to Cook Eggs: 5 Ways, for more guidance.)
Save this recipe on Pinterest on your Breakfast or Whole30 Board: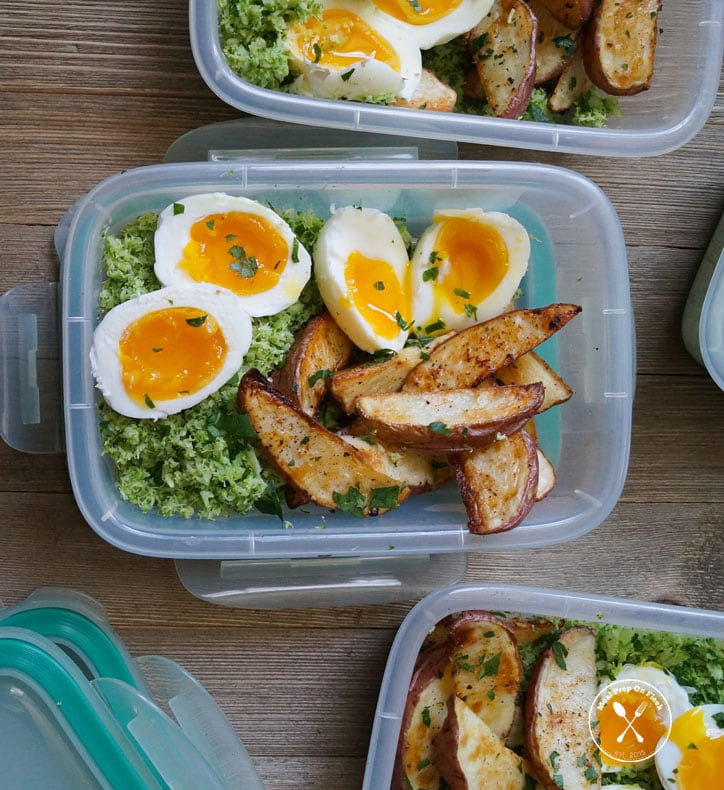 Ingredients
8

large

eggs

2

each

broccoli crowns

cut into bite-sized pieces

4

medium

red potatoes

cut into 1/2-inch wedges

4

tbsp

rendered duck fat

(or olive/avocado oil)

1

tsp

salt

1/2

tsp

pepper

1/2

tsp

garlic powder

1/2

tsp

cayenne pepper

(optional)
Instructions
Potatoes
Preheat oven to 425 degrees F.

In a bowl, mix together duck fat and seasonings, then add the potatoes. Toss to coat.

Transfer to a parchment-lined baking sheet and bake for 20-25 minutes, turning once.
Broccoli
In small batches, add the broccoli to your blender or food processor, and pulse until broken down into rice-sized pieces.

Heat 2 tablespoons of duck fat in a large saute pan. Add the riced broccoli and cook over medium heat, stirring occasionally for 5 to 7 minutes, until it turns dark green. Season to taste.
Eggs
Bring a large saucepan of water to a boil. Carefully add the eggs one at a time.

Allow the eggs to cook over medium heat in the simmering water for 7 minutes.

Remove the eggs and place them in an ice bath of water for a few minutes to stop them from cooking.

Peel the eggs and transfer each one to its own meal prep container, along with the riced broccoli and potatoes. Seal and refrigerate until ready to eat.
Nutrition
Serving:
1
meal
|
Calories:
278.56
kcal
|
Carbohydrates:
34.49
g
|
Protein:
4.41
g
|
Fat:
14.54
g
|
Saturated Fat:
2.08
g
|
Cholesterol:
7.44
mg
|
Sodium:
623.35
mg
|
Potassium:
969.15
mg
|
Fiber:
3.75
g
|
Sugar:
2.8
g
|
Vitamin A:
118.94
IU
|
Vitamin C:
18.76
mg
|
Calcium:
21.3
mg
|
Iron:
1.63
mg