Thank you to The Kansas Beef Council for sponsoring this Pot Roast with Au Jus recipe post, and thank YOU for supporting the brands that help make Meal Prep On Fleek possible. All opinions are our own.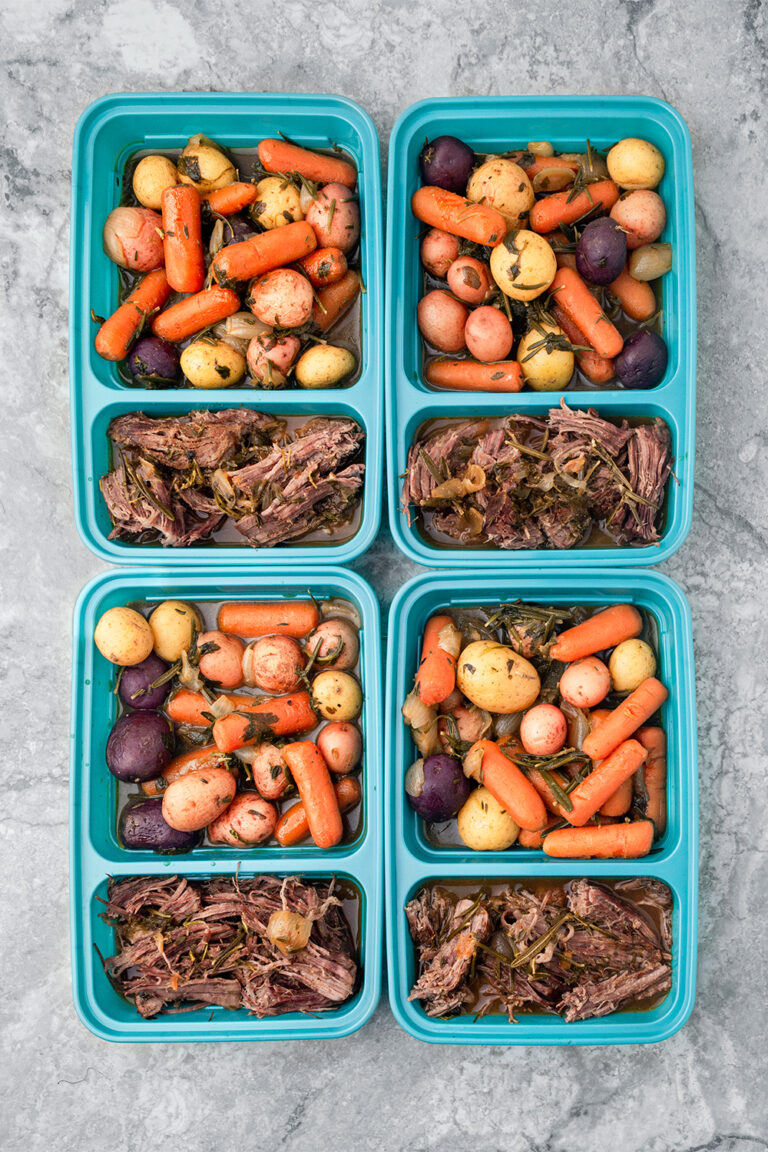 You're sure to enjoy this no-fuss, easy fall-apart, melt in your mouth pot roast that is made right in your slow cooker! It's a balanced meal that is also a Whole30 compliant take on the classic comfort food we all know and love with a dreamy Au Jus to finish it off — slow-cooker pot roast! 
Who doesn't love a good comfort meal? Pot roast certainly ranks in the top 5 ultimate comfort recipes in our book! Why? Not only is it super easy, especially when made in your slow cooker, but it requires minimal ingredients. It can also feed a large crowd, is packed full of flavor from the tender chuck roast, and it has a massive punch of protein in every serving.
Nutrients
Not only does beef provide approximately 51% of your DV of protein, but it all has 9 other essential nutrients. These include Iron, Zinc, Selenium, Vitamin B6, Niacin, Riboflavin, Vitamin B12, Choline, and Phosphorus. Now, you're probably thinking, "Huh?" I don't even know what these are. But, to make it simple, these 9 essential nutrients are involved in essential processes such as tissue growth, energy production, immune system function, and nutrient absorption.
Naturally Raised vs. Certified Organic
Some people live and die by only eating organic beef, and that's ok. But, if your budget doesn't allow for purchasing organic beef, do not fret! Naturally raised beef is also an excellent choice. Naturally Raised means the cattle never receive any antibiotics or growth-promoting hormones, may feed on either grass- or grain-finished and may spend time in a feed-yard.
Certified Organic beef cattle never receive any antibiotics or growth-promoting hormones, may be either grass- or grain-finished, and may spend time in a feed-yard. However, the grain fed to the cattle must be certified organic. So, as you can see, there really isn't a huge difference!
Grass-Finished/Grass-Fed vs. Grain-Finished
You have probably seen someone on social media talk about how grass-finished/grass-fed is better than grain-finished. But is that really the case? That is a decision that only you, the consumer, can make. But, we are here to share the differences so that you can make the best decision for you. 
Grain-Finished Beef:
Grain-finished beef is what you find at the majority of retail meat counters or grocery stores and most beef is raised this way but does not have any additional labeling. Here are some things you may not know about grain-finished or "conventionally raised" beef.
Spend most of their lives eating grass
Spend 4-6 months at a feed yard eating a balanced diet that has been developed by an animal nutritionist. *less than 11% of their lifetime feed is grain.
May or may not be given FDA approved antibiotics to treat, prevent or control disease
No matter the label, all beef at the grocery store is inspected for safety by USDA and is nutritious and wholesome to eat.
Grass-Finished Beef:
Spend their whole lives eating grass
May also eat grass, hay, or forage at a feedyard
May or may not be given FDA approved antibiotics to treat, prevent or control disease
Most importantly, there's always a nutritious and delicious beef option for you, no matter what your budget or preferences are. All beef is wholesome and provides an authentic source of 10 essential nutrients. Now that you have all of the facts, do you feel confident in making the best decision for you and your family when purchasing meat? GREAT! Let's start cooking now!
Pot Roast with Au Jus Ingredients:
1 lb. Beef Chuck Roast
1 lbs. Baby Potatoes
1 lb. Baby Carrots
1 lb. Pearl Onions (or 1 Large Yellow Onion, quartered)
2 cups Beef Broth (Whole30 approved)
½ cup Coconut Aminos
2 Tbsp. Avocado Oil
2 Tbsp. Fresh Rosemary
2 Tbsp. Fresh Italian Parsley
1.5 Tbsp. Fresh Thyme
½ Tbsp. Garlic Powder
2 tsp. Ground Black Pepper
1 tsp. Himalayan Pink Salt
The ingredients for this Pot Roast with Au Jus (made in the slow cooker) are simple. Of course, the star of the recipe is that gorgeous chuck roast!
All of your ingredients will go into your crockpot and then do their thing! No cooking is even required!
The end result is a very balanced meal prep full of protein, fiber-rich vegetables and natural fats in the chuck roast. This meal prep combo has the ultimate balance of macronutrients.
Visit www.BeefItsWhatsForDinner.com for more recipes and easy meal prep inspiration!