Shrimp Nutrition Fact
Shrimp is an excellent meal prep choice because it is low in fat with a high protein nutritional profile. Shrimp is an excellent source of Vitamin D, which regulates calcium absorption.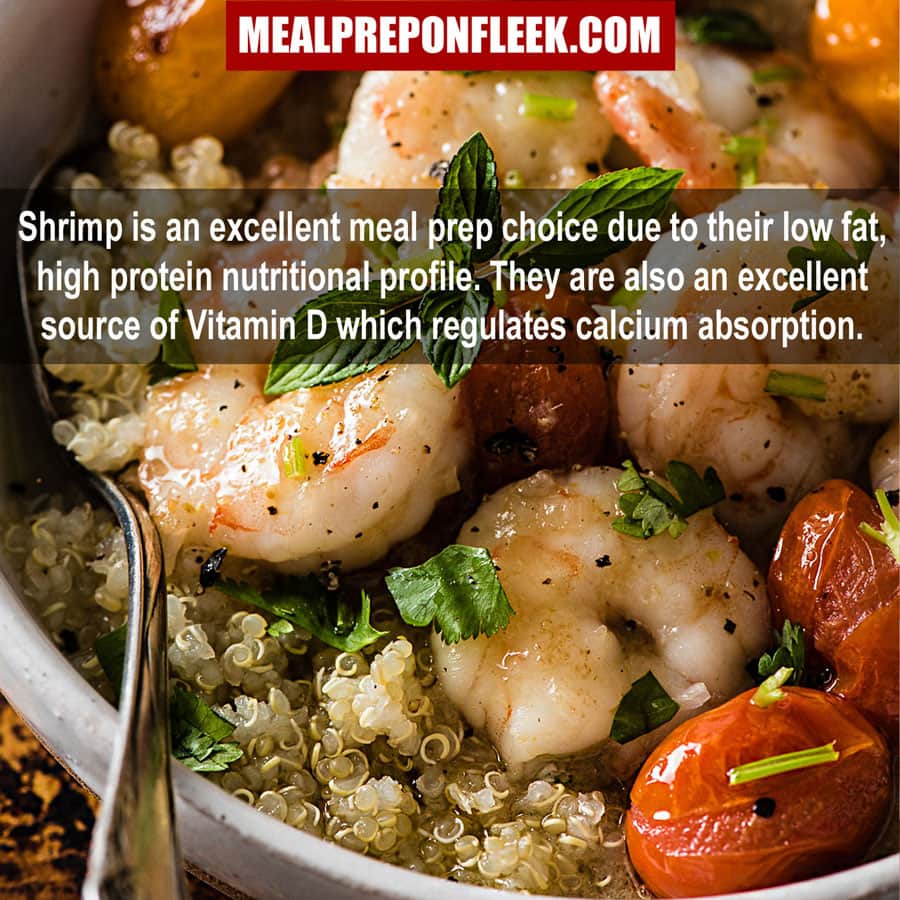 Shrimp is a great Meal Prep choice! You can turn it into Shrimp Fried Rice (the healthy way!) with this delicious recipe from Omnivore's Cookbook!
_
.
Ingredients
• 2 tablespoons peanut oil • 80 grams (3 ounces) ham, diced
• 170 grams (6 ounces) peeled shrimp, deveined
• 1/2 cup green peas
• 1/2 cup diced carrot
• 1/2 teaspoon sea salt or to taste
• 2 large eggs, beaten
• 4 cups leftover white rice
• 1/4 teaspoon ground white pepper (or black pepper)
• 1 tablespoon light soy sauce (or tamari for gluten-free)
• 4 green onions, sliced
.
Instructions
1. Prepare all the ingredients and a large empty plate. Place them near the stove.
2. Heat 2 teaspoons of oil in a wok or a nonstick skillet over medium high heat until hot. Swirl to coat the bottom of the pan with oil. Add ham and shrimp. Cook for 30 seconds without disturbing. Stir and cook until the shrimp turn white. Immediately transfer the ham and shrimp to a separate plate. The shrimp should be just cooked through, or slightly raw in the center.
3. Add 1 teaspoon of oil. Add carrot, green peas, and a pinch of salt. Cook and stir until they start to turn soft. Transfer to the plate with the shrimp.
4. If the pan starts to get too hot, turn to medium heat. You should hear vibrant sizzling throughout the cooking, but the pan shouldn't be so hot as to burn the ingredients.
5. Add the remaining 1 tablespoon of oil. Add egg and quickly stir a few times. Add rice. Cook and chop to separate rice.
6. Return the cooked shrimp, ham, and vegetables to the wok. Sprinkle salt and white pepper, and swirl in light soy sauce. Immediately stir to mix well. Add green onion. Cook until the rice is heated through and the grains separated. Turn to low heat, carefully taste the rice and adjust seasoning if necessary.
7. Divide between meal prep containers and enjoy all week long!
Photo & Recipe Credits: @omnivorescookbook