Gazpacho Meal Prep is cool and never too cool for school. When you're in a pinch for time and focus, this special soup will do the trick to nourish your brain and belly. When you have time to spare, you'll love slowing down with this meal.
There is no definitive origin of the now world-famous Gazpacho soup, but we know its deliciousness has Roman influences as well as Greek, Spanish, Portuguese, and others. Now it's yours to enjoy and get creative with!
With a modest proportion of its calories coming from fat, Gazpacho Meal Prep is a fantastic balance for protein on a Keto diet or a satiating serving of soup all on its own. At MPOF, we love giving you options to perfect your combination of Meal prep recipes. This soup is super easy to make and you might already be hungry, so let's get going!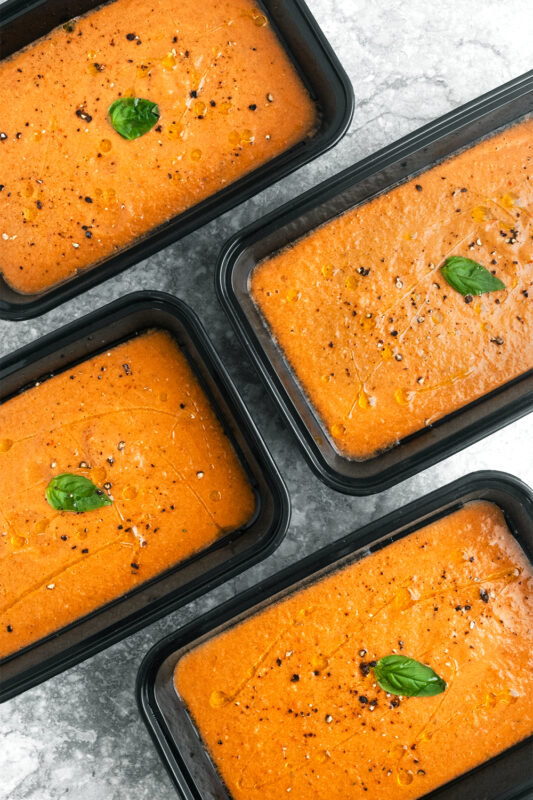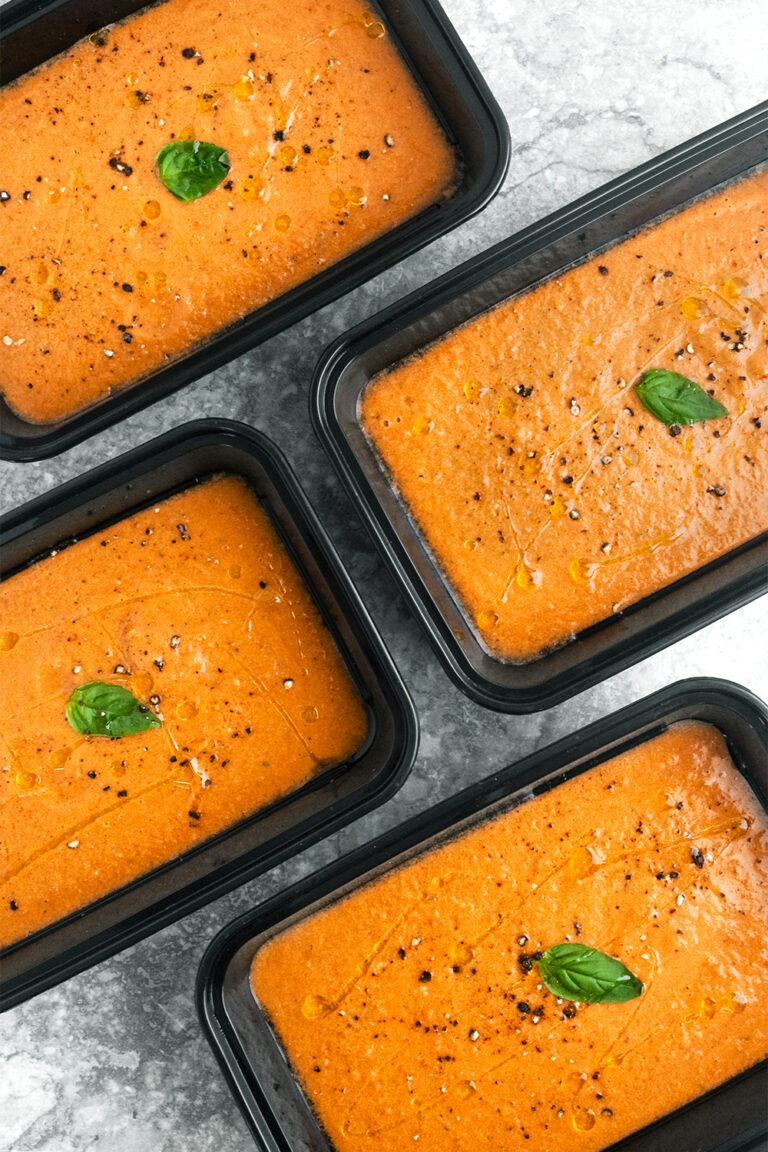 How long will Gazpacho Meal Prep last for?
You're probably making your Gazpacho dinner to take advantage of warmer weather, right? Your fridge will be your coolest friend in the heat, keeping your meal fresh and ready to eat in a moment's notice for up to 4-5 days. Sit back with some sangria and relax, knowing the famously refreshing soup is waiting for you whenever you're ready.
Can Gazpacho Meal Prep be frozen?
You can totally freeze Gazpacho Meal Prep for between three and six months though the weather may have cooled off by that time. Gazpacho is famous for being the refreshingly cool soup widely eaten throughout Portugal and Spain in hot summers.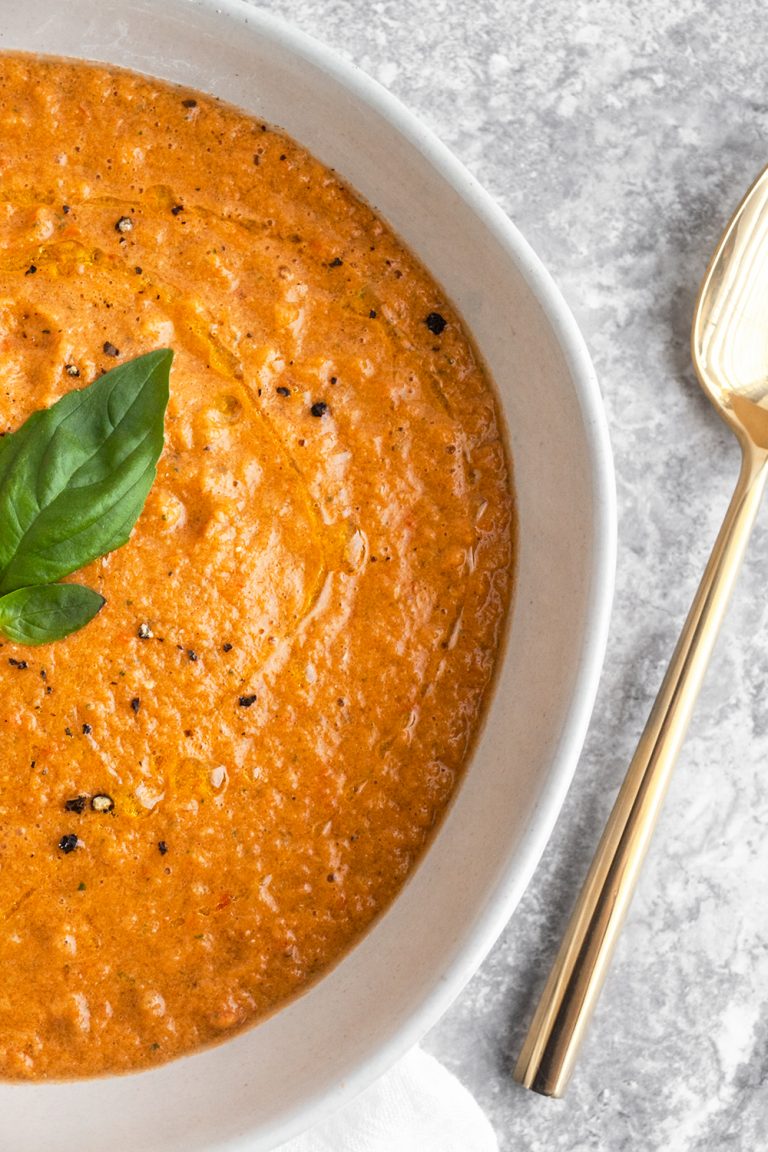 How do you make Gazpacho Meal Prep?
Making Gazpacho Meal Prep is as easy as making your favorite fruit smoothie, though it will nourish you in a completely different way. All you need is a food processor or your favorite blender and this meal's a breeze. Gazpacho can be smooth or slightly chunky so you have permission to make it the way you like soup best. Experiment with your blending speeds to find your own unique style.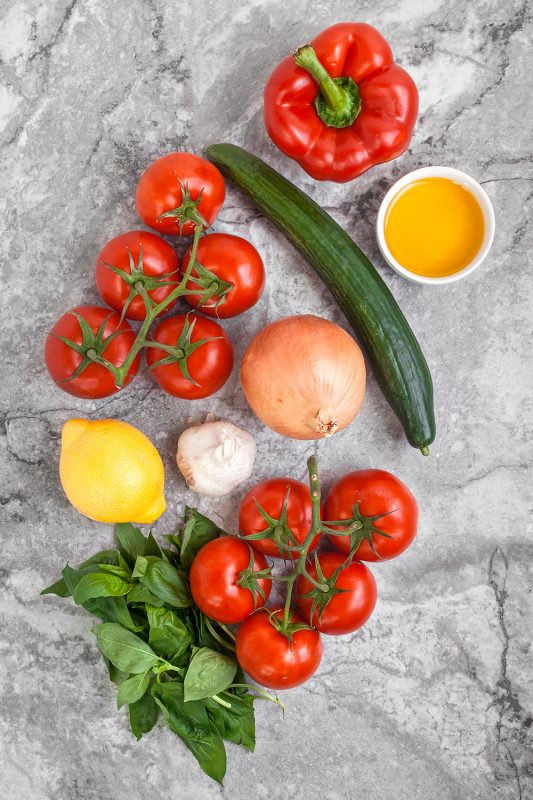 How to portion Gazpacho Meal Prep?
You are just one easy pour away from perfectly portioned Meal Prep Recipe. You don't need to heat your Gazpacho later, so feel great about using whichever plastic or glass meal prep container you have handy. If your soup will be your main dish, go for it! If you are going to add a meat or side, consider dual compartment containers or even a three-compartment meal container. You'll be ready to go anywhere, anytime.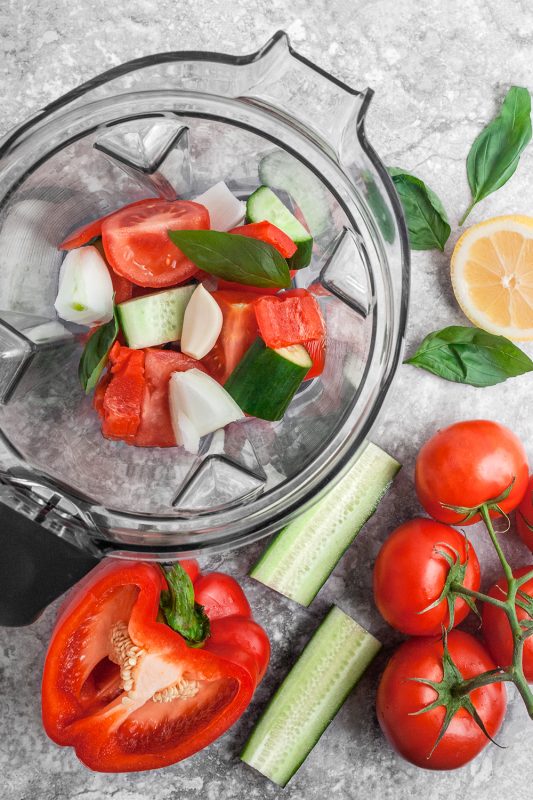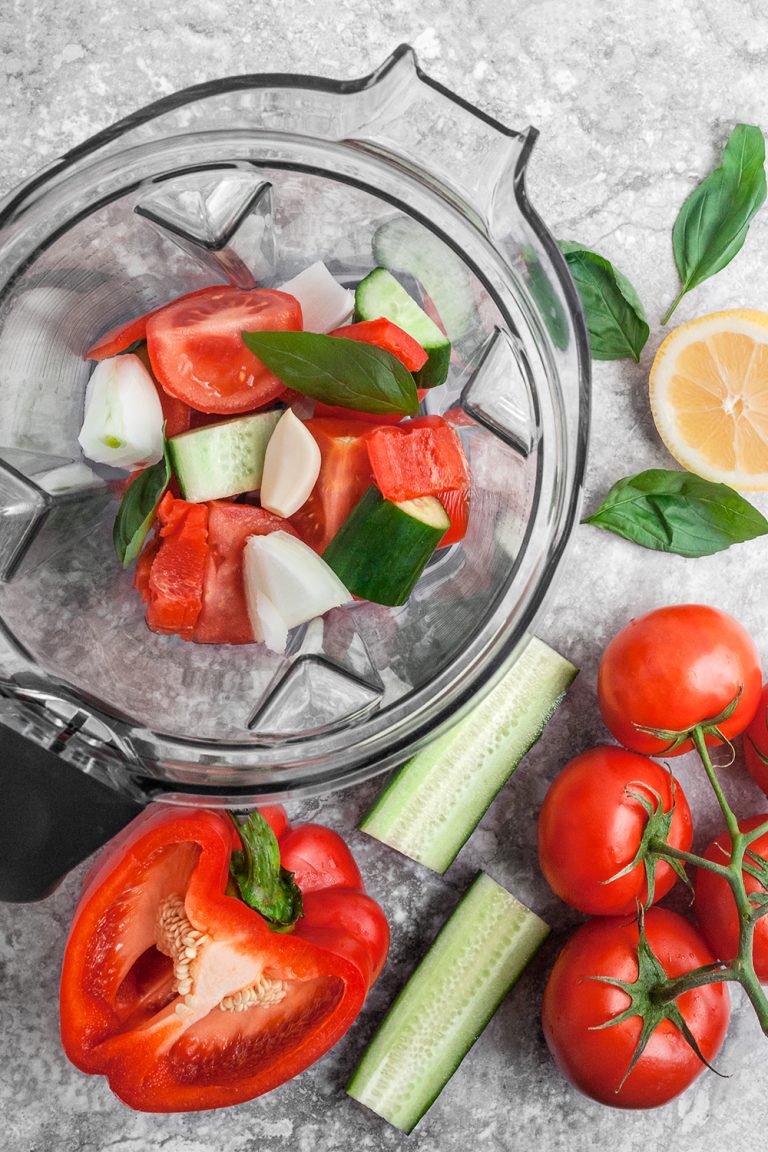 More Gazpacho meal prep recipes:
Other tips for making Gazpacho Meal Prep :
Use leftover Gazpacho Recipe to make salsa for your favorite chips

Pour your Gazpacho of your favorite pasta as your own special sauce

Flavor any meat, chicken, or fish to add a cool zest to the meal

Gazpacho is incredibly versatile – let your imagination (and belly) guide you!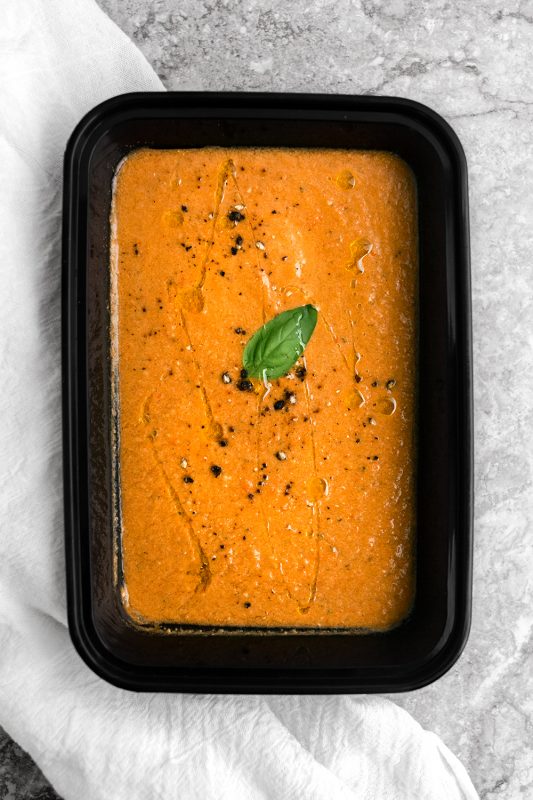 Gazpacho Meal Prep Ingredients:
2 lbs. Fresh Red Tomatoes (quarter each tomato)
1 English Cucumber (quartered)
Juice of 1 Large Lemon
1 Large Red Bell Pepper (seeds/core/stem discarded)
2 Large Garlic Cloves
1/2 Small Brown Onion
1 C. Extra Virgin Olive Oil (optional: plus a few teaspoons for serving garnish)
1/4 C. Packed Fresh Basil Leaves (optional: reserve a few leaves for serving garnish)
1 tsp. Himalayan Pink Salt
1 tsp. Ground Black Pepper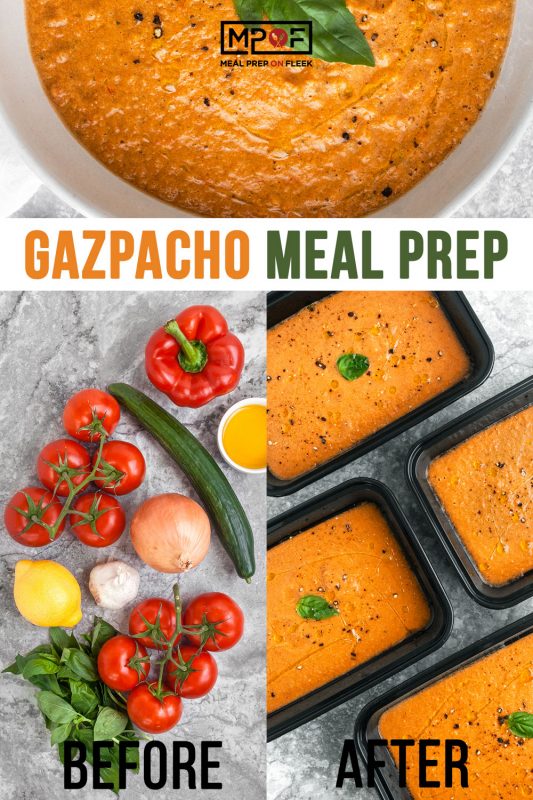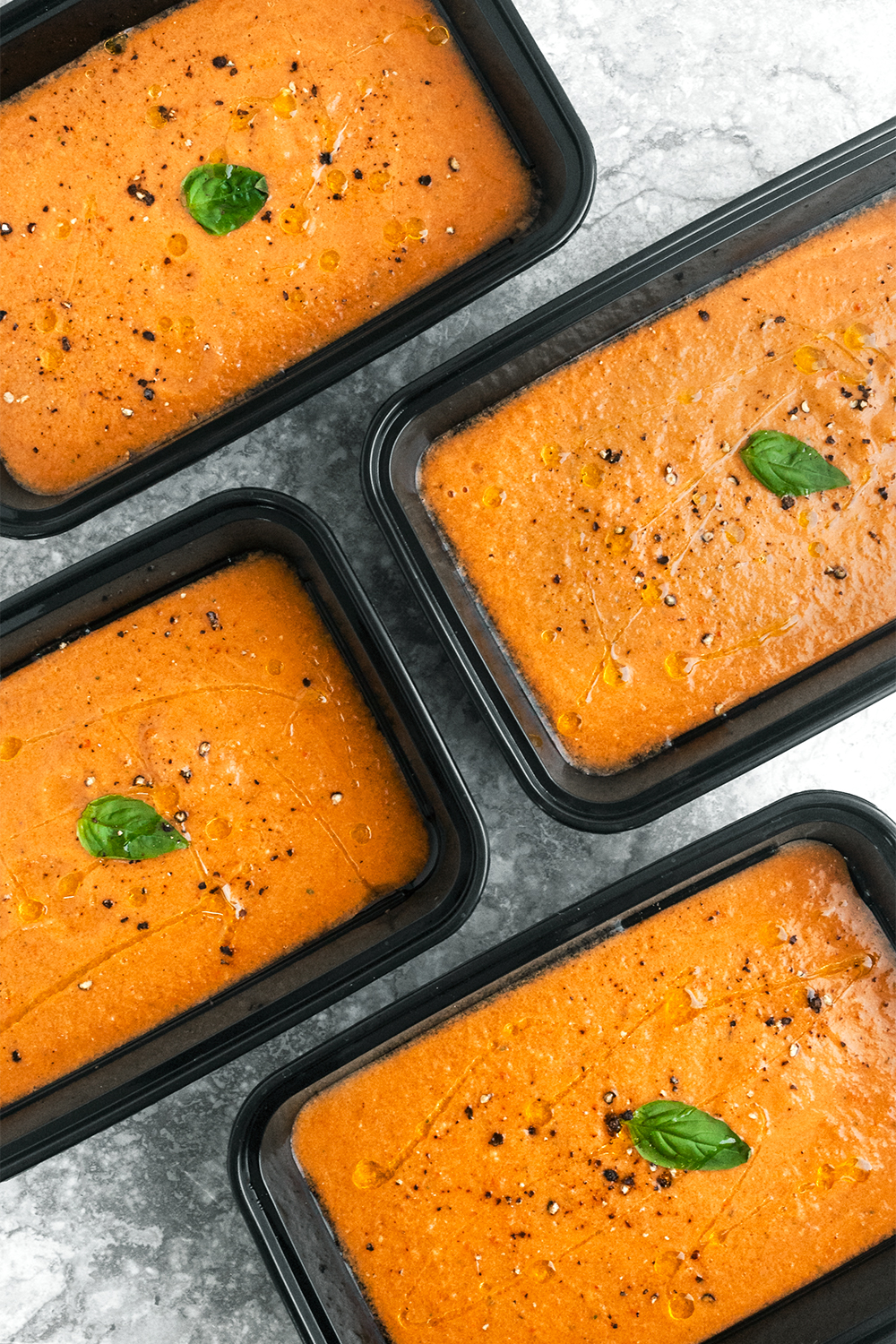 Ingredients
2

pounds

fresh tomatoes

quartered

1

English cucumber

quartered

1

large

Lemon

juiced

1

large

red bell pepper

core/stem/seeds removed

2

large

garlic cloves

1/2

small

white onion

1

cup

Extra-virgin olive oil

plus a few teaspoons for garnish, optional

1/4

cup

packed fresh basil

1

tsp

Sea Salt

1

tsp

ground black pepper
Instructions
Add all ingredients to a high-speed blender or food processor — blend/process until smooth, but still has some texture (or to desired consistency).

Serve chilled, store, and enjoy!
Notes
Nutrition for 1 out of 4 servings:
2.9g Protein | 14.5g Carbs | 54.6g Fat | 4.4g Fiber | 579 Calories
Nutrition
Serving:
1
meal
|
Calories:
579
kcal
|
Carbohydrates:
14.5
g
|
Protein:
2.9
g
|
Fat:
54.6
g
|
Fiber:
4.4
g