Chickpea curry is a healthy vegan meal prep that's also gluten-free!
The word "curry" is used in a range of places across the globe, and it often looks a bit different from culture to culture. Some curries are dry, some are wet; some are cool and herby, some are hot and super spicy. Typically though, when we're talking about curry, we're talking about meat and vegetables stewed in a rich sauce and served over rice. That's what we've got for you today with this chickpea curry, and it's definitely a meal prep recipe worth adding to your global repertoire.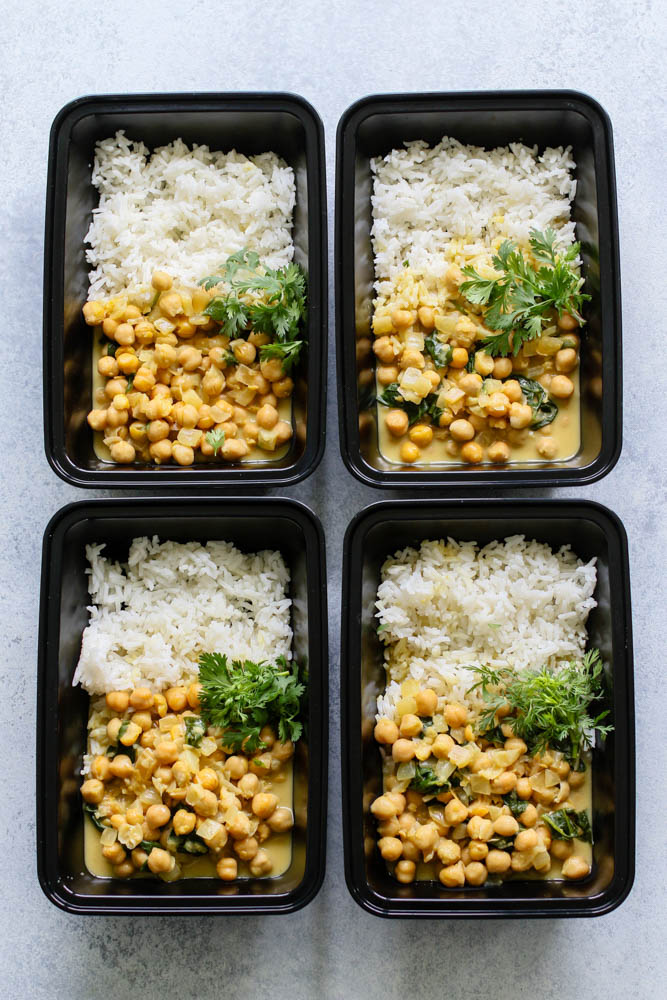 What's in Curry?
Well, a "traditional curry" isn't exactly what we've got for you today, since this chickpea curry is entirely vegan. But you can still expect a smooth and creamy coconut broth and the satisfying crunch of sauteed onions. Cooked chickpeas have a fantastic texture, and also a pretty impressive nutritional profile. They are a great source of protein, fiber, and complex carbs. And due to their high fiber content, chickpeas have a beneficial impact on glucose levels, making them a great ingredient for elevating the diabetic diet. Plus they're a good source of bone-supporting minerals such as calcium and magnesium. Winning.
We admit it: spinach also does not traditionally make appearances in curries. But it's such a nutritional powerhouse that sometimes we can't resist adding it to our meal prep recipes. Plus we love that it cooks down to such a soft and subtle texture- it's such a mild ingredient that you'll barely know it's in your chickpea curry. But you certainly won't be mad you got that extra boost of Vitamins A, C, E, K, B6, Iron, Manganese, Fiber….. there's more, but we'll stop. Summary: spinach is your friend ? Because of its great flavor and huge range of nutritional benefits, this is one of our favorite meal prep recipes for elevated weekday lunches or warming winter dinners. We hope you love it as much as we do!
Chickpea Curry With Jasmine Rice Meal Prep Ingredients
1 cup jasmine rice, uncooked
2 tablespoon avocado oil
1 large onion, chopped
Salt & pepper, to taste
2 tsp curry powder
¼ tsp garlic powder
½ cup vegetable broth
2 (15-ounce) cans chickpeas, rinsed and drained
2 large handfuls spinach
1 (13.5)-ounce can coconut milk
Dash of sriracha
Cilantro, for serving
How to Make Chickpea Curry with Jasmine Rice
Start by cooking the rice first. Then, in a pan, heat the oil and cook the onion, followed by some salt and pepper, curry powder, and garlic powder. Finally, you add the chickpeas and veggie stock, and let it simmer. Coconut milk makes it nutty, rich and creamy but without adding dairy. Spinach gets tossed in toward the end. Add a dash of Sriracha if you're feeling it, and definitely top with chopped cilantro.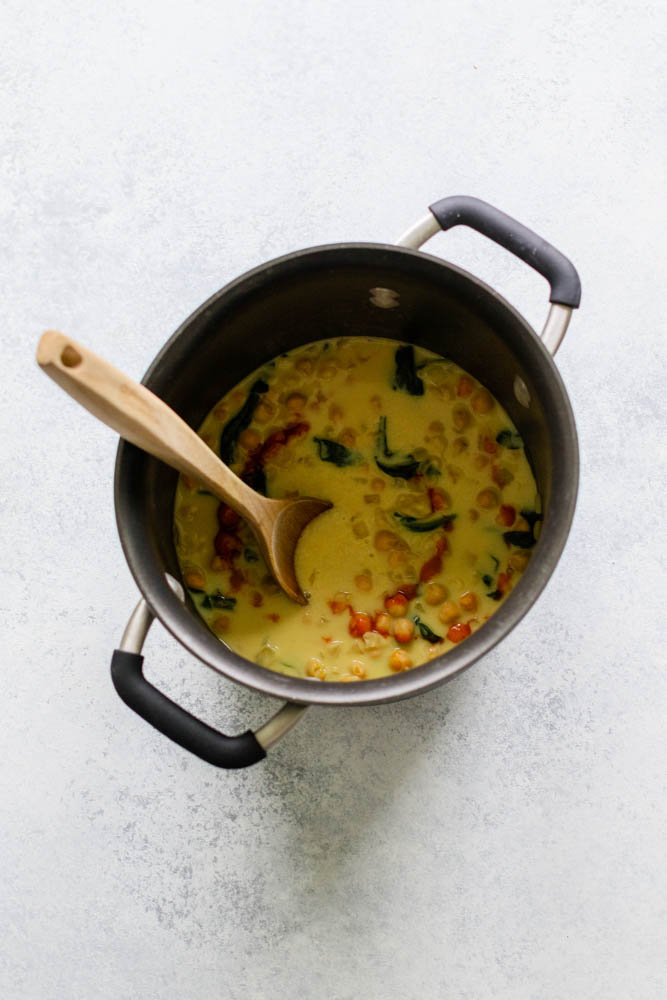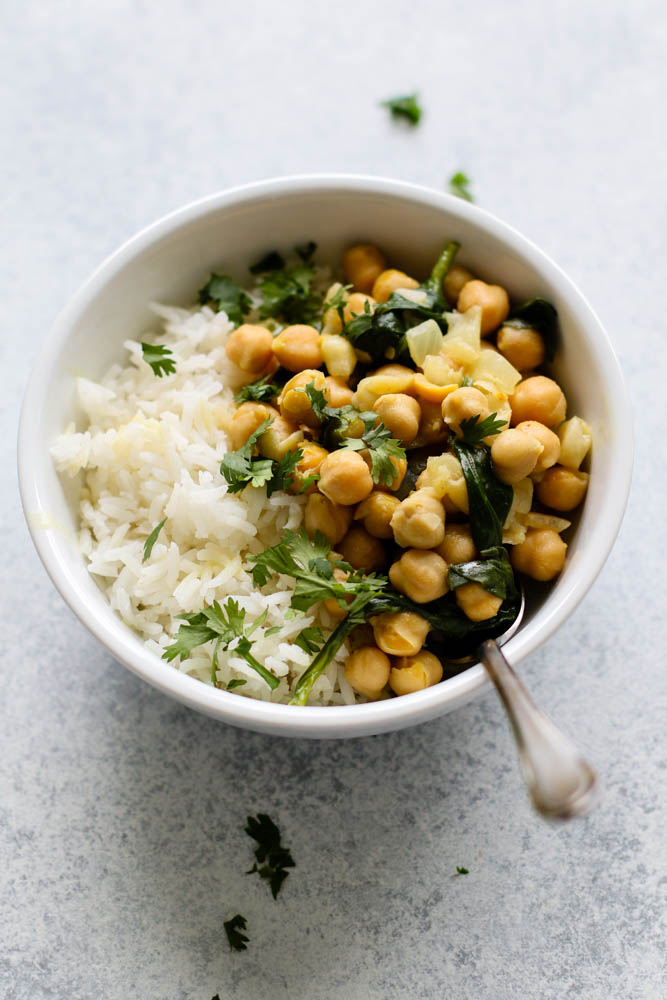 How to Store and Serve
Once you've prepped the curry, simply transfer it to meal prep containers. It should keep for 4 to 5 days. We're also serving jasmine rice with this, and definitely make that ahead of time, too. All of this can even be frozen if you are so inclined! Just make sure it's in an airtight container and it's always a good idea to label your frozen meals, too to avoid confusion (and add the date, too)!
Substitutions and Customizations
If you don't want to serve with jasmine rice, basmati will work. You can also try quinoa or even a cauliflower rice if you need to watch your overall carbohydrate consumption.
You can also swap out baby kale for the spinach, or just chop regular kale or even Swiss chard finely.
More Awesome Meal Preps to Try Out!
Sweet and Sour Cauliflower Bites Meal Prep