Beet Hummus Veggie Dipper Snacks
Have you ever been to a holiday or office party and seen a big tray of fresh veggies with a dipping sauce? Well, in a party situation it might be the healthiest option among the table of hors d'oeuvres, but today we're going to make it healthier. You don't even have to wait until your next party event to have it, either!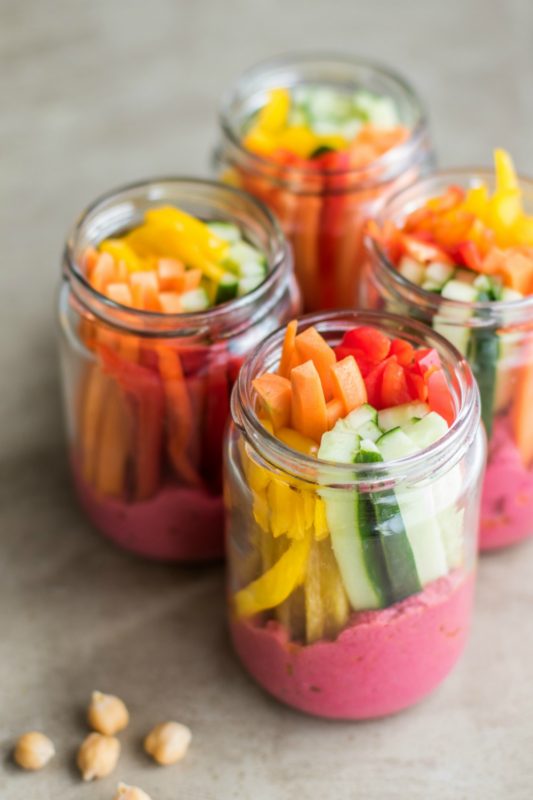 Easy Meal Prep Snack!
The meal prep recipe that we're showing you is one that our vegan and vegetarian readers will love—Beet hummus veggie dipper snacks! The part of this recipe we'll be making healthy is the dipping sauce. Normally the veggie trays you can get at the store come with ranch dressing. It can taste good, but the nutrition facts for Hidden Valley ranch (for example) might surprise you! Just 2 tablespoons of the stuff has 2.4g of saturated fat, 10mg of cholesterol, and 328mg of sodium—That's a ton of bad macros for how little you get!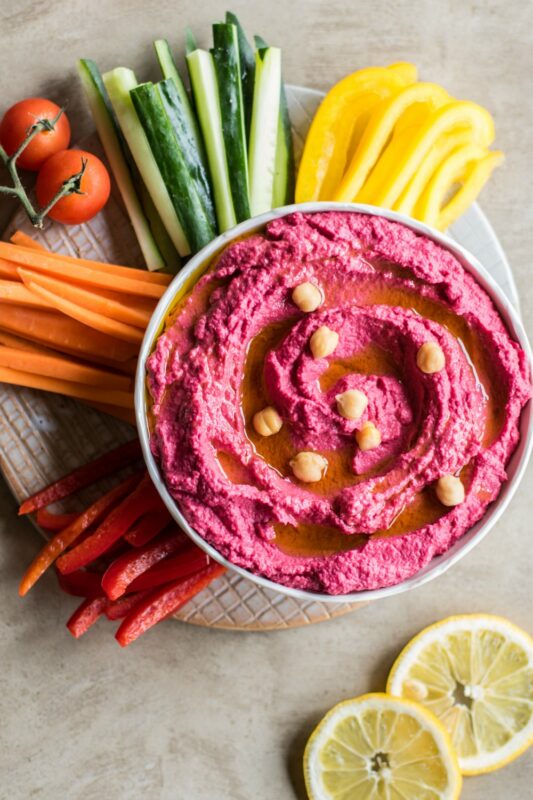 Beet Hummus Veggie Dipper Snacks Ingredients:
¼ cup tahini
¼ cup lemon juice
1 cup roasted beets, diced
2 tablespoons olive oil
1 clove garlic, minced (or more, to taste)
¼ teaspoon sea salt (or more, to taste)
1 can chickpeas, rinsed and drained
Assorted vegetable sticks (1 cup each carrots, cucumbers and peppers)
Beet Hummus Nutritional Information:
On the other hand, these beet hummus veggie dipper snacks have amazing nutritional value! One single snack jar provides 14g of protein, 29g of healthy fats, and a whopping 9mg of fiber! Much of this has to do with the chickpeas involved in making the hummus. Cup for cup, chickpeas have 14.5g of protein, and 35g of fiber—So if you're looking for a meal that's really going to fill you up, these veggie dipper snacks are totally for you! Otherwise, consider giving this Quinoa Chickpea Taco Salad or Chickpea Curry With Jasmine Rice meal prep recipe a try!
And how about those beets…
Another very healthy element of these hummus veggie dipper snacks is that the hummus contains beets! Beets are amazing because they have so many nutrients, but yet so few calories. They also have 20% of your folate RDI, and 16% of your manganese RDI. Vitamins aside, beets are believed to a whole host of health benefits—improved digestion, improved brain function, possible weight loss properties, and many others.
Tahini is a great ingredient because
…It has healthy benefits too, and is totally good for you in many ways. Rich in nutrients like potassium, magnesium, and calcium, tahini is known to have anti-inflammatory benefits, as well as well as improve your cardiovascular health by regulating blood pressure! It can also aid in weight loss and liver detoxification, and his high in vitamins B and E.
In a rush to school or the office? No problem, we've been there! Making these beet hummus veggie dipper snacks saves you so much time and stress—It takes only 10 minutes to whip it up! Then, once you've done all the cooking you'll need to do , just grab a simple mason jar, pack your hummus in at the bottom, and fill with fresh-cut veggies you enjoy. We found using 1 cup of carrots, cucumbers, and peppers.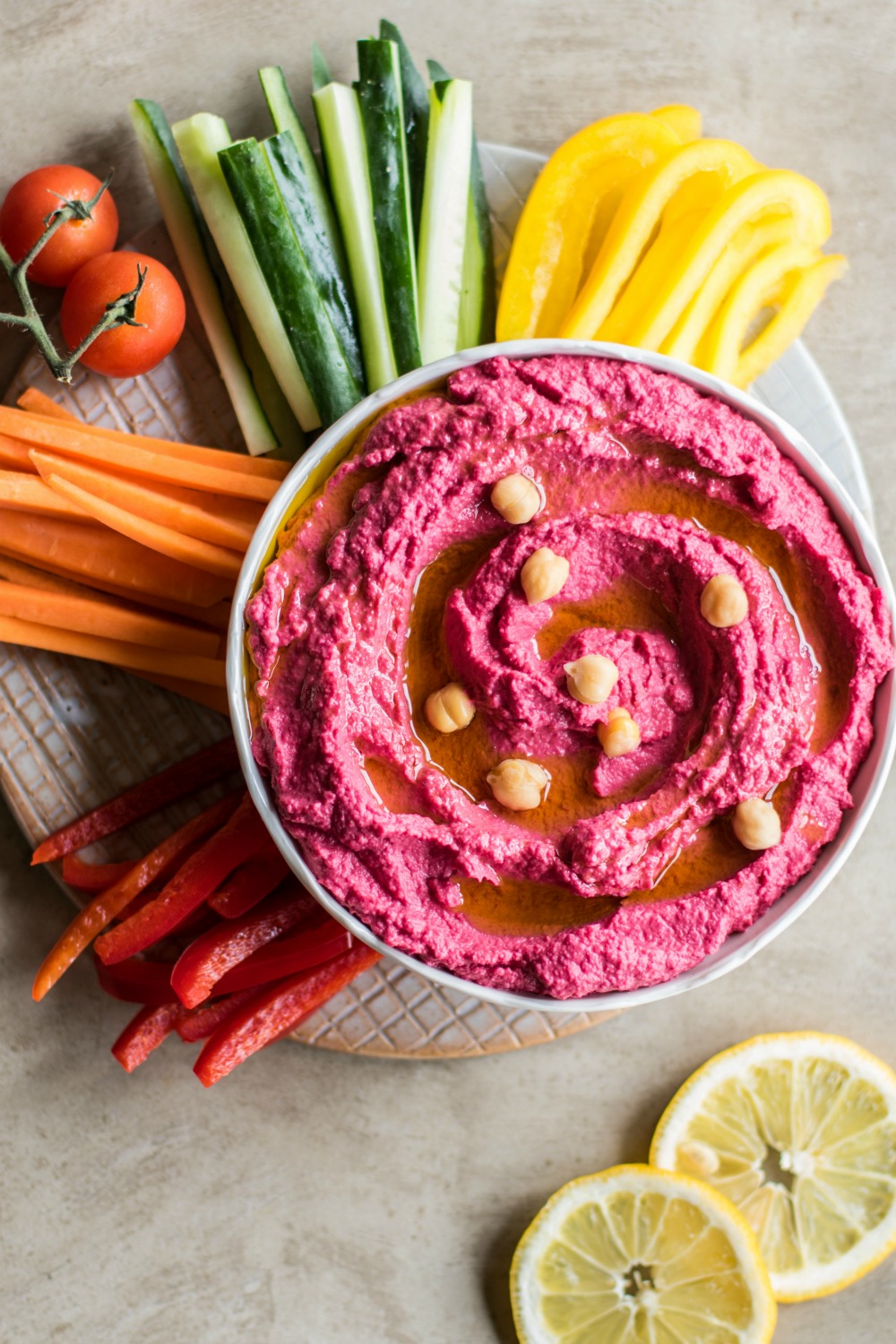 Ingredients
1/4

cup

tahini

1/4

cup

lemon juice

1

cup

roasted beets

2

tbs

olive oil

1

clove

garlic

minced

1/4

tsp

Salt

1

can

chickpeas

rinsed and drained

3

cups

assorted veggies

carrots, cucumbers, peppers
Instructions
Add tahini and lemon juice to a food processor bowl, and process until a thickened paste forms (about 1 minute).

Add beets, olive oil, garlic and sea salt, and process until very smooth, about 2-3 minutes.

Add half of the chickpeas, and continue to process another 2 minutes.

Add the rest of the chickapea, and process again, until a very smooth dip is formed.

Taste, and adjust the sea salt, lemon, and garlic to taste.

Add ⅕ of the hummus (about ⅓ cup) to the bottom of jars, or in individual containers. Pack with lots of thinly sliced vegetables for dipping.
Notes
Nutrition for 1 out of 5 snack jars:
14g P | 28g C | 29g F | 9g Fiber | 421 calories
Nutrition
Serving:
1
jar
|
Calories:
421
kcal
|
Carbohydrates:
28
g
|
Protein:
14
g
|
Fat:
29
g
|
Fiber:
9
g