Do you love dried fruit as a healthy snack? So do we! Our air-fried apple chips are the perfect afternoon snack or dessert for adults and children. The best part about this recipe is its simplicity. You don't need a dehydrator to make apple chips when you have an air-fryer. These apple chips not only taste great when paired with honey cinnamon fruit dip, but they also look festive for fall gatherings.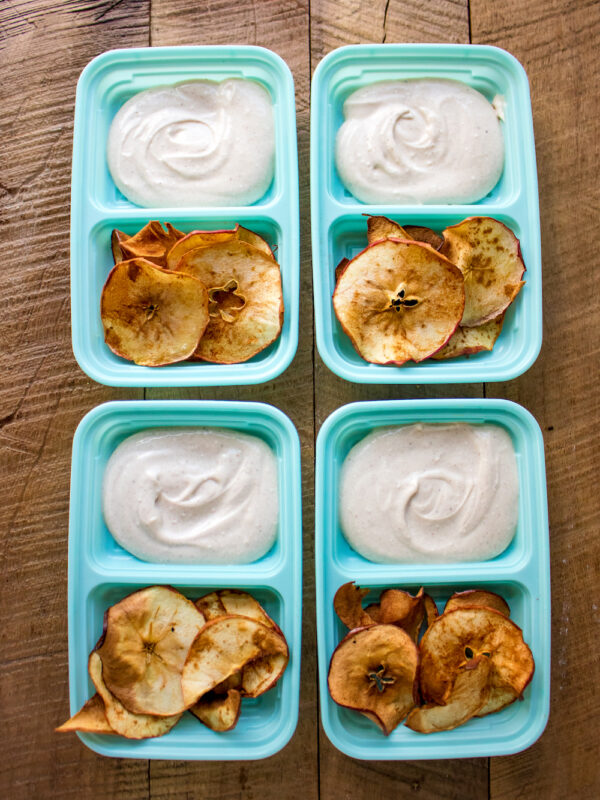 This festive autumn snack turns fresh apple slices into chips without any oil! The air fryer uses just enough heat and air to gently dehydrate slices, perfect for dipping in creamy honey–cinnamon fruit dip!
How long will Air-Fried Apple Chips last for?
When properly stored, apple chips last for 6 to 12 months in the refrigerator or room temperature spaces. So, fire up the frier, make a bunch, and have them on-hand! Store your air fryer apple chips in airtight containers or ziplock bags.
Can Air-Fried Apple Chips be frozen?
Yes, you can freeze air-fried apple chips. Store them in a heavy-duty freezer bag, and they'll last for 12 to 18 months. When kept at 0-degree temperature, apple chips will stay fresh beyond 18 months.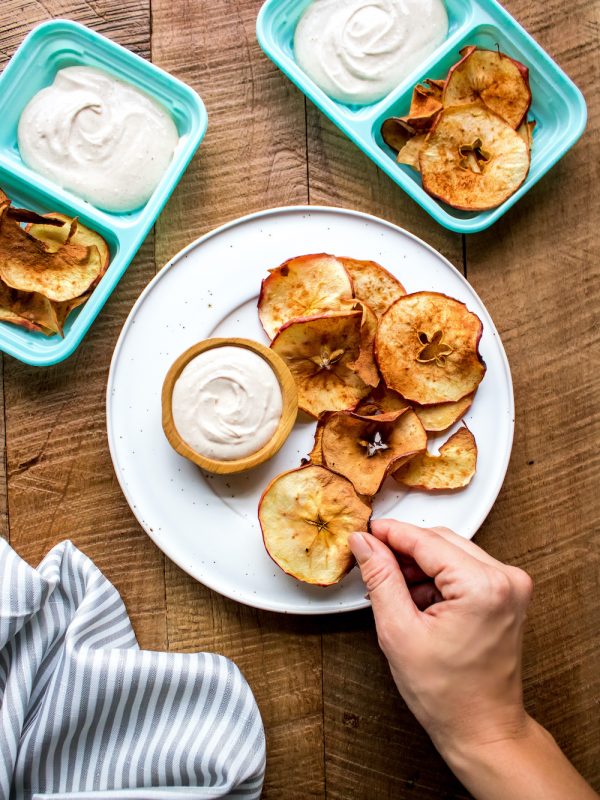 Air

–

Fried Apple Chips
Ingredients:
2 medium apples thinly sliced/seeds removed

1 tsp cinnamon

1/8 tsp nutmeg
For Honey Cinnamon Dip
4 oz. light cream cheese, softened

1/2 cup non-fat Greek yogurt

3 tbsp honey

1 tsp cinnamon
How do you make Air-Fried Apple Chips?
Apple chips are super easy to make and don't take much time or effort, especially with an air-fryer. You can save time by prepping the apples before you air fry them. Get at least two medium apples and cut them into thin slices, and make sure to remove the seeds. The first and only step is air-frying the apple slices. Mix nutmeg and cinnamon in a bowl and sprinkle the apple slices when they're in the air-fryer basket. Air-fry the first batch of apple slices at 300 degrees for 25 to 30 minutes. Flip the slices over, sprinkle them, and continue cooking. Remove them from the fryer and repeat the process with the remaining apple slices. Also, don't forget to make the honey-cinnamon fruit dip in between frying! All you need are the ingredients, a bowl, and a hand mixer. Put the Greek yogurt, cream cheese, honey, and cinnamon in a medium bowl and mix. The dip doesn't take long to make, so place it in the refrigerator until the apples are done.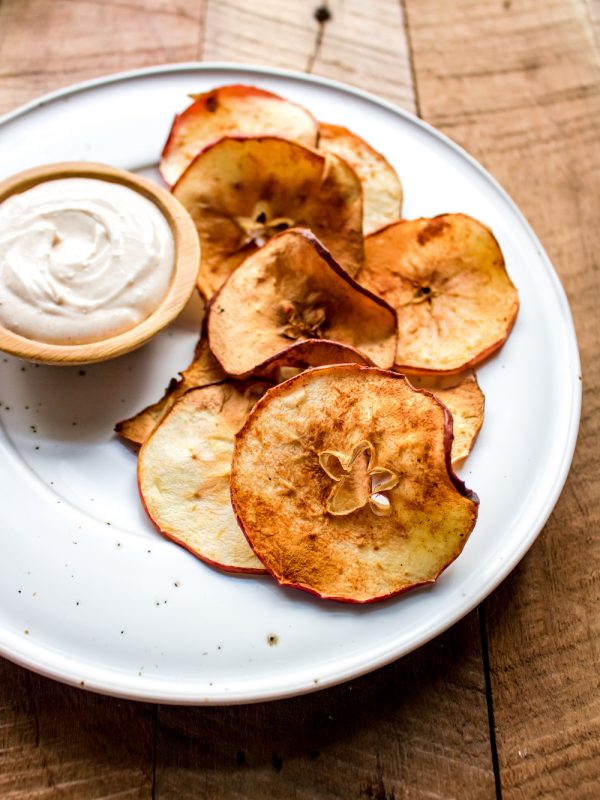 How to portion Air-Fried Apple Chips?
Divide apple chips and dip into four containers. Feel free to use our Good Cook meal prep containers for easy storage. Fill each half-cup compartment with chips and fruit dip.
More air-fryer snack and dessert meal prep recipes:
Air Fryer Cinnamon Sugar Chickpeas
Other tips for making Air-Fried Apple Chips:
Thoroughly wash your apples before slicing.
Use a mandolin or sharp knife to cut 1/8-inch thick slices.
Fry one minute longer for crispier apple chips.
Extra moist apples need additional cooking time.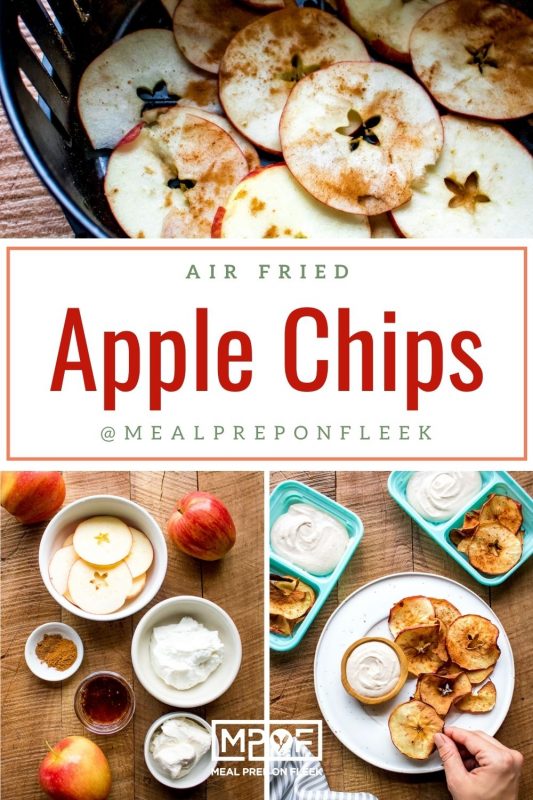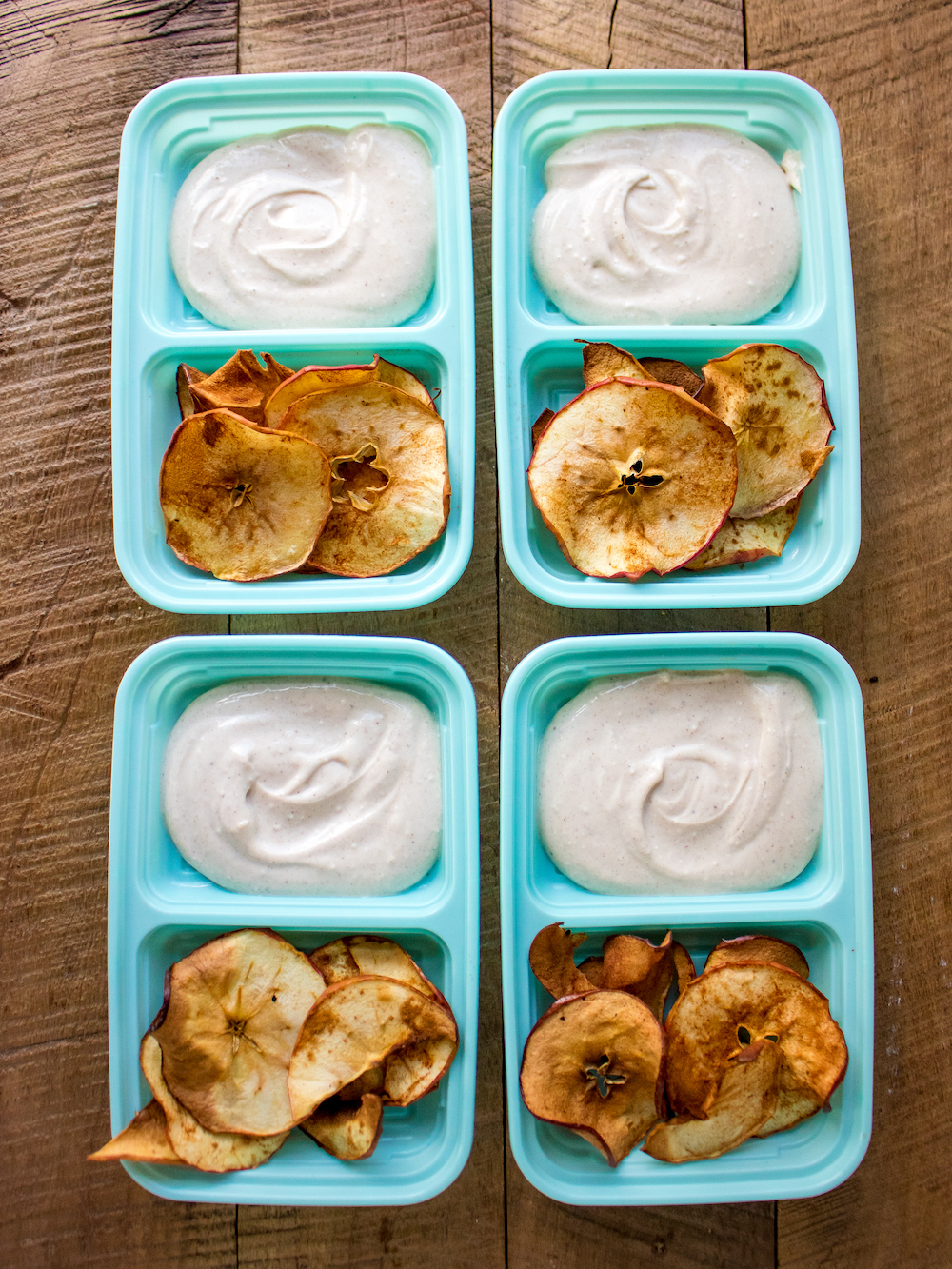 Ingredients
2

medium apples thinly sliced/seeds removed

1

tsp

cinnamon

1/8

tsp

nutmeg
For Honey Cinnamon Dip
4

oz.

light cream cheese

softened

1/2

cup

non-fat Greek yogurt

3

tbsp

honey

1

tsp

cinnamon
Instructions
Stir together cinnamon and nutmeg in a small bowl. Add half of the apple slices to the air fryer basket and sprinkle with half of the cinnamon/nutmeg. Air fry at 300F for 25-30 minutes, flipping apple slices halfway through cooking.

Transfer fried apple slices to a plate. Apples will continue to crisp as they cool. Repeat with remaining apple slices.

While the apples fry, mix together ingredients for the honey cinnamon dip in a medium mixing bowl using a hand mixer.

Divide dip between 1/2 cup sides of 4 snack containers. Divide apple chips between the other 1/2 cup compartments.
Nutrition
Calories:
175
kcal
|
Carbohydrates:
30
g
|
Protein:
3
g
|
Fat:
5
g
|
Sodium:
163
mg
|
Fiber:
3
g