Homemade Churro Meal Prep
We have a confession, meal prep fam—As much as we do our best to be health-conscious, we still crave sugar sometimes! It's super normal, and we want to tell you that we believe that it's even okay to indulge your sugary desires, so long as it's in moderation (this is especially true if you're following a lifestyle of Intuitive Eating)! That's why we're excited to bring you today's recipe as a healthy snack idea—A delicious and authentic churro and meal prep!
Not only is this delicious healthy snack idea completely vegan and vegetarian-friendly, but it's also actually gluten-free too! We replaced the egg in a traditional churro with Bob's Red Mill Egg Replacer (potato starch-based) and regular white flour with gluten-free flour (brown rice-based) to ensure compliance with diets free from gluten and animal products.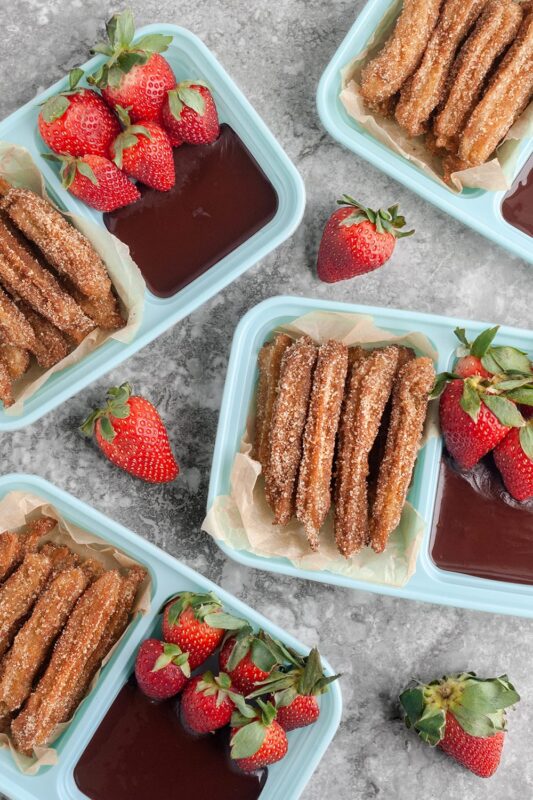 You could expect a traditional churro to be normally fried in some kind of extremely unhealthy vegetable shortening, but we revamped that old method in this healthy snack idea by exchanging the shortening with avocado oil! Avocado itself is a widely celebrated superfood, but its oil takes all the health benefits of the fruit and concentrates them many times over! Over 70% of avocado oil consists of what is known as oleic acid, a monounsaturated omega-9 fat that helps reduce bad cholesterol levels!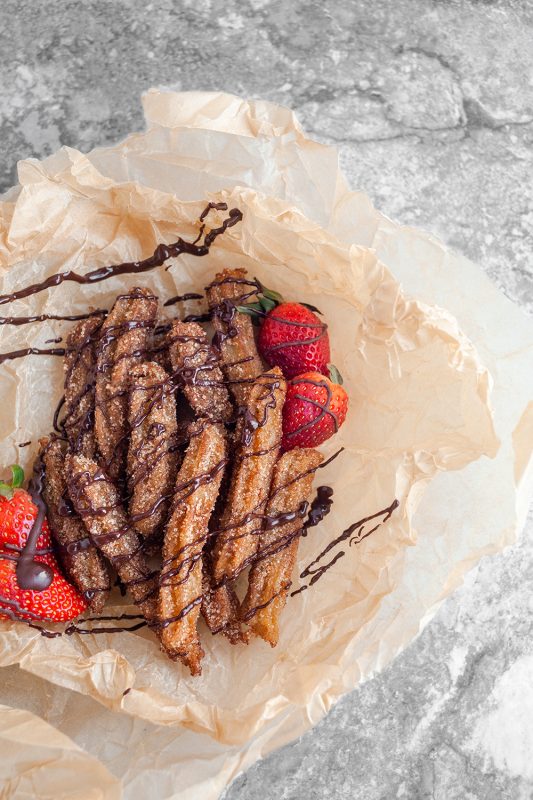 How long does this churro meal prep last for?
Because sugars act as a natural preservative, we found this tasty dessert could last up to 5 days in the fridge. Reheating via microwave is not recommended though, because the churros will lose much of their crispiness.
Can this churro meal prep be frozen?
Yes, you easily can keep these churros in the freezer for a couple of months without the risk of spoilage or expiration.
How do you make this churro meal prep?
One of the big reasons this healthy snack idea is so great is that it's so easy and fun to make! You can start the process by mixing your sugar and cinnamon together in a dish, then set it aside. Boil water, 2 tablespoons of sugar, and coconut oil together, then remove from heat. Next, add the flour, vanilla, salt, vegan egg, and baking powder to hot liquid mixture and return to heat. Stir until doughy, let sit for 10 minutes, then heat a large frying pan with avocado oil. Using a star-tipped pastry bag, pipe dough directly into hot avocado oil, and fry for 6 minutes. After cooling, roll into cinnamon sugar and divide into 4 portions.
How to portion this churro meal prep?
Because this healthy snack idea incorporates a side of homemade chocolate sauce and optional berries, we recommend a two-compartment meal prep container for keeping everything separate. Check out our Ultimate Guide to Meal Prep Containers for even more info!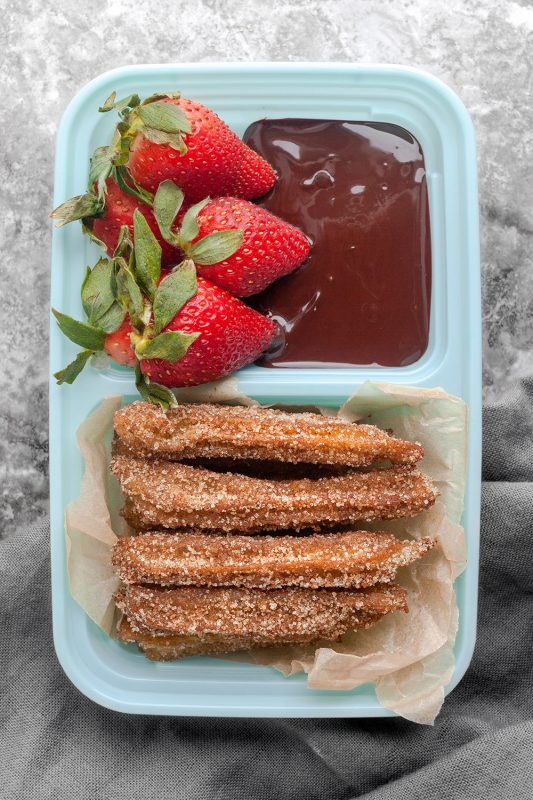 More healthy snack ideas:
Other tips for making this churro meal prep:
Absolutely never mix water with hot oil as it presents a very real safety hazard!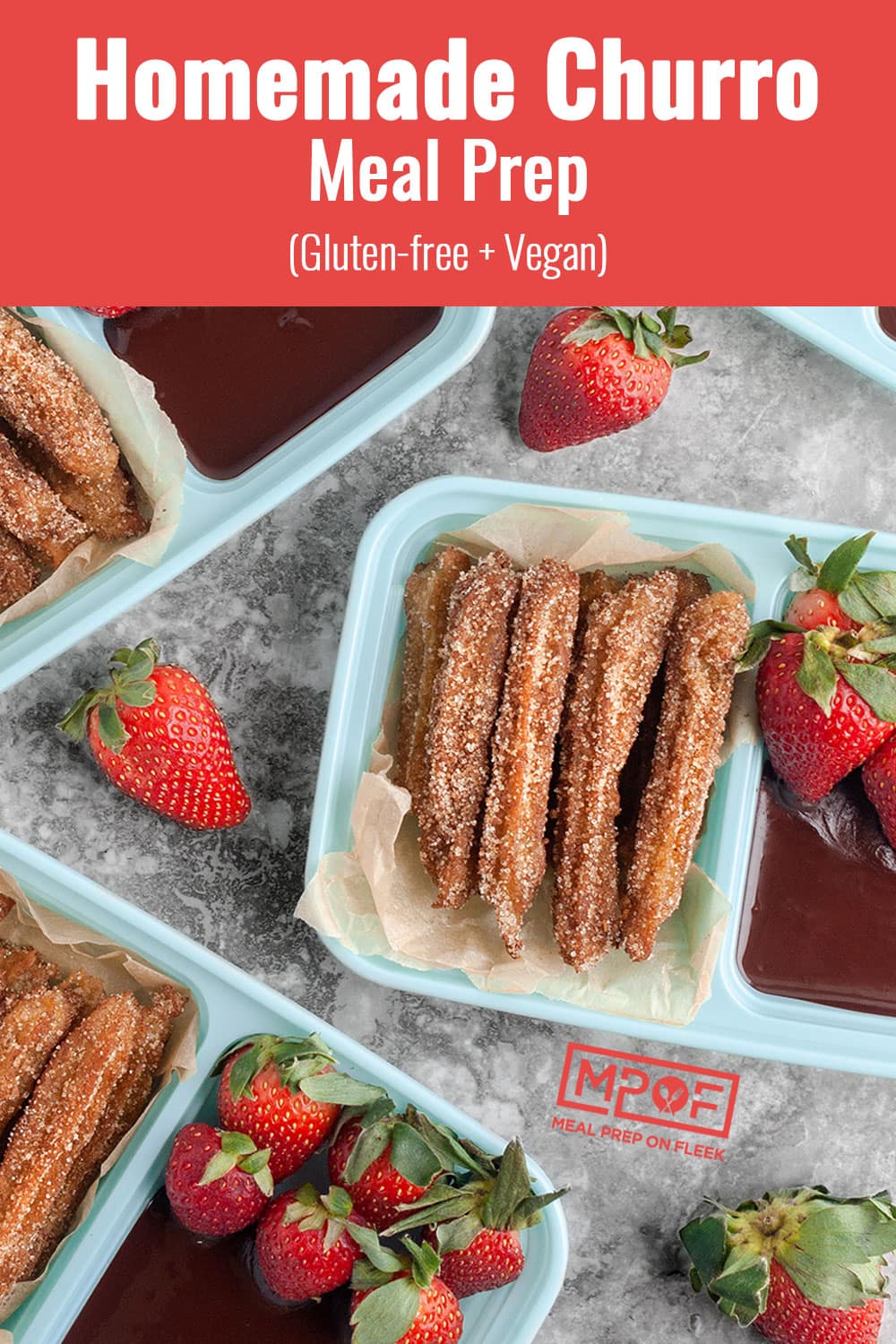 Churro Meal Prep Ingredients:
1 C. Gluten-Free All-purpose Flour
1 C. Water
1/4 C. plus 2 Tbsp. Unbleached Organic Cane Sugar
1/2 C. Avocado Oil***
2 Tbsp. Coconut Oil
1 Vegan Egg (1 Tbsp. Bob's Red Mill brand Egg Replacer mixed with 3 Tbsp. water)
1 Tbsp. Ground Cinnamon
1 tsp. Pure Vanilla Extract
1/2 tsp. Baking Powder
1/4 tsp. Pink Himalayan Salt (or Sea Salt)
***Or as much as needed to reach 1/2" depth in a frying pan.
Optional:
Chocolate sauce (1/4 C. melted coconut oil mixed with 3 Tbsp. and 1 Tbsp. Maple Syrup), fresh berries, halved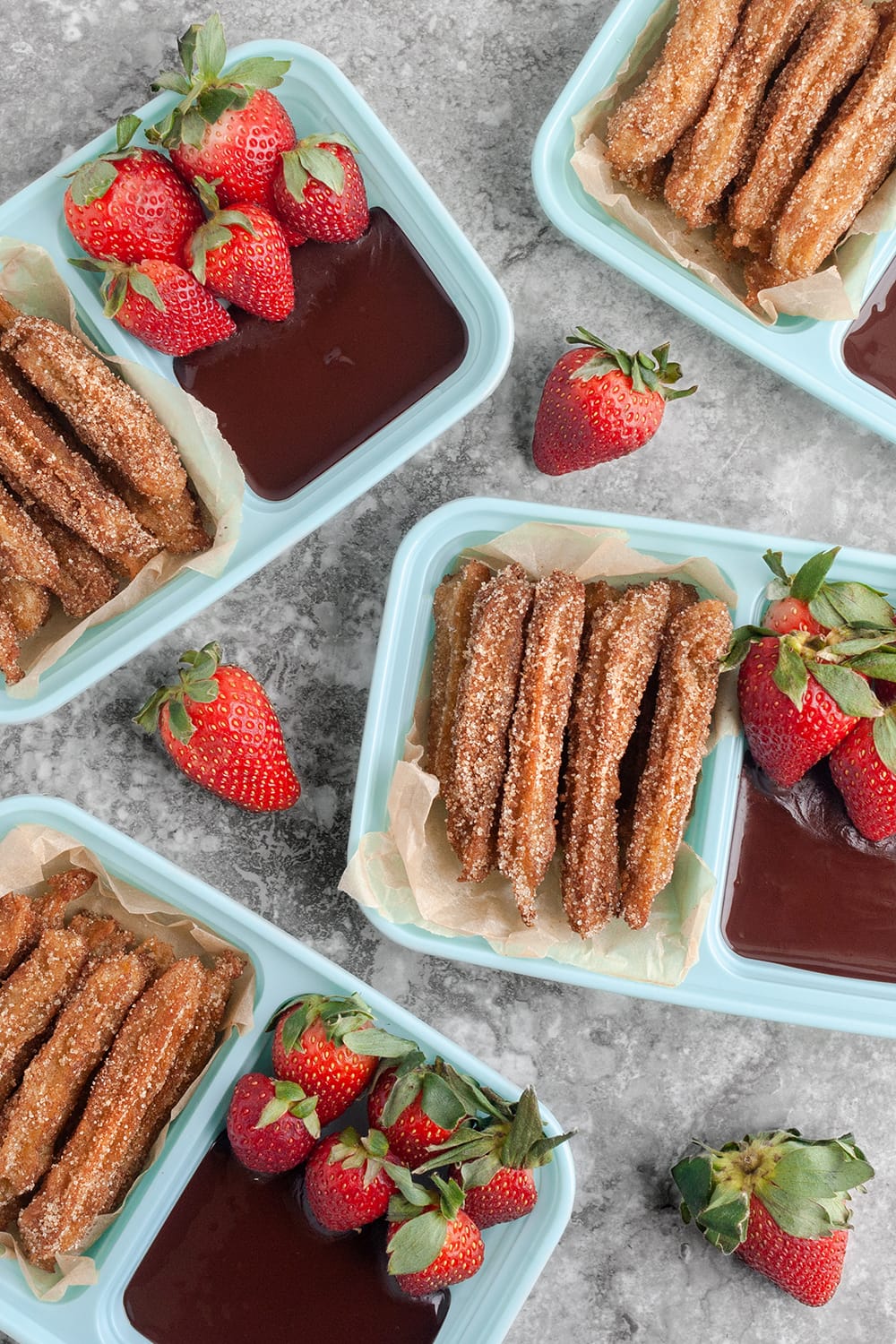 Ingredients
1

cup

gluten-free all-purpose flour

1

cup

Water

6

tbsp

organic cane sugar

or granular sugar of choice

1/2

cup

Avocado

oil**

2

tbs

Coconut Oil

1

tbsp

Bob's Red Mill egg replacer mix

mixed with 3 tbsp. water

1

tbsp

ground cinnamon

1

tsp

pure vanilla extract

1/2

tsp

baking powder

1/4

tsp

Sea Salt
Optional, chocolate sauce
1/4

cup

melted coconut oil

3

tbsp

cacao powder

1

tbsp

maple syrup
Instructions
In a dish, combine 1/4 cup sugar with 1 tablespoon cinnamon, set aside.

Heat water, coconut oil, and 2 tablespoons of sugar in a medium-large pot over medium-high heat. Remove from heat once boiling.

Lower heat and return to stove then add flour, vanilla, salt, vegan egg, and baking powder to the liquid mixture.

Using a mixing spoon, stir until well-combined (dough pulls away from pot sides forming a ball and is smooth in texture). Once finished, remove from heat and let cool ~10 minutes.

While the dough cools, heat a large frying pan over medium-high heat and add avocado oil.

While the oil heats up, and once the dough is cooled enough to handle, scoop dough into a pastry bag fitted with a medium to large open star piping tip.

Pipe 3" long churros into oil, using a knife to separate piped churro from the piping tip.

Fry numerous churros at once for ~6 minutes, flipping halfway. Once done frying, place on-to a paper towel-lined plate for ~3 minutes.

Next, roll churros in the cinnamon-sugar mixture, and lightly tap off any excess cinnamon sugar.

Divide into 4 portions, optionally served with chocolate dipping sauce and fresh berries.

Serve, store, and enjoy!
Notes
Nutrition for 1 out of 4 servings:
2g Protein | 45g carbs | 22g Fat | 369 Calories
*Nutrition facts are based off of 4 tbsp avocado oil being absorbed during frying. However, please keep in mind that this is only a guesstimate as you can't know the exact amount used. If you would like your recipe to be more accurate, you can measure your leftover oil and subtract that from the total.
Nutrition
Serving:
1
serving
|
Calories:
369
kcal
|
Carbohydrates:
45
g
|
Protein:
2
g
|
Fat:
22
g