This Whole30 pesto chicken meal prep recipe combines tons of Italian flavors in easy roll-ups. Serve over cauliflower rice or with sauteed veggies for an easy meal-prep lunch or dinner.
This Whole30 chicken and pesto meal prep is ready to rock your world. Because, oh, how we love pesto. It seems to infuse any dish with the essence of summer, right? And this dish looks kind of fancy, we admit it. But it's not. It's equally awesome as a meal prep and a recipe you might serve for company, too. And if your guests happen to be gluten free, paleo, or keto, this dish works well as it's all veggies and protein. Woo hoo! The pesto has no cheese in it!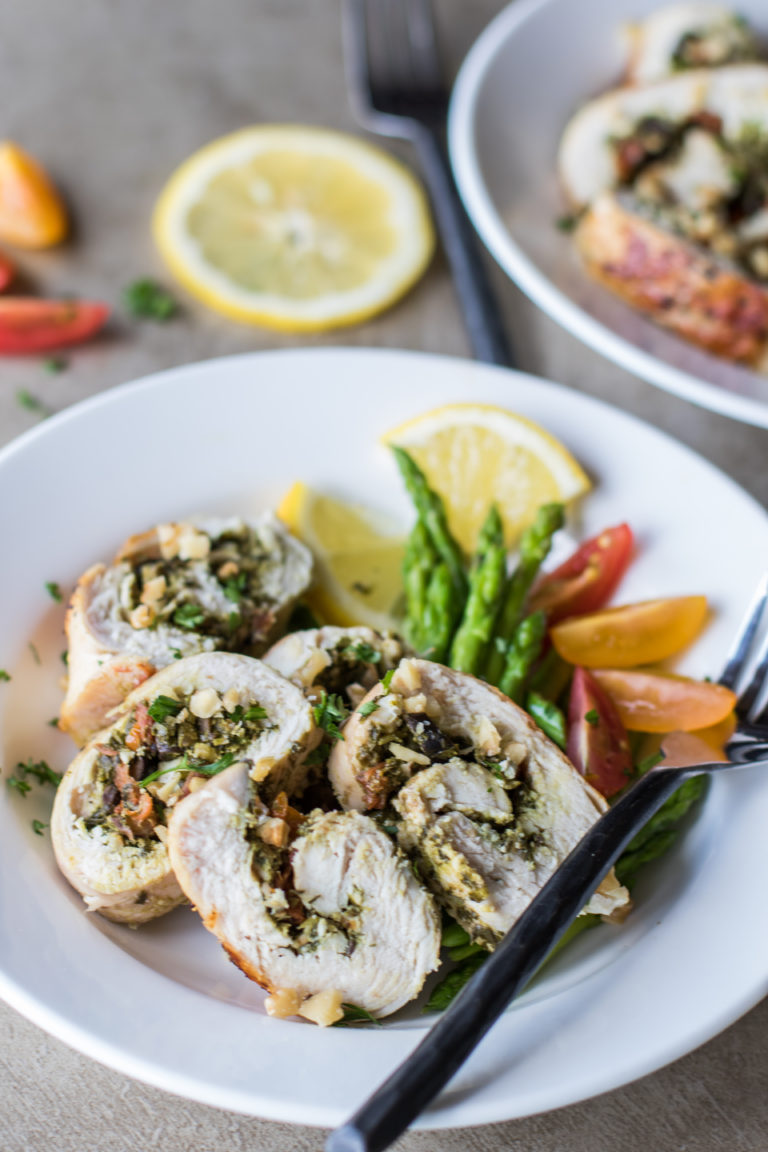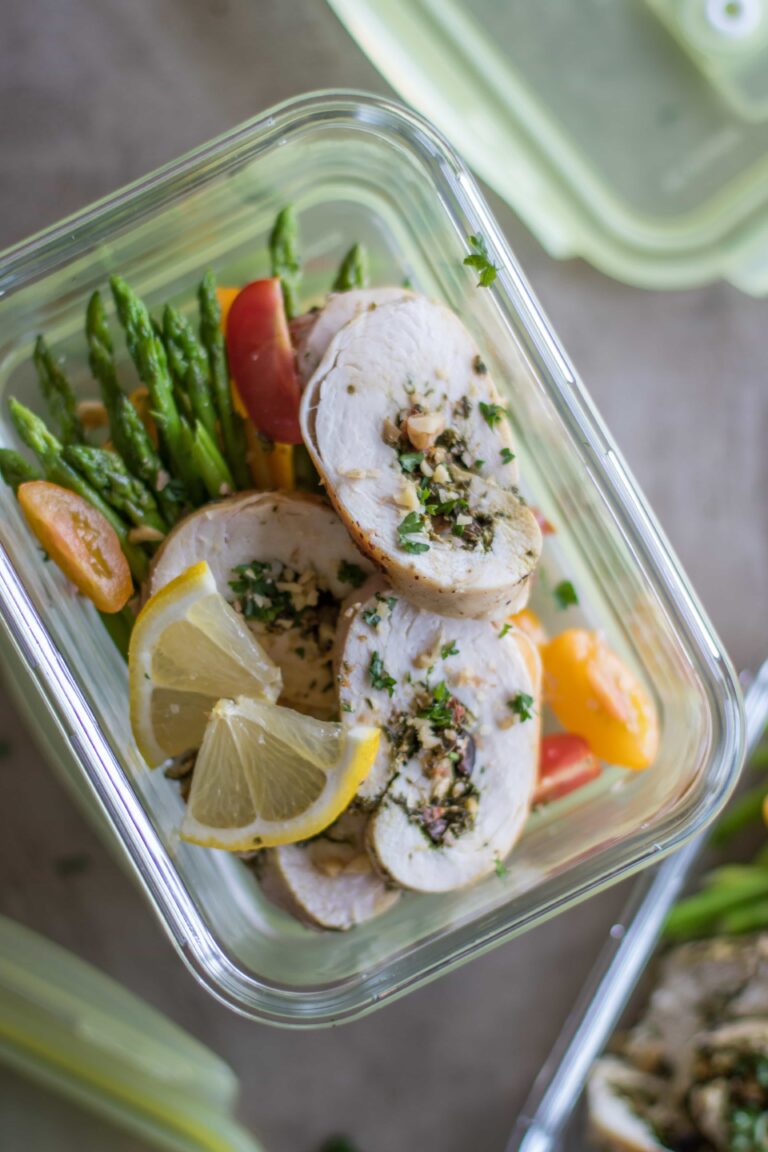 Whole30 Pesto Chicken Meal Prep Ingredients
For the chicken
4 chicken breasts

1 recipe Whole30 pesto (see below)

½ cup sundried tomatoes, chopped

½ cup black olives, chopped

1 lb asparagus

1 cup cherry tomatoes, sliced

2 tablespoons walnuts, chopped (to garnish, optional)
For the pesto
5 cups loosely packed basil

¼ cup olive oil

2 tablespoons lemon juice

¼ cup walnuts

1 clove garlic, grated

½ teaspoon salt
How to Make Pesto Chicken Meal Prep
We like to start this dish by making the pesto first so it's ready to go when it's time to use it with the chicken. (Don't worry, it's easier than it looks). Everything comes together in the food processor for the pesto. It's quick.
You might be wondering how those chicken breasts end up looking so cool? All you need to do is to pound them flat on a cutting board, put a little bit of pesto on one end, and then roll them up. Then, they bake in a casserole dish all rolled up tight, and make for a lovely presentation. You serve this alongside some cooked asparagus and cherry tomatoes. It's a really delicious dish to make in the spring, with fresh asparagus right in season, or in the summer, with some colorful tomatoes. And of course, all that fresh basil makes for the very best pesto, too.
How to Store and Serve Whole30 Pesto Chicken Meal Prep
Once you've cooked this chicken pesto prep and stored it in containers in the fridge, it will last up to 4 days. Reheat it in the microwave if you like, or in a low oven, covered in a bit of foil, for about 10 minutes. You can also freeze the chicken very easily, too, if for some reason you have leftovers or you want to make a double batch. Just make sure it's in a well-sealed container. Defrost and reheat as usual.
On its own with the veggie sides, this is a complete meal. But you can serve some rice (brown, white, or cauliflower rice) or maybe a smaller-sized pasta such as orzo alongside everything. A salad is never a bad idea, either.
Substitutions and Alterations
Thinly pounded pork chops would be really good with this pesto dish, too. You could also use the pesto as a marinade for pork tenderloin or even on chicken thighs. You'd lose that cool-looking, rolled-up presentation, though. But if you'd rather use pork because it's what you have on hand and you're enamored of this recipe otherwise, go for it.
You can also make pesto with something other than basil if you like. We have recipes that include arugula (such as this Sheet Pan Arugula Pesto Shrimp Meal Prep), but you can also make a basic pesto using parsley or even watercress.