Thank you to B & W Quality Growers for sponsoring this Watercress Pesto Spaghetti recipe post, and thank YOU for supporting the brands that help make Meal Prep On Fleek possible. All opinions are our own.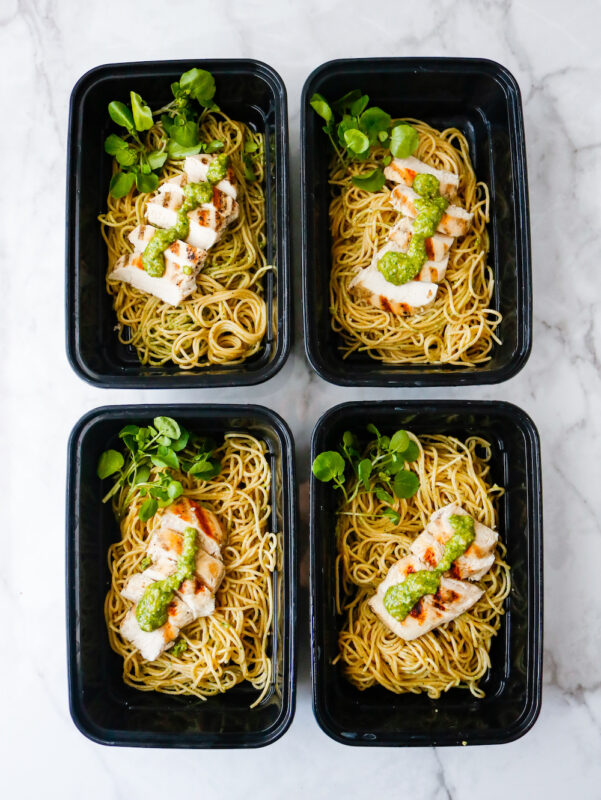 Watercress stands in for basil in this herby pesto full of fresh garlic, heart-healthy walnuts, and Vitamin-K rich watercress!
One thing we love around here is sauces! They can transform an ordinarily bland meal into something magical in minutes! Plus, they are usually very versatile. Take for example this watercress pesto. Yes, that's right! We said watercress pesto! We paired the pesto with a simple pasta meal prep idea, but it would also work nicely on chicken, fish, atop of eggs for breakfast, etc. In a matter of a few minutes, this nutrient-packed recipe will change the flavor game on almost anything!
Ok, so we know you are wondering why we used watercress in this recipe instead of traditional basil. If you've been hanging around here for a while then you know how much we love simple and vitamin-packed recipes! But more than that, we love creative flavors! That's where the watercress comes into play.
What is watercress?
If you aren't familiar with watercress, it is a green leafy vegetable that is rich in vitamins and minerals. It is part of the broccoli and kale family. You have probably seen it used as a garnish on a soup or salad at a restaurant. It has a slightly peppery taste that adds such a nice depth of flavor to dishes!
Health benefits of watercress.
Watercress also has a ton of health benefits! We talked about 6 of our favorite health benefits here. Did you catch them? We bet if you did then you are very interested in learning how to incorporate more watercress into your meals. If you missed them, head over and check them out and then meet us back here! You aren't going to want to miss this easy recipe idea!
Over the last few years, watercress is becoming more prominent in the health community. It is going from being a simple garnish to the main star of the dish! Here are 6 delicious ways to eat watercress:
On top of a pizza
In smoothies
In Soups
Layered in sandwiches
In pesto
In a stirfry
But, the fun doesn't stop with these 6 ideas! As you will see over the next few months, the ways to incorporate watercress are endless!
BONUS!
Not only is watercress full of nutrients and delicious, but it's very low in calories and contains almost no carbs. One cup of watercress has only 0.4g of carbs and 4 calories making it a great choice for any dietary type; vegan, vegetarian, whole30, paleo, keto, low carb, gluten-free, etc. Despite its low-calorie count, watercress still manages to pack in 21% of your Vitamin A and 24% of your Vitamin C for the day. Now that is a nutrient win!
Watercress Pesto Spaghetti Ingredients:
For Pesto
1/3 cup olive oil
2 cups loosely packed watercress
1/4 cup walnuts
1/4 cup grated Parmesan cheese
1 tsp minced garlic
1/4 tsp sea salt
For Serving
8 oz. gluten free spaghetti
4 (4 oz.) boneless/skinless chicken breasts
Sea salt and black pepper to taste
1 cup watercress (for top)
Simple ingredients. Bold flavors.
Start by making your pesto with that beautiful watercress.
Then serve it atop cooking gluten-free pasta and grilled chicken for a balanced meal of protein, carbs, and healthy fats! If you're looking for even more ways to use Watercress today, head over to B & W Quality Growers for an endless list of meal prep friendly ideas!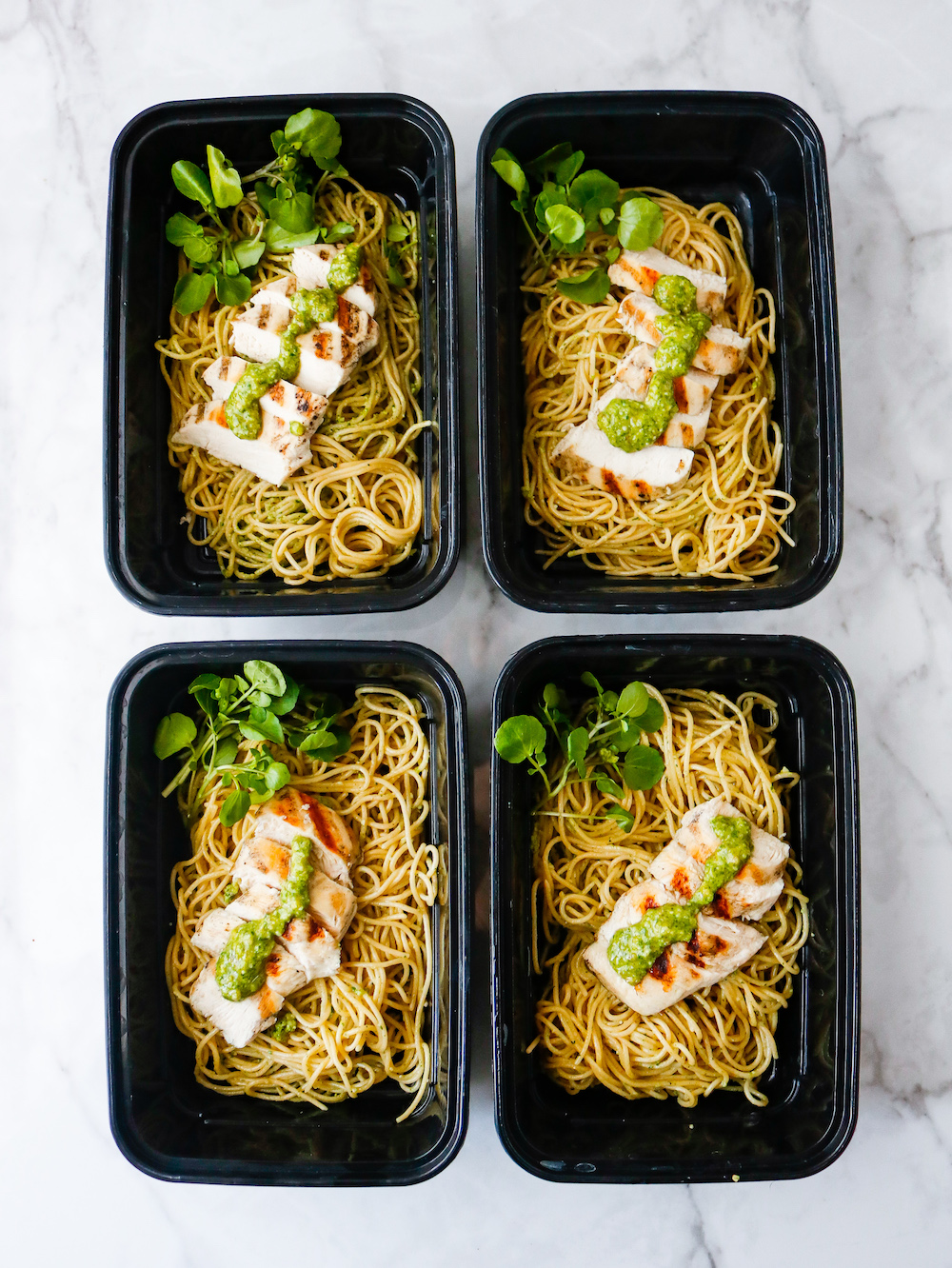 Ingredients
For Pesto
1/3

cup

olive oil

2

cups

loosely packed watercress

1/4

cup

walnuts

1/4

cup

grated Parmesan cheese

1

tsp

minced garlic

1/4

tsp

sea salt
For Serving
8

oz.

gluten free spaghetti

1

lb

boneless/skinless chicken breasts

4-4 ounces breasts

Sea salt and black pepper to taste

1

cup

watercress

for topping
Instructions
Cook spaghetti according to package directions. While spaghetti cooks, heat a cast iron grill pan over medium heat and lightly grease with olive oil. Season chicken breasts with sea salt and black pepper and place onto grill. Grill 8 minutes on each side. Place on cutting board and slice chicken.

Combine ingredients for the pesto in a food processor and pulse until thoroughly combined. Drain pasta and toss with 1/2 of the pesto. Divide between 4 MPOF black containers and top with watercress and sliced chicken. Spoon remaining pesto over chicken.
Video
Nutrition
Calories:
537
kcal
|
Carbohydrates:
33.3
g
|
Protein:
52
g
|
Fat:
28
g
|
Fiber:
5.6
g