Vegan Butternut Squash Casserole Meal Prep
We are all about delicious and easy recipes. Especially easy breakfast recipes! And with so many of you asking for more vegan and breakfast recipes we thought it to only befit that we bring you both in this dish! Vegan Mexican Butternut Squash Casserole Meal Prep! Layered with black beans, tomatoes and Mexican flavors this 20-minute casserole is big on taste with minimal effort.
All the flavors of your favorite Mexican recipe meld together into layers of tortillas, fall butternut squash, black beans, salsa, and vegan cheese! Is your mouth watering yet? As we said, it's all of the best Mexican flavors together!
This works well as a dish you can enjoy straight out of the oven, but we actually prefer it for meal prep the next day or even 2-3 days later. There is just something about that extra time that makes the flavors really come together! We also kept it gluten-free by using gluten-free tortillas, but that was a personal choice. Feel free to use any tortilla you'd like! And if you are not vegan, you can make this high-protein by adding in some ground turkey or beef.
How long will Vegan Butternut Squash Casserole last for?
Feel great storing your Vegan Butternut Squash Casserole for 3-4 days in an airtight meal prep container. When it's time to reheat each portion of this meal prep recipe, we recommend a quick heat in a saucepan or microwave oven. If you're using glass containers and have more time, you can even use a regular oven.
Can Vegan Butternut Squash Casserole be frozen?
Vegan Butternut Squash Casserole can last for months and months in the freezer. Plan on 12 or fewer months and make sure to store and seal each container properly. When it's time to put these meal prep recipes into your schedule, defrost in the refrigerator or immerse the containers in cold water. You can also defrost the dish in the microwave.
How do you make Vegan Butternut Squash Casserole?
This meal prep recipe is delish with diced onions and jalapeno, black beans and spices tortillas and tomato and a few more great ingredients. Check out the list to get started! We'll put it all together in 5 steps.
After you preheat the oven and prepare your baking dish with a thin layer of canned tomatoes, stir together most of the ingredients in a mixing bowl. Then comes the layering in the casserole with the tortilla quarters first, followed by the butternut squash mixture.
After baking for about 17 minutes, wrap up this dish by adding the vegan cheese for a final 3 minutes. Then just let it rest on a counter for 5 minutes and divide it into 3 gorgeous portions.
How to portion Vegan Butternut Squash Casserole?
Many MPOF recipes portion into 4, but his meal prep recipe divides into 3 meals with 385 kcal each. That's because butternut squash is so low calorie. Single-compartment glass containers or plastic meal prep containers will be the way to go for sure unless you add any other side.
More Butternut Squash & Casserole meal prep recipes: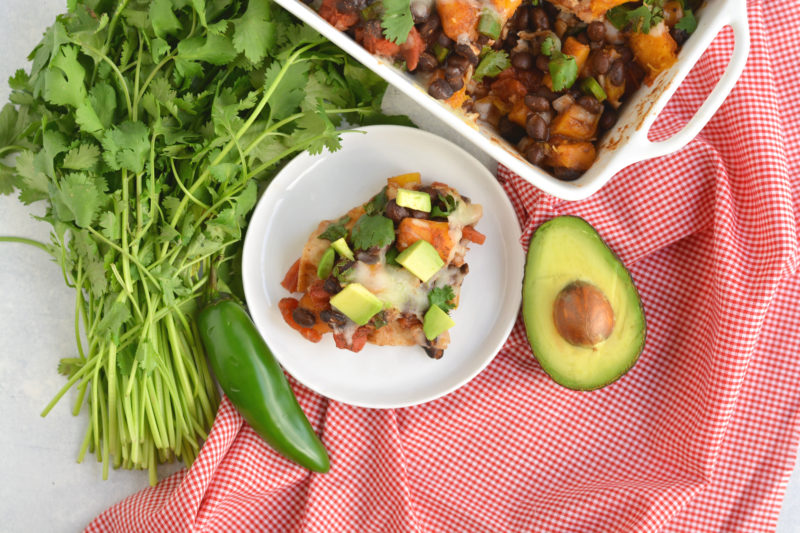 Other tips for making Vegan Butternut Squash Casserole:
How do you pick a good squash for your Vegan Butternut Squash Casserole? Butternut squash is best when it's darker, no green patches, its skin is slightly rough and not shiny, heavy for its size, and sounds hollow if you tap the squash.

Butternut squash skin is tough! Soften the skin by poking holes in it all over with a fork and giving it 2 minutes in the microwave.

Use a very sharp peeler to peel the butternut squash. Without a peeler, cut the squash in half, set it vertically on a flat surface, and use the knife to cut vertical slices off the side.
Vegan Butternut Squash Casserole Meal Prep Ingredients:
1 15 oz. can diced tomatoes or 2 cups salsa

2 cups butternut squash, cubed

3 tbsp. white onion, diced

1 jalapeno, diced

1 15 oz. can black beans, drained

3 large Gluten-Free tortillas, cut into quarters

¼ cup Vegan cheese

1 cup fresh cilantro or parsley leaves

salt to taste

1 tsp. cumin

Avocado for topping, if desired
Ingredients
2

cups

butternut squash

cubed in 1-inch pieces

3

tbsp

white onion

diced

1

Jalapeno

diced

15

ounces

black beans

rinsed and drained

15

ounces

diced tomatoes

can sub with salsa

1

tsp

cumin

3

large

gluten-free tortillas

vegan-friendly, if needed

1/4

cup

vegan cheese

can sub regular, if not vegan

1

cup

fresh cilantro or parsley

salt & pepper

to taste
Instructions
Preheat oven to 350 F. Prepare a 9x13" baking dish by place a thin layer of the canned tomatoes on the bottom.

In a large mixing bowl, combine the butternut squash, white onion, jalapeno, black beans, cilantro, cumin, salt, and remaining tomatoes. Stir to combine the ingredients.

Layer 4 of the tortilla quarters on the bottom of the baking dish then place a layer of the butternut squash mixture over it to cover. Repeat 2 times for 3 layers in total.

Bake at 350 F 17 minutes then layer with the Vegan cheese over the top and bake another 3 minutes.

Remove from the oven and let the casserole sit 5 minutes prior slicing into 3 large slices.
Video
Notes
WW Smart Points= Green:8  Blue:5  Purple:5
__
Nutrition for 1 out of 3 large servings:
16g Protein | 5g Fat | 69g Carbs
Nutrition
Serving:
1
serving
|
Calories:
385
kcal
|
Carbohydrates:
69
g
|
Protein:
16
g
|
Fat:
5
g