Pizza Frittata Meal Prep
All of the traditional flavors of pizza are wrapped up in this Keto Pizza Frittata Meal Prep recipe that is meant for breakfast, sans the carbs! Low Carb. Paleo.
Looking for a bite of awesome to start your day? Well, our meal prep recipes - pizza frittata will create that savory morsel you've been searching for. At under 400 calories, this is a delicious low carb treat! In under 45 minutes, you can whip up this tasty recipe ready to satisfy all who gather. Our meal prep recipes only promise to help you to create delicious and nutritious meals. Come on, let's bake up some pizza frittatas for breakfast!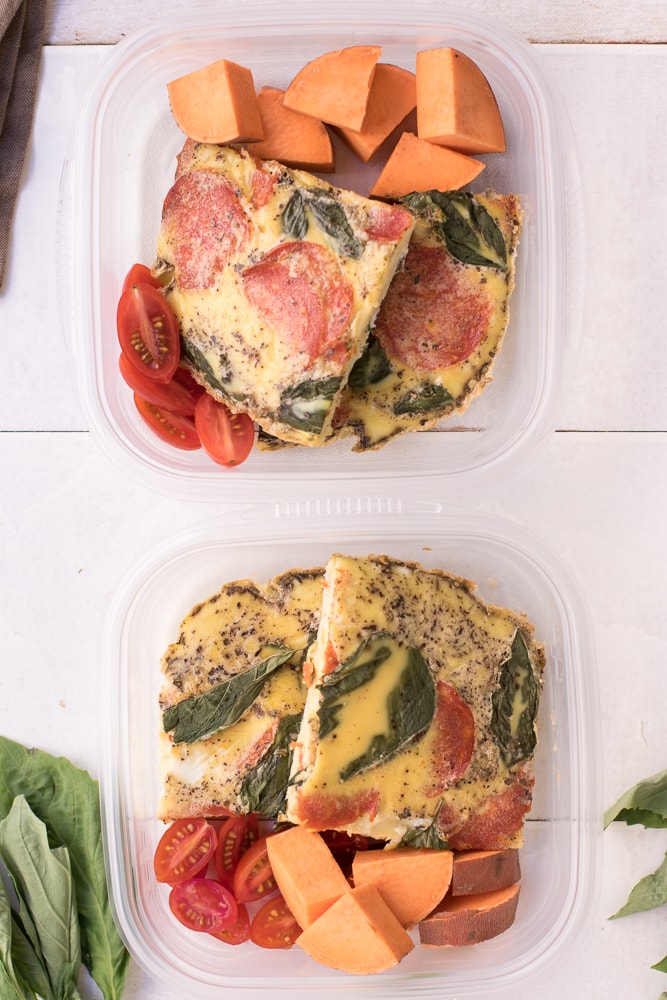 How Long Will Pizza Frittata Last For?
Thankfully, your pizza frittata can last for up to two hours at room temperature, and still tease your senses. However, that doesn't mean after a couple of hours you should just throw it out.
This delicious meal prep recipes can last for 3 to 5 days in the refrigerator in an airtight, secure container.
Can Pizza Frittata Be Frozen?
When stored in covered, airtight containers, your meal prep recipe creation can last for 6 months to a year. MPOF has an array of airtight single compartment containers that could easily facilitate your storage.
How Do You Make Pizza Frittata?
All aboard! Here we go, off to another running start with another one of our scrumptious meal prep recipes. Have you gathered all of your ingredients and cooking utensils? Then, let's get started.
Use non-stick spray or parchment paper in a medium-sized baking dish while the oven preheats to 350F. In a mixing bowl whisk your eggs and milk together until fluffy, then add in your spices, incorporating everything.
Your egg mixture should then be poured into your previously prepped dish. Top with fresh basil and pepperoni. Bake for 25 - 30 mins. Once ready, slice and divide into your choice of meal prep containers. Delicious!
How To Portion Pizza Frittata?
This awesome meal prep ideas pizza frittata recipes provides two tasty breakfast servings.
More Pizza Meal Prep Recipes
We can imagine your delight with this simple meal prep ideas recipe. That's why we are pleased to present you with a few more pizza recipes which might also excite your taste buds:
Other Tips For Making Pizza Frittata
Who says recipes can't be toyed with? Well if you love to experiment with food here are a few tips that could help sizzle things up!
Every spice adds its own unique flavor to your meal prep ideas end product! Feel free to be creative and substitute our fresh basil with thyme or any other spice of your choice.

If you are counting those carbs then the unsweetened almond milk is the perfect addition as it is naturally low in sugar but high in vitamin E.
Did you like this readily available meal prep recipes? Let us know what you think of this recipe or any of the other pizza recipes suggested by MPOF.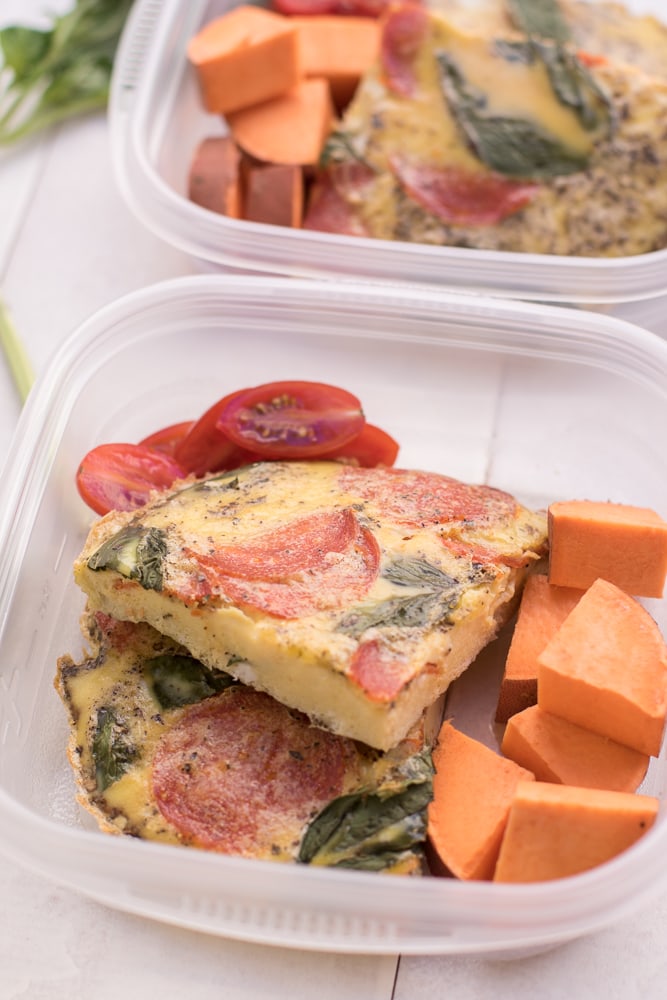 Keto Pizza Frittata Meal Prep Ingredients:
8 eggs, whole
¼ c almond milk
1 teaspoon oregano
½ teaspoon garlic powder
½ teaspoon rosemary
¼ teaspoon pepper
⅛ teaspoon salt
1 bunch fresh basil
15 uncured pepperoni pieces, paleo if needed