Gluten Free Cold Veggie Pizza Meal Prep
Pizza is an incredibly versatile food… NY or Chicago-style? Red or white sauce? Is pineapple a genius topping, or a culinary disaster? Maybe you even want to try Pizza Chicken?! The point is, pizza is beloved comfort food, and everyone likes there's a certain way! Like many comfort foods however, traditional pizza isn't necessarily the most health-conscious meal choice. That's why we decided to put together this gluten-free cold veggie pizza meal prep recipe!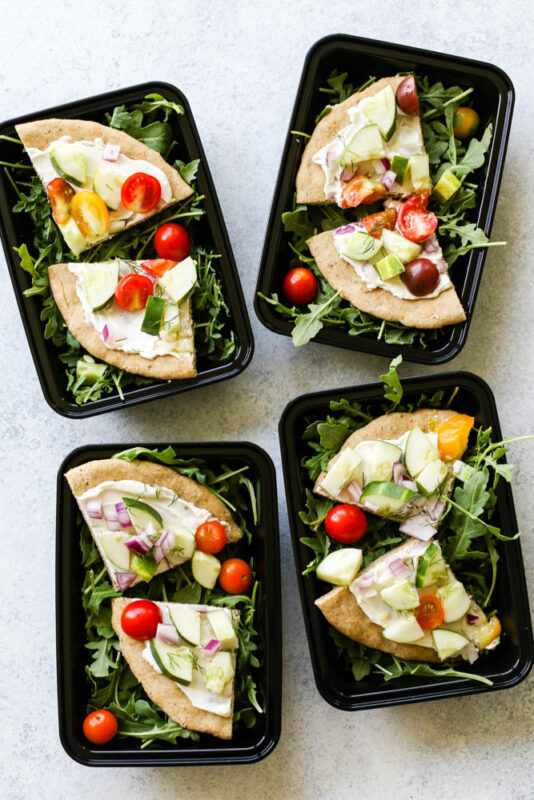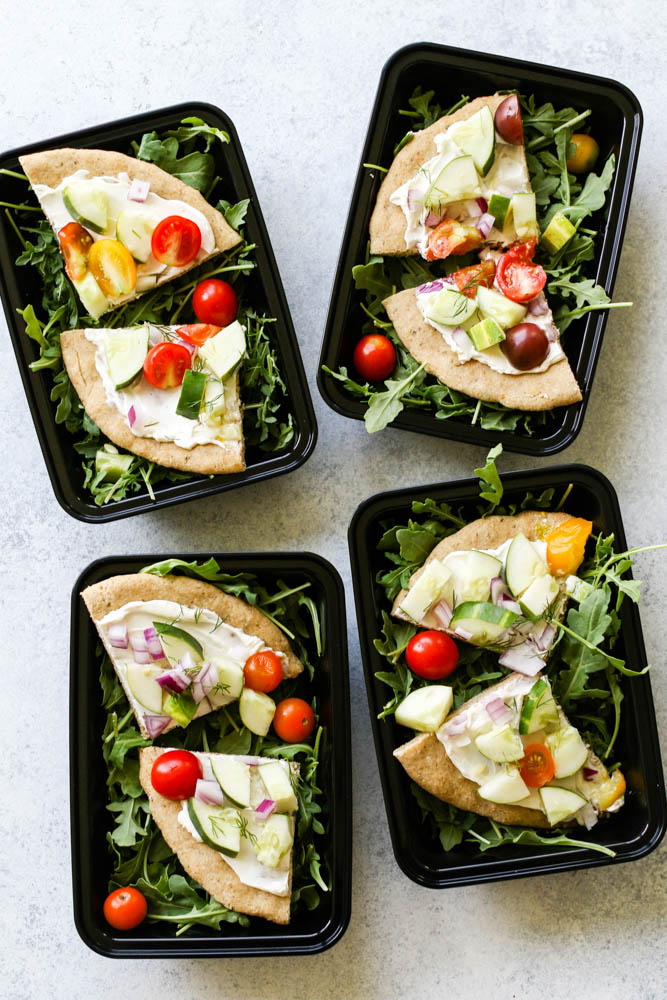 Most of us love pizza, but people with allergies to gluten or Celiac disease cannot enjoy a single bite of it. Don't worry, today's veggie pizza meal prep recipe is perfect for both pizza lovers and people who are looking for gluten-free meal prep options! No need to worry about the number of calories when eating pizza; this meal prep recipe is here for you so you can enjoy your pizza guilt-free!
Easy gluten-free pizza crust topped with light cream cheese and refreshing raw veggies and herbs.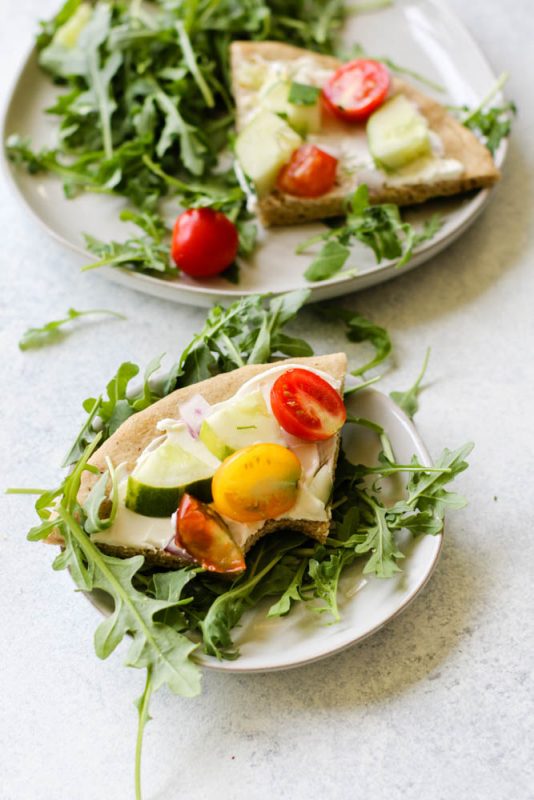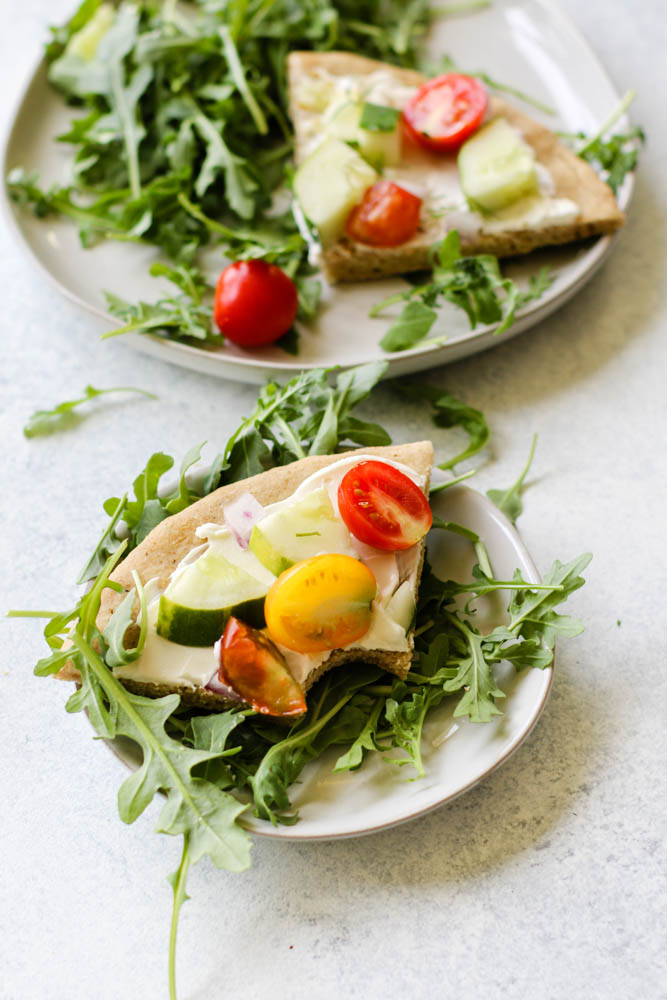 We know how time-consuming it is to create pizza dough from scratch, so we've made sure this veggie pizza meal prep recipe does not involve this lengthy process. So, for this easy veggie pizza, we're using Simple Mills pizza dough, a gluten-free almond flour-based option. Instead of creating one large pizza crust, we recommend dividing it into two.
Not only is this veggie pizza meal prep gluten-free, it is also perfect for vegetarians and vegans if they opt to use dairy-free cream cheese. The cream cheese will be used as a base for this dish instead of a traditional tomato sauce. After the cream cheese has been spread to cover the pizza crust, assemble the rest of the ingredients on top. This gluten-free veggie pizza is served cold because baking it in an oven would destroy the nutrients in the fresh veggies. Of course, want to make sure we're reaping all the health benefits we can!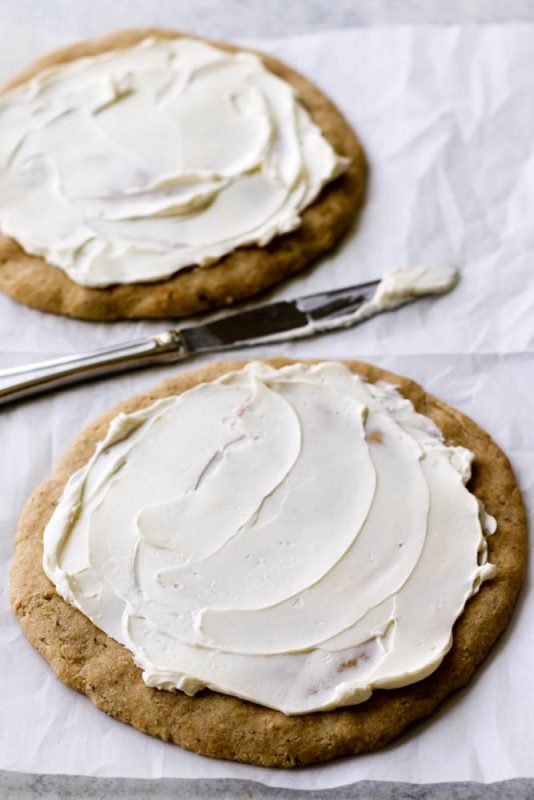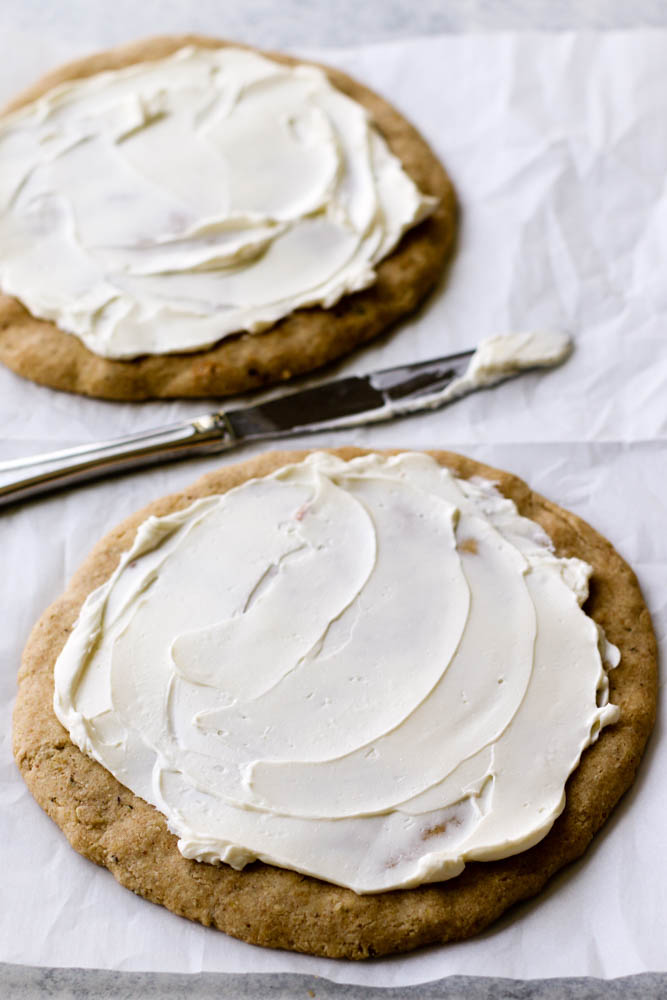 Another variation or our veggie pizza meal prep recipe is that you can make it into a pizza sandwich. One pizza crust can be topped with the ingredients mentioned in the recipe, while the other pizza crust can be prepared with arugula on top. Once this has been done, just put the crusts together like a sandwich and then slice into four! This veggie pizza meal prep makes four portions and has 12g of protein, 41g of carbs, and 30g of fat per serving. What a perfect option for keto lovers!
Have that feeling of indulgence when eating this gluten-free veggie pizza during your lunch break! This very easy recipe only takes 10-15 minutes to prepare, a small investment of time that will ensure you have four meals where you won't have to stress about cooking! Slowing down and eating mindfully can be a very welcome break, especially for busy people, so consider checking out our article on the principles of intuitive eating here. Intuitive eating can even give positive weight loss results!
Whether you're one of our gluten-free readers, vegetarian, vegan, or just a fan of pizza, we know you won't regret giving this veggie pizza meal prep recipe a try this week instead of traditional pizza.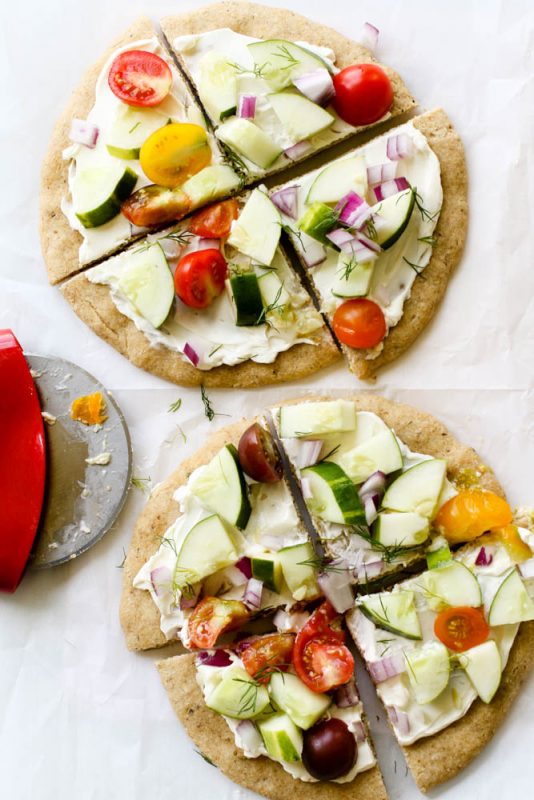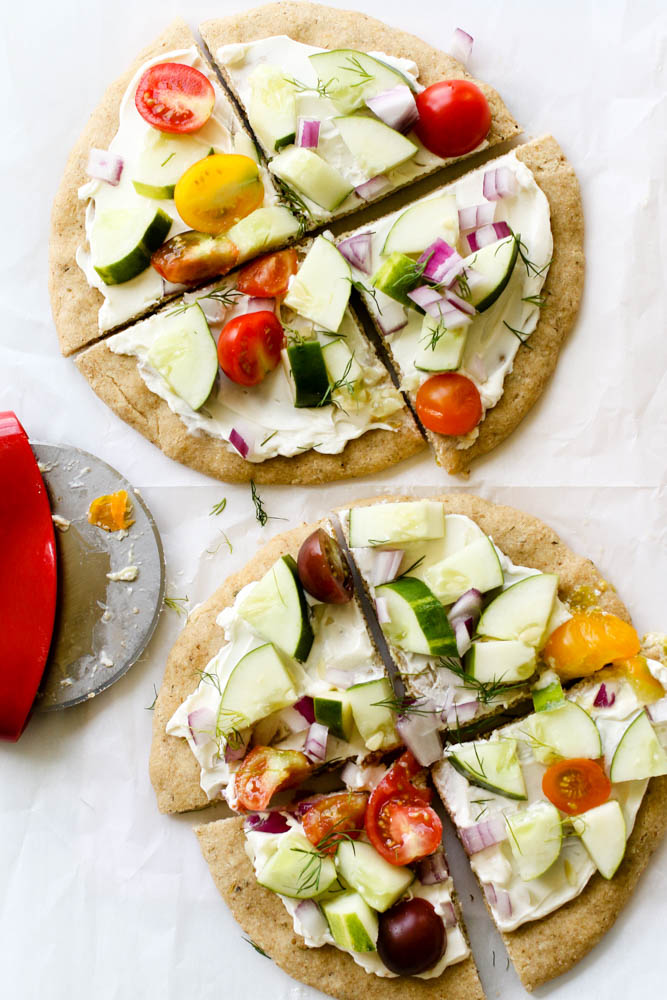 Cold Veggie Pizza Meal Prep Ingredients:
1 Simple Mills GF Almond Flour Pizza Crust
2 TBS Apple Cider Vinegar
2 TBS avocado oil
6 TBS filtered water
¼ cup light cream cheese or dairy free cream cheese for vegan option
1 cucumber, diced
1 cup cherry tomatoes, diced
1/4 red onion, chopped
Fresh dill
Black pepper
Arugula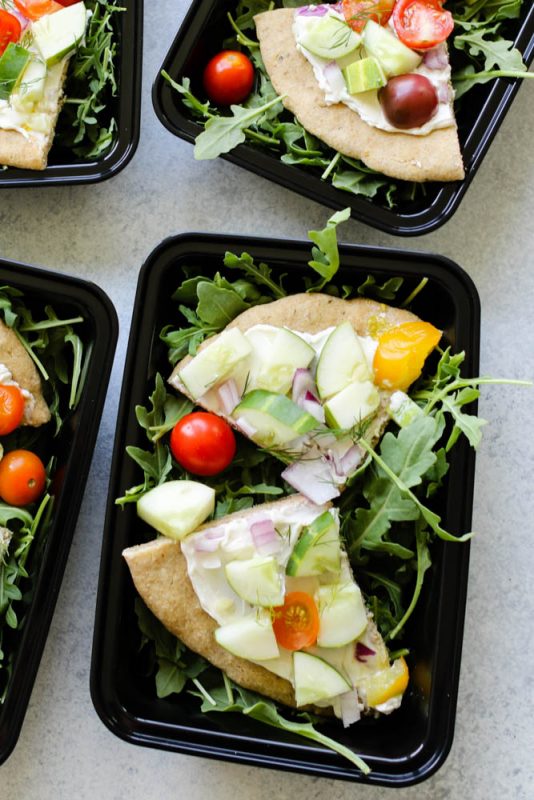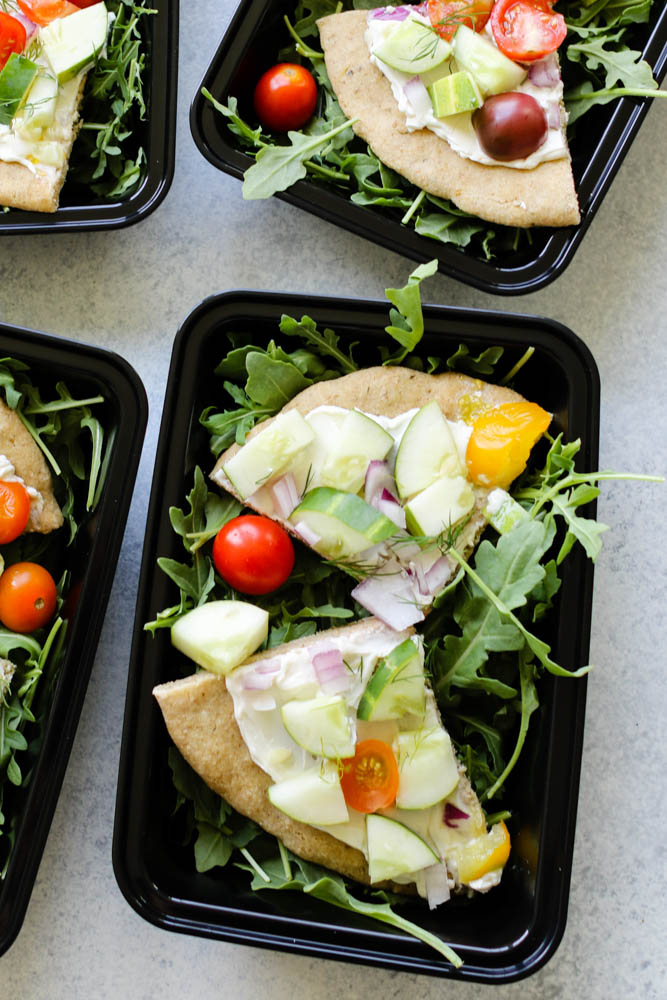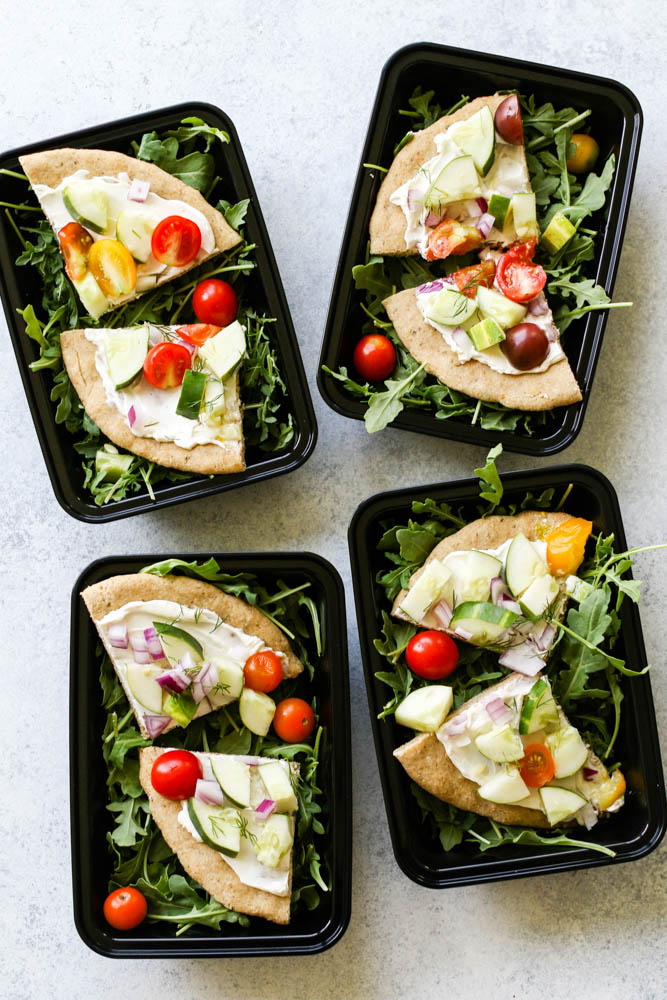 Ingredients
1

box

Simple Mills Pizza Dough

2

tbs

Apple Cider Vinegar

2

tbs

avocado oil

6

tbs

Water

1/4

cup

light cream cheese

we also like Kite Hill Dairy Free Chive Cream Cheese for vegan option

1

Cucumber

diced

1

cup

Cherry Tomatoes

halved

1/4

cup

red onion

chopped

fresh dill

black pepper

arugula
Instructions
Prepare Simple Mills pizza crust according to package instructions to form 2 small pizzas.

Bake for 15 minutes, then remove from the oven and allow to cool slightly.

Spread with cream cheese and top with cucumber, cherry tomato, red onion, dill, and black pepper.

Cut each pizza into 4 slices, then add 2 slices to each meal prep container with a handful of arugula.

Pizza keeps in the fridge for 4-5 days.
Notes
Nutrition for 1 out of 4 servings:
12g Protein | 41g Carbs | 30g Fat | 463 Calories
Nutrition
Serving:
1
meal
|
Calories:
463
kcal
|
Carbohydrates:
41
g
|
Protein:
12
g
|
Fat:
30
g