Are you ready for Thanksgiving in a power salad bowl?! Our Fall Harvest Power Salad combines your favorite seasonal flavors in a high-protein, gluten-free salad that satisfies you during lunch or fills your belly after a busy day at dinner time. The stars of the show are butternut squash, bittersweet cranberries, and crunchy walnuts paired with chicken and the peppery flavor of watercress. Then we complete this power salad with a homemade, zesty, lemon-herb dressing made with fresh lemon juice, dried basil and time, fresh parsley, honey, and olive oil to add a bit of zing to the autumn flavors.
This is one of several salad bowls we have listed because they're the epitome of making meal prep convenient. Power salad meal prep recipes are quick, easy, and packed with nutritional goodness (thus the name "power salad). For example, the power in this power salad is butternut squash because it's a great source of fiber and has vitamins A, C, E, and B vitamins. Butternut squash also has minerals such as calcium, magnesium, and zinc.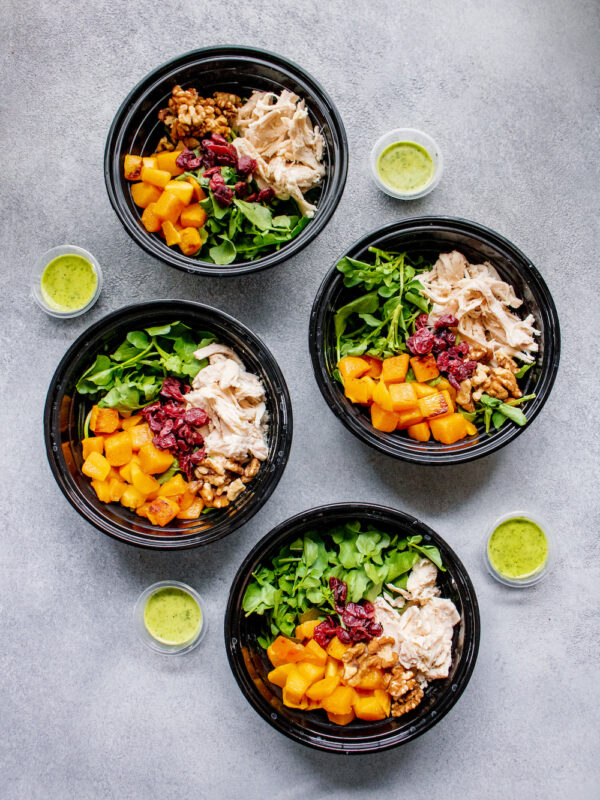 This autumn-inspired salad is made with a mix of raw and roasted vegetables. Butternut squash adds staying power. Tangy cranberries and crunchy walnuts add fall flavor. Use ready-made rotisserie chicken for quick and easy prep!  Best served in the new Good Cook® meal prep bowls!
How long will Fall Harvest Power Salad last for?
The salad will last for 4 to 5 days. Keep power salads covered and tightly sealed in meal prep bowls for optimal storage and convenience.
Can Fall Harvest Power Salad be frozen?
Yes, you can freeze power salads – but be mindful of the ingredients. The proteins are always fine to freeze, but some of the vegetables don't freeze well unless you make adjustments. In this case, don't cook the butternut squash thoroughly if you plan on freezing this power salad meal prep recipe. The cranberries and walnuts do not need freezing.
Fall Harvest Power Salad
Ingredients:
For Lemon Herb Dressing 
1/4 cup olive oil 

1/4 cup fresh lemon juice 

1/2 cup fresh parsley 

1

tbsp

raw honey 

1 tsp dried basil 

1 tsp dried thyme 

1/2 tsp sea salt 
Ingredients  For Salad
8 cups watercress 

1 lb. cooked shredded chicken breast (rotisserie recommended) 

4 cups peeled/cubed butternut squash 

1/2 cup dried cranberries 

1/2 cup raw walnuts  

1/2 cup lemon herb dressing 

(recipe above)
For Serving
How do you make Fall Harvest Power Salad?
The reason why we have several power salad meal prep recipes is because they're quick and simple. For this recipe, you can even use leftover rotisserie chicken. No matter what chicken you decide to use for your Fall Harvest Power Salad, the meal is ready for storage and enjoyment in less than 30 minutes.
Make the lemon-herb dressing in a blender or NutriBullet and refrigerate.

Bake lightly oiled and cubed butternut squash on a parchment-lined baking sheet at 400 degrees for 20 to 25 minutes.

Put squash, shredded chicken, cranberries, and walnuts on top of 2 cups of watercress.
It's really that easy!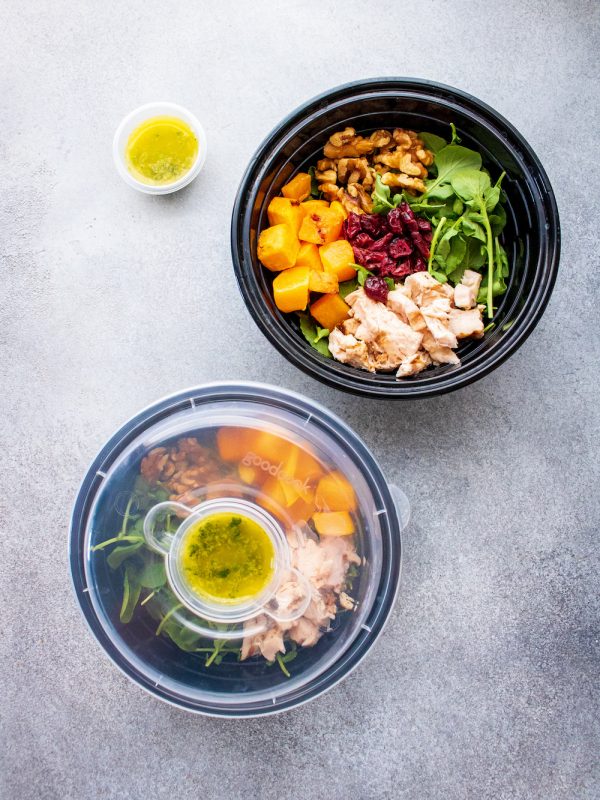 How to portion Fall Harvest Power Salad?
To portion your fall harvest power salad, put 2 cups of watercress into four of our GoodCook® meal prep bowls and top with shredded chicken, cranberries, butternut squash, and walnuts. Divvy up your salad dressing into 4 plastic sauce cups with lids and put them with each serving of salad.
More power salad meal prep recipes:
Middle Eastern Breakfast Salad Bowls
Thai Crunch Quinoa Grain Bowl Bowl
Other tips for making Fall Harvest Power Salad:
Shred your chicken as much as possible for even flavor so every bite of salad has chicken.
Sprinkle sea salt onto your cubed squash before baking along with pepper and other herbs (like rosemary) if you wish.
Cut your butternut squash into 3/4-inch cubes for even cooking.
Use dry arugula (rinse and pat dry or use bagged pre-washed arugula) to avoid having a soggy power salad.
Drizzle your salad with dressing, then toss and mix your salad well right before eating.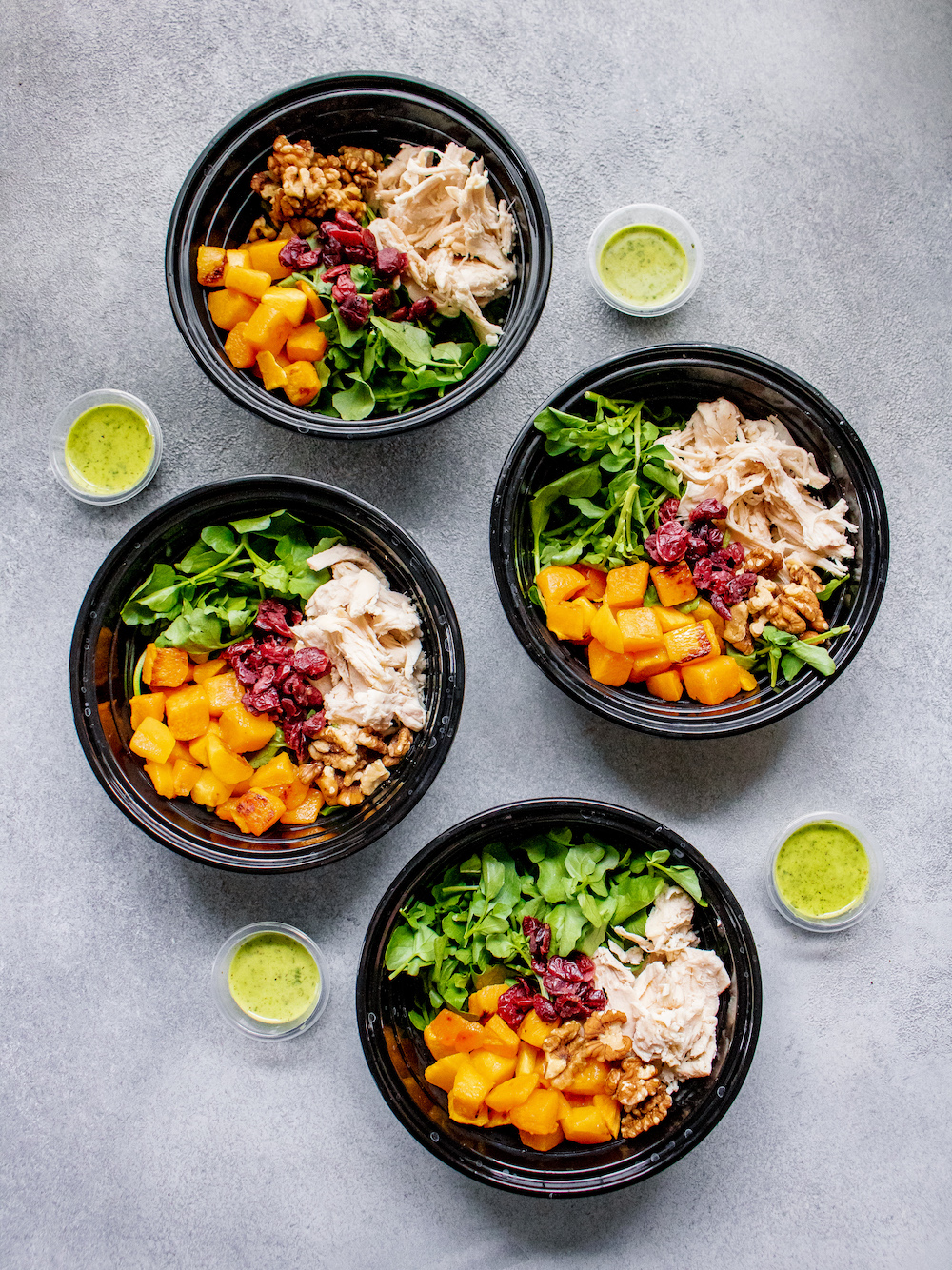 Ingredients
For Lemon Herb Dressing
1/4

cup

olive oil

1/4

cup

fresh lemon juice

1/2

cup

fresh parsley

1

tbsp

raw honey

1

tsp

dried basil

1

tsp

dried thyme

1/2

tsp

sea salt
For Salads
8

cups

watercress

1

lb.

cooked shredded chicken breast

rotisserie recommended

4

cups

peeled/cubed butternut squash

1/2

cup

dried cranberries

1/2

cup

raw walnuts

1/2

cup

lemon herb dressing
Instructions
For Dressing
Combine ingredients for dressing in a blender or Nutri-bullet and blend until smooth. Refrigerate until serving.
For Salads
Preheat oven to 400ºF and line a small baking sheet with parchment paper. Add cubed butternut squash to a baking sheet and drizzle with oil. Gently toss to coat. Roast for 20-25 minutes, stirring halfway through cooking. Cool squash for 10 minutes.

Add 2 cups watercress to 4 GoodCook round containers and top with butternut squash, cranberries, walnuts, and shredded chicken. Add dressing to 4 sauce cups included in the package. Store in refrigerator until enjoying.
Nutrition
Calories:
485
kcal
|
Carbohydrates:
45
g
|
Protein:
29
g
|
Fat:
25
g
|
Fiber:
7
g