Middle Eastern Breakfast Salad Bowls
This vibrant & cool dish is reminiscent of the Mediterranean. It offers a fusion of herbs that are flavorful and healthy. Our breakfast salad bowl meal prep idea gives you a light & zesty metabolic boost first thing in the morning. This meal prep idea pairs well with sweet breakfast food and drinks like coffee and pastries. The acidity balances very well with sweets.
Our Middle Eastern Breakfast Salad Bowls meal prep idea is a mouth-watering nutrition-packed breakfast. This dish only takes 15 minutes to prep and create. Besides the poached eggs, there isn't any cooking.
Now let's get into the recipe, shall we?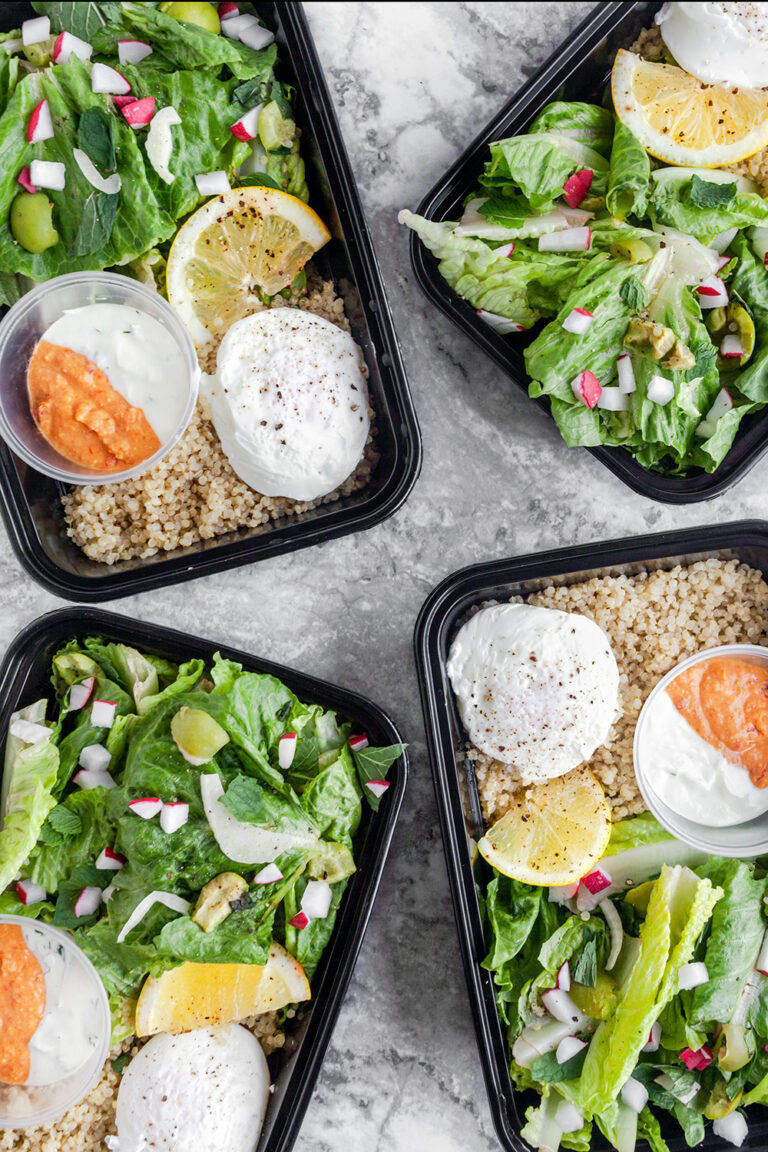 How long will Middle Eastern Breakfast Salad Bowls last for?
The Middle Eastern breakfast salad bowls will last between 3 and 5 days in the refrigerator. The hummus lasts for up to five days. However, poached eggs only last for 2 days in the refrigerator.
Can Breakfast Salad Bowls be frozen?
No, breakfast salad bowls are not meant for the freezer. The reason being that these are water-soluble vegetables and wilt when frozen. These are meant for refrigeration storage.
But, good news! We have plenty of other breakfast meal prep ideas you can freeze and save for later:
Loaded Sausage and Bacon Breakfast Casserole
Sheet Pan Sweet Potato Breakfast Hash
Sheet Pan Meal Prep Breakfast – French Toast Sticks & Sausage
Gluten-free Healthy-ish Pop Tarts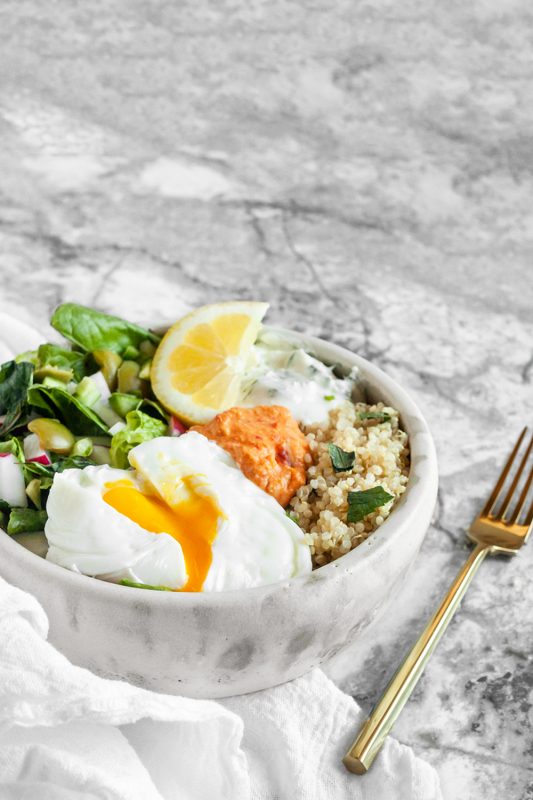 Ingredients:
Salad Base:

1 Large Head Romain Lettuce (chopped/torn into manageable pieces)
1 English Cucumber (finely diced; reserve 1 Tbsp. for Tzatziki Sauce)
1 Lemon quartered into wedge slices
2 C. Cooked Quinoa
1 C. Diced Red Radishes
1/2 C. Thinly Sliced Fennel Bulb
1/2 C. Castelvetrano Olives (halved)
1/4 C. Roughly Chopped Fresh Mint Leaves
1/4 tsp. Ground Black Pepper

Poached Eggs:

4 Eggs
1 Tbsp. Distilled White Vinegar
Water (enough to fill pot 3/4 full)
Tall/High-walled Cooking Pot
Slotted Spoon

Tzatziki Sauce:

1/4 C. Greek Yogurt (plain, unsweetened)
2 Tbsp. Extra Virgin Olive Oil
2 Tbsp. Chopped Fresh Dill
5 Tbsp. Lemon Juice
1/4 tsp. Freshly Grated/Minced Garlic
1/4 tsp. Pink Himalayan Salt

Harissa Hummus:

1/4 C. Hummus
5 Tbsp. Mild Harissa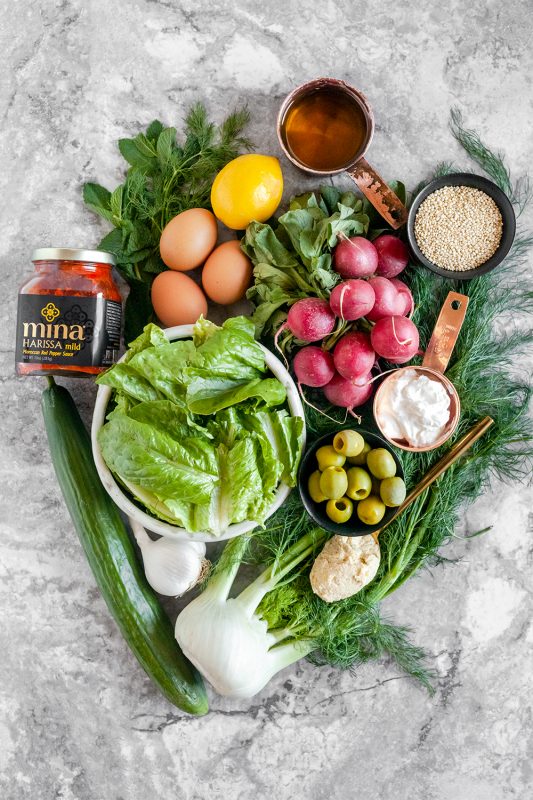 How do you make Middle Eastern Breakfast Salad Bowls?
First, get your ingredients together and make the poached eggs. Then make the hummus first, Tzatziki sauce, salad last. Our breakfast salad bowl meal prep idea can be divided into four meals. Eat one now (you know, just to make sure it's good) and save the rest in your fridge.
How to portion this meal prep:
This meal prep idea yields 4 servings. One egg goes with half a cup of quinoa, hummus, sauce, and salad. You can store separate meals in simple one-compartment meal prep containers. These come highly rated and are freezer friendly
More Breakfast Bowl meal prep recipes:
Here are some other delicious breakfast bowl meal prep ideas:
Bacon Wrapped Asparagus Breakfast Bowls
Coffee Almond Quinoa Breakfast Bowl
Beef Breakfast Sausage Egg Cups
Keto Cajun Sausage Breakfast Scramble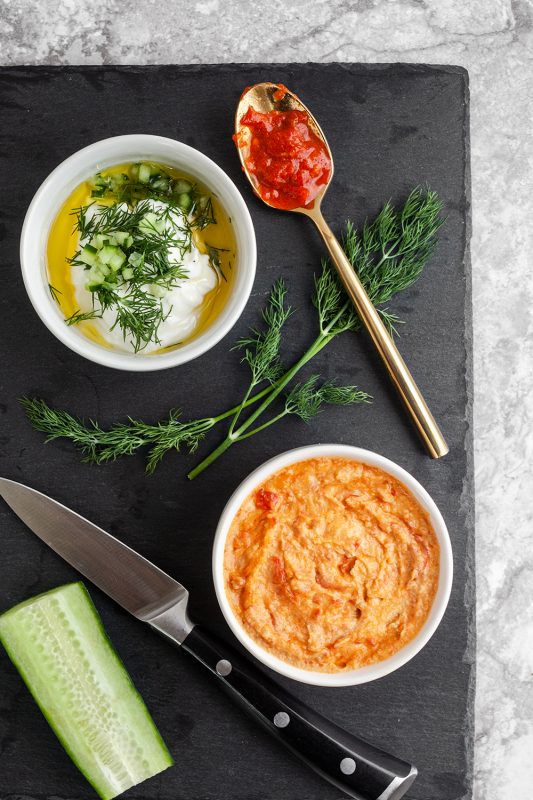 Other tips for making Middle Eastern Breakfast Salad Bowls:
We're sure you'll enjoy prepping this breakfast salad bowl meal prep idea. But here are a few things to remember for the best breakfast salad bowl experience.
You can enjoy breakfast salad bowls cold or hot.

You can add avocado. Note that it may brown.

This is a versatile dish. You can customize it to your liking.

Prep and enjoy this meal prep idea during the New and First Quarter Moons.

You can add meat. Sausage is popular.

Add buttery biscuits for a sweet taste profile and texturizing the dish.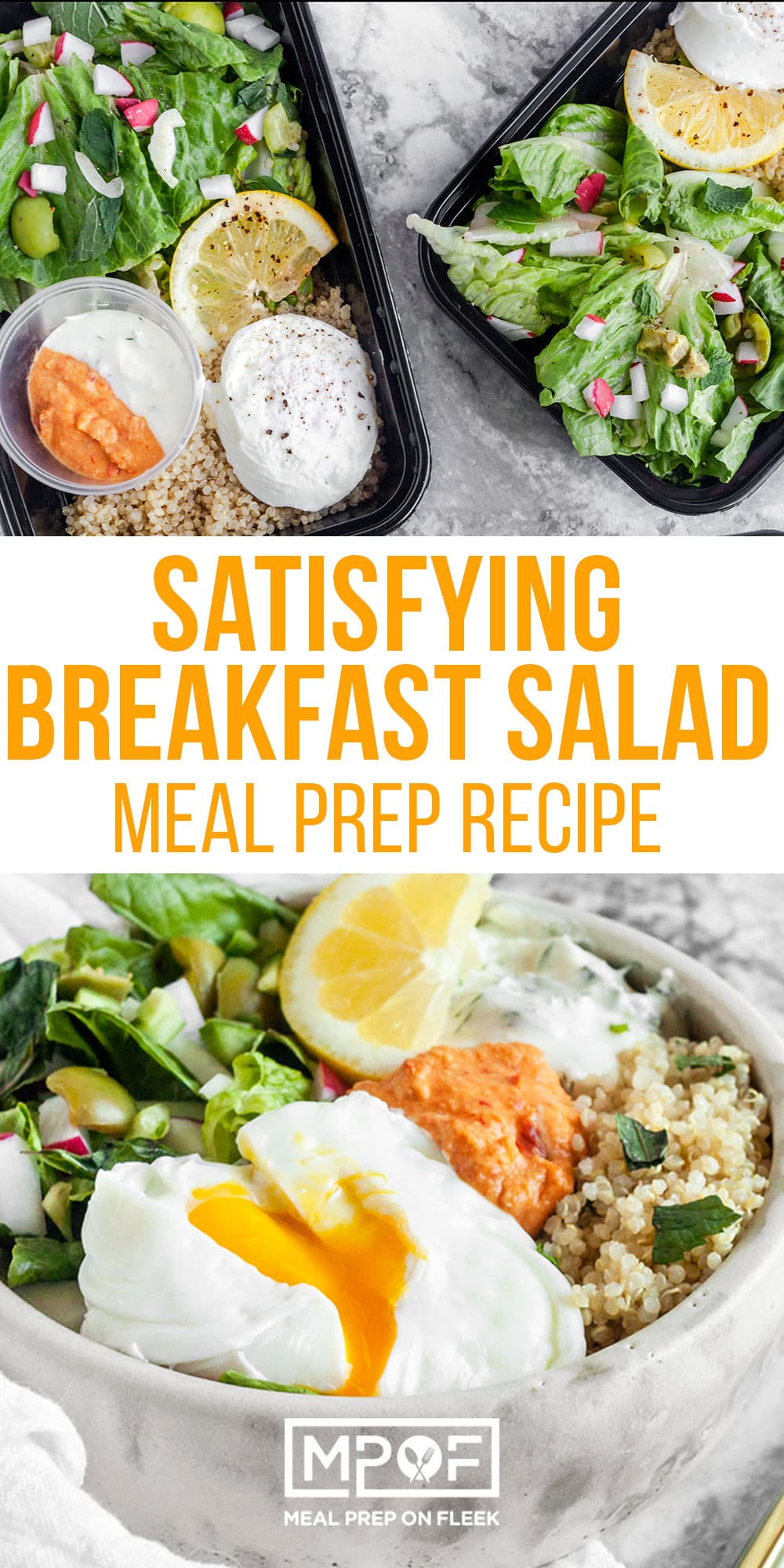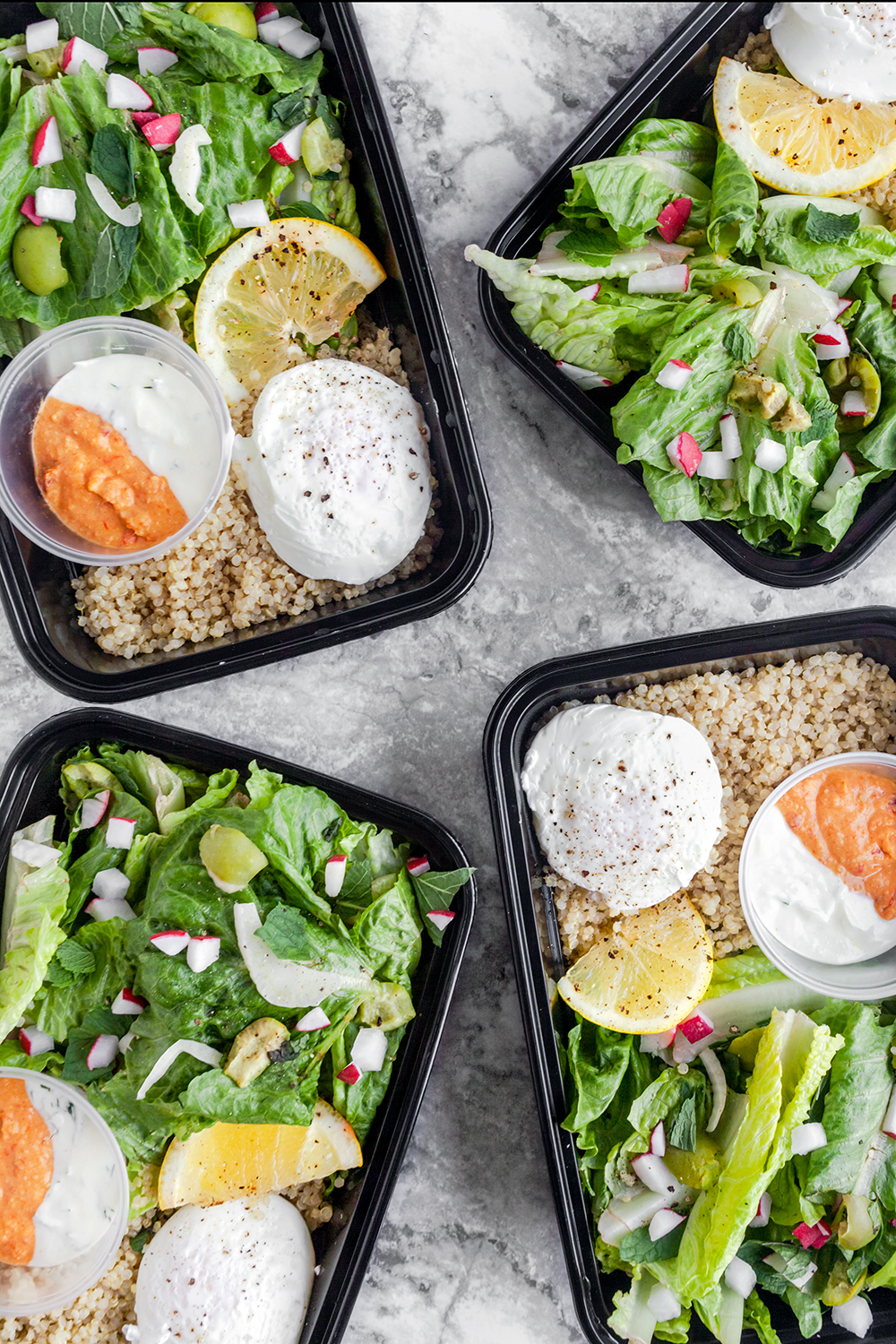 Ingredients
Salad
1

large

head romaine

roughly chopped

1

English cucumber

sliced (reserve 1 tbsp finely diced)

1

large

Lemon

cut into quarters (reserve 1 tbsp lemon juice)

2

cup

cooked quinoa

1 cup uncooked

1

cup

diced red radish

1/2

cup

thinly sliced fennel bulb

1/2

cup

olives of choice

cut in half

1/4

cup

fresh mint leaves

roughly chopped

1/4

tsp

black pepper
Poached Eggs
4

large

eggs

1

tbsp

distilled white vinegar

Water

enough to fill pot 3/4 full
Tzatziki Sauce
1/4

cup

plain Greek Yogurt

2

tbsp

EVOO

2

tbsp

chopped fresh dill

1.5

tbsp

lemon juice

1/4

tsp

finely minced garlic

1/4

tsp

Sea Salt
Hummus Harissa
1/4

cup

hummus

1.5

tbsp

mild harissa
Instructions
Harissa Hummus
Stir together the hummus and harissa until well-incorporated.
Tzatziki Sauce
Combine Greek yogurt, lemon juice, extra virgin olive oil — stir until mixed. Then, stir in the 1 tablespoon of finely diced cucumber, minced garlic, chopped dill, salt, and pepper — stir until well-combined.
Salad
In a large bowl, toss together chopped romaine, sliced fennel, sliced radishes, sliced cucumber, and sliced olives.

When ready to enjoy, top salad base with a squeeze of lemon juice, garbanzo beans, harissa hummus, and tzatziki sauce — stir/toss together to coat.

Serve, store, and enjoy!
Notes
Nutrition for 1 out of 4 servings:
10.1g Protein | 32.3g Carbs | 12g Fat | 4.6g Fiber | 280 Calories
Recommended Storing:
When storing, keep harissa hummus and tzatziki sauce separate from the salad base to prevent lettuce/vegetable wilting.
Nutrition
Serving:
1
meal
|
Calories:
280
kcal
|
Carbohydrates:
32.3
g
|
Protein:
10.1
g
|
Fat:
12
g
|
Fiber:
4.6
g