Chicken Piccata Recipe for the win! This one involves the slow cooker and old school tastes for an updated meal prep! Plus, it's gluten-free and keto!
If you're looking for an easy and flavorful meal that can be made in the slow cooker, look no further than Crockpot Chicken Piccata with Green Beans. This dish combines chicken thighs with a creamy, lemony sauce and crisp green beans, all cooked to perfection for the most hands-off meal. Preps well, reheats even more easily. A classic Italian-inspired dish to fill your kitchen with the aroma of lemon and chicken, two ingredients that just love each other, right? Also, it's gluten free and keto!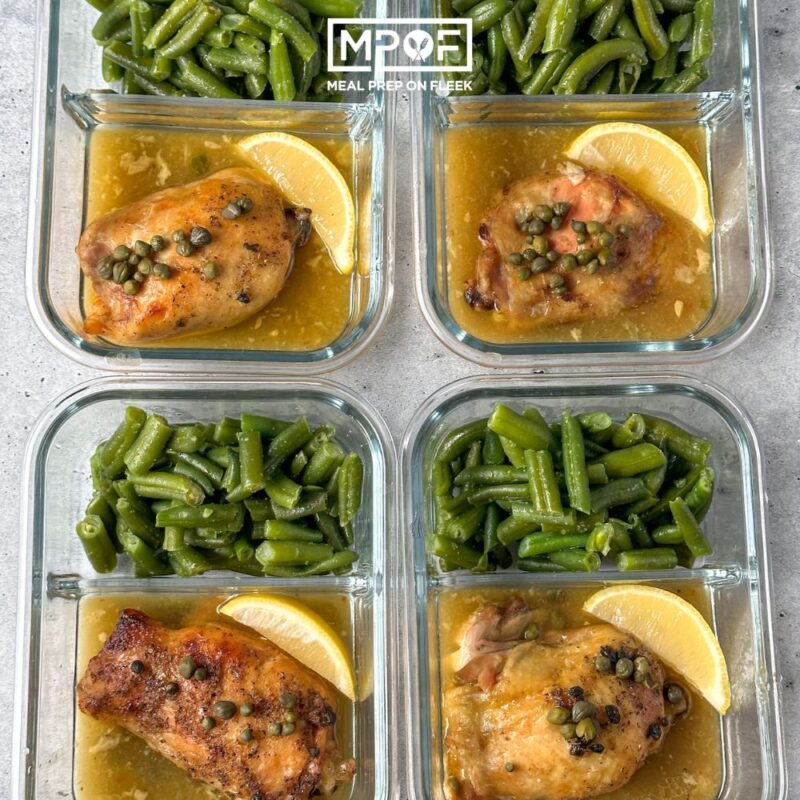 Chicken Piccata Ingredients
For the chicken:
1 pound bone-in, skin-on chicken thighs
1 packet Italian dressing seasoning
1 (4 oz) jar non-pareil capers, including brine
½ cup white cooking wine, or low-sodium chicken broth
⅓ cup fresh lemon juice, plus lemon wedges for serving
For the green beans:
1 package (10 oz) frozen Steamfresh green beans
1 tablespoon butter
½ teaspoon garlic powder
How to Make Crockpot Chicken Piccata with Green Beans
This is simple! We love when a slow cooker dish is just about assembly in the pot and the whole set-it-and-forget-it magic can happen. Ah, bliss. Add the chicken, Italian dressing seasoning, capers, white wine, and lemon juice to the pot. Let it run for most of the day. Then, when it's almost time to eat, you just make the green beans. Easy peasy! You can cook them according to the package directions if you are buying frozen ones like we've specified, but fresh will work great, too.
How to Store and Serve Chicken Piccata with Green Beans
This is a meal prep dream because it's a protein and a veggie! And there's some great juices that collect in the bottom of the slow cooker as it cooks away, which you can add to the chicken before you seal it up in four separate airtight containers. It will stay fresh for 4 to 5 days. Reheat in the oven or in the microwave as desired.
Chicken piccata and green beans kind of begs for some pasta to go with it, so feel free to serve some spaghetti or other long pasta with it, if desired. Rice would also work, whether you're thinking of brown, white, or cauliflower rice.
How to Customize this Chicken Piccata Recipe
Ah, we love a good substitution. You can make this with boneless chicken thighs if desired; just know it will cook faster so adjust the cooking time accordingly (you can probably lose at least an hour off the total time). Feel free to use bone-in, skin-on chicken breasts if you want, or boneless chicken breasts. As a rule, bone-in cuts take longer and has more flavor.
Other veggies would taste great here, too, such as broccoli or cauliflower, or a combo of both. But green beans is a more traditional approach and you can't argue with how fast they cook up.
Slow Cooker Troubleshooting Tips
Sometimes, although it's hard to do in the slow cooker, your chicken might not come out quite right. If it feels overcooked, the next time you make the dish, cook it for less on high or longer on low. You want the internal temperature of the chicken to be 165 degrees F. Remember, chicken (and all animal proteins) will continue to cook even after they're removed from the heat source, and this is definitely true for a slow cooker because those crocks get very hot and retain heat well.
Another reason why chicken might not cook right pertains to the size of your sow cooker. If it's too big, it might not cook evenly. Double the portion if your cooker is bigger than usual, or user a smaller cooking vessel and do it in the oven. You can absolutely make this dish in a covered Dutch oven and cook it at 300 F for an hour or so until the chicken is cooked through. Just add the green beans to the pot for the last 15 minutes or so; otherwise, they might get too mushy.
LOVE THIS? MORE CHICKEN DISHES AND CROCK POT LOVE!