Cranberry BBQ Vegan Meatballs
Cranberry. BBQ. Vegan. Meatballs. Yes, fam, you read all of that correctly. We packed protein-rich garbanzo beans, heart-healthy oats, and flax and hemp hearts loaded with essential fatty acids into these perfect vegan meatballs and we couldn't be happier about them! Oh, except for the fact that we topped them with the dreamiest cranberry BBQ sauce that is so darn delicious, you won't believe how simple it is to make. If you've been looking for exciting new vegan meal prep recipes, look no further.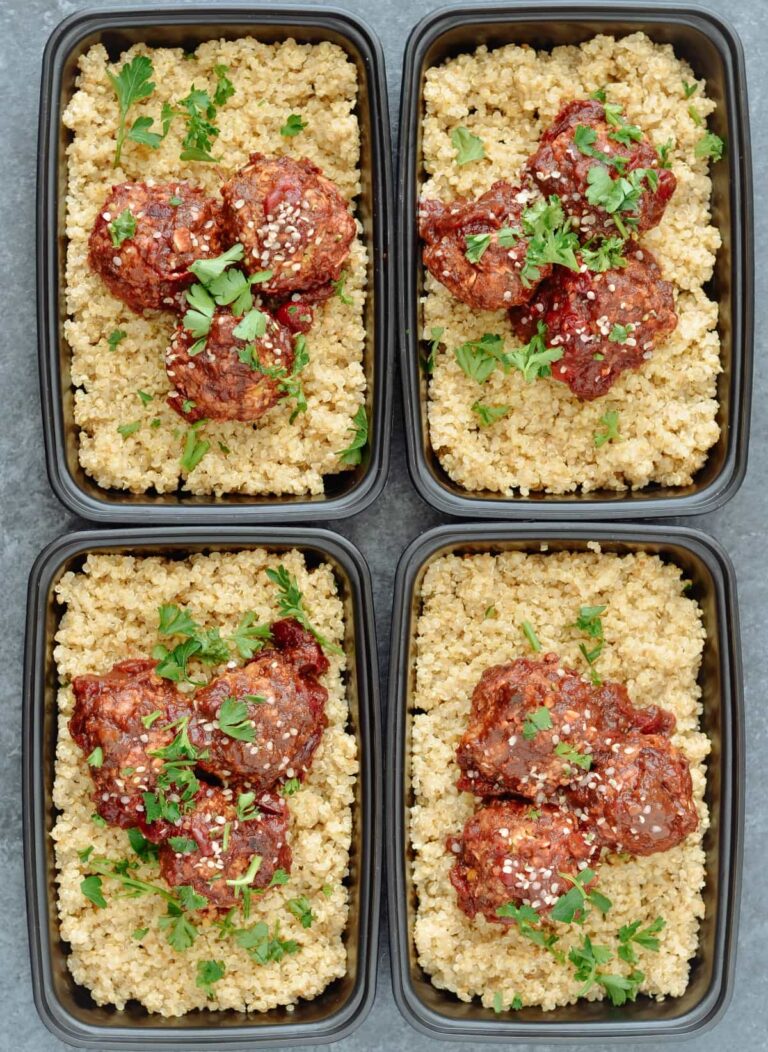 We've been using hemp hearts in a lot of our meal prep recipes lately (like these Keto Overnight 'Oats'), and in this case we did so for both nutrition and texture. What are called hemp hearts are technically the seed of a variety of cannabis plant that is almost entirely devoid of THC. They have a wonderfully mild nutty flavor and offer a fantastic boost of essential fatty acids, minerals, and protein per serving. And in cahoots with the flax egg they are the perfect natural binder for these vegan meatballs.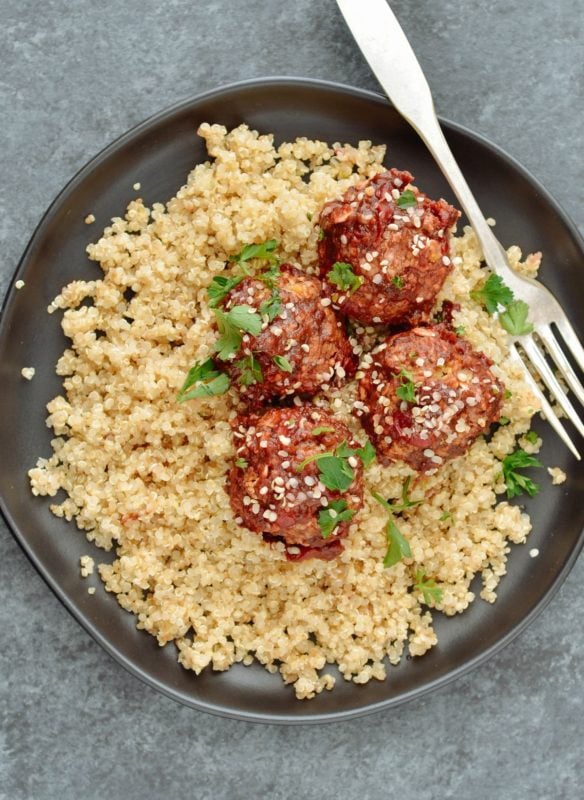 Like hemp hearts, oats are also loaded with tons of nutritional value. One serving will provide 191% of your daily value of manganese (a trace mineral that's an important factor in a whole slew of body functions!), 34% of your daily needs of magnesium, plus significant amounts of antioxidants, B vitamins, iron, and zinc. And mostly importantly (as if it could get better)? Oats are loaded with a powerful soluble fiber that helps us stay fuller longer, supports healthy blood sugar and cholesterol levels, and feeds good gut bacteria. These vegan meatballs are tasty, convenient, and super beneficial. And combined with the extra protein boost from the suggestion to serve with quinoa, we think this comes in at the top of vegan-friendly meal prep recipes.
We wanted to keep the sauce portion of this recipe quick and simple, so we're suggesting that you use pre-made BBQ sauce for ease and convenience. A note that many store-bought BBQ sauces have a lot of hidden sugars, so make sure to check that part of the nutritional label as you're browsing! It's best to let the cranberry do all the sweet talking here.
Cranberry BBQ Vegan Meatballs Ingredients:
1 tbs ground flax + 2 tbs water
1 package steam fresh garbanzo beans
1 cup rolled oats
6 tbs hemp seeds
1 tbs onion powder
2 tsp garlic powder
salt & pepper, to taste
2 cups bbq sauce
1 cup frozen cranberries
1 cup dry quinoa, prepared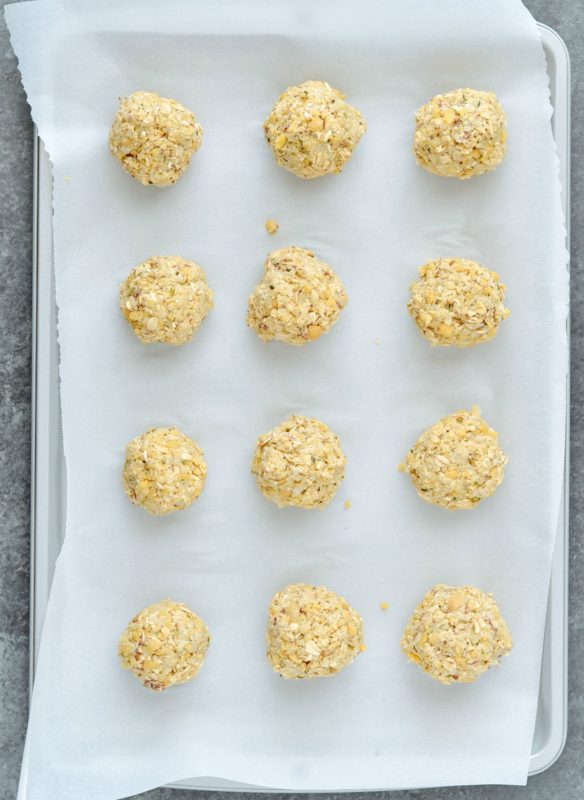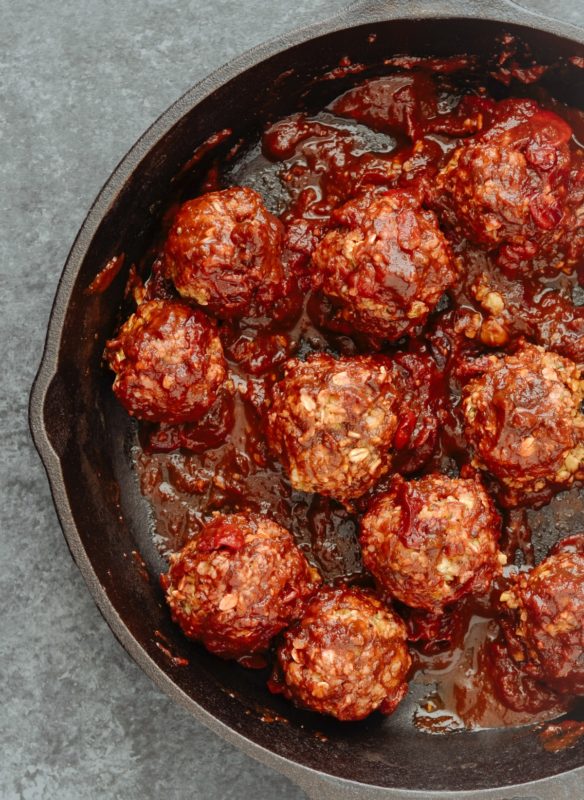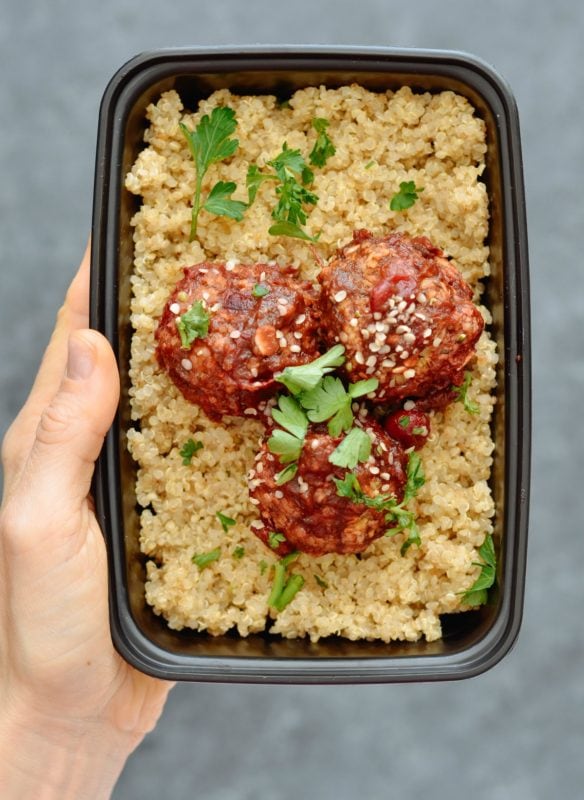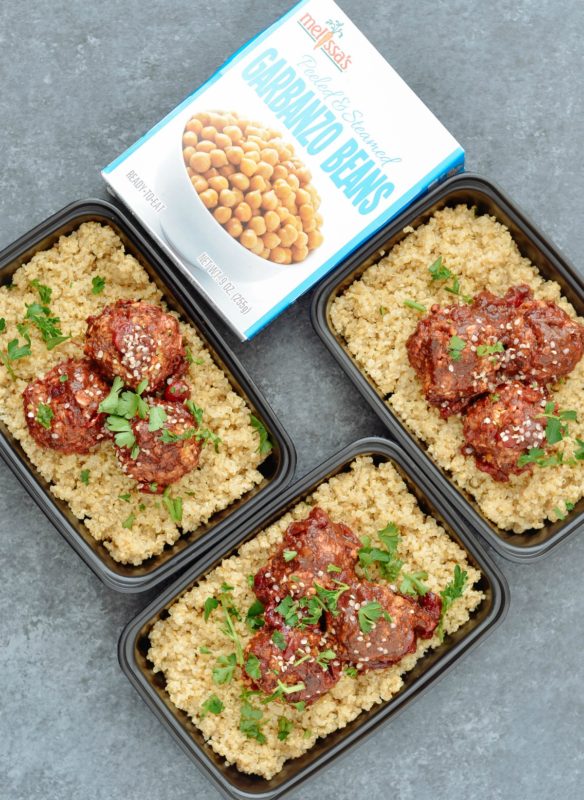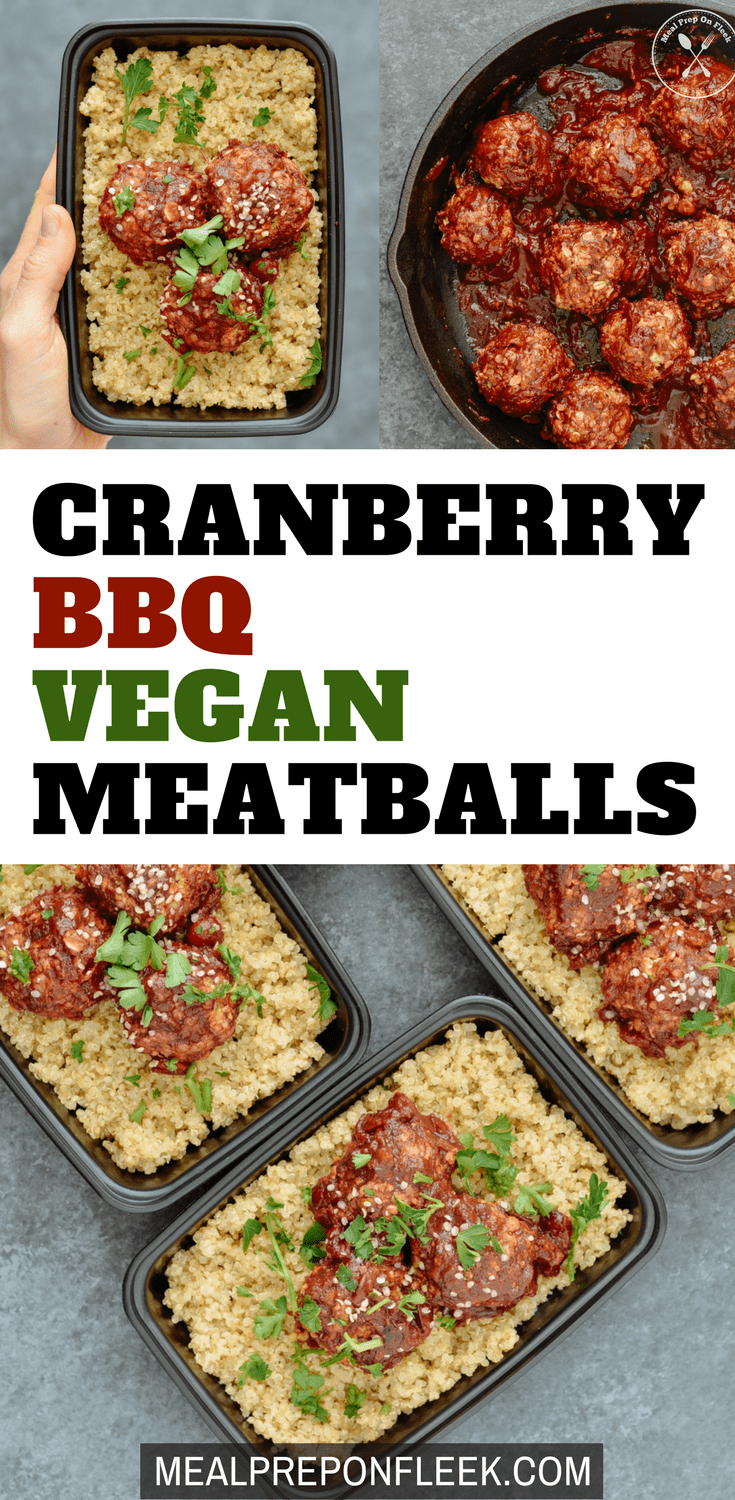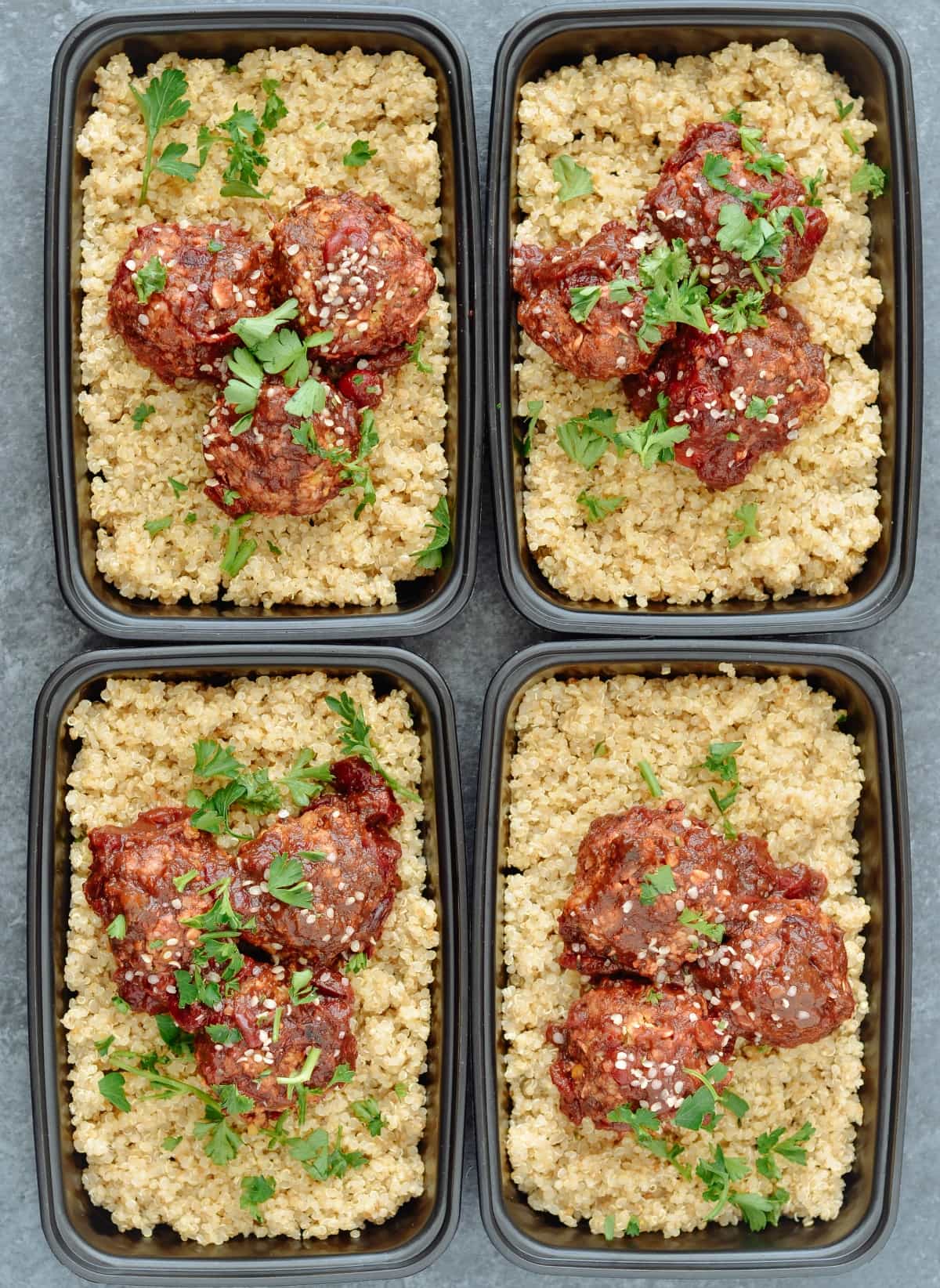 Ingredients
Flax Egg
1

tbs

ground flax

2

tbsp

Water
Meatballs
1

cup

rolled oats

1

package

steam fresh garbanzo beans

6

tbsp

hemp seeds

1

tbs

onion powder

2

tsp

Garlic Powder

salt & pepper

as desired
BBQ Sauce
2

cups

bbq sauce

1

cup

Frozen cranberries
Other
1

cup

dry quinoa

prepared
Instructions
Preheat oven to 400 degrees F

Line a baking sheet with parchment paper

Mix together the flax and water and set aside

Add all ingredients for the meatballs into a food processor

Mix until a dough forms

Roll dough into desired number of meatballs

Place on a baking sheet and cook for 20 minutes

Flip the meatballs and cook for an additional 20 minutes or until the outsides are slighty crunchy and golden

While meatballs are finishing, add your frozen cranberries and BBQ Sauce to a pot and heat until cranberries begin to breakdown

You can opt to leave some cranberries whole, as we did, or mash them so the are fully combined with the BBQ sauce

When the meatballs are done cover them with the BBQ sauce

Evenly divide the quinoa and meatballs between 6 meal prep containers and enjoy within 5 days.

You can also freeze these meatballs without the sauce. Lay them flat in a sealed container. When you are ready to reheat them, place them on a baking sheet and cook at 400 degrees F for about 20 minutes, flip and cook until heated through.
Notes
Nutrition for 1 out of 6 servings:
15g Protein | 57g Carbs | 13.5g Fat | 410 Calories
Nutrition
Serving:
1
meal
|
Calories:
412
kcal
|
Carbohydrates:
57
g
|
Protein:
15
g
|
Fat:
13.5
g