Cranberry BBQ Vegan Meatballs may sound like a crazy idea, but they're sweet, savory, gluten-free, and loaded with protein!
Yes, you read all of that correctly. Cranberries aren't just for Thanksgiving anymore, and they work great in a sweet-savory situation. For this meal prep, we packed protein-rich garbanzo beans, heart-healthy oats, and flax and hemp hearts loaded with essential fatty acids into these perfect vegan meatballs. We couldn't be happier about them! Oh, except for the fact that we topped them with the dreamiest cranberry BBQ sauce that is so darn delicious, you won't believe how simple it is to make. If you've been looking for exciting new vegan meal prep recipes, look no further.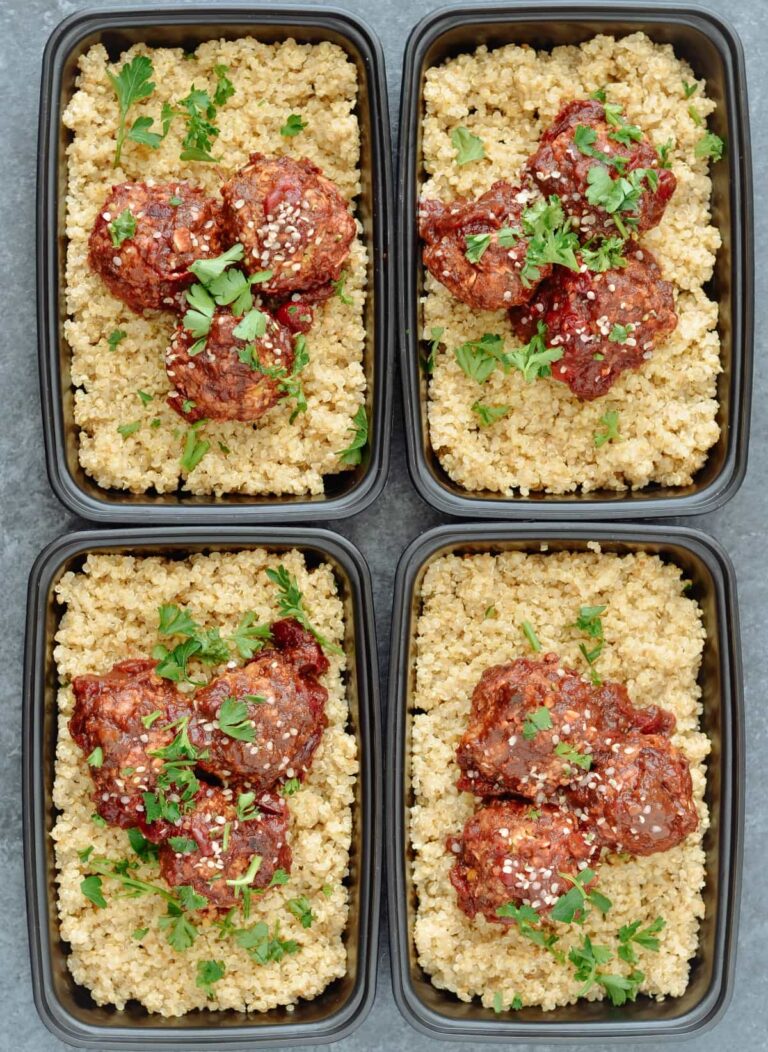 What Are Hemp Hearts?
We've been using hemp hearts in a lot of our meal prep recipes lately (like these Keto Overnight 'Oats') and, in this case, we did so for both nutrition and texture reasons. What are called hemp hearts are technically the seed of a variety of cannabis plant that is almost entirely devoid of THC. They have a wonderfully mild nutty flavor and offer a fantastic boost of essential fatty acids, minerals, and protein per serving. Along with the flax egg, they are an ideal natural binder for these vegan meatballs.
What's So Great About Oats?
Like hemp hearts, oats are also loaded with tons of nutritional value. One serving will provide 191 percent of your daily value of manganese (a trace mineral that's an important factor in a whole slew of body functions!), along with 34 percent of your daily needs of magnesium. Oats also contain significant amounts of antioxidants, B vitamins, iron, and zinc. And what else is good about oats? They are loaded with powerful soluble fiber, which does a few things. It helps us stay fuller longer, supports healthy blood sugar and cholesterol levels, and feeds good gut bacteria. These vegan meatballs are tasty, convenient, and super beneficial. With the extra protein boost from the quinoa we like to serve this with, this is at the top of vegan-friendly meal prep recipes.
We wanted to keep the sauce part of this recipe quick and simple. So we're suggesting pre-made BBQ sauce, but with one caveat. Many store-bought BBQ sauces have a lot of hidden sugars. Just make sure to check the nutrition label as you're browsing! It's best to let the cranberry do all the sweet talking here.
Cranberry BBQ Vegan Meatballs Ingredients
1 tablespoon ground flax + 2 tablespoon water
1 package Steam-Fresh garbanzo beans
1 cup rolled oats
6 tablespoon hemp seeds
1 tablespoon onion powder
2 tsp garlic powder
Salt & pepper, to taste
2 cups barbecue sauce, your choice
1 cup frozen cranberries
1 cup dry quinoa, prepared
How to Make Cranberry BBQ Vegan Meatballs
Mix the flax and water together in a small bowl and set aside. That's going to help bind these "meatballs." Then, combine the oats, chickpeas (garbanzo beans!), hemp seeds, onion powder, garlic powder, salt and pepper all together in a food processor. Roll them into ball shapes and bake them in the oven on a rimmed baking sheet lined with parchment paper. While they bake, you can combine the cranberries with barbecue sauce on a stovetop until the cranberries burst and release some of their juices. Top the meatballs with the sauce and serve over quinoa.
How to Store and Serve Vegan Meatballs
These prep great, so just put them in meal prep containers along with your quinoa. They will keep for 3 to 4 days in the fridge in sealed containers. Reheat in the microwave or in the oven until completely hot. You can also freeze these meatballs, too, and either defrost in the fridge overnight or for a few hours, or bake it all off in the oven (350 F will do, covered), for 20 to 30 minutes until completely hot.
Variations on Cranberry BBQ Vegan Meatballs
This recipe would also work with white beans, but they would be a little bit softer in shape. You could also serve this recipe with lentils instead of quinoa for a different taste (but still high protein count), or go in the direction of brown or white rice, or even cauliflower rice. (Cause you know how we love that fun twist!) Buckwheat noodles would also be a nutty take on this sweet-savory plant-based meal prep, and it would also keep the dish gluten-free.
More Delicious Meal Prep Recipes