You definitely have to try this chicken and lemon pasta meal prep recipe. It's super tasty and easy to make!
When hungry tummies rumble, you need something fast! No two ways about it. Well, how about our meal prep ideas 20-minute chicken recipe to speed things up? In 30 minutes you can have this awesome meal prep ideas recipe cooked and ready to eat! To top things off, we accompany this delicious 20-minute chicken recipe with a combination of vegetables, lemons, broccoli, spinach, and pasta. This MPOF recipe promises nothing short of healthy, mouth-watering servings for lunch. So, without further delay, let's dive in! If you're into pasta meal prep recipes, you can find 15 of the best pasta recipe here.
How Long Will 20 Minute Chicken Last For?
At room temperature, this meal prep ideas meal can last for 2 hours. However, if that room is a toaster oven with the sizzling summer heat, then 1 hour. In the refrigerator, your 20-minute chicken can last for 3 to 5 days in a secure airtight container. Fortunately for you, MPOF offers a wide selection of single compartment containers which will suit your serving requirements quite well.
Can 20 Minute Chicken Be Frozen?
Certainly! Your 20-minute chicken recipe can last from two to six months in a freezer-safe airtight container. But we are doubtful you'll allow the carefully portioned serving to last that long.
How Do You Make 20 Minute Chicken?
Do you have all your ingredients, measuring, mixing and cooking utensils ready? Awesome! We're about to get started with this easily prepared meal prep ideas recipe. You may use a pot or a large skillet to bring to boil, your salt and water mixture. While you wait for the saltwater to boil, you may prep your vegetables.
Start with the broccoli by trimming into florets of similar sizes. Once you've washed and prepped the remaining vegetables, put the rotini to boil on high fire for 4 minutes. Then add in the broccoli. Cover and allow to boil for 3 minutes. After which you, drain the pasta. Stir in the spinach into the pan. Add in your chicken and sprinkle with lemon zest. Allow the mixture to sit for a few minutes while the spinach wilts.
In a separate small skillet, melt 4 tablespoons of butter over medium heat. Pour in your minced garlic, crushed red pepper and let them saute for about a minute until the fragrance perfumes the kitchen. Turn off the heat and include 2 - 3 tablespoons of lemon juice to create lemon butter! Stir in the lemon butter into the pasta. Include also a cup of parmesan cheese, drizzle with olive oil and add your salt and pepper for taste.
That's all there is to it!
Nutrition Tip: Lemon peels contain a wide spectrum of vitamins and minerals such as calcium, potassium and Vitamin C, plus fiber that can give your daily meals a nutritional boost!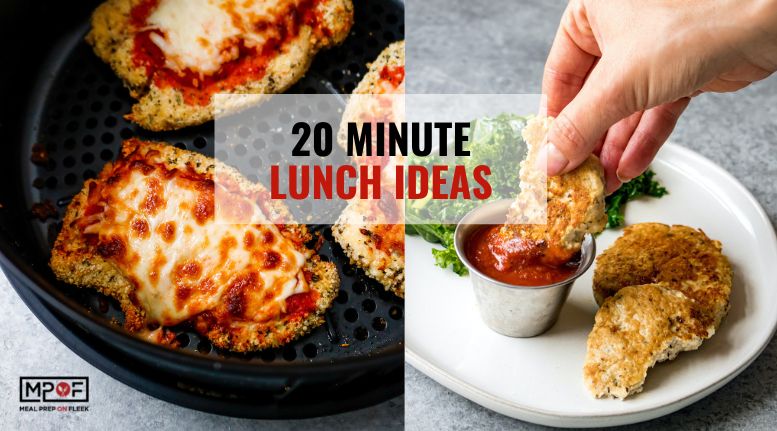 How To Portion 20 Minute Chicken
This tasty meal prep ideas recipe serves five nutritious servings which will surely satisfy your desire for an awesome lunch.
More Chicken Meal Prep Recipes
That was one easy chicken recipe, right?! Well, there are many where this came from. Try out these other exquisite chicken recipes which can be ready in less than an hour:
Other Tips For Making 20 Minute Chicken
Chopping the chicken into chunks helps with visual appeal and allows the chicken to soak in the flavor and cook much faster.

Bitesize broccoli florets easily absorb the sauces of the seasonings used in your skillet. That way you get a burst of flavor with each bite. Yum!

The peel of the lemon is a great source of vitamins and minerals to give your meal a healthy boost.
What are you waiting for, get that awesome 20-minute chicken recipe ready! Let us know how satisfied those hungry tummies were with this delightfully easy meal prep ideas recipe.