Cauliflower Steak With Quinoa & Tahini Meal Prep
If you're anything like us, eating enough vegetables can be a struggle… Maybe they're too bland or bitter; maybe it's the texture that turns us off. The bottom line is, veggies aren't exactly palatable for a ton of people—Meal prepper and non-meal prepper alike!
If you're in the category of folks who can't seem to get enough fresh vegetables in their diet, then today's meal prep recipe goes out to you! We know what it's like to squirm at the thought of eating vegetables we don't like, but we want to assure you that getting a healthy vegetable intake is not only possible for you, but it can be quite delicious as well! One of the biggest reasons we love this dish is because of the consistency the cauliflower gets when baked! Crispy and flavorful on the outside, but soft, moist, and tender on the inside.
Cauliflower Steak Recipe Nutrition:
So for today, we're happy to present you with this delicious cauliflower steak meal prep recipe! And the way we'll be preparing and cooking it is sure to please vegans, vegetarians, and the vegetable-shy alike. It may not look like much, but cauliflower actually boasts a truly impressive list of health benefits, all on its own! For example, a single cup contains almost 80% of recommended daily allowance of vitamin C, 20% of your RDA for vitamin K, 14% of your RDA of folate, and 3g (about 10% of your RDA) of fiber to keep you fuller for longer!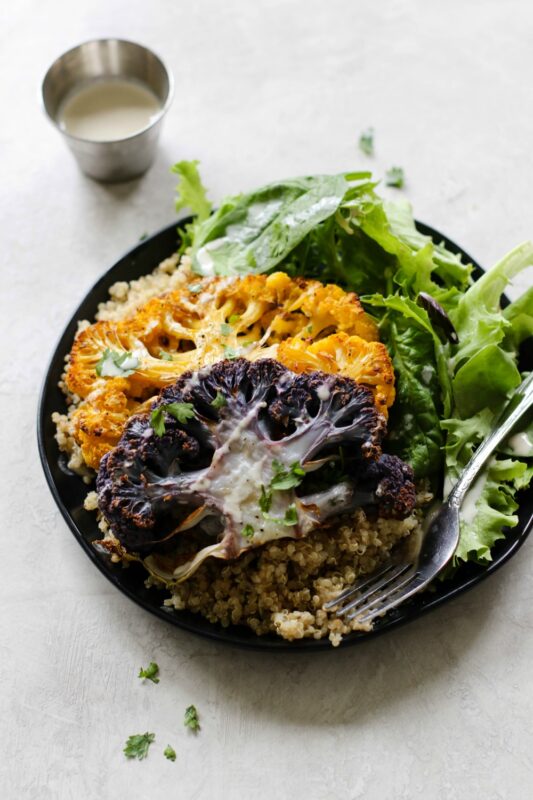 Bonus: We added Quinoa!
We also love this cauliflower steak meal prep recipe because it features a side of quinoa—And if nobody has told you about how healthy it is, let us be the first. Per 1 cup of quinoa (exactly the amount this recipe calls for), your body receives a whopping 8g of protein, 5g of fiber, and almost 60% of your RDA of manganese. Quinoa is very unique because it naturally contains all 9 essential amino acids—histidine, isoleucine, leucine, lysine, methionine, phenylalanine, threonine, tryptophan, and valine. Amino acids are incredibly important to the body because they are the building blocks for protein synthesis. They also play a major role in hormone and neurotransmitter regulation. Quinoa contains high concentrations of the flavonoids quercetin and kaempferol, which have been shown to have anti-cancer, anti-depressant, anti-inflammatory, and anti-viral benefits.
We strongly recommend this recipe for our readers with gluten allergies, because quinoa is naturally gluten-free! Consider these other great options that include quinoa too, like these Quinoa Chick Pea Taco Bowls, or our Quinoa Stuffed Sweet Potato meal prep recipes.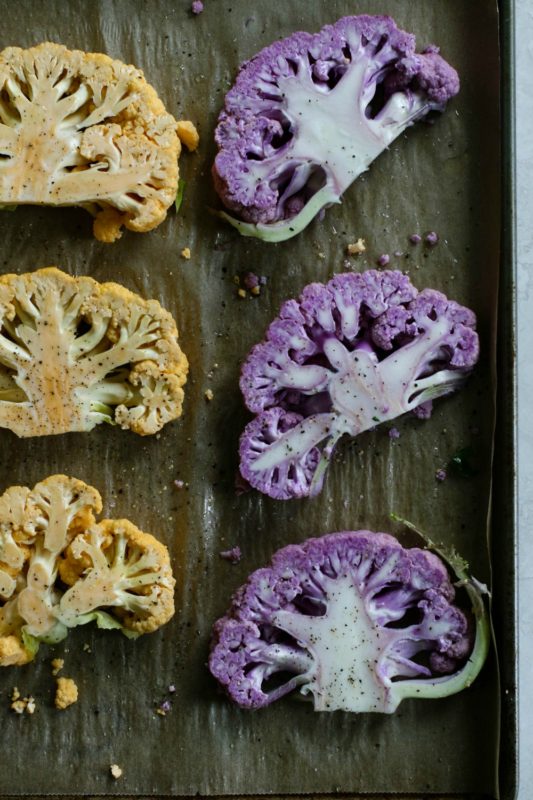 Don't forget the sauce:
This cauliflower steak meal prep recipe wouldn't be complete without including homemade lemon tahini dipping sauce—Wavering vegetable eaters, are you still reading? This is what will change your veggie experience! Tahini is an exceptionally delicious sauce, made from ground, hulled sesame seeds! The flavor is light and creamy with nutty undertones, and is sure to bring a smile to anyone when paired with vegetables! Consider adding some to your side salad as well, for additional flavor. Any kind of leafy greens can be used, but we recommend a mix. Happy meal prepping, fam!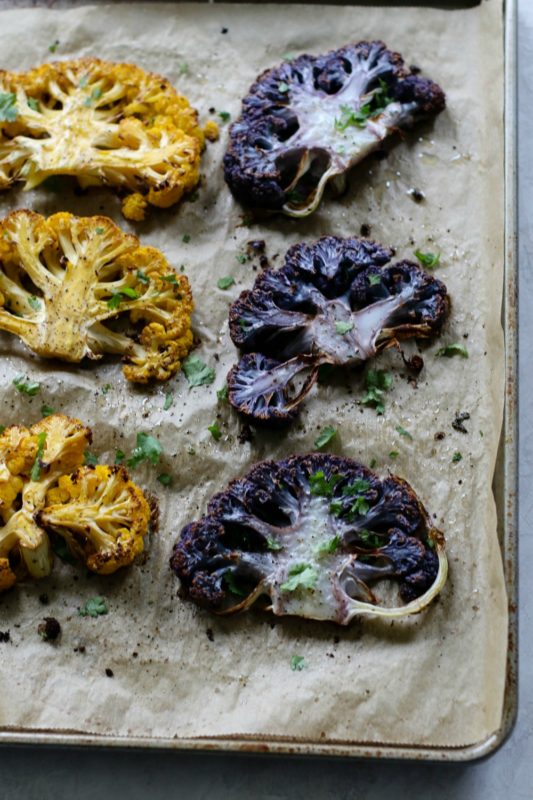 Cauliflower Steak With Quinoa & Tahini Meal Prep Ingredients:
2 small heads of cauliflower, any color
1 TBS avocado oil
Himalayan sea salt
Pinch of black pepper
1 cup uncooked quinoa
4 cups mixed greens
¼ cup tahini
½ cup filtered water
2 TBS lemon juice
Fresh parsley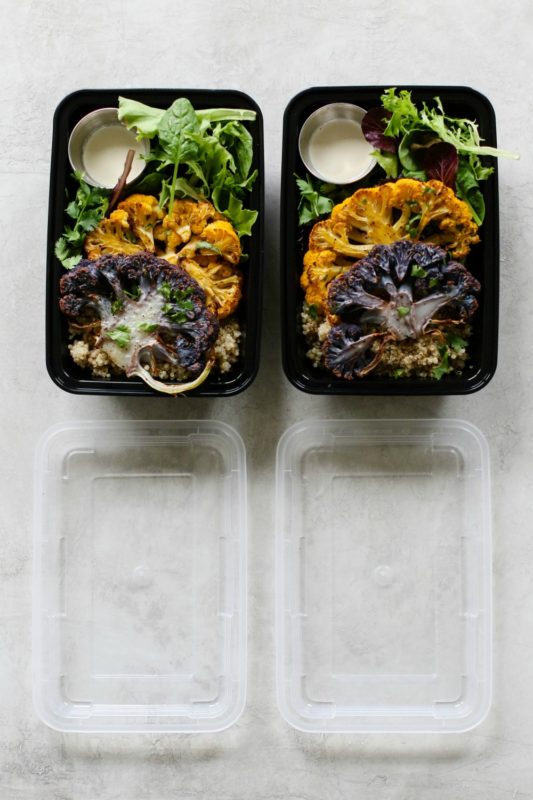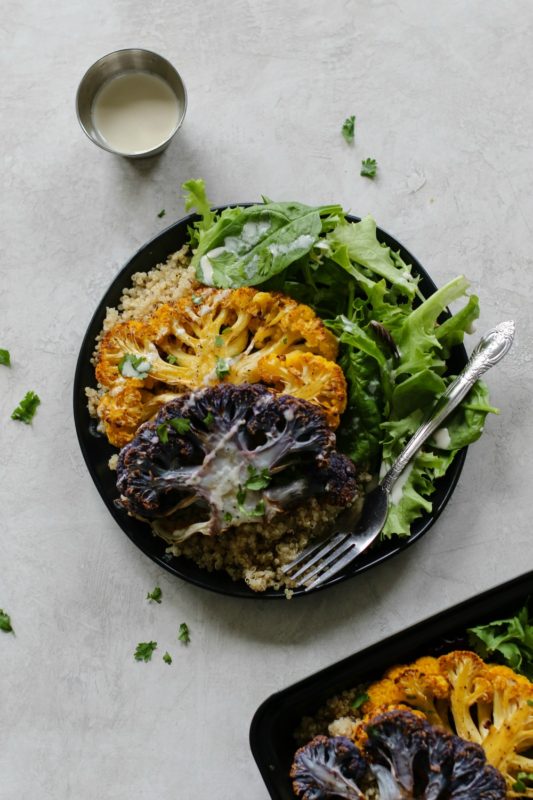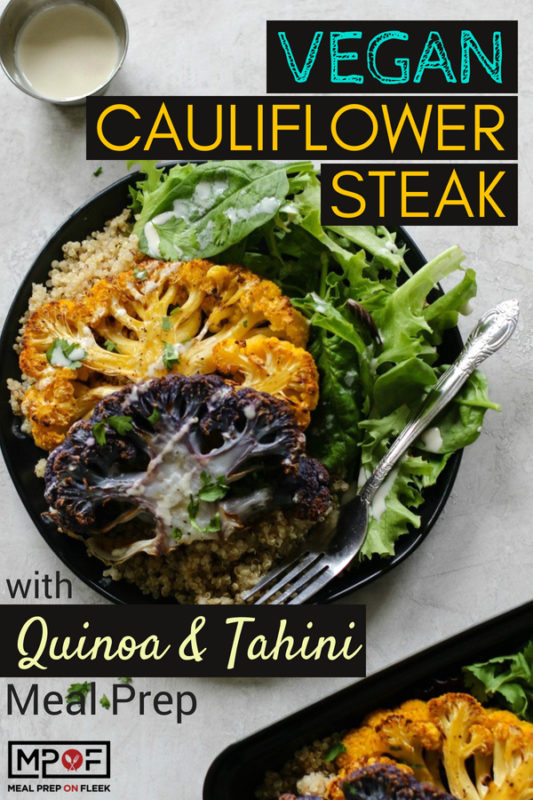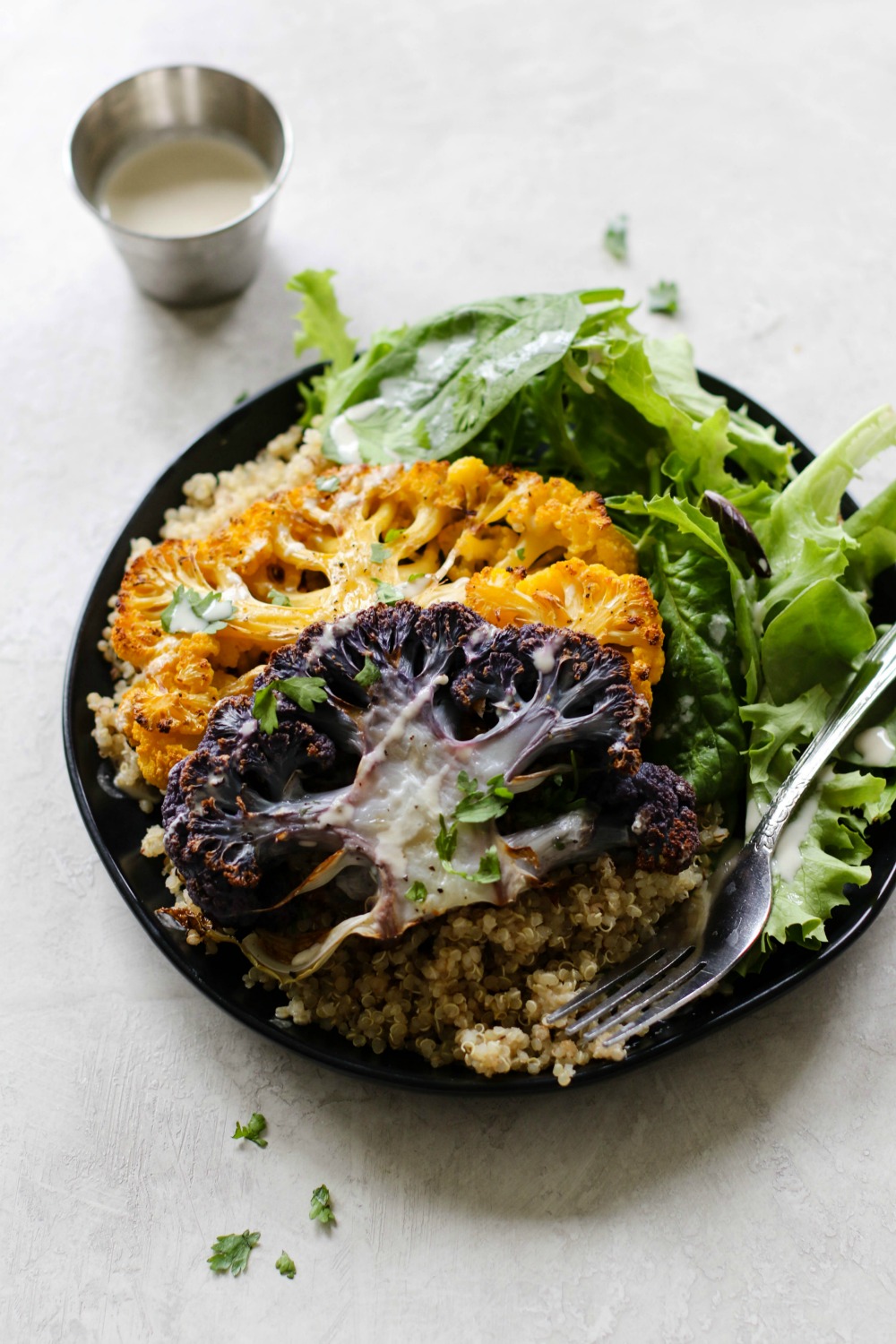 Ingredients
2

small

heads cauliflower

1

tbs

avocado oil

salt & pepper

as desired

1

cup

uncooked quinoa

4

cups

mixed greens

1/4

cup

tahini

1/2

cup

Water

2

tbs

lemon juice

fresh parsley
Instructions
Preheat oven to 400 degrees and line a baking sheet with parchment paper.

Rinse the heads of cauliflower and slice them into 2" slabs. Save the excess broken florets for another use.

Place cauliflower "steaks" on the baking sheet and drizzle with avocado oil and season with Himalayan sea salt and black pepper.

Bake for 30-40 minutes, until crispy on outside and tender on inside.

While the cauliflower is baking, prepare your quinoa or grain of choice according to package instructions.

Mix up the lemon tahini dressing by whisking together tahini, filtered water, and lemon juice in a small bowl.

Serve cauliflower steaks with 2/3 cup quinoa and a handful of mixed greens. Garnish with fresh parsley and lemon tahini dressing.

Store leftovers in an airtight container in the fridge for 4-5 days.
Notes
Nutrition for 1 out of 4 servings:
16g P | 48g C | 18g F | 12.5g Fiber | 395 Calories
Nutrition
Serving:
1
meal
|
Calories:
395
kcal
|
Carbohydrates:
48
g
|
Protein:
16
g
|
Fat:
18
g
|
Fiber:
12.5
g