Budget meal preps are the way to go these days! Stretch your dollar further but don't sacrifice flavor with these 15 meals!
Meal prepping is about making plenty of food for several days, and that means saving time and money! It certainly saves more money than prepared meals, and even more than going out to eat. According to Debt.com, around 85 percent of Americans are on a budget. So, saving money with daily expenses is imperative to stay out of debt while living happier and healthier lives. We put together our top 15 budget-friendly recipes for those who want to save money and still eat great-tasting food!
This is a delicious and easy plant-based meal that is totally vegan and gluten-free, you can't do much better than this budget-friendly meal prep recipe for edamame pasta with tofu and veggies.
(Carbs: 26g - Protein: 28g - Fat: 26g)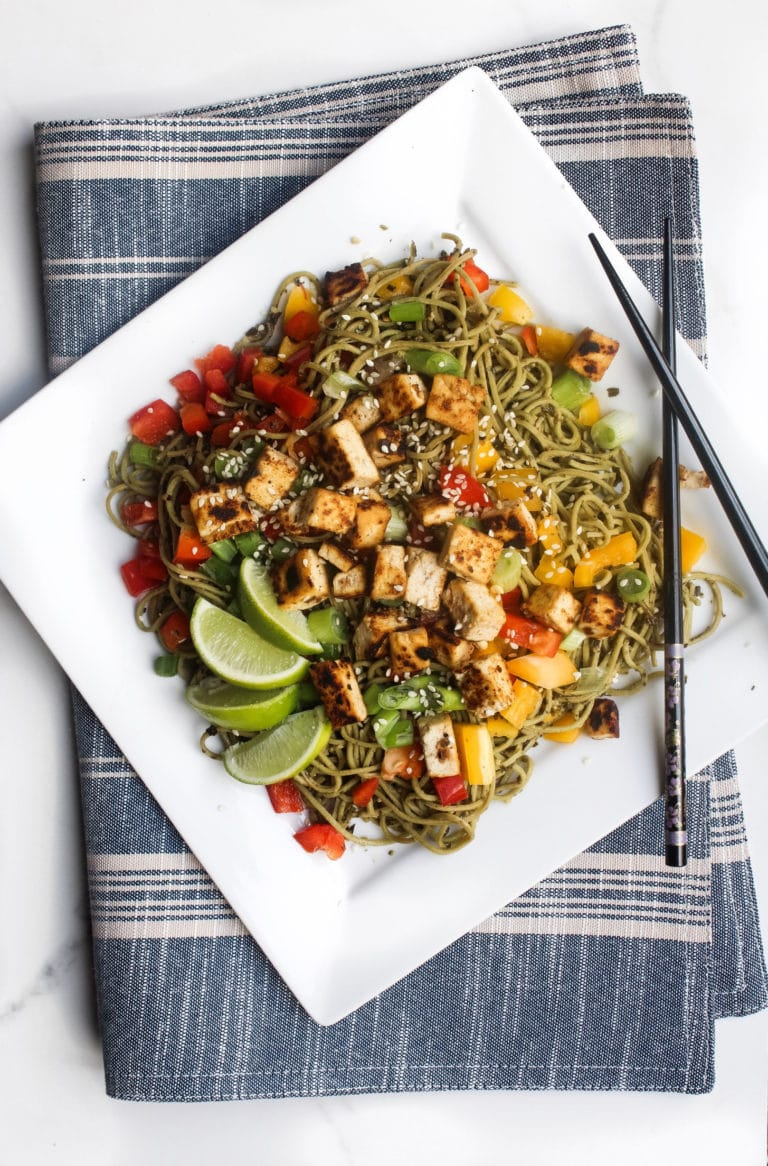 This Mediterranean Pasta Bake is simple, flavorful, and affordable! This dish is ready in just 36 minutes, making it an idea budget meal prep or even a fast weeknight dinner. From the artichokes to the kalamata olives, feta cheese, homemade olive oil-based dressing, and the tender, savory sirloin steak, this recipe has tons of flavor.
(Carbs: 58g - Protein: 34g - Fat: 38g)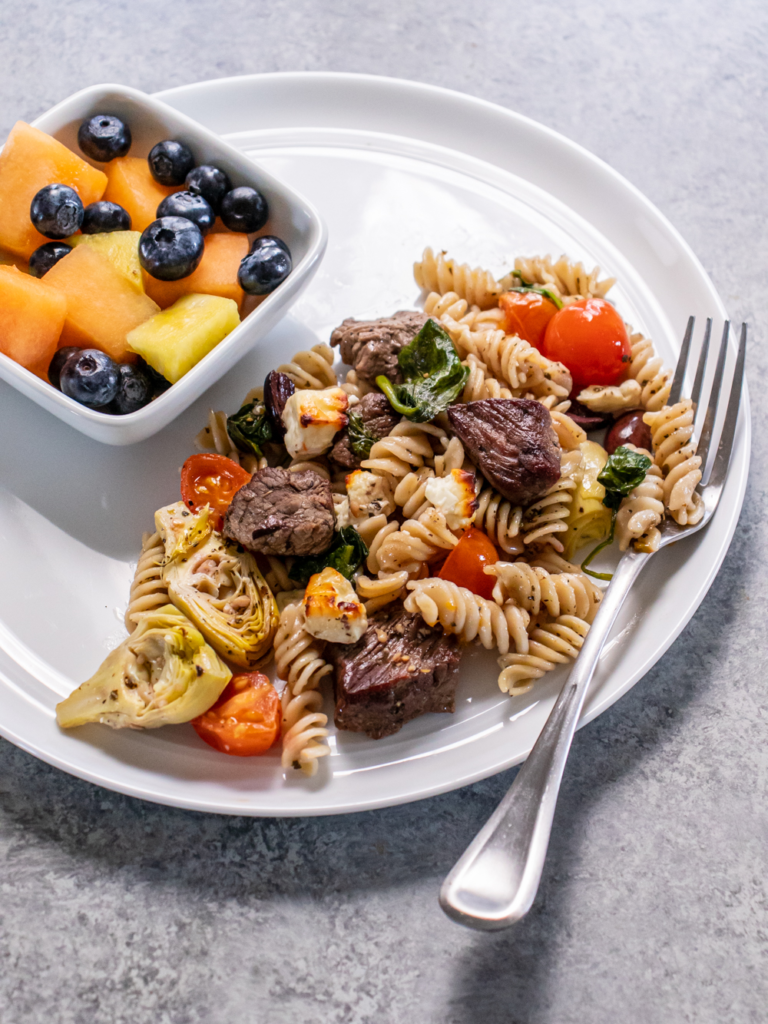 This one-pan sweet potato and ground beef hash is full of protein, fiber, and vitamins to start the day off right. Seasoned with taco seasonings and served with salsa, you don't have to wait until dinner to get your taco fix!
(Carbs: 23g - Protein: 38g - Fat: 23g)
We all love Asian takeout. Well, maybe not all of us, but a lot of us do! But sometimes it's salty or the sauces are too sweet. This healthy budget meal prep is the ideal alternative to your favorite takeout!
(Carbs: 46g - Protein: 32g - Fat: 11g)
Stuffed Zucchini Boats are a delicious and healthy twist on traditional Mexican cuisine. They're made by hollowing out zucchini and stuffing them with a flavorful mixture of ground beef, beans, and spices. The resulting dish is a low-carb and protein-packed meal that's sure to satisfy.
(Carbs: 22g - Protein: 38g - Fat: 20g)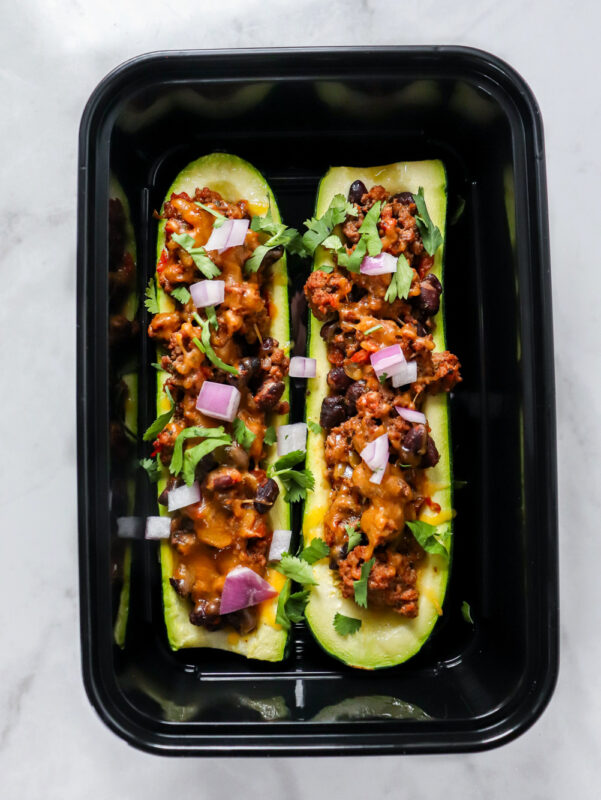 A fantastically healthy alternative to traditional noodles and meatballs, this dish combines health, flavor, and cost savings!
(Carbs: 2g - Protein: 54g - Fat: 5g)
These tender and juicy hoisin meatballs are high in protein and feed a hungry appetite with 4 meatballs per serving, white rice, and pea pods. They're browned on the outside and cooled before storing in a zip-top bag with an Asian hoisin sauce. Ground turkey is an affordable protein, too! Just thaw and simmer in the sauce! 
(Carbs: 73g - Protein: 33g - Fat: 20g)
No need to wait for lunch—or Tuesdays!—to enjoy taco flavor! These breakfast taco bowls are chock full of protein and hearty air-fried potatoes to start the day off strong. 
(Carbs: 24g - Protein: 40g - Fat: 24g)
This Salsa Verde Chicken Enchilada Meal Prep is put together in a snap using a precooked whole chicken and salsa verde for quick and delicious meal prep. Quick and easy to make, this budget-friendly recipe is gluten-free, which is a bonus!
(Carbs: 38g - Protein: 38g - Fat: 26g)
These Keto cheesy patties are a low-carb way to satisfy your craving for chicken parmesan, complete with a marinara sauce for dipping! They are a perfect finger food (hello, dunk and eat!). You can munch on those juicy and tasty chicken patties, after dunking them into that pasta sauce, and enjoy the greens on the side.
(Carbs: 8g - Protein: 28g - Fat: 29g)
Warming and rich, the almond butter sauce in this recipe is smooth and creamy with a wonderful kick of spices: ginger, cumin, cinnamon, and cayenne. The sauce generously coats tender chicken, and sweet dried raisins or tart cherries make the perfect flavor contrast. Everything comes together beautifully over a bed of cauliflower rice.
(Carbs: 32g - Protein: 41g - Fat: 21g)
You're sure to love these flavorful Korean BBQ-style chicken thighs as a budget meal prep that pairs with sides of sesame broccoli and white rice!

(Carbs: 51g - Protein: 27g - Fat: 17g)
This sheet pan meal is loaded with island flavor! Chicken thighs, which are an economical cut of meat, are coated in spices and roasted alongside sweet plantains. The dish is finished with a juicy, antioxidant-rich mango black bean salsa that ties the whole meal together.
(Carbs: 50g - Protein: 46g - Fat: 21g)
The slow cooker does the work in this high-protein beef and cabbage soup. Full of vegetables and fiber-rich brown rice, this soup is a complete meal with plenty of servings for easy reheating on busy days!

(Carbs: 44g - Protein: 33g - Fat: 13g)
Arugula pesto is easy and tastes great with pasta and tons of other green veggies. Serve this vegan dish at room temperature or hot. Either way, you'll love this vegan arugula pesto pasta meal prep!
(Carbs: 62g - Protein: 28g - Fat: 34g)