Lighter Mango Chicken Sticky Rice Meal prep is healthier than takeout. A kick of spice balances the naturally sweet mango. Served with Asian sticky rice for a healthy meal prep!
Oh, we can't get enough of this meal prep. If you've had mango chicken at an Asian restaurant, you'll understand why once you take a bite of this healthy meal prep recipe! You make the chicken, the sauce, the sticky rice, and it's so good, you'll never order takeout again. Plus, it's healthier because it has far less sugar than what you'd get otherwise. (Seriously, so many Asian sauces are loaded with sugar!)
We're not going to pretend this comes together fast, but again, once you've had a bite of this mango chicken stick rice meal prep, you won't care. The bulk of the prep time consists of soaking the rice before you cook it, a task you could start before prepping the sauce and the chicken. It all works out.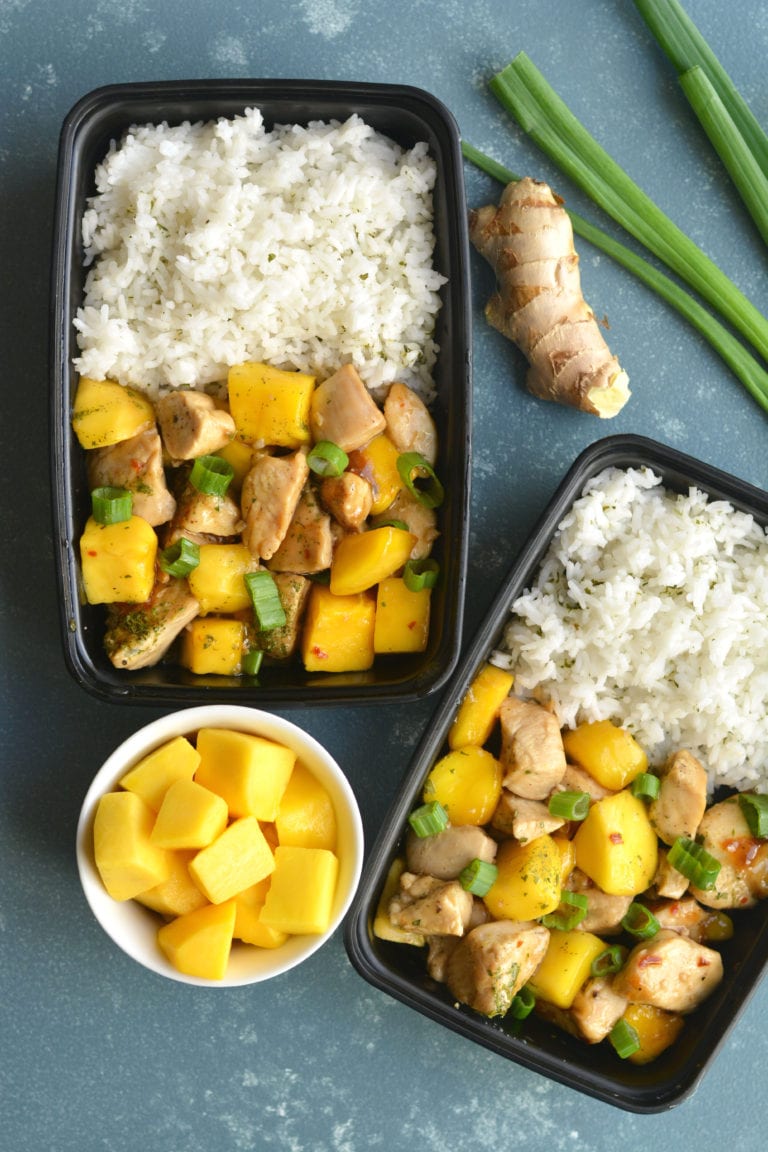 Aren't these ingredients just beautiful?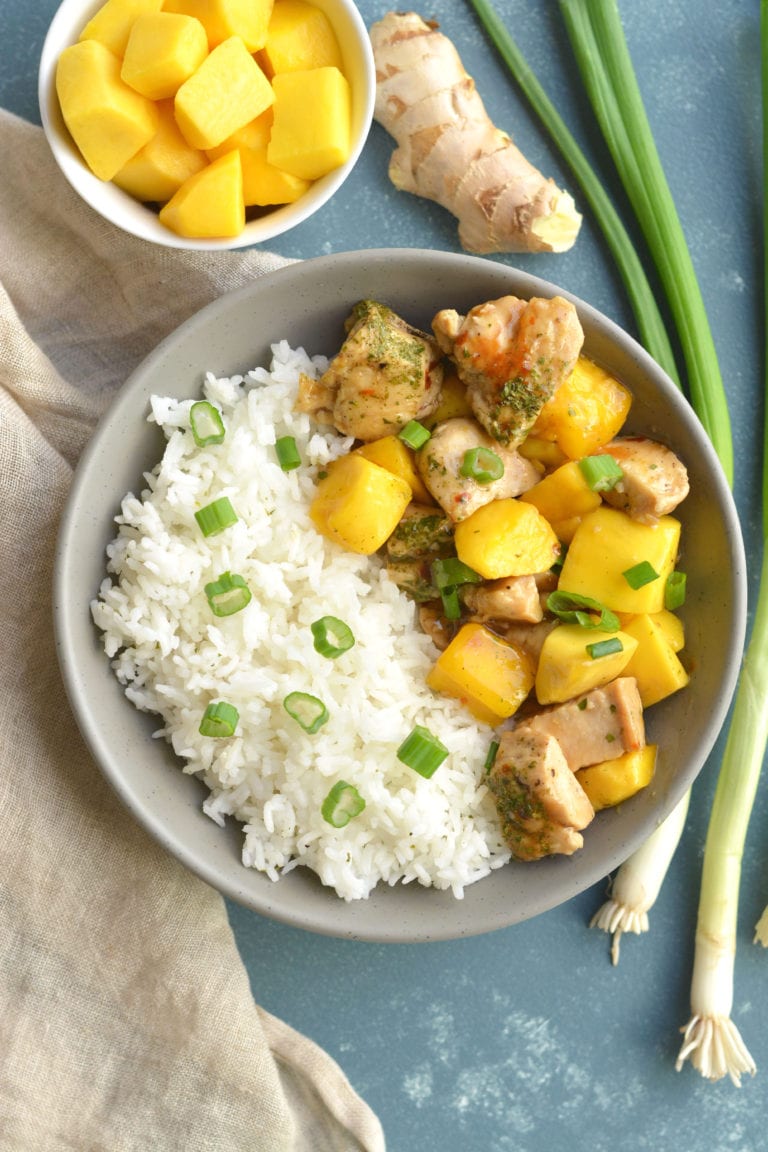 Lighter Mango Chicken Sticky Rice Meal Prep Ingredients
1 cup long-grain white rice, uncooked
2 cups mango, cubed
1 chicken breast, boneless, skinless, and diced
2 tbsp. extra virgin olive oil
1 tbsp. rice wine vinegar
2 tbsp. chili paste
½ tsp. paprika
½ tsp. dried parsley
Salt and pepper, to taste
Scallions, sliced, for garnish
How to Make Mango Chicken Sticky Rice Meal Prep
The rice needs to soak for 30 to 60 minutes and honestly, that's the bulk of the prep situation here. The chicken sauce comes together on the stovetop while the rice cooks. And any dish that combines chicken and mango is going to be a winner, right? 
How to Store Mango Chicken Sticky Rice Meal Prep
This meal prep recipe holds its own in the fridge for several days in prep containers, once it's made. You could definitely freeze the chicken and mango if you'd like (a good one if you're doing a double batch). However, we don't recommend freezing the rice necessarily; the texture might suffer. (We know, this is different from what we normally say about rice, but this rice is, well, special.)
How to Serve Mango Chicken with Sticky Rice
Serve this as is! It needs little embellishment or anything else, really. It's its own dish. 
Substitutions and Alterations
If mango isn't your thing, you can make this mango chicken meal prep with pineapple instead, another tropical fruit that tastes great with chicken and whose sweetness balances the heat from some of the ingredients. 
Chopped cashews make a great garnish to this dish. 
If you don't have or can't find the right kind of rice, make a jasmine rice instead, which will be fragrant and complement the flavors of this meal prep recipe. 
What is Sticky Rice? 
We thought you'd never ask! This type of rice is commonly found and eaten mainly across Southeast and East Asia. It's also often referred to as glutinous rice—and not because it contains gluten, but because it's sticky thanks to the specific kind of starches that are present. (All rice is naturally gluten-free). There are many different types of glutinous or sticky rice. Use sticky rice as a side, as a filling in foods such as dumplings, or with beans and fried by itself. 
READ MORE: Like Sticky Chicken Things? One-Pan Paleo Sticky Sesame Chicken Thighs Are Calling You!