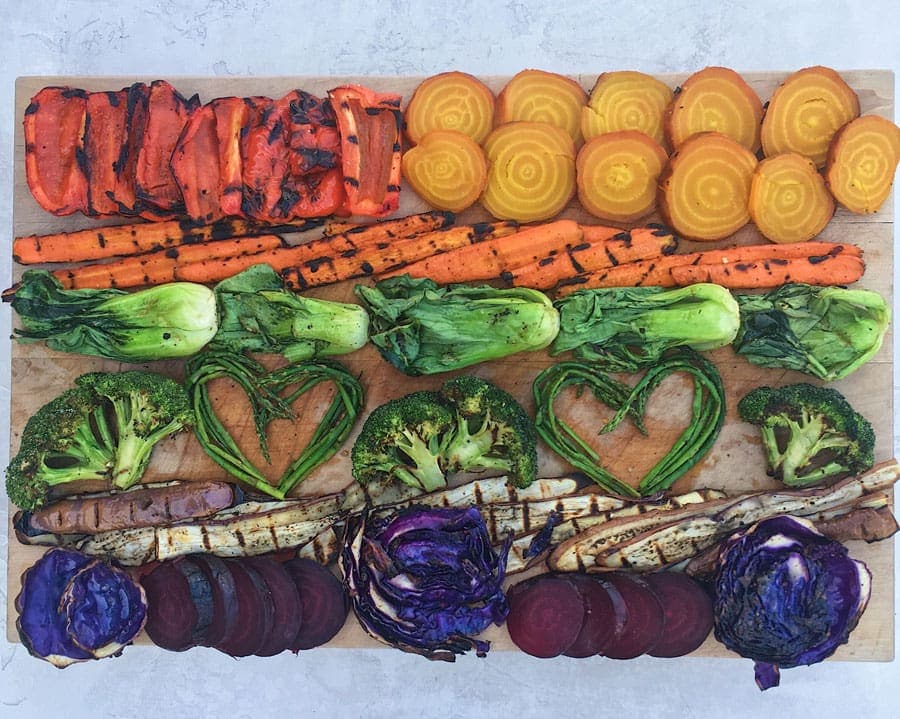 How to perfectly grill your favorite vegetables
2 Bell Peppers -Slice from stem to bottom following the curve
6 Baby Bok Choy- Leave whole or slice in ½ lengthwise
1 head of Broccoli-Trim stem and cut into steaks ¼" thick
4 Carrots- Slice lengthwise into ¼" planks. If they are extra long, cut in ½ first
2 Chinese Eggplants- Slice lengthwise into ¼" planks. If they are extra long, cut in half first
¼ head of Purple Cabbage- Cut into ½" steaks with stems included
1 Bunch of Spring Asparagus- Leave whole and cover the tips with foil
2 Purple/ 3 Yellow Beets- trim root and stem
Grilled Vegetable Cooking Times:
How to Prep your Vegetables for the Grill:
Cut the vegetables.
Season the vegetables well. Let them soak in the seasoning for 30 minutes before grilling. I used simply organic grilling seasons vegetable blend and pink sea salt.
Preheat the barbecue on medium-high heat and clean the grill grate.
Oil a rag and make sure the grates are well 'seasoned'. Applying oil to the grill will ensure the vegetables won't stick.
Beets take the longest- and are best when rubbed with a light drizzle of oil and pinch of salt- and wrapped tightly in a piece of foil so they steam. Place wrapped beets on the grill. Use a steak knife to ensure they are tender after 40-50 minutes.
Brush a very light coat of oil on the remaining vegetables just before placing on the grill. Too much oil will cause them to get soggy
Place the veggies on hot grill and do not futz with them for approximately 2 minutes to ensure grill marks. Turn once. Adjust the burner temperature as needed.
Always account for carryover cooking! Remove them from heat before you think they are done.