Make breakfast count with a Breakfast PRO Power Bowl loaded with PROduce, PROtein and veggies! Guaranteed to jumpstart your day and easy to meal prep. Substitute the veggies for any green.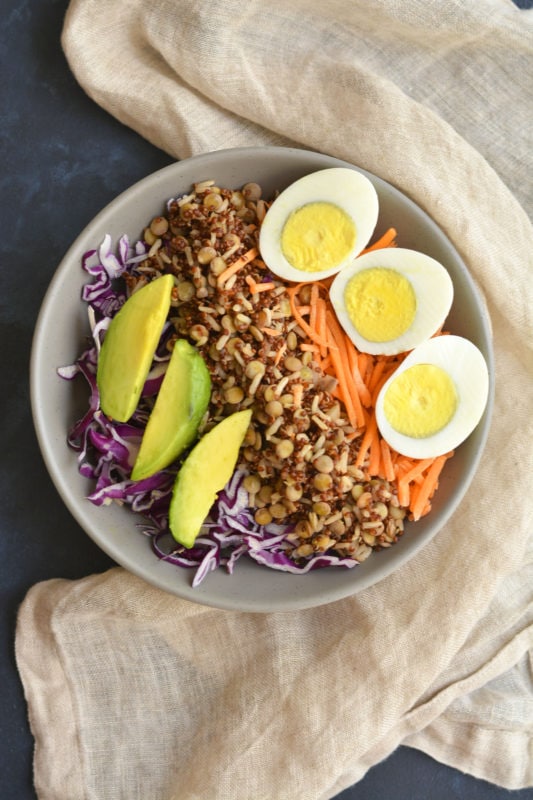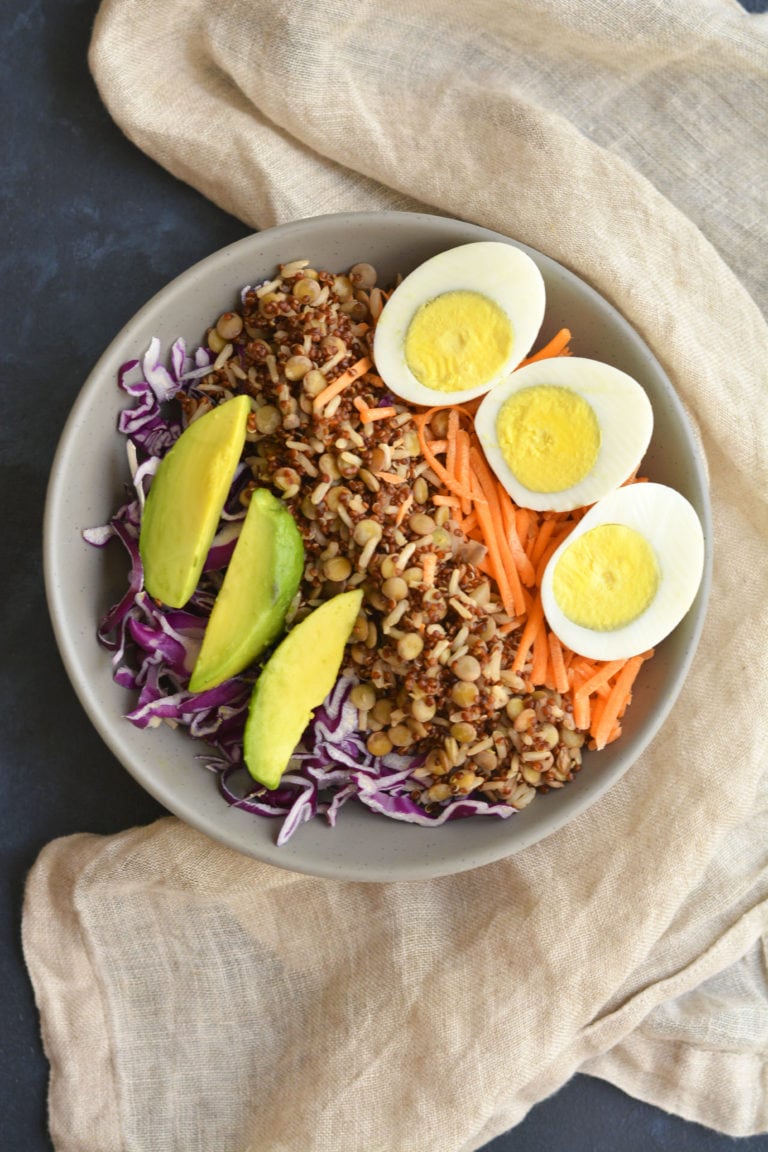 Breakfast, hands down, is our favorite meal of the day. Especially when it starts with a Greek egg bake, waffles or this breakfast pro power bowl.
This recipe is power packed for you with healthy fats, protein and slow digesting carbs leaving your body (and mind) ready to face whatever the day may bring! It can quickly be made on meal prep Sunday and enjoy warm or cold curing the week. You could also enjoy this Breakfast Pro Power Bowl for lunch too! Add in 3oz of cooked chicken breast and you have a second meal option ready in minutes.
For those of you who may not be breakfast people, here's one more reason to fuel your body right in the morning:
"Your first meal of the day is key to scoring a slim, toned body. Here's why: While you're asleep (at least six hours for most people), your body goes into "starvation mode" and holds onto fat. To break this cycle and kickstart your fat-burning furnace (metabolism), you need to fuel up (eat something!). Eating a combination of complex carbs, healthy fats, and protein shortly after you wake up will provide you with the energy you need to get through your morning, prevent muscle loss, and stoke your metabolism." ~Shape
Breakfast PRO Power Bowl Ingredients:
6 large eggs, boiled
2 cups quinoa, cooked
½ cup lentils, cooked
1 cup red cabbage
1 cup shredded carrots
1 avocado
½ tsp garlic powder
¼ tsp cumin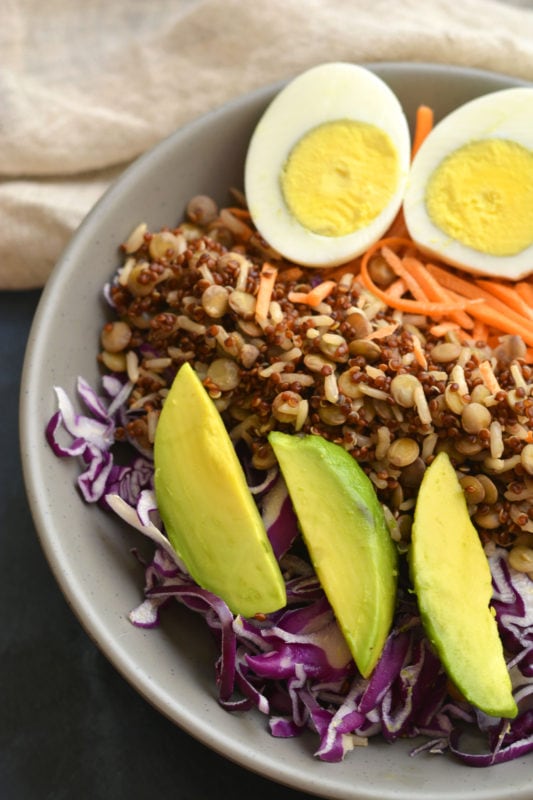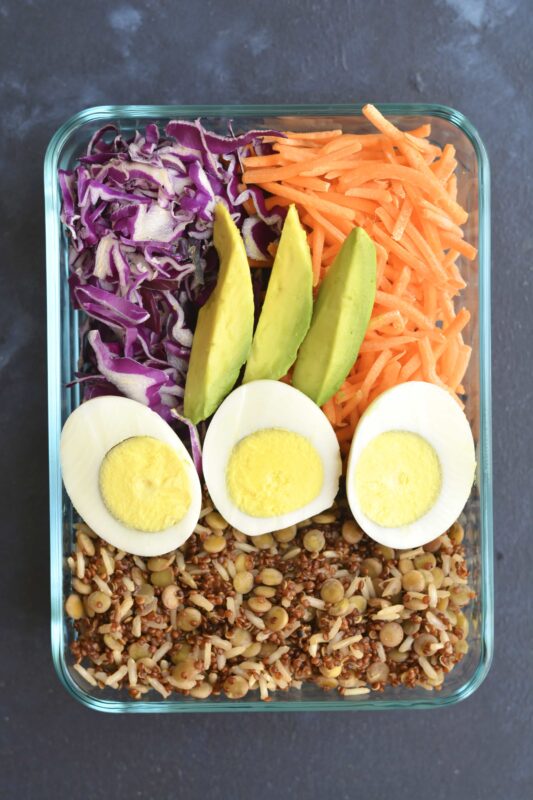 Pin it for later!!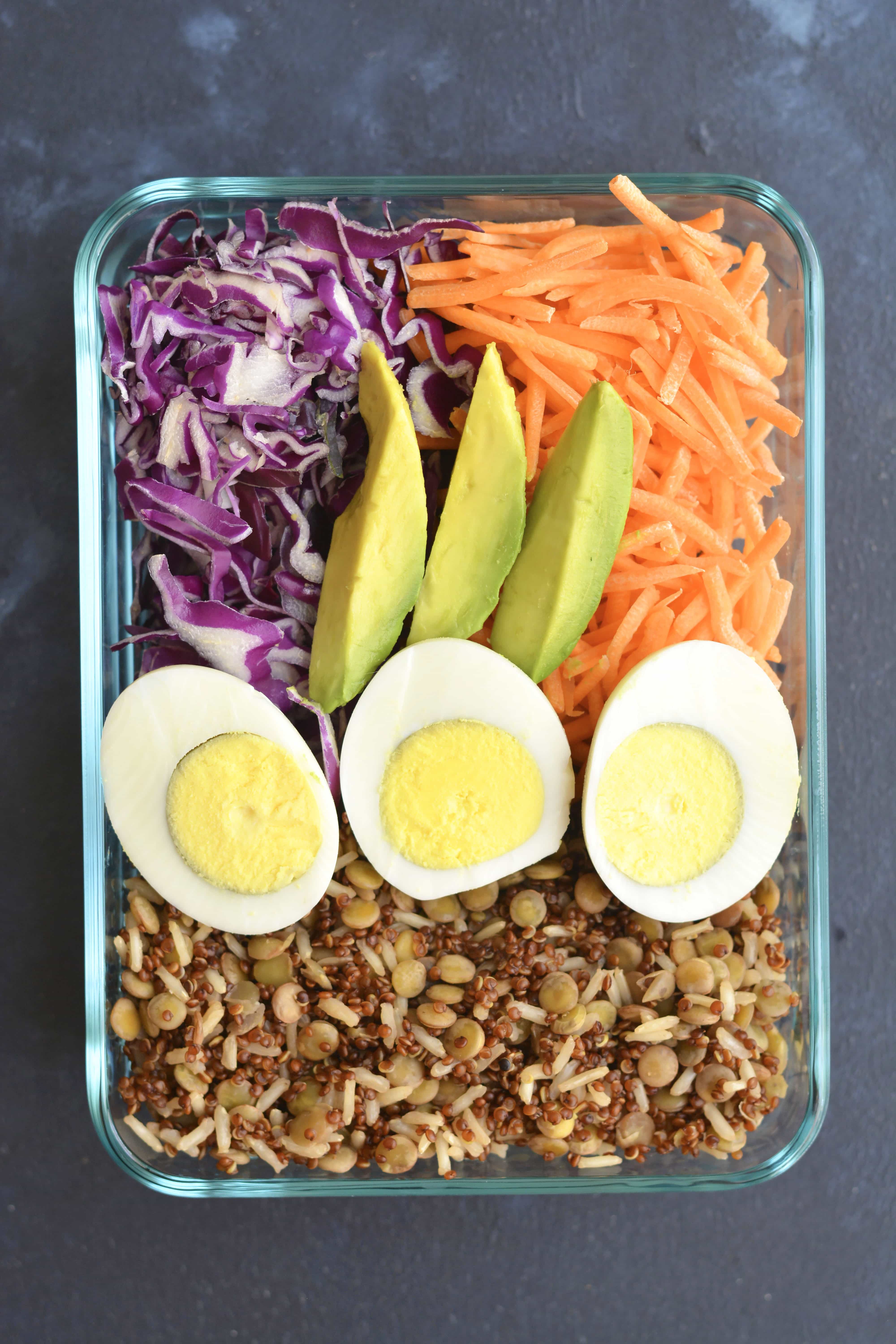 Ingredients
6

large

eggs

hard boiled

2

cups

quinoa

cooked

1/2

cup

lentils

cooked

1

cup

red cabbage

1

cup

Carrots

shredded

1

medium

Avocado

1/2

tsp

Garlic Powder

1/4

tsp

cumin
Instructions
In a large bowl, combine the cooked quinoa, lentils with garlic powder and cumin.

Transfer the mixture to two meal prep containers, dividing it evenly between the two.

Add the cabbage and carrots to the container, dividing it between the two meal prep containers.

Slice the boiled eggs in half and avocado into thin slices then top each container with them.
Notes
Nutrition for 1 out of 3 servings:
23g protein, 44g carbs, 19g fat, 439 calories
Recipe Courtesy Of SkinnyFitALicious
Nutrition
Serving:
1
meal
|
Calories:
439
kcal
|
Carbohydrates:
44
g
|
Protein:
23
g
|
Fat:
19
g