Garlic & Thyme Chicken Meal Prep
In our world, a great chicken meal prep is as good as gold. But don't mistake old faithful for boring or repetitive. By adding just a few spices to your dish you can transform your lunches into something both healthy and delicious- like this Garlic & Thyme Chicken Meal Prep!
The warm, fall flavors of garlic and thyme paired with sweet potatoes and roasted brussels sprouts make this Whole30 friendly recipe an affordable and nutritious easy meal prep. Because you're likely to already have a lot of these ingredients at home, this chicken meal prep recipe is gentle on the schedule and your trip to the grocery store (or the garden!).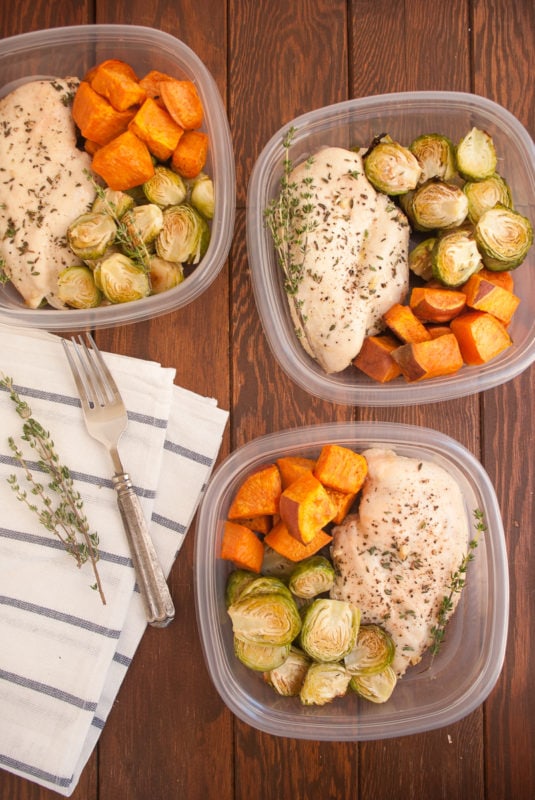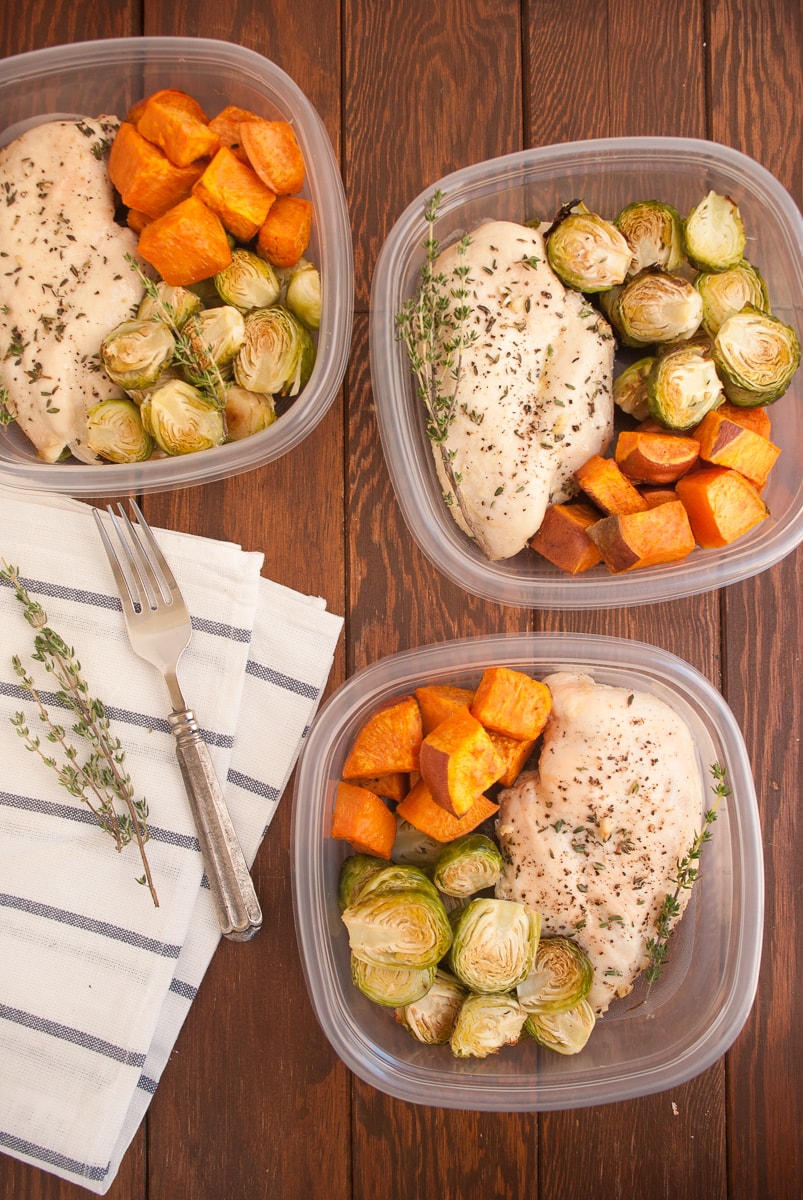 Brussels sprouts are low in calories but high in fiber, vitamins, and minerals, and adding them to your plate also means adding a healthy dose of antioxidants! If you've been with us at MPOF for a while, you know we're a huge fan of sweet potatoes around here. Even though they carry the same name, sweet potatoes are actually in an entirely different family of plants than regular potatoes. We (and by we, we mean, well, everyone) allow them the same name because of their similarity in shape and texture, but the lack of familial relationship means none of the bloating and inflammation that can sometimes be caused by regular potatoes. Their characteristic orange hue is an indication of the nutrients inside, specifically a huge burst of beta-carotene, an antioxidant that converts to Vitamin A once consumed. And because of their complex carbohydrates, sweet potatoes keep us fuller for longer and provide significantly more energy to our bodies than their white or Russet cousins. Are you convinced about this recipe yet?
Pro Tip: Make extra of this dish when prepping. The combination of protein-rich chicken and nutrient-rich sweet potatoes and brussels sprouts make this easy meal prep a perfectly quick and easy post-workout dinner.
Garlic & Thyme Chicken Meal Prep Ingredients:
3 boneless, skinless chicken breast
5 cups Brussel sprouts
1 large sweet potato
2 tbsp olive oil
3 cloves garlic, minced
2 tbsp dried thyme
½ tsp pepper
1 tsp salt
fresh thyme for garnish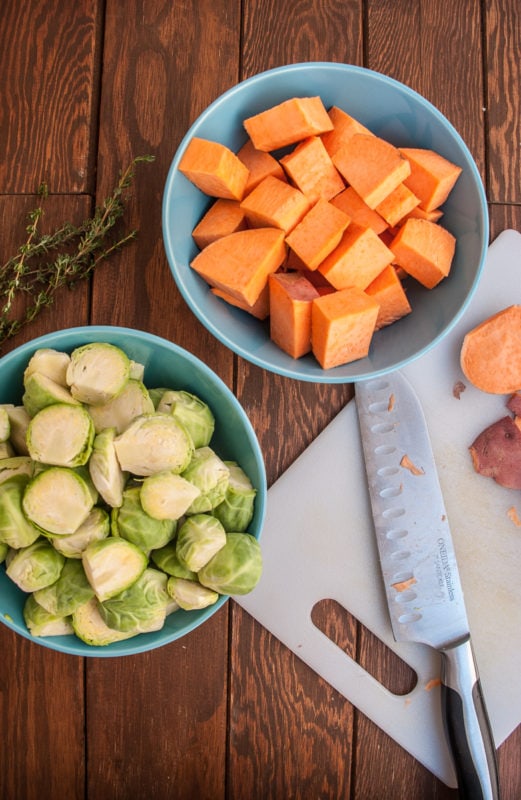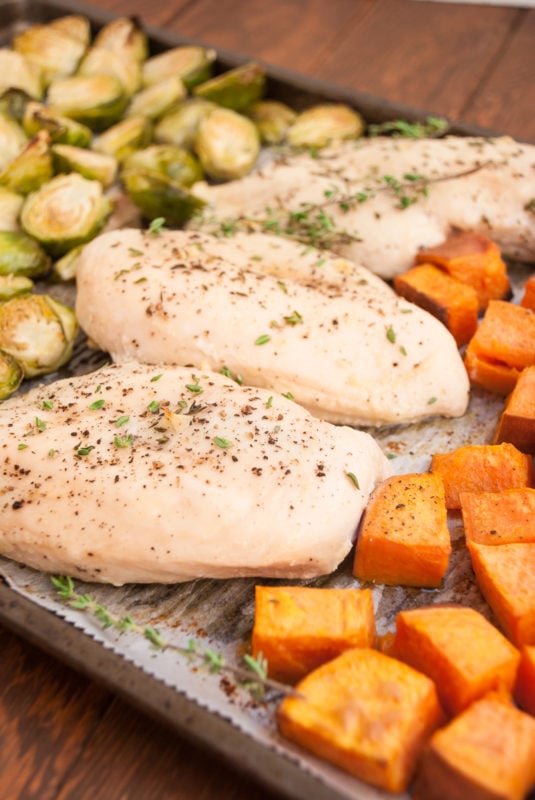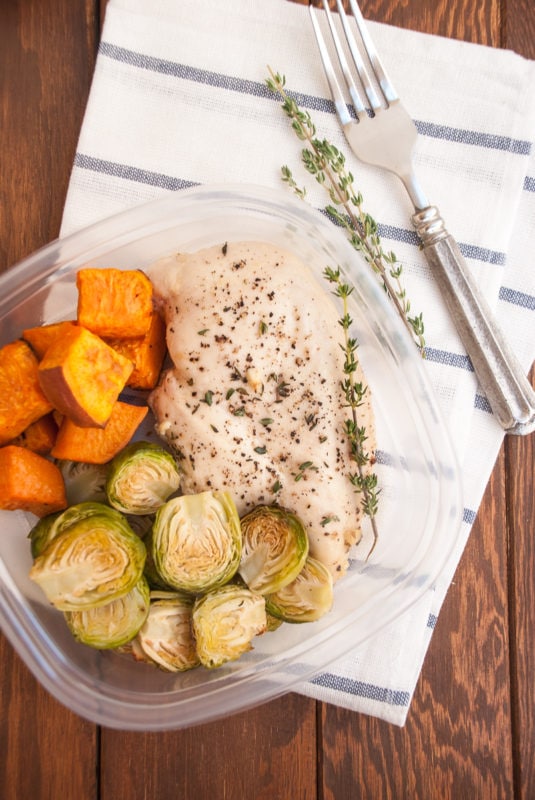 Pin this Meal Prep Recipe for later: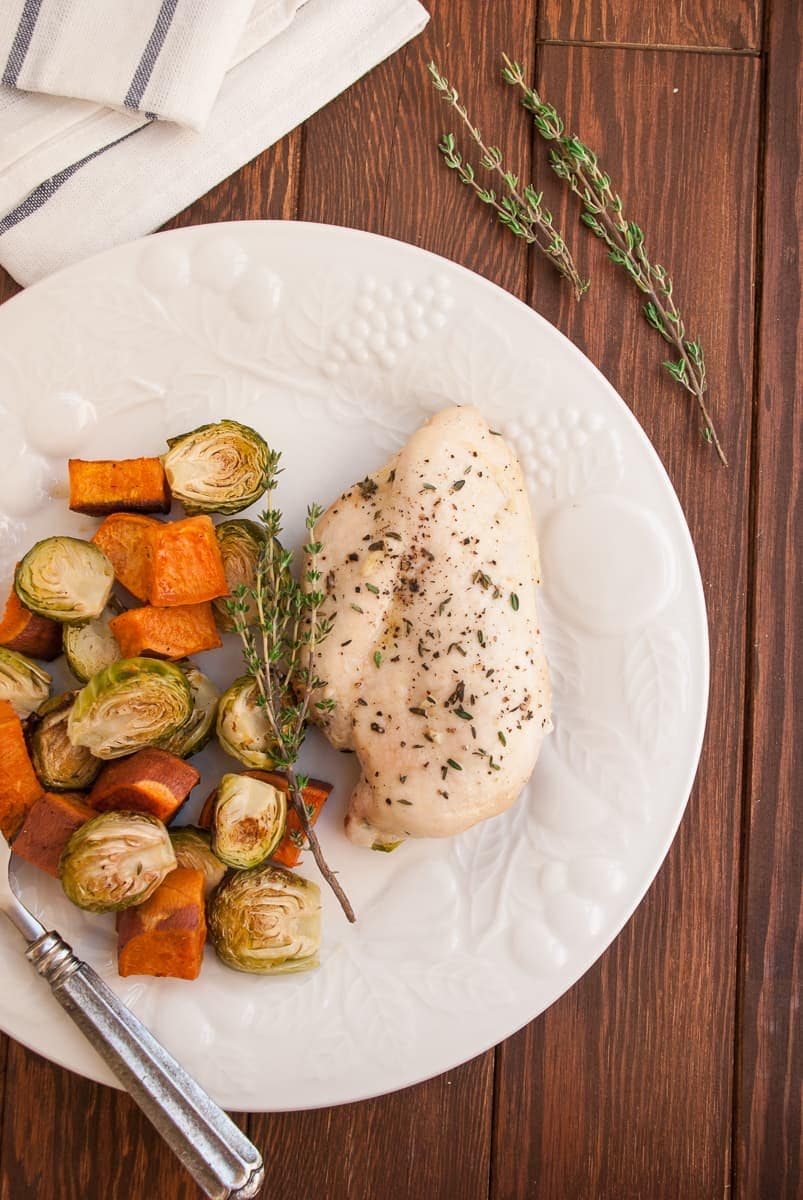 Ingredients
3

4 oz

Chicken Breasts

5

cups

Brussels Sprouts

1

large

sweet potato

2

tbsp.

olive oil

3

cloves

garlic

2

tbsp

dried thyme

1/2

tsp

black

1

tsp

Salt

fresh thyme
Instructions
Preheat oven to 425F and place the chicken breast in a ziplock bag with 2 tablespoons of olive oil, garlic, dried thyme, ¼ tsp pepper and ½ tsp salt. Zip the bag and rub the oil and spices into the chicken.

Wash, trim and halve the brussel sprouts. Toss in 1 tablespoon olive oil. Wash and chop the sweet potato into ½ inch cubes. Microwave for 3 minutes to soften. Toss in 1 tablespoon olive oil.

Place the brussels and sweet potatoes on a sheet pan lined with parchment paper or tin foil. Sprinkle with ¼ tsp pepper and ½ tsp salt. Remove chicken from bag and place on the sheet pan. Bake for 20-25 minutes or until chicken is fully cooked through. Garnish with fresh thyme.
Notes
WW Smart Points= Green:10  Blue:5  Purple:3
__
Nutrition for 1 out of 3 servings:
32g Protein, 27g Carbs, 10g Fat, 326 calories
Nutrition
Serving:
1
meal
|
Calories:
326
kcal
|
Carbohydrates:
27
g
|
Protein:
32
g
|
Fat:
10
g
WW Smart Points= Green:10 Blue:5 Purple:3