An Italian meal is an experience. The zesty flavor profiles and solid meals give Italian cuisine its reputation of being all about comfort and family gatherings. A traditional Italian dinner is complete with solid foods such as pasta and bread, usually served with a colorful salad, rich meats, and a delectable wine. Chicken Parmesan is classic Italian comfort food that dates back to the 20th century and was and still is referred to as chicken parmigiana. The dish was originally an eggplant entrée, not a chicken entrée. Chicken Parmesan is delicious, but eggplant parmesan sounds tasty, too! The classic Italian comfort food has had a few makeovers, and now there's one more to add -- Air Fryer Chicken Parmesan. Our take on Chicken Parmesan takes less time to cook and is gluten-free.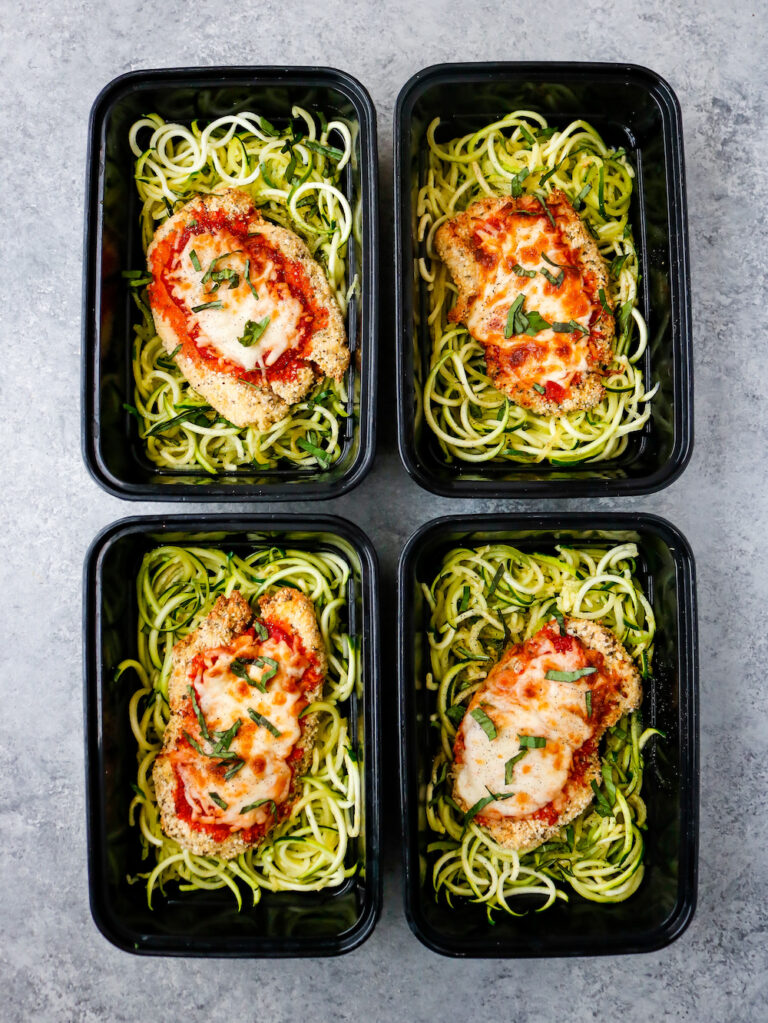 Enjoy the crispy golden flavor of authentic chicken Parmesan without frying in oil! Chicken is coated in Italian herbs and gluten-free breadcrumbs before air frying for a restaurant-style Italian dinner.
How long will Air Fryer Chicken Parmesan last for?
Air Fryer Chicken Parmesan will last for up to 4 days. Sources say if you have an exceptionally cold refrigerator and the food is properly stored, you can make cooked chicken last longer than 4 days. But we wouldn't chance it. Store leftover Air Fryer Chicken Parmesan in a shallow airtight container in your refrigerator for up to 4 days.
Can Air Fryer Parmesan Chicken be frozen?
Yes, you can freeze leftovers for up to 6 months. The same storage rules for refrigeration applies. You can either store Air Fryer Parmesan Chicken in a plastic airtight container or a heavy-duty freezer bag. You can even store the cooked air fryer meal prep recipe in glass containers for easy oven reheating later.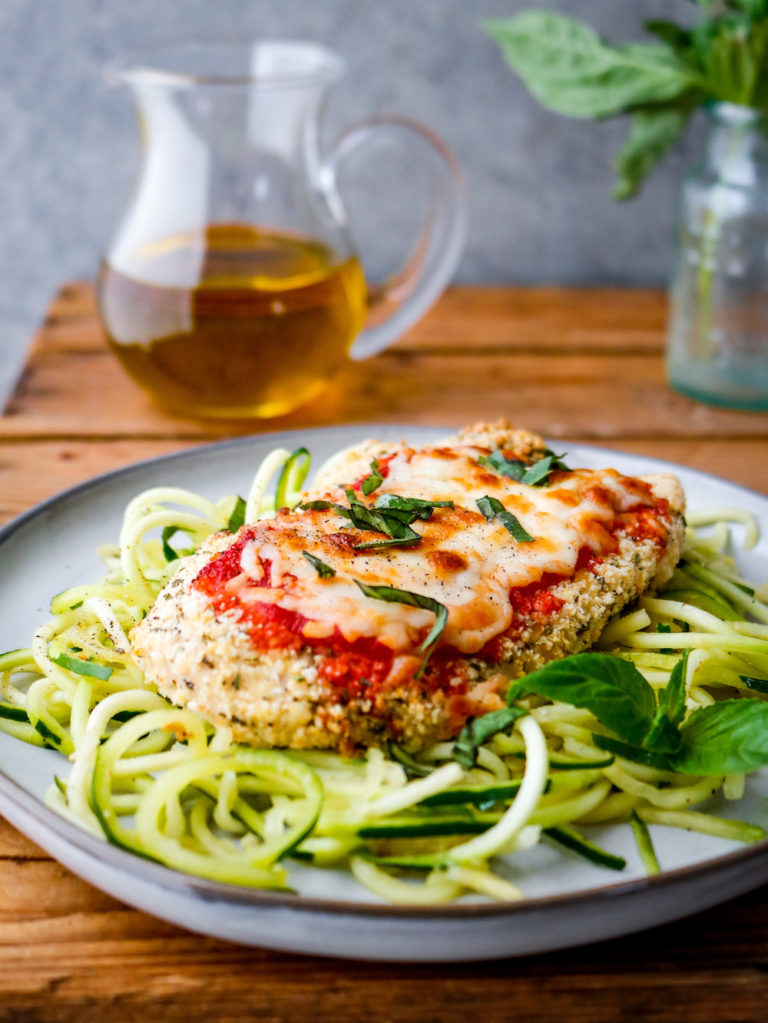 Air Fryer Chicken Parmesan Ingredients:
For Chicken Parmesan
2 (6

oz

) boneless skinless chicken breasts

1 large egg

½ cup gluten-free breadcrumbs

2

tablespoon

grated Parmesan cheese

1 teaspoon dried basil

1 teaspoon dried oregano

¼ teaspoon garlic powder

½ teaspoon sea salt

½ cup shredded part skim mozzarella cheese

½ cup marinara sauce

⅓ cup chopped fresh basil for serving

¼ teaspoon black pepper for serving
For Garlic Zucchini Noodles
1 teaspoon olive oil

8 cups spiral sliced zucchini

1 teaspoon minced garlic
How do you make Air Fryer Chicken Parmesan?
Start cooking Air Fryer Chicken Parmesan by prepping the chicken breasts. Cut your breasts into two halves by slicing the sides. Then place the cutlets in between parchment or wax paper. Pound the chicken cutlets until they are ¼" thick. Once you've got the cutlets ready, grab two shallow bowls. Use one to lightly beat 1 large egg and use the other bowl to combine Parmesan cheese, gluten-free breadcrumbs, and dry seasonings. Stir that mixture together, and oh my goodness doesn't it smell deliciously earthy!
Next, dip each chicken cutlet into the egg bowl. Shake off excess egg before dredging the cutlet in the breadcrumbs mix. Repeat this process until all four cutlets are ready to air fry. Place breaded chicken breasts in the air fryer, 2-3 pieces at a time. Fry the chicken at 350 degrees for 8 minutes, then gently flip the chicken breasts. Spoon marinara sauce on each piece and sprinkle Parmesan cheese on top. Finish frying the chicken for 6-8 minutes, or until chicken is fully cooked. If you have more chicken to air-fry, repeat the process.
Once the chicken is done, it's time to focus on the zucchini noodles, which we affectionately call "zoodles." Heat 1 teaspoon of olive oil in a medium skillet over medium heat and add garlic. Sauté the garlic until it starts to turn light golden brown (and your mouth starts watering). Add the zoodles to the skillet, using tongs to toss. Cook the zucchini noodles for approximately 2 minutes, and that's it! You're done cooking a healthier Chicken Parmesan meal in just 35 minutes.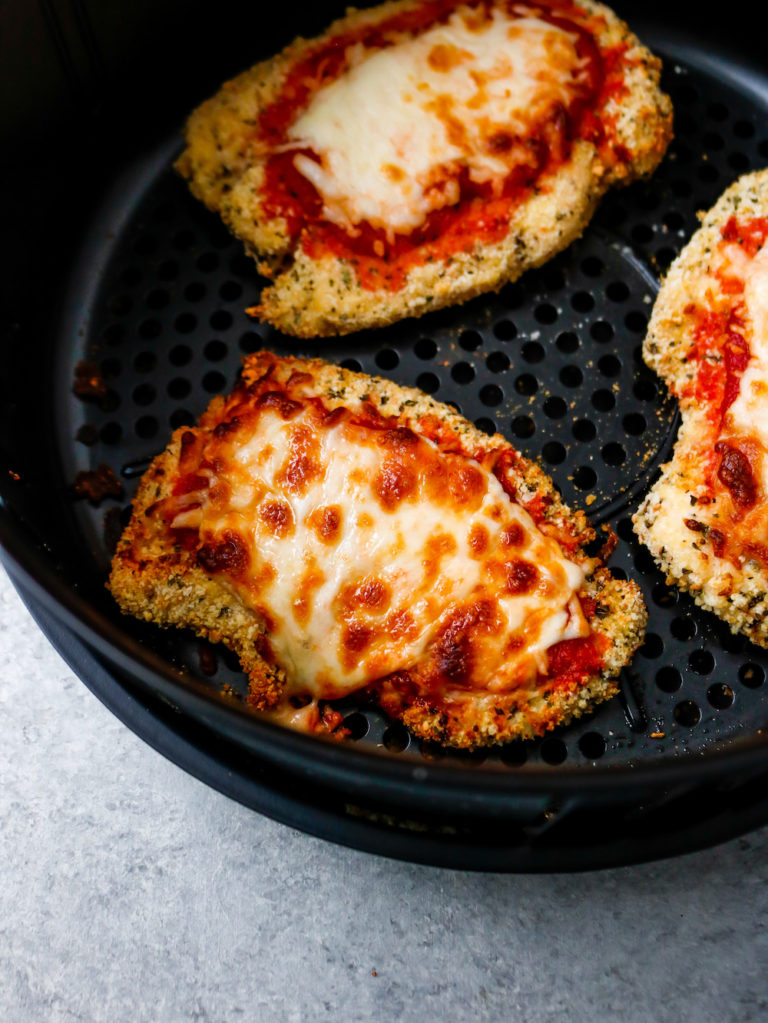 How to portion Air Fryer Chicken Parmesan?
In a four plastic one-compartment meal prep container, start by adding the zoodles. Then add one chicken breast to each container on top of the noodles. Garnish with black pepper and fresh basil. Yummy!
More Air Fryer chicken meal prep recipes:
You can cook so many delectable meals in your air fryer! Chicken is one of the best meats to air-fry because it's quick, easy, juicy, and delicious. We hope you enjoy these additional air fryer meal prep recipes!
Fun to make and eat Air Fryer Popcorn Chicken
More Parmesan and garlic goodness with Air Fryer Garlic Parmesan Chicken Wings
Another Italian-inspired chicken and noodles dish Pesto Noodles With Crispy Chicken Bites
Looking for more air fryer variety? Check out our favorite 25 Air Fryer Recipes That Will Change The Way You Meal Prep
Other tips for making Air Fryer Chicken Parmesan:
Don't overcrowd your air fryer basket with chicken breasts. We know -- you're excited to eat this meal! But overcrowding your air fryer basket results in soggy breadcrumbs.

If your chicken cutlets aren't looking golden and crispy enough, spray them with oil while frying.

If you're new to air-frying and want to make sure your chicken is thoroughly cooked, invest in a good food thermometer. Fully cooked chicken reaches an internal temperature of 165 degrees.

Try using high-quality tomato sauce instead of marinara sauce. You can make your own or buy some.

You can also use Mozzarella cheese instead of Parmesan. If you do use Mozzarella, cut it into cubes -- don't shred it.

For extra-crisp, also use panko. Panko is a Japanese breadcrumb so you'll have an extra special Chicken Parmesan dish bursting with flavor! We hear Ian's Allergy-Friendly Gluten-Free Panko Breadcrumbs are your best bet.