Hawaiian Chicken Teriyaki Skewer Meal Prep (Paleo – GF)
Aloha, meal prep fam! Today we'll be taking you on a culinary adventure to the sandy beaches of Hawaii, with this chicken teriyaki skewer recipe! Classic, time-tested flavors come together in this dish, which means it's a safe bet if you're cooking for guests!
One of our favorite things about this teriyaki skewer meal prep recipe is how easy it is to prepare and to eat. Simply cut the chicken into bite-sized pieces, then marinate in your paleo-compliant teriyaki sauce for 30 to 60 minutes. Please note that it is important to not marinate the chicken past the 1-hour mark! Enzymes contained in the pineapple juice used will break down the proteins and over-tenderize your meat.
Meal Prep Lunch Idea:
We love these chicken teriyaki skewers because they're a really delicious way to eat your vegetables! We love veggies at MPOF, but we have friends who don't as much as we do! And that's really what makes this chicken teriyaki skewer meal prep recipe so excellent—You can add any vegetables you do love, and reap all the health benefits! If you are one of our readers who just isn't that down with veggies, check out these 25 Healthy Lunches For People Who Hate Salads!
Paleo Hawaiian Chicken Teriyaki Skewer Meal Prep Ingredients:
• ½ cup coconut aminos
• ½ cup rice vinegar
• ⅓ cup pineapple juice
• 3 Tablespoons honey
• 2 garlic cloves, minced
• 2 teaspoons grated fresh ginger
• ½ teaspoon kosher salt
• ¼ teaspoon ground black pepper
• 2 ½ pounds skinless chicken breast, cut into bite-sized pieces
• 1 red onion, cut into bite-sized pieces
• 1 green bell pepper, cut into bite-sized pieces
• 1 orange bell pepper, cut into bite-sized pieces
• Avocado oil, as needed for grill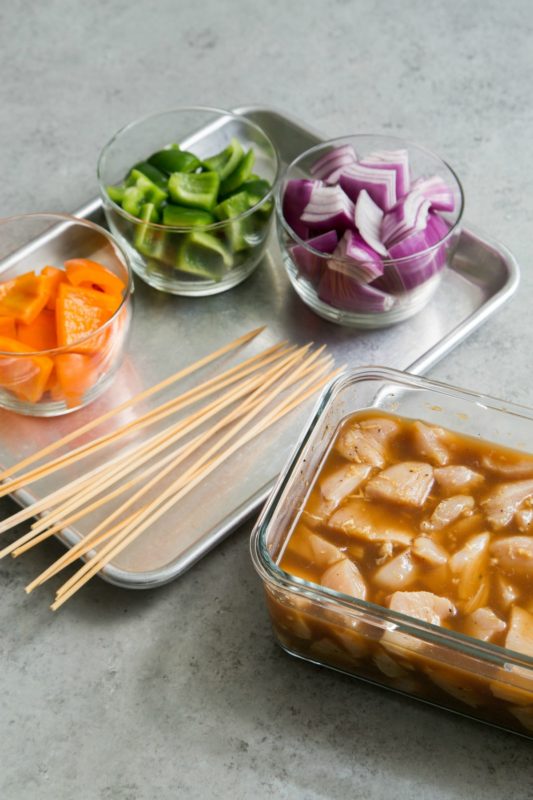 Do you grill them?
Nothing quite says summer like a good backyard BBQ party, and that's why we recommend using a gas grill to make this delicious paleo-compliant Hawaiian chicken teriyaki skewer meal prep recipe! One of the big factors in creating that "grilled-to-perfection" flavor we all love is the natural browning effect high levels of heat have on a massive number of foods! This is due to a fascinating culinary phenomenon known as the Maillard (pronounced may-yar) Reaction! This highly complex heat reaction takes place when sugars and amino acids contained in the food begin to break down and change form. Not only does this brown your meat, but it makes it taste and smell better too! The Maillard Reaction can also be easily achieved with vegetables, adding a new spectrum of flavor! In fact, we have our very own guide to Perfectly Grilled Vegetables, so you can enjoy them on these chicken teriyaki skewers and beyond!
Get that protein in!
This meal prep recipe truly is fit for a party, because it makes a very generous 10 skewers! This is also great for kids with smaller appetites because they can just have one and not waste anything! If you are prepping these teriyaki skewers for your lunch or dinner this week, we suggest two skewers per serving. Each single skewer has an impressively filling 27g of protein too, so for a single meal you get 54g of protein overall! Do you love all things that come on a skewer stick? Well, you're in luck, because we do too! And that means we've got you covered on recipes in future weeks! For another delicious teriyaki variation, we highly recommend this Teriyaki Salmon Skewer meal prep recipe! If you're looking for a recipe that's paleo, Whole30, and keto-compliant, you've scored big with our Pesto Beef Kabob meal prep recipe.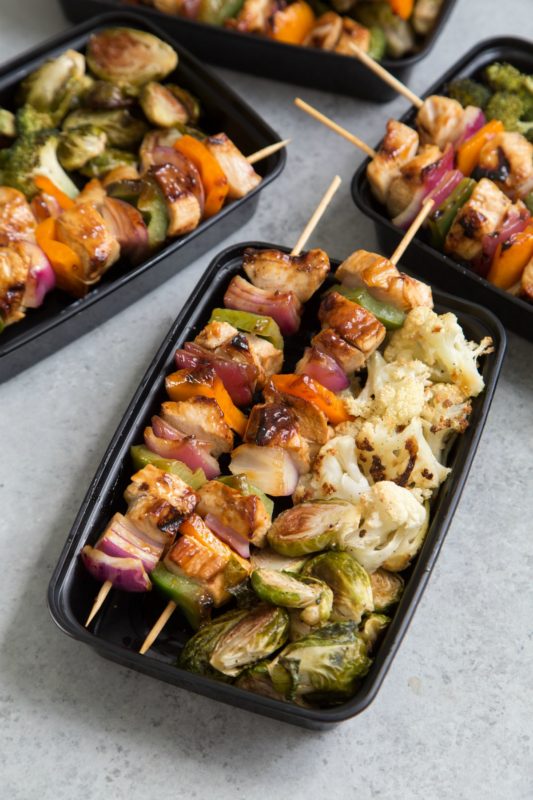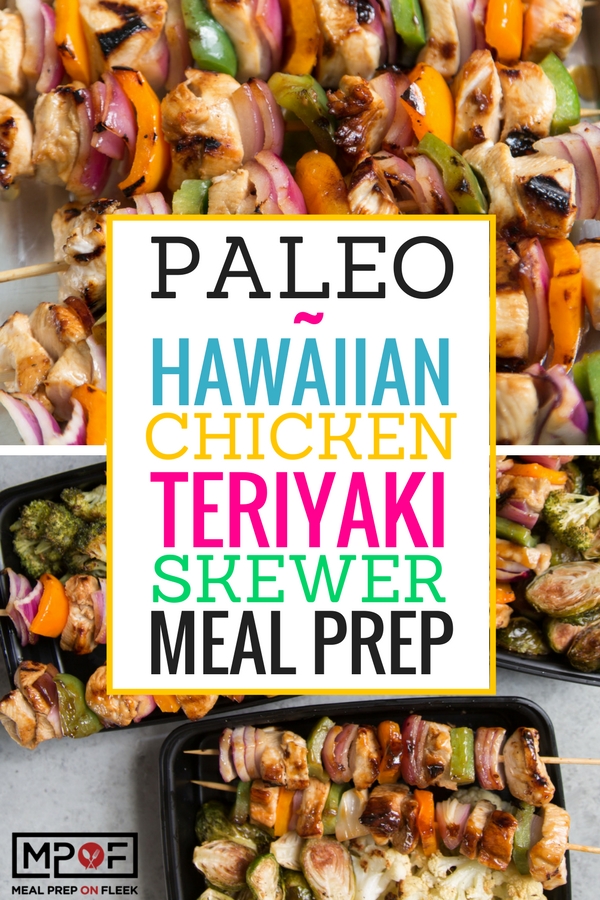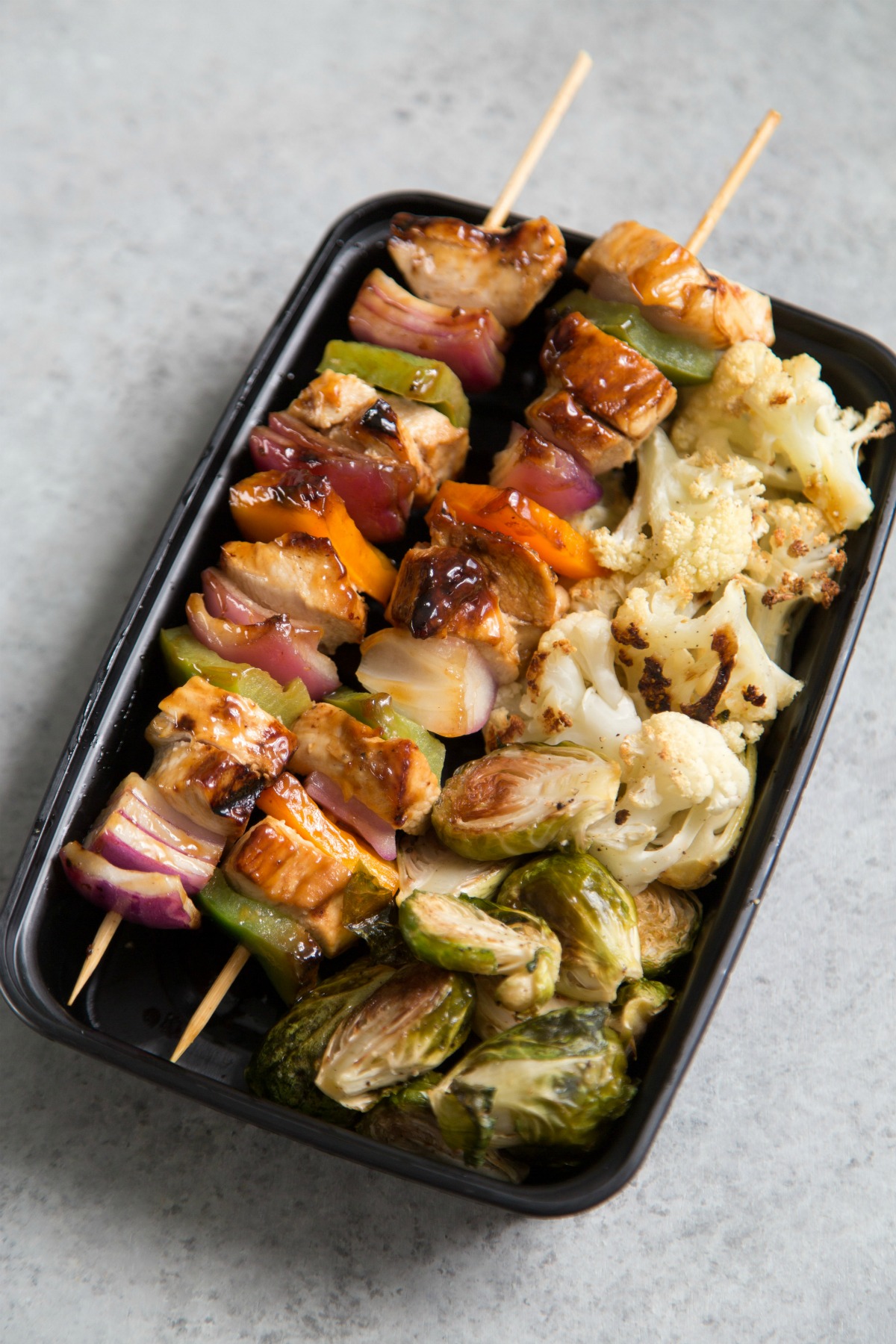 Ingredients
1/2

cup

Coconut Aminos

1/2

cup

rice wine vinegar

1/3

cup

pineapple juice

3

tbs

Honey

2

cloves

garlic

minced

2

tsp

fresh grated ginger

1/2

tsp

Salt

1/4

tsp

black pepper

2.5

pounds

skinless chicken breast

cut into bite sized pieces

1

green bell pepper

cut into bite sized pieces

1

orange bell pepper

cut into bite sized pieces

avocado oil

as needed for grill
Instructions
In a medium bowl, whisk together coconut aminos, rice vinegar, pineapple juice, honey, garlic, ginger, salt, and pepper. Reserve about 1/3 cup of marinade. Combine remaining marinade with chicken, making sure chicken is well coated. Cover with plastic wrap and chill in the fridge for 30 minutes, no longer than 1 hour.*

If using wooden skewers, soak skewers in water for at least 30 minutes.

Preheat the grill for high heat

Thread chicken, onion, and bell peppers onto soaked wooden skewers. Brush oil over grill grates. Place assembled chicken skewers once grill registers 400 degrees F. Brush other side of chicken skewers with oil. Cook for about 5-7 minutes on each side until chicken is cooked through and registers at least 165 degrees F on an instant read kitchen thermometer.

Warm up reserved marinade. Brush onto cooked chicken skewers. Serve warm.

NOTE: • Do not marinade chicken for more than 1 hour. If marinated too long, certain enzymes from the pineapple juice will over tenderize the meat. • If desired, thicken reserved marinade/sauce with xanthan gum.
Notes
Nutrition for 1 out of 10 skewers:
27g Protein | 19g Carbs | 1.5g Fat | 1g Fiber | 202 Calories
Nutrition
Serving:
1
skewer
|
Calories:
202
kcal
|
Carbohydrates:
19
g
|
Protein:
27
g
|
Fat:
1.5
g
|
Fiber:
1
g