Thank you to Now Real Food® for sponsoring this Morning Glory Muffins recipe post, and thank YOU for supporting the brands that help make Meal Prep On Fleek possible. All opinions are our own.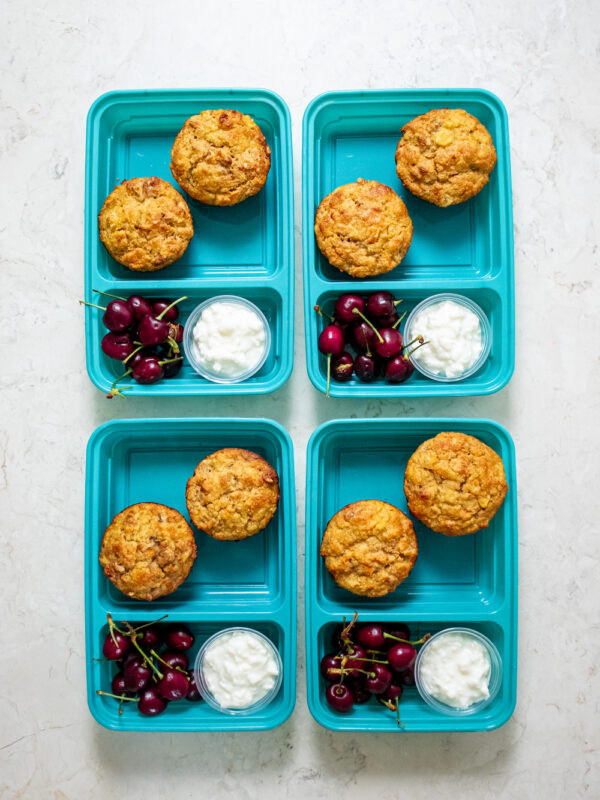 These hearty muffins combine crunchy walnuts, crushed pineapple, shredded carrots, and almond flour for a gluten-free breakfast that satisfies hunger with fiber and healthy fats. Vanilla monk fruit sweetener adds flavor and sweetness without spiking insulin.
Ok, not to brag, but I think I nailed this refined sugar-free morning glory muffin recipe! That's why I just had to get this recipe out to you ASAP! These muffins are light, soft, satisfying, and full of all of the best tropical flavors to transport our tastebuds and mind to a tropical island during work. Plus, they are full of warm cozy spices that remind you of fall. Is fall anyone else's favorite season?
Although I am a big fan of all of the NOW Real Food® sweeteners, the monk fruit sweeteners are by far my favorite. I have been using them for as long as I can remember. I love them because they are calorie-free, have no icky after taste, can be used in literally anything (hello yogurt bowls, oatmeal, coffee, smoothies, muffins, cheesecake, bagels, etc.) There is no limit to how and where you can use these.
My favorite coffee shop hack is taking one of these with me in my purse and saving money on those expensive coffee syrups. The bottle is just 1 oz, so it travels nicely! Plus, the flavor options are endless! I used the vanilla monk fruit on this recipe, but we also have quite a few with the pumpkin spice on the site. Oh, let's not forget the chocolate (makes a mean mocha coffee), and their new caramel flavor is unreal! For my friends who aren't into flavors, they also have unflavored as well.
All of the flavors are organic, zero calories, vegan, keto-friendly, gluten-free, etc. They literally work for any diet lifestyle. Now, do you see why I love them so much?
Ok, back to the muffins! 😂 I paired the muffins with a little (you guessed it) vanilla monk fruit-sweetened cottage cheese and fresh cherries to make a full meal. But, feel free to serve the muffins alone, enjoy them as a snack, or even dessert. They are great for meal prep, the beach, travel, daycare for the kids (just make sure the nuts are extra small or left out), and a grab 'n go snack for a muffin and coffee date with your girlfriends.
I think we can all agree that muffins are extra easy, extra convenient, and extra, extra delicious! So, grab your vanilla monk fruit, head to the kitchen, and start enjoying these muffins! I promise you won't regret it!
P.S- these also freeze really well!
Morning Glory Muffins Ingredients:
1 ½ cups blanched almond flour

2 tsp cinnamon

1/2 tsp nutmeg

1 tsp baking powder

1/2 tsp salt

3 large eggs

2 tbsp vegetable oil or melted butter

2/3 cup crushed pineapple (with juice)

1/2 cup chopped walnuts

1/2 cup grated carrots
For Serving
2 cups cherries

1 cup low fat cottage cheese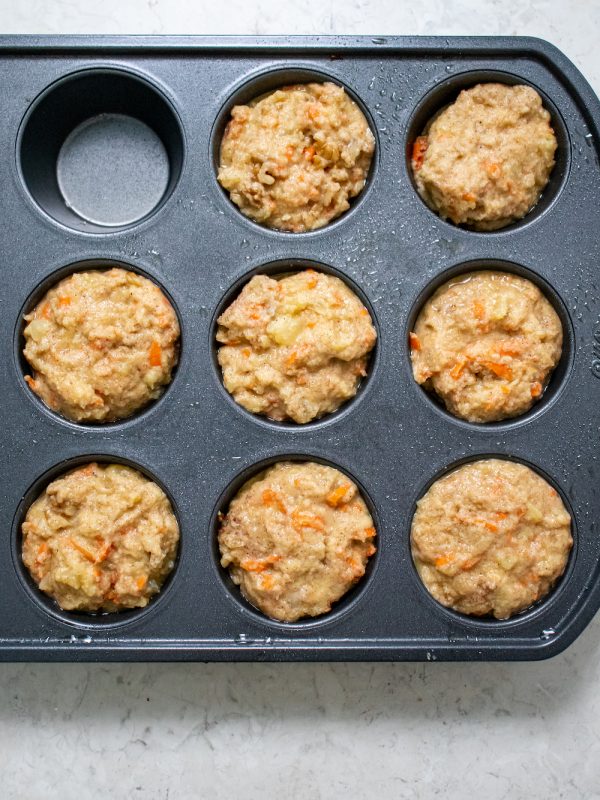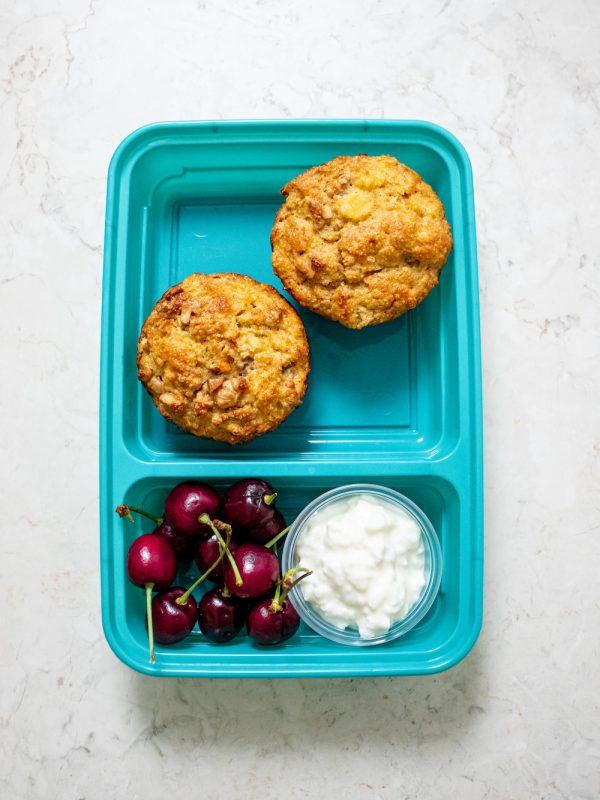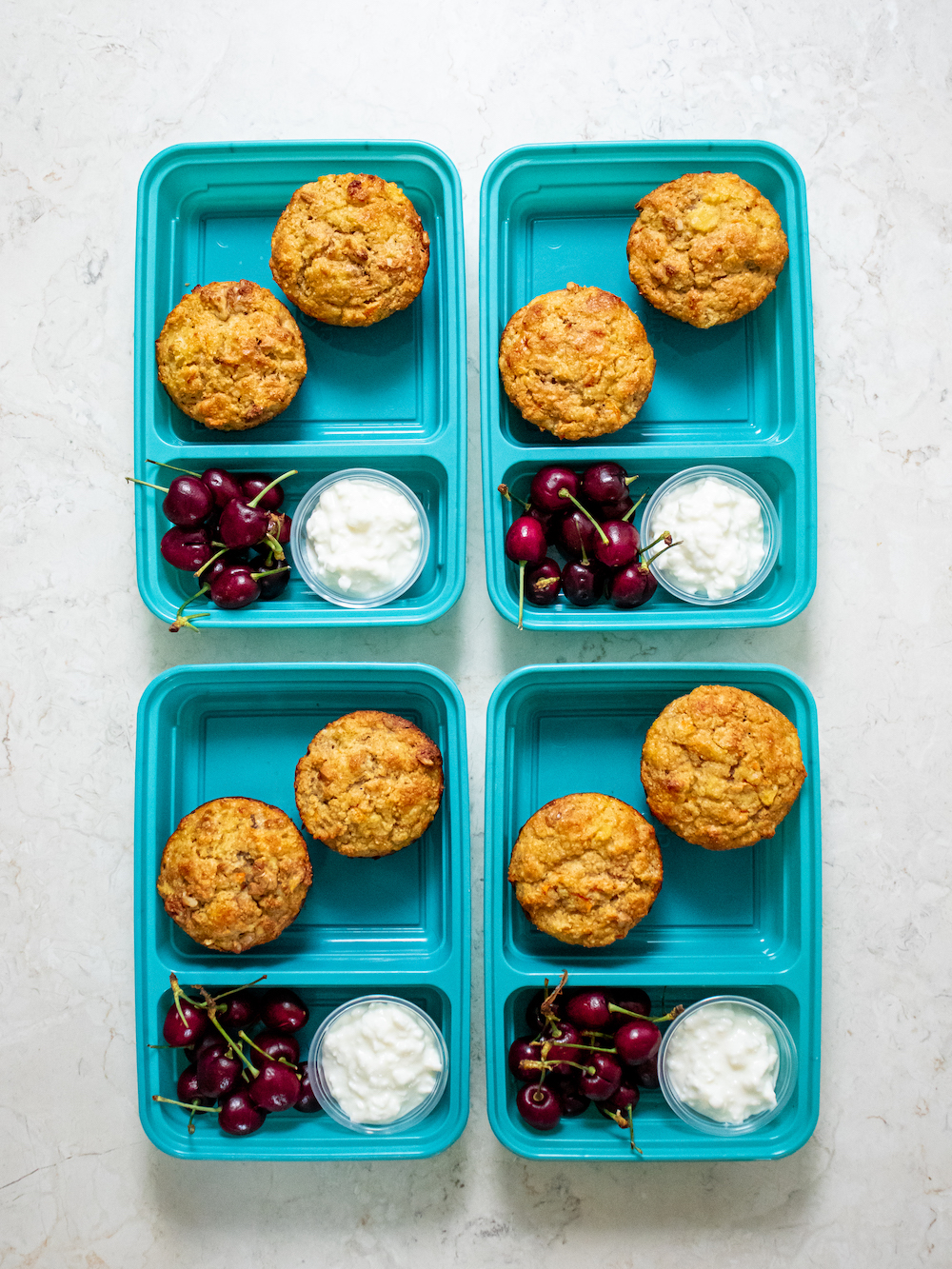 Ingredients
1 ½

cups

blanched almond flour

2

tsp

cinnamon

1/2

tsp

nutmeg

1

tsp

baking powder

1/2

tsp

salt

3

large

eggs

2

tbsp

vegetable oil or melted butter

2/3

cup

crushed pineapple

with juice

1/2

cup

chopped walnuts

1/2

cup

grated carrots
For Serving
2

cups

cherries

1

cup

low fat cottage cheese
Instructions
Preheat oven to 350Fº and grease 8 muffin tins with non-stick cooking spray. Use a paper towel to squeeze excess moisture from grated carrots.

Stir together almond flour, cinnamon, nutmeg, baking powder, and salt in a medium mixing bowl. In a separate medium bowl, whisk eggs, oil, and vanilla monk fruit sweetener. Stir in dry ingredients. Stir in crushed pineapple, carrots, and walnuts.

Divide mixture between 8 muffin tins. Bake for 25-28 minutes. Cool muffins in tins at room temperature for 20 minutes.

Divide cottage cheese between 4 small cups and place 1 in 4 small compartments of teal meal prep containers. Divide cherries next to cottage cheese. Place 2 muffins in each large compartment.
Video
Notes
Macros include cherries and cottage cheese. 
Nutrition
Calories:
403
kcal
|
Carbohydrates:
22
g
|
Protein:
17
g
|
Fat:
29
g
|
Fiber:
6
g