Vegan Tofu Tikka Masala
Indian cooking is one of our favorite international cuisines. Its bold flavors of cumin, coriander, ginger, and turmeric make it totally distinctive from any other food type! However, if you're a vegetarian or vegan, you might be hard-pressed to find any options that have few or no animal products, should you ever walk into your standard Indian restaurant!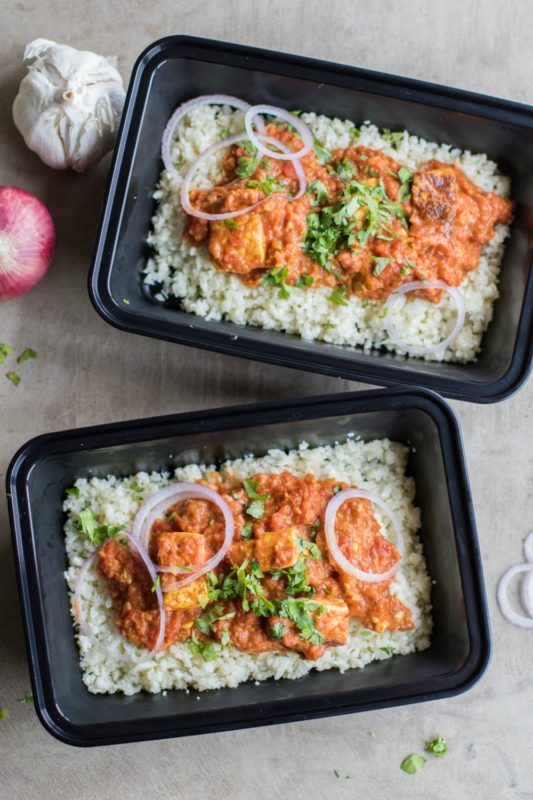 Vegan Meal Prep Recipe:
That said, we know our vegan readers will be ecstatic with today's meal prep recipe—A tofu tikka masala! Anyone who has had traditional tikka masala will tell you that the flavors of the sauce get "locked in" to beautifully compliment the chicken, Fortunately, the same effect happens with tofu, so now you can enjoy this dish without having to consume any meat! We recommend using extra firm tofu to achieve a texture that is as close as possible to chicken.
About Tikka Masala:
The origins and history of the many varieties of tikka masala are up for debate. Many experts believe that it originated in the United Kingdom during the 1960s. During that time, most Indian restaurants were owned by natives of Pakistan or Bangladesh, so it is thought that tikka masala was invented by a migrant chef from one of those countries. Legend has it that its conception actually came about in a moment of genius improvisation in a Glasgow kitchen! Tikka masala is, after all, not a traditional Indian dish! To this day, it remains one of the UK's most popular foods.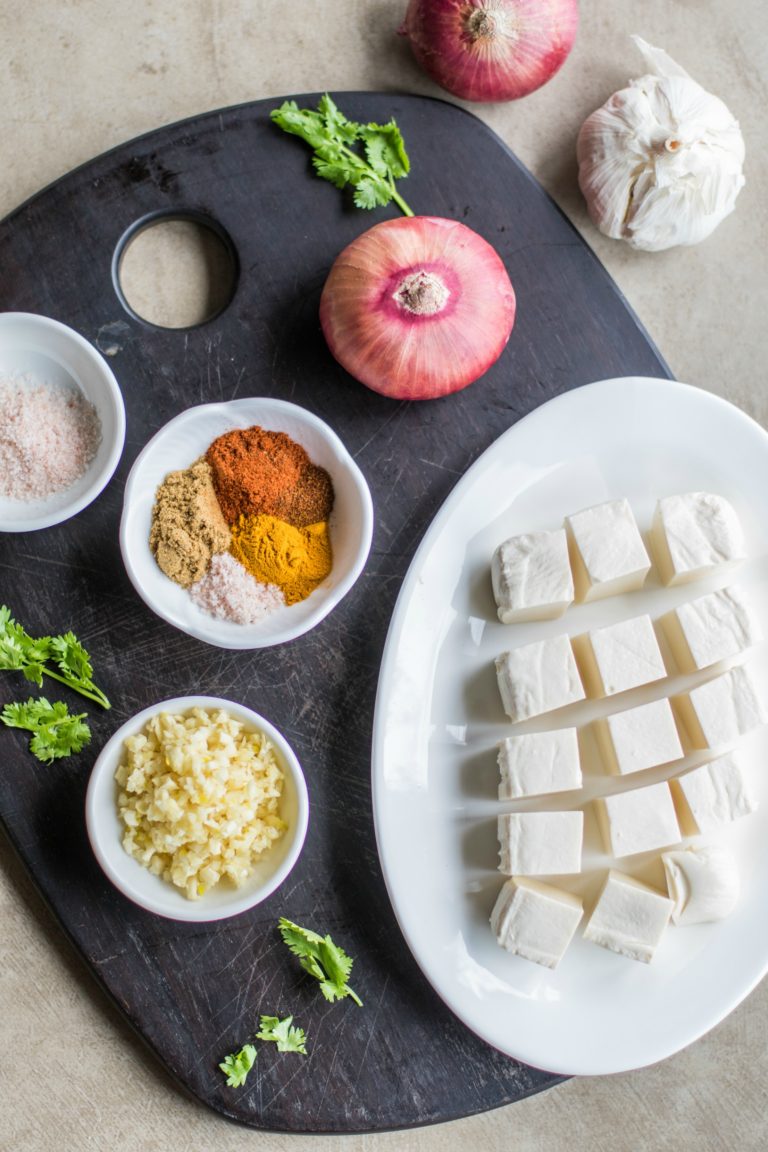 Tikka Masala Health Benefits:
This amazing vegan tofu tikka masala does your body so much good, because it eliminates traditional white rice, and replaces it with cauliflower rice. 1 cup of white rice, with nothing on it or in it, constitutes a nap-inducing 45g of carbohydrates. 1 cup of cauliflower rice, on the other hand, has just 5g of carbs! That's nine times fewer carbs than traditional white rice! Cauliflower is also very nourishing, containing 77% of your recommended daily intake (RDI) of vitamin C, 20% of your vitamin K RDI, and 14% of your RDI of folate. It is very high in fiber, containing 3g (10% your RDI) per cup.
You certainly won't be going hungry with this vegan tofu tikka masala recipe, because it is absolutely packed with nutrients guaranteed to fill you up! Per serving, you get 13g of protein, 19g of fat, and a hunger-smashing 8g of fiber! All that, and we are happy to tell you that this tofu tikka masala only has 313 calories per serving! We love this meal prep recipe because it really covers all your bases as a vegan or vegetarian, and gets you nice and full!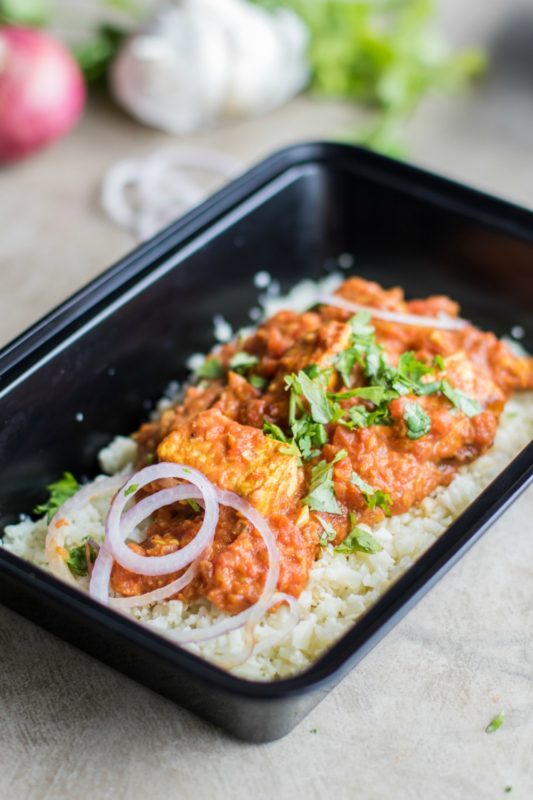 Before you spend a small fortune to eat at an Indian restaurant, consider making this vegan tofu tikka masala instead—Especially if you're vegan or vegetarian. We think it's every bit as delicious as its non-veg counterpart! If you love Indian food as much as we do, take a look at our Vegan Chickpea Curry Basmati Rice for your next week of prepped meals. New to meal prep? Check out our Ultimate Guide to Meal Prep Containers to help get you started.
Chicken Tikka Masala from Instagrm:
View this post on Instagram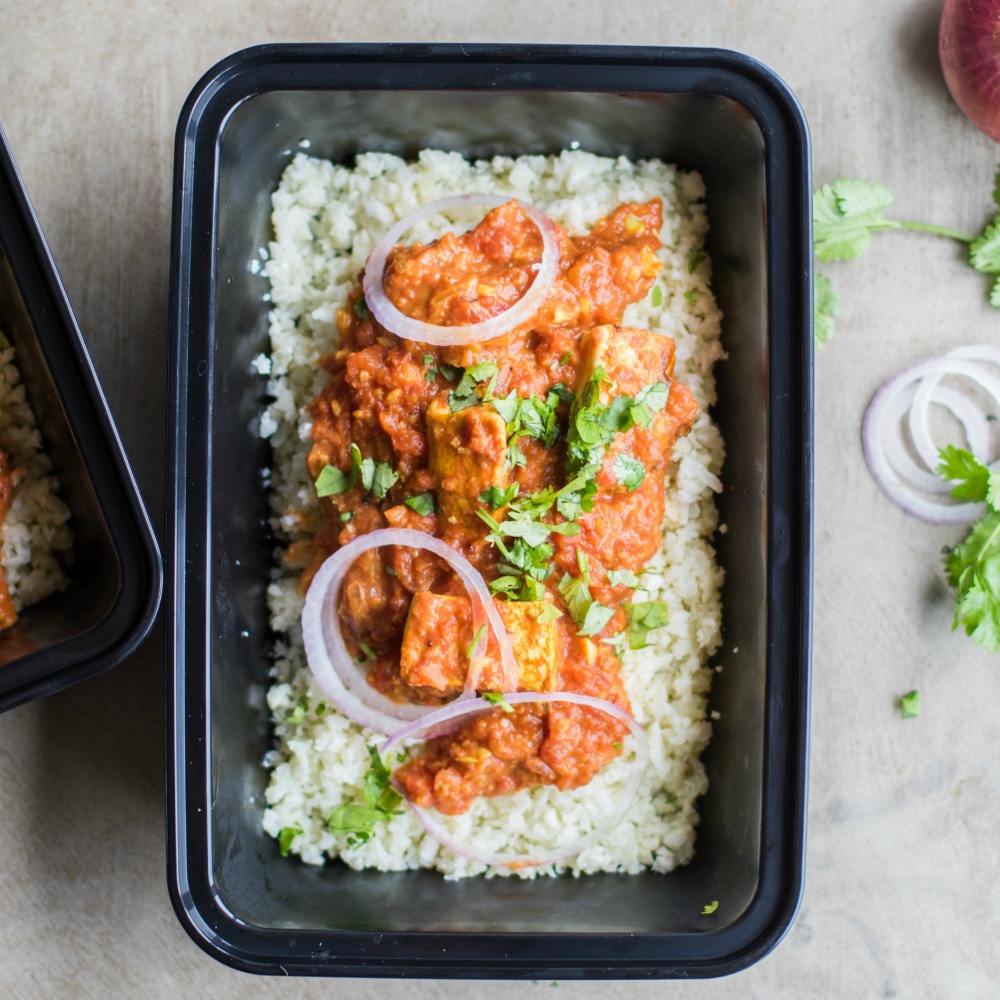 Ingredients
Tofu
12

ounces

extra firm tofu

2

tbs

sesame oil

salt & pepper

to taste

1/2

cup

red onion

finely diced

1/4

cup

fresh ginger

finely grated

4

cloves

garlic

minced

1 1/2

tsp

ground cumin

1 1/2

tsp

paprika

1 1/4

tsp

Sea Salt

1/2

tsp

tumeric

1/8

tsp

nutmeg

1/4

tsp

cayenne pepper

2

14 ounce cans

diced tomatoes

1/2

cup

full fat coconut milk

cilantro to garnish
Riced Cauliflower
1/2

large head

cauliflower

1

tbs

sesame oil

Salt and Pepper

as desired
Instructions
Prepare tofu by draining excess liquid, and then wrapping in several paper towels, placing on a plate, and putting a heavy plate on top to press even more moisture out. This can also be done using a tofu press. Leave for at least 10 minutes to allow water to drain out.

In a skillet over medium heat, add sesame oil, and cubed tofu pieces. Season lightly with sea salt and pepper.

Gently flip the tofu and allow to brown. Remove from pan.

In the remaining sesame oil, add chopped onions, garlic and grated ginger. Saute for about 5 minutes until onions are transluscent.

Add all spices to the pan, and mix into the onion and ginger mixture.

Add diced tomatoes to a blender and pulse until the tomatoes are mixed into a puree, but not completely smooth. This step is optional. You can use the diced tomatoes straight out of the pan and it's still delicious.

Pour the tomatoes into the pan, and stir to combine. Add the tofu in, and reduce heat to medium low. Allow to simmer for about 10 minutes.

Add the coconut milk, bring back to a low boil, and then remove from heat. Taste, and season with cayenne and sea salt.

To prepare the cauliflower rice, chop the cauliflower roughly, and then place in a food processor bowl. Don't overfill the food processor, or the cauliflower won't evenly chop. It's better to do this in 2-3 batches.

Process the cauliflower until it's broken into pieces about the size of grians of rice. Do not overprocess or the "rice" will be mushy.

Over high heat, add sesame oil, and cauliflower "rice." Saute quickly for 3-4 minutes until the cauliflower is hot. Season with sea salt and pepper, and remove from heat.

Serve the Tofu Tikka Masala over caulfilower rice, with lots of fresh chopped cilantro on top.
Notes
WW Smart Points= Green:7  Blue:5  Purple:5
__
Nutrition for 1 out of 4 servings:
13g Protein | 24g Carbs | 19g Fat | 8g Fiber | 313 Calories
Nutrition
Serving:
1
meal
|
Calories:
313
kcal
|
Carbohydrates:
24
g
|
Protein:
13
g
|
Fat:
19
g
|
Fiber:
8
g