Whole30 Collard Wrap Breakfast Burritos
Who doesn't love breakfast burritos? I mean… all your nutrition of one meal, wrapped up in a portable package. We'll be honest, we can't think of a better on-the-go breakfast when we're stuck in morning traffic than a breakfast burrito! We love burritos at MPOF—they're like the original way to meal prep! That's why today we are excited to show you this Whole30 collard wrap breakfast burrito meal prep recipe! Flavors of spicy Italian sausage, creamy avocado, hearty eggs, crisp veggies, and bold seasonings come together in this breakfast burrito—a meal sure to please our readers with a Southwestern palate.
Collard Wrap Breakfast Burritos Ingredients:
8 large collard greens
1 large sweet potato, roasted
¼ teaspoon sea salt
¼ teaspoon cumin
1 tablespoon lime juice (half a large lime)
½ pound Italian sausage, cooked, compliant
4 eggs, scrambled
1 large avocado
1 tomato, or 1 cup cherry tomatoes, halved
Cilantro, to garnish
Salsa, for serving
These simple breakfast burritos are packed with all the essential flavors, but wrapped up in sturdy greens. If you haven't tried collards before, you're in for a real treat. They offer the ease and portability of a sandwich, but are lower in calorie and more nutrient dense.
Did you know that a regular flour tortilla has 10g of carbs? That's more than you might expect from something so thin! If you're in ketosis or have gluten sensitivities, a tortilla is going to be a no-fly zone! Fortunately, this breakfast burrito meal prep recipe solves that problem by substituting a traditional tortilla for two leafy collard greens.
Ever had collard greens? We love them! f you haven't tried them, you're in for a treat. Not only are they a staple of American southern culinary tradition (although in a different form), but they're also incredibly healthy! Collard greens only have 2g of carbs and 11 calories overall, so that makes them healthier than a tortilla by a long shot. We think it's a crisp and refreshing swap, and compliments the flavors of the other fresh veggies inside too. You could even have it as a tasty meal replacement for a salad!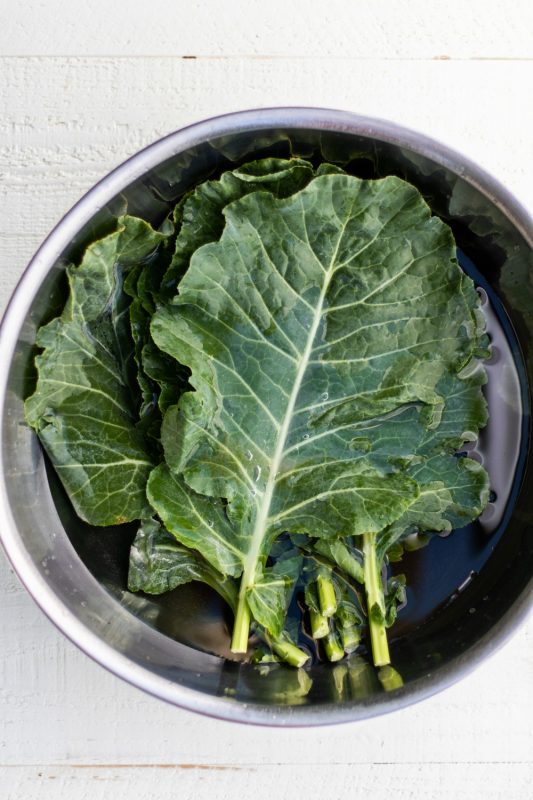 Speaking of veggies, one of our favorite things about this breakfast burrito meal prep recipe is that it is Whole30 compliant (If you're not sure what that means, you can read more here)! This is all the more reason for why we recommend it as a breakfast choice, because it provides dense nutrients when it is most important to have them! Every serving offers you 18.7g protein, 23.7g carbs, 30.5g fat, and 8.8g fiber, so you get your day off to a nourished, energetic start. The high-fat content makes this a wonderful keto-compliant meal as well!
FOR ADDITIONAL WHOLE30 ITEMS: DOWNLOAD OUR WHOLE30 GROCERY LIST HERE
On days that you might eat out on a lunch break, about how much time and money would you say you spend waiting in traffic or a line? What if 25 minutes of meal prep, one day a week, could save you time and (according to Forbes) a whopping 3-5x the money of eating out at restaurants? Well, we are here to tell you, this collard wrap breakfast burrito and a meal prep lifestyle are here to save the day (and your dollar)!
We highly recommend pairing this breakfast burrito with Whole30 compliant salsa, a side of fruit, and/or cilantro for garnish for a balanced flavor profile. We think this collard wrap breakfast burrito would go best in a single or double (if you're doing sides) compartment container, but check out our Ultimate Guide to Meal Prep Containers to help you decide which ones will work best for you.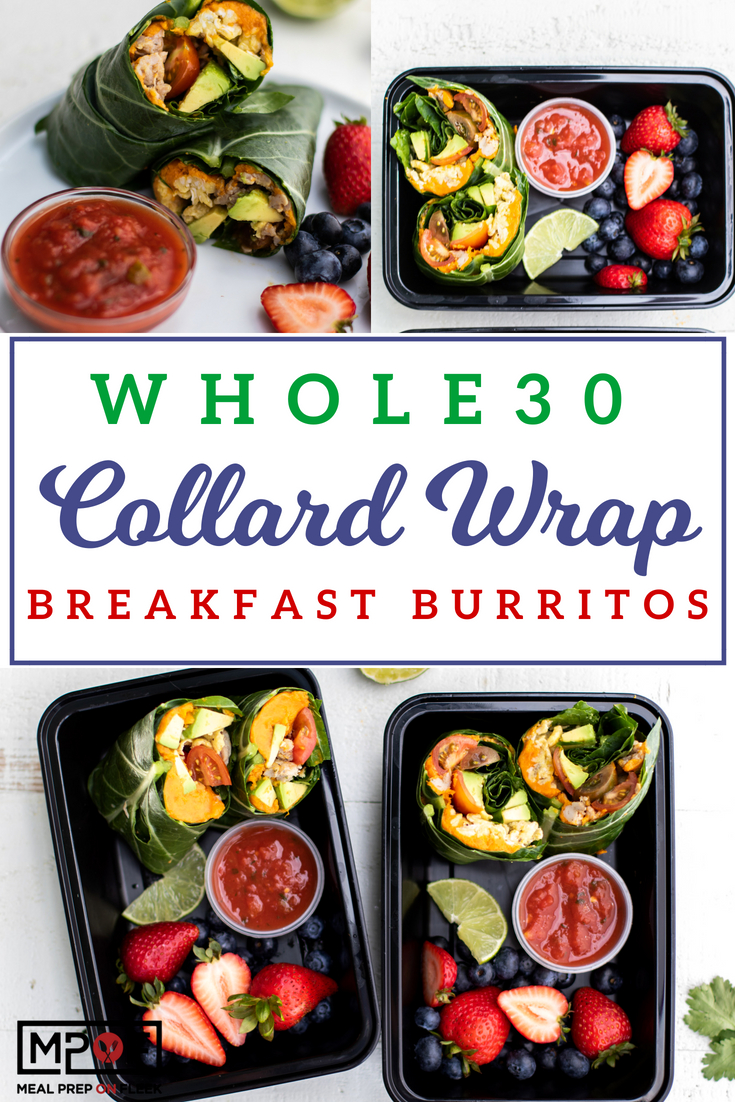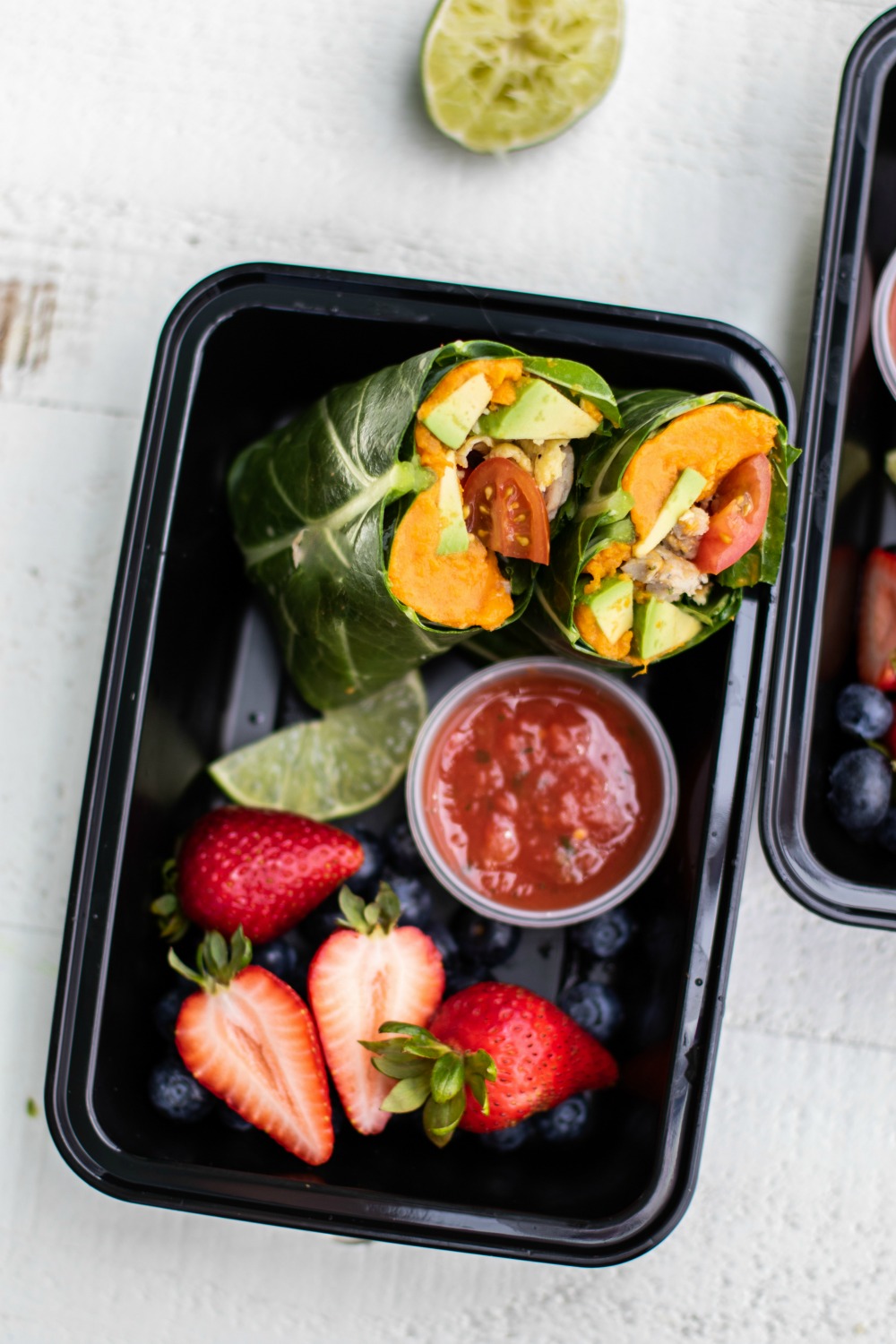 Ingredients
8

large

collard greens

1

large

sweet potato

roasted

1/4

tsp

Sea Salt

1/4

tsp

cumin

1

tbs

lime juice

1/2

pound

Italian Sausage

cooked (whole30 compliant)

4

large

eggs

scrambled

1

large

Avocado

1

cup

Cherry Tomatoes

halved

cilantro

for garnish

salsa

if desired
Instructions
Add warm (not hot) water to a large bowl, and soak collard leaves for about 10 minutes while preparing your other ingredients.

Scoop baked sweet potato flesh out of the skin, and add to a bowl. Add sea salt, cumin, and lime juice, and stir until very smooth. If your potato isn't creamy enough, add some almond milk or hot water to make the sweet potato spreadable.

Prepare the rest of the ingredients by having cooked sausage, scrambled eggs, sliced tomatoes, and sliced avocado ready.

When ready to assemble, take two collard greens from the soaking water, and place one with the stem side up on the cutting board. Starting from where the stem starts to protrude near the top of the leaf, cut the top half of the stem off, and trim the stem off below the green. Watch the video or view photos above to see this process.

Take two collards with the stems trimmed, and place them with the tops on opposite sides.

Start by adding a layer of sweet potato in a burrito-shape in the center of the leaves lengthwise.

Layer the sausage, eggs, tomato, avocado, and cilantro into the centers.

Begin by folding the top and bottom of the greens in, and then wrap the greens over the fillings from left to right. Collard greens are sturdy and will hold shape once you have them folded. You will need to gently hold the fillings in place as you wrap the burritos.

Serve with a compliant salsa for a dipping sauce.
Notes
Nutrition for 1 out of 4 servings:
18.7g Protein | 23.7g Carbs | 30.5g Fat | 8.8g Fiber
Nutrition
Serving:
1
meal
|
Calories:
444.1
kcal
|
Carbohydrates:
23.7
g
|
Protein:
18.7
g
|
Fat:
30.5
g
|
Fiber:
8.8
g