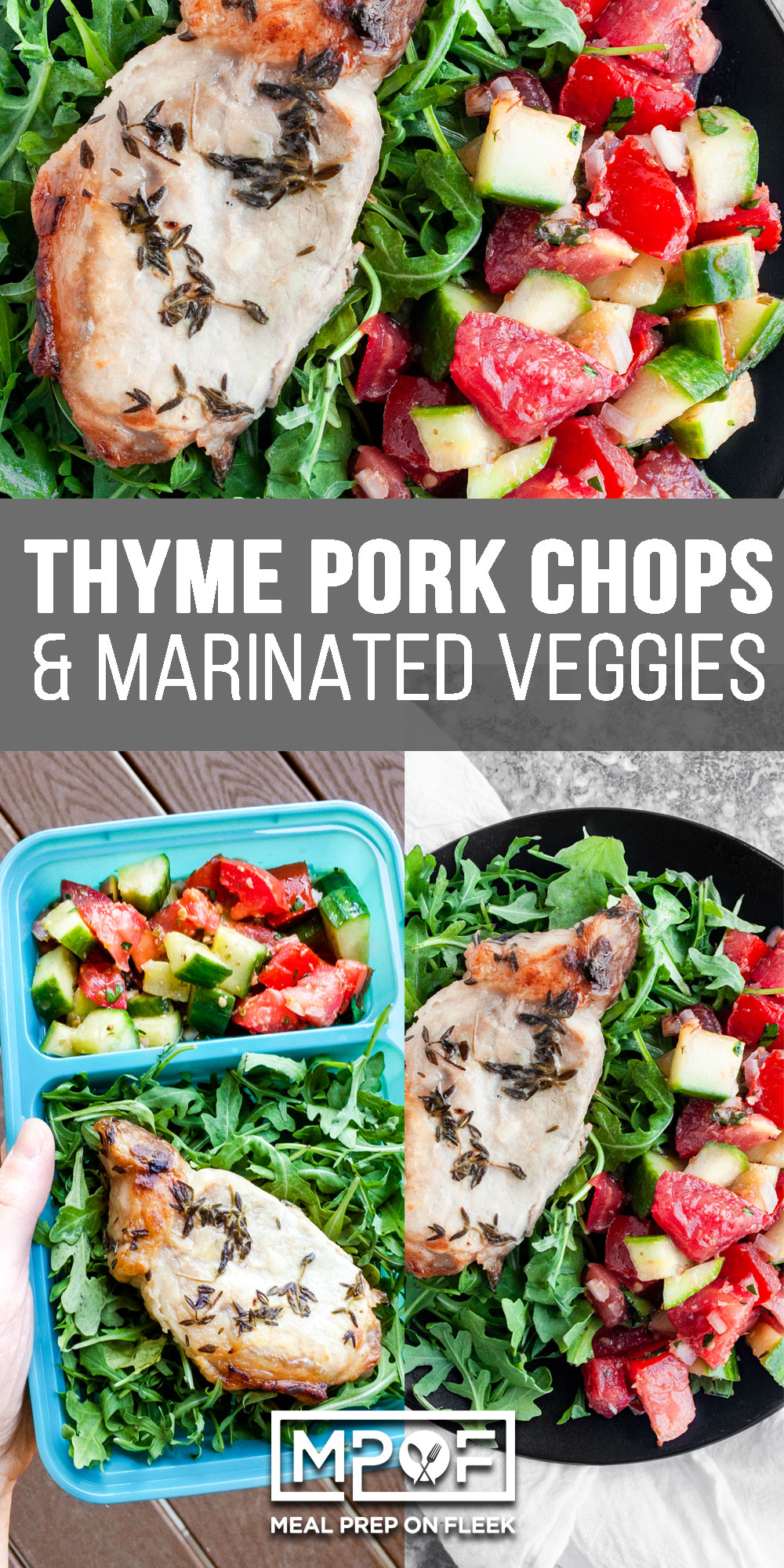 Thank you to GoodCook for sponsoring this Sheet Pan Thyme Pork Chops and Marinated Salad post, and thank YOU for supporting the brands that help make Meal Prep On Fleek possible. All opinions are our own.
You're going to love this sheet pan pork chops and tomato cucumber salad meal prep thanks to its simple ingredients and deliciously marinated flavors!
This Sheet Pan Thyme Pork Chops and Marinated Salad meal prep recipe is super easy and a total meal prep lifesaver! Not only is it straightforward to make, but clean up is a breeze, as well. And who doesn't love more time and fewer dishes?
Well, not only will this recipe save you time, but so will the shopping for the ingredients. Our go-to shopping store as of recently, Target, has all of the ingredients you need for this recipe, plus the Good Cook meal prep containers to serve them in. How about that double time saver? Do we see more time by the pool with the family in your near future?
The longest part of this recipe is the marinade time. If you meal prep on Sunday mornings, we recommend putting it in the fridge on Saturday night. If you are meal prepping on Sunday night, you can put it together in the morning. Many of our meal prep recipes also double as Sunday night dinner. So, we start things in the morning and finish them at night. But, you do what works best for your schedule. As long as the pork chops have at least 3 hours or more to marinade, you are golden!
Flexibility is king.
The marinated veggies can also be done in the morning or at night. Are you seeing a "flexibility" trend happening here? When it comes time to cook your pork chops, put them on a baking sheet, and cook about 25 minutes.
We opted to serve these hearty pork chops with a light marinaded summer veggie salad because we tend to crave lighter meals in the summer. (We save the carbs for ice cream) However, almost any side would be great if you are a "potatoes" kinda person.

How to serve and store.
This recipe works well in the Good Cook two-compartment teal container since it has a protein and a veggie side. We added the pork chop, plus some arugula, to the large compartment and the veggie salad to the small compartment. Typically, we would place the veggies in the larger compartment, but this salad has a high-fat content based with the olive oil marinade, so a smaller portion is much more satiating. Then, seal your containers and store them for up to 4 days in the refrigerator.
You're probably wondering, "how do I heat this? I have a chilled salad and what should be a warm pork chop." That is a great question! We enjoy the chilled pork chop with the chilled salad, but the veggie salad is also lovely warmed. Or, if you want some of both; chilled salad and warmed pork chop, you can also remove your pork chop from the container and heat it. But, be careful not to overcook it, or the pork chop will become very dry.
If you haven't grab your containers yet, they are now available at Target stores nationwide. Or, if you want to do what we like to do often and shop online, you can grab them at Target.com too!
Sheet Pan Thyme Pork Chops and Marinated Salad Ingredients:
Marinated Pork Chops:
4 Pork Chops (boneless; excess fat trimmed)
¼ C. Avocado Oil
1 Tbsp. Minced Shallot
2 Tbsp. Fresh Thyme (de-stemmed, leaves only)
2 tsp. Minced Garlic Clove
1 tsp. Lemon Pepper
½ tsp. Pink Himalayan Salt
Juice of 1 Lemon (zest prior to juicing, reserve ½ Tbsp. Juice and set zest aside for the salad)
Marinated Cucumber Tomato Salad:
1 English Cucumber (diced)
3 Roma Tomatoes (diced)
2 Tbsp. Fresh Flat Leaf Italian Parsley (chopped)
2 Tbsp. Extra Virgin Olive Oil
1 Tbsp. Minced Shallot
½ Tbsp. Red Wine Vinegar
½ Tbsp. Lemon Juice
½ tsp. Pink Himalayan Salt
½ tsp. Lemon Pepper
¼ tsp. Red Chili Pepper Flakes
¼ tsp. Dried Oregano
Zest of 1 Lemon
For Serving: