Healthy Snack Ideas – Peanut Butter
Chocolate Chip Granola
Look no further! This gluten-free Chocolate Chip Granola recipe is just A-MAZING! Its a unique combination of peanut butter and chocolate chip which promises to be the joyful blend for peanut butter lovers, to be sure. Does it have the savory, crunchy, peanut buttery goodness to appease a devoted snacker's cravings? It sure does! Forty minutes is all it takes to have to this healthy snack ideas recipe ready to snack on.
Because everyone knows peanut butter and chocolate chips are just bombs. Here is a gluten-free granola recipe with one of natures best combinations.
Watch how to make it:
As minimalist baker says;
If you're a peanut butter lover you're going to flip over this granola. It's
Crunchy
Savory
Peanut buttery
Perfectly sweet
Studded with chocolate chips
Full of fiber and protein (you know, healthy!)
Super satisfying
A healthier dessert
Kind of perfect
Here is what it takes to come together:
Meal Prep on Fleek granola recipe
How long will Chocolate Chip Granola Last For?
In an airtight container, at room temperature, two weeks of freshness is possible with this healthy snack ideas recipe! These airtight glass meal prep compartment containers have divisions which make it easy to stack separate portions of your chocolate chip granola. The fridge is not a good option for storing this healthy snack idea treat as it will become moist and soft and also absorb odors in your fridge. Granola which smells like fried chicken doesn't sound appetizing.
Can Chocolate Chip Granola Be Frozen?
It most certainly can be stored in the freezer, once this is done properly. Doing so extends your chocolate chip granola snack's freshness. Just make sure that the container of your choosing is airtight to keep odor and moisture out. It can last once properly stored from 4 to 6 months.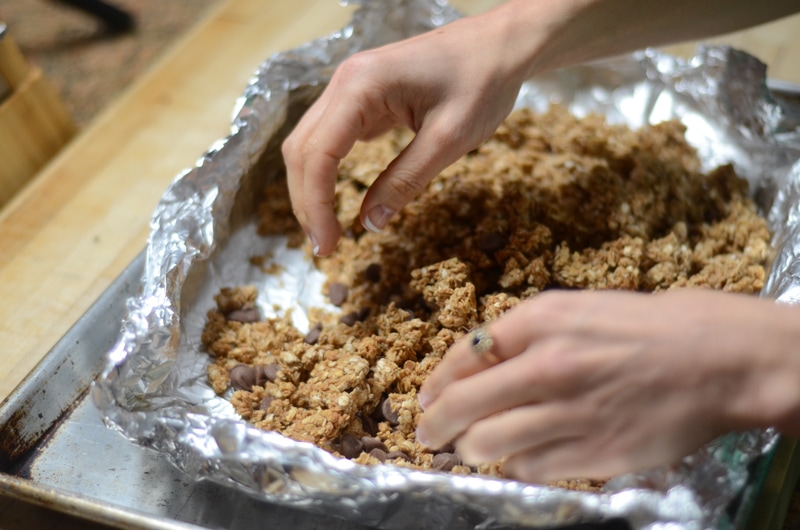 How Do You Make Chocolate Chip Granola?
Let's get baking people! Are all your ingredients at hand? Check off your list of ingredients to ensure you have your gluten-free rolled oats, nuts (peanut butter), honey, and chocolate chips. Include vanilla extract and salt to flavor your chocolate chip granola recipe for savoring pleasures later. Yum yum!
Prepping makes everything just flow seamlessly, wouldn't you agree? Without further ado, preheat your oven to 275 degrees and then line your baking sheet with foil. Once you have you measured ingredients, combine them all, EXCEPT the chocolate chips. Mix thoroughly then spread evenly on the baking sheet.
Allow baking for 15 minutes then remove from the oven and stir. Put it back to bake for another 15 minutes then remove from the oven and allow to cool for 10 mins. Then you add those chocolate chips in.
That's it! Another super satisfying, healthy snack ideas recipe to bookmark! You couldn't ask for a healthier dessert which is packed with fiber and protein.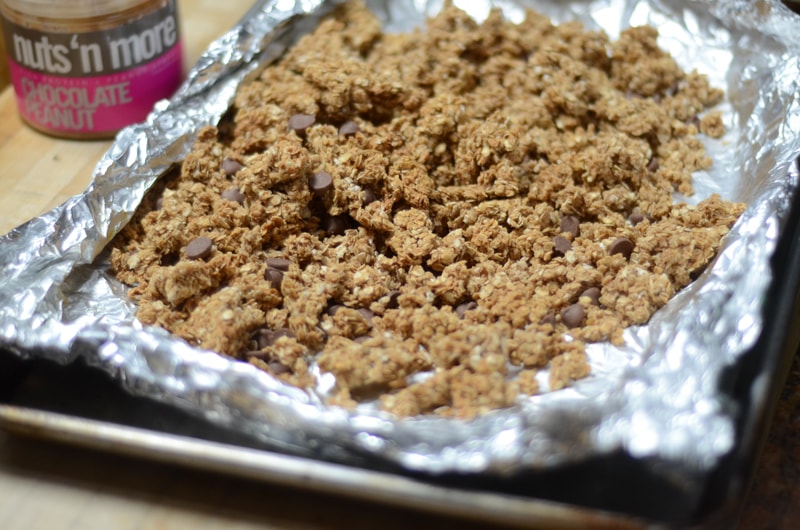 How Do You Portion Chocolate Chip Granola?
This healthy snack ideas recipe provide eight delicious servings of chocolate chip granola to relish.
More Healthy Snack Ideas – Granola Meal Prep Recipes
We all know that when it comes to fiber and iron, granola can boast such richness. Isn't it great that we have more healthy snack ideas granola recipes for you? Let's have a look at what other scrumptious options are available to satisfy your desire for a healthy snack alternative.
Other Tips For Making Chocolate Chip Granola
Who says you can't improve on a good thing? Not us for sure. Here are a few tips which could further enhance the experience of this awesome healthy snack ideas recipe:
For an added boost of protein, you could serve your chocolate chip granola over your choice of greek yogurt.

If you want to keep your blood pressure down, improve digestion and have a high-quality source of fiber, rolled oats are a rich source of dietary fiber.

Almond milk and bananas or your choice of fruit could just bring that wow factor you thought impossible.

Make the peanut butter pourable by warming it up with the honey.

The foil base can be used as an overhang to move the cooled batch out of the pan

Soggy granola doesn't necessarily mean its bad. Nothing placing it on a cookie tray, on foil at a high temperature for a few minutes won't fix!
What are you waiting for? Try out our healthy snack ideas chocolate chip granola recipe today!
Ingredients
5

cups

Gluten-Free rolled oats

1/2

cup

Nuts 'n More peanut butter

1/2

cup

Honey

1

tsp

Vanilla extract

1

tsp

Salt

Or to taste

1/2

cup

Chocolate chips
Instructions
Line a baking sheet with foil

Preheat oven to 275 degrees

Combine all ingredients except chocolate chips

Mix well

Evenly spread on baking sheet

Bake for15 minutes

Remove from oven and Stir

Bake for additional 15 minutes

Remove from oven and allow to cool for 10min

Mix in chocolate chips

Serve over greek yogurt for an extra boost of protein!
Video
Notes
ROLLED OATS TIP:
Rolled oats are a rich source of dietary fiber. Their high fiber content
also aids in digestion and play a significant role in satiety, diet quality
and lowering blood pressure
Nutrition
Serving:
1
cup
|
Calories:
409.01
kcal
|
Carbohydrates:
62.65
g
|
Protein:
11.3
g
|
Fat:
14.05
g
|
Saturated Fat:
3.89
g
|
Cholesterol:
1.69
mg
|
Sodium:
376.28
mg
|
Potassium:
298.93
mg
|
Fiber:
6.43
g
|
Sugar:
26.49
g
|
Vitamin A:
25.2
IU
|
Vitamin C:
0.11
mg
|
Calcium:
47.58
mg
|
Iron:
2.68
mg