Oven-baked BBQ Chicken and Veggies Meal Prep is a great spin on an American fave!
Today, we're super excited to share our Oven Baked BBQ Chicken meal prep idea with you! Barbecue chicken is an American classic and for good reason. The tangy flavor of sauce with juicy chicken makes for a mouth-watering combination. And don't you love when the sauce caramelizes on the chicken skin?! Nothing says freedom like digging into a flavorful entree like this and enjoying it with family.
This recipe is unique insofar as it'll taste as if you grilled it, but it also boasts layers of flavors. That's because it calls for using BBQ rub AND sauce for a smoky, straight-off-the-grill taste.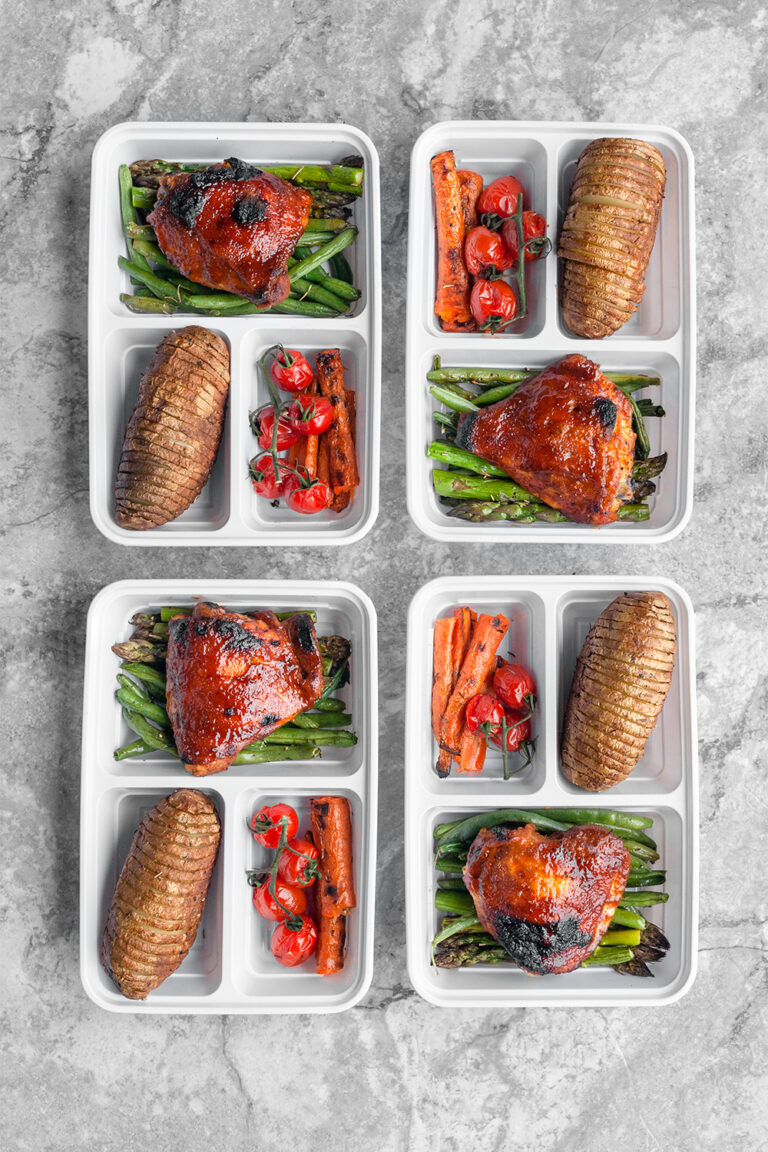 Oven-Baked BBQ Chicken and Veggies Meal Prep Ingredients
2 lbs. chicken thighs (bone-in, skin-on)
4 small Russet potatoes (cut Hasselback style)
1 bunch asparagus (cut in half and ends trimmed)
4 large carrots (halved lengthwise)
3 minced garlic cloves
½ cup grape tomatoes (optionally on the vine)
2 cups fresh green beans (trimmed)
1 cup smoky BBQ sauce (use Whole30 compliant, if needed)
¼ cup BBQ style spice rub (use Whole30 complaint, if needed)
2 tablespoon dried thyme
2 tablespoon dried rosemary
3 tablespoon avocado oil (1 Tbsp. for greasing sheet pans, 1 Tbsp. for the skillet, 1 Tbsp. for tossing veggies)
1 tsp. Himalayan pink salt
1 tsp. ground black pepper
Optional: Lime wedges; fresh Italian parsley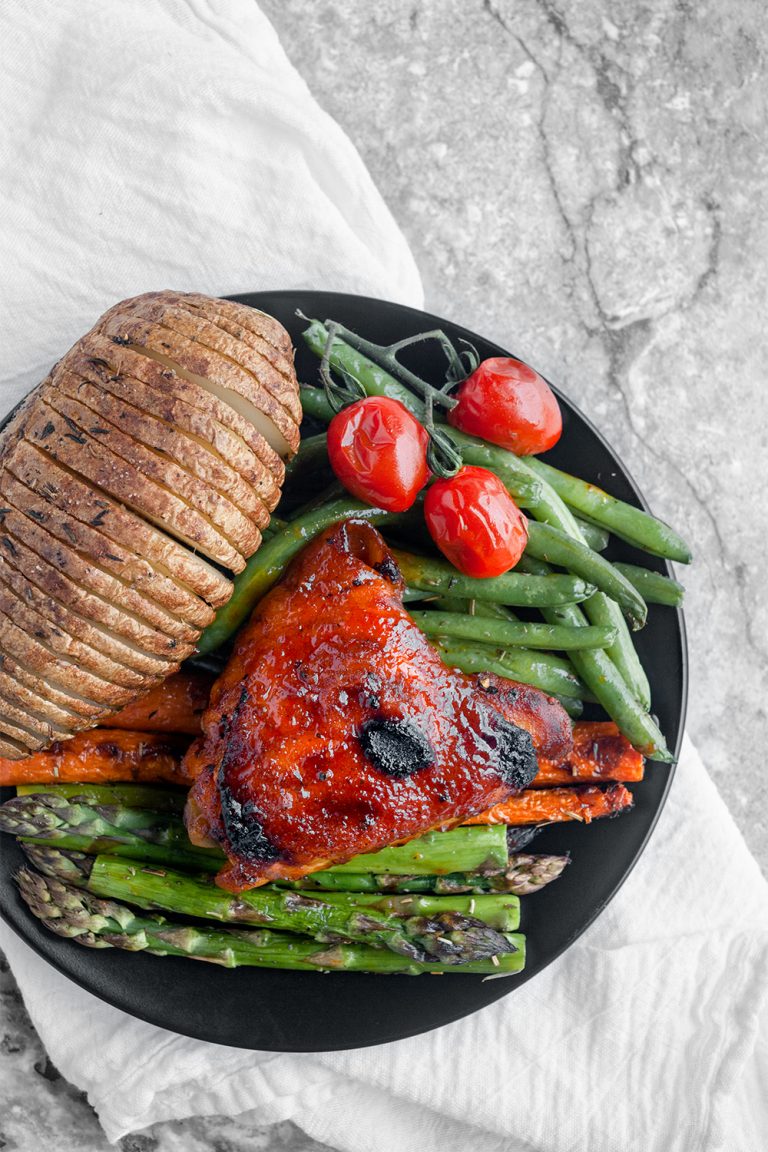 How to Make Oven Baked BBQ Chicken and Veggies
Moisture and having big, bold flavor is the key to great BBQ chicken. Prep time is only 15 minutes and your oven does the rest. The fun part is watching the meal come together as its cooking. Plus, your home will smell like a bonafide BBQ restaurant!
To prep this meal, start with mixing vegetables, oil, and seasonings in a bowl. Once mixed all together, place on a sheet pan. Then prepare the chicken by patting the thighs dry to remove excess water. Rub on seasonings and BBQ rub. Place the chicken thighs in a cast-iron skillet and bake for a total of 45 minutes.
After the chicken bakes, remove it from the oven and add BBQ sauce. Broil the oven-baked BBQ chicken on the top oven rack for 3-5 minutes. Let chicken rest and vegetables cool for ten minutes. After that, serve, devour, and save the rest!
How to Serve and Store Oven Baked BBQ Chicken and Veggies
Our meal prep recipe for Oven Baked BBQ Chicken yields a whopping six servings! For meal prepping, put the entree in a 3-compartment meal prep container. Add the chicken thigh and veggies. Toss in some tomatoes, carrots, green beans, and a handful of asparagus. Then add a baked potato in each container.
Please note that cooked chicken and veggies last up to 4 days in the refrigerator. Baked potatoes last 5-7 days in the fridge.
And in case you were wondering, yes, you can freeze oven-baked BBQ chicken for up 3 months. When you're ready to freeze leftovers, simply put them into a freezable meal prep container or freezer bag. To defrost, let the chicken thaw in the fridge for a day ahead of time. The ideal internal temperature is 165 degrees Fahrenheit. Be sure to check with a food thermometer.
If you plan on freezing cooked vegetables, don't cook them completely so they retain some of that crunch.
Tips for Freezing Chicken
Pro tip: oven-baked BBQ chicken holds up even better in a vacuum-sealed bag. The chicken is the star of the show, but the vegetables are great supporting actors! With that said, you can freeze baked potatoes and the other vegetables used in this meal prep recipe. Our favorite is the Foodsaver larger unit with handheld vacuum.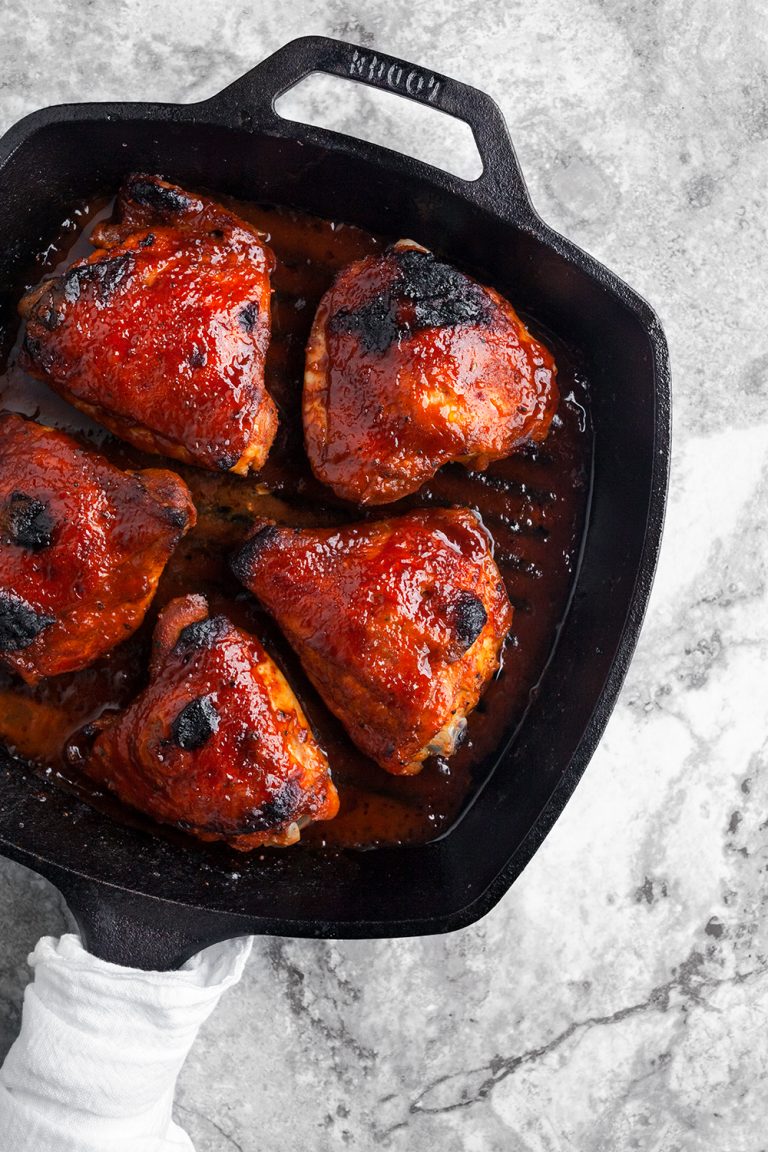 More Baked Chicken Meal Prep Recipes