One-Pan Paleo Sticky Sesame Chicken Thighs makes a quick and easy weeknight meal! Serve over cauliflower rice for a full 'take-out' style meal any night of the week. 
We love a good sesame chicken recipe, and it's a go-to for a lot of people for takeout. But if you are following a paleo diet you know that takeout means can be a minefield of unknown and likely forbidden ingredients that will get you off track. With this sticky chicken thigh recipe, you can make your own paleo sesame chicken recipe at home and control the ingredients.
One Pan Paleo Sticky Sesame Chicken Thighs Ingredients
1 ½ pounds chicken thighs, cubed
6 tablespoon cassava sweetener or sweetener of choice
3 tablespoon coconut aminos
1 ½ tbsp. ketchup or bbq sauce
½ tsp. garlic powder
½ tbsp. sesame oil
2 tbsp. coconut flour
Sesame seeds, for garnish, optional
How to Make Paleo Sticky Chicken Sesame Thighs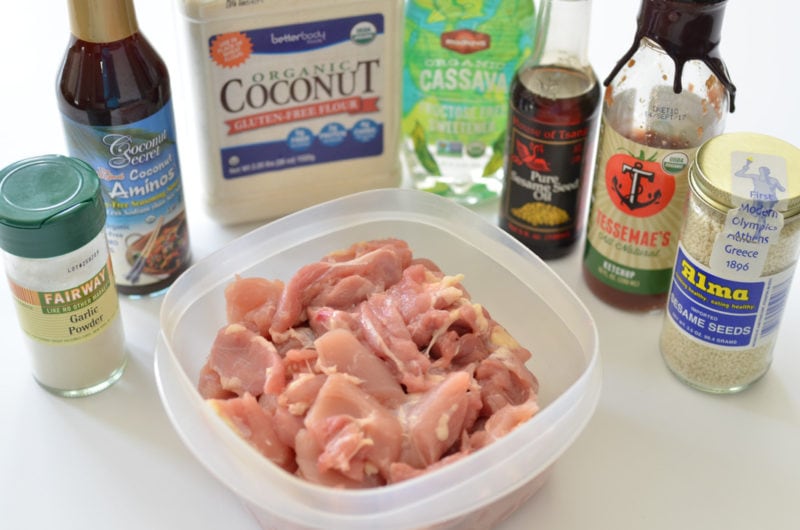 This easy, quick and flavorful meal comes together with only a few simple ingredients that you can find at any local grocery store. If you aren't following a paleo diet, then feel free to use any brand of these products that you would like!
Add your chicken and oil to the pan and cook for 6 to 8 minutes.
Next, mix together the coconut aminos, sweetener, and ketchup. Add the sauce to the chicken.
Cook the chicken for an additional 2 to 3 minutes and then stir in the coconut flour to thicken.
Mix and let the chicken sit, covered, for 2 to 3 minutes while the sauce thickens.
Mix well and serve over cauliflower rice.
How to Store and Serve Paleo Sticky Sesame Chicken Thighs
We love this right over cauliflower rice but you can serve it with plain white rice, jasmine rice, or try one of these other rice alternatives. Serve it right out of the pan for dinner (recipe yields 4 generous servings, or 6), or divide it into your containers for a take-out style lunch all week.  
You can freeze the chicken very easily and even the rice, too, if you like. Transfer to a zip-close bag and press out all the air, or store in the freezer. Defrost in the microwave, in the refrigerator overnight and reheat in a hot skillet.
You might consider serving these sticky sesame chicken thighs with a side of steamed broccoli. Drizzle it with a little bit of sesame oil and sprinkle with sesame seeds before serving. Steamed green beans would also complement this dish well, or perhaps sauteed bell peppers.
Substitutions and Alterations
This sauce is adaptable very easily to other proteins. Try this paleo sticky sauce with tofu or shrimp, or some lean pork or steak. Tofu and shrimp will cook much faster than chicken, though, so keep that in mind.
You can make this sticky sesame chicken recipe without the paleo-leaning ingredients if you need to. Swap the coconut aminos for soy sauce, for example, or regular flour for the coconut flour. Agave would work in place of honey or cassava.