Thank you to Now Foods for sponsoring this Low Carb Pecan Pie Bars recipe post, and thank YOU for supporting the brands that help make Meal Prep On Fleek possible. All opinions are our own.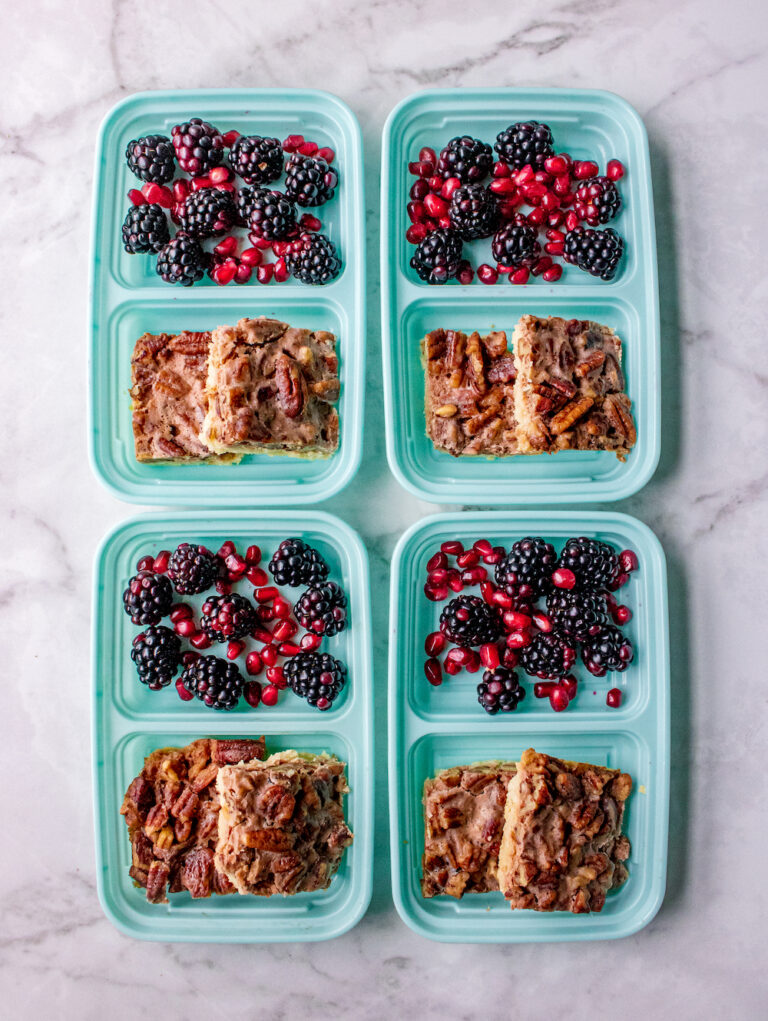 Indulge your sweet tooth with these low carb pecan pie bars. They're the perfect holiday dessert that is festive without the sugar spike of traditional high-glycemic recipes. A combination of organic monk fruit and erythritol sweeten the crust and pecan filling for a guilt-free treat!
The holidays are coming. Do you know what desserts you plan on making this year? Desserts that will align with the dietary needs of yourself, your family, and all of your low carb-loving friends? Oh, wait! Let's not forget your gluten-free and vegetarian friends, too! WOW! That sounds overwhelming, doesn't it? Fear not! We are here with this incredibly delicious Low Carb Pecan Pie Bars recipe, made with Now Foods Organic 1:1 Monk Fruit replacement, that will satisfy both the taste buds and the diet needs of all of your guests this season!
Perfect for Thanksgiving? Yup! Perfect for Christmas? Yup! Perfect for your New Year's Eve party? Yup! Perfect for your weekly meal prep snack when you need something sweet at 3:00 pm? 100%!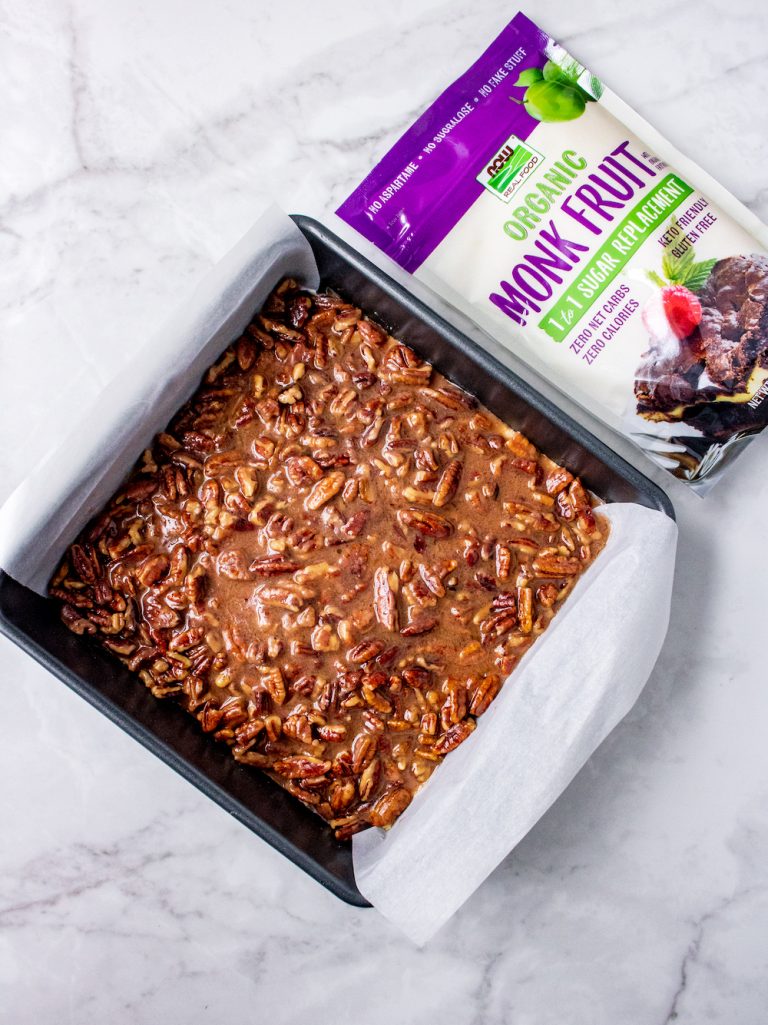 Low Carb Pecan Pie Bars are not just for the holidays! They are a dessert that you can feel good eating any time of day or the year. Why? They are made with some of the most nutritious ingredients you can find. Plus, they won't spike and drop your blood sugar thanks to the 1:1 monk fruit. Using the monk fruit as a swap for traditional sugar is the key to keeping these pecan pie bars low glycemic, low carb, keto-friendly, and low sugar.
These bars are full of heart-healthy nuts like pecans and almonds, coconut oil, monk fruit sweetener. They also have 8g of fiber per serving! That's one-third of your daily requirement! Who knew eating healthy could be so delicious!
Give me more ways to use this organic 1:1 monk fruit replacement!
If you insist! The holidays don't need to be limited to only these bars. Cheesecake, peanut butter cookies, churros, or vegan mint Oreos would all be excellent additions to your holiday table! Any place you see sugar, swap it for the 1:1 monk fruit replacement in equal amounts, and you will be sweetening up both your holiday spread and your guest's mouths, san the sugar.
Low Carb Pecan Pie Bars
Ingredients:
For Shortbread Crust
For Pecan Filling
¼ cup whole milk

2 tablespoon coconut oil

2 tablespoon unsalted butter

1 teaspoon vanilla extract

½ teaspoon maple extract

½ teaspoon sea salt

1 cup chopped raw pecans, toasted
For Serving, optional
2 cups blackberries

⅔ cup pomegranate seeds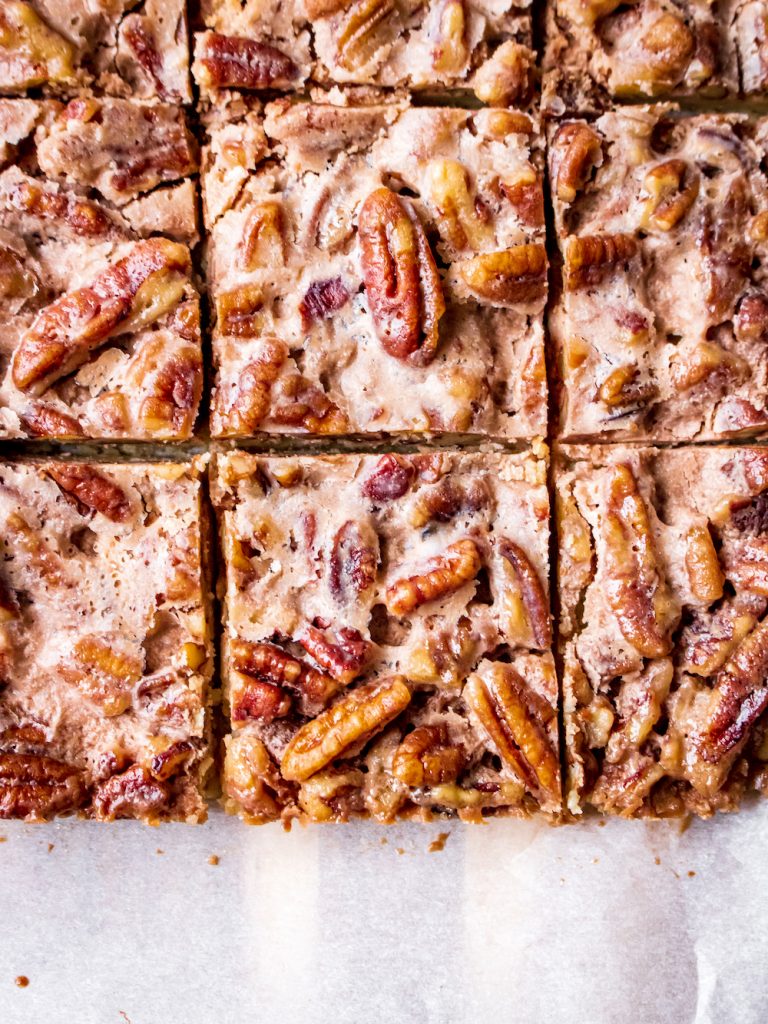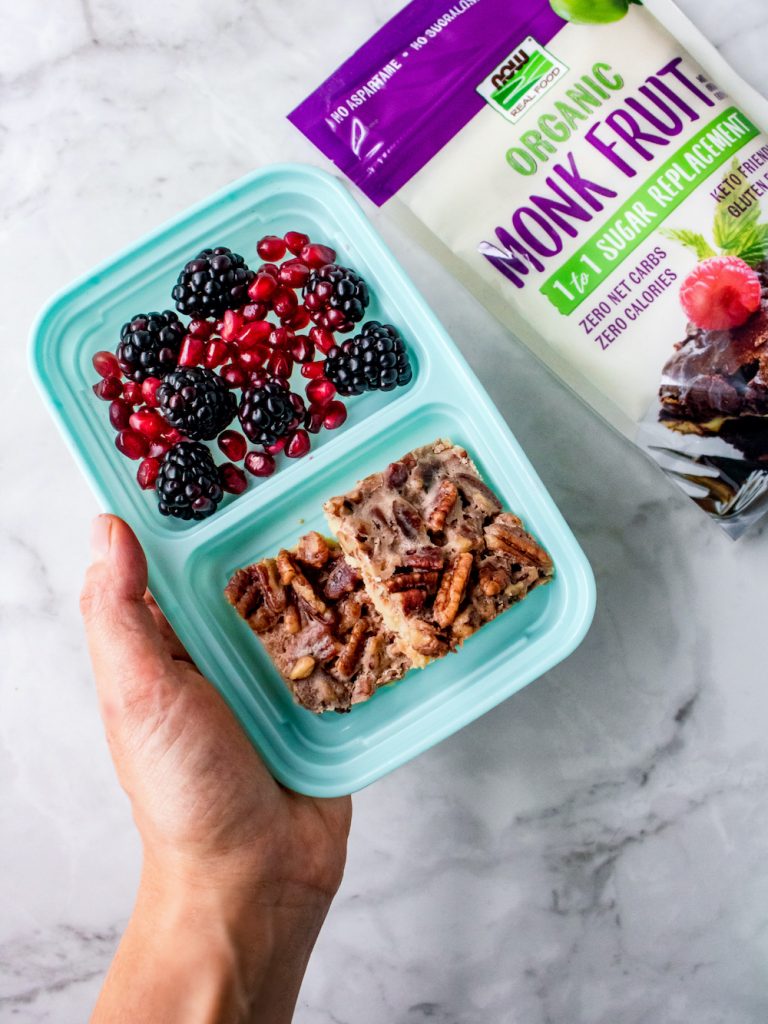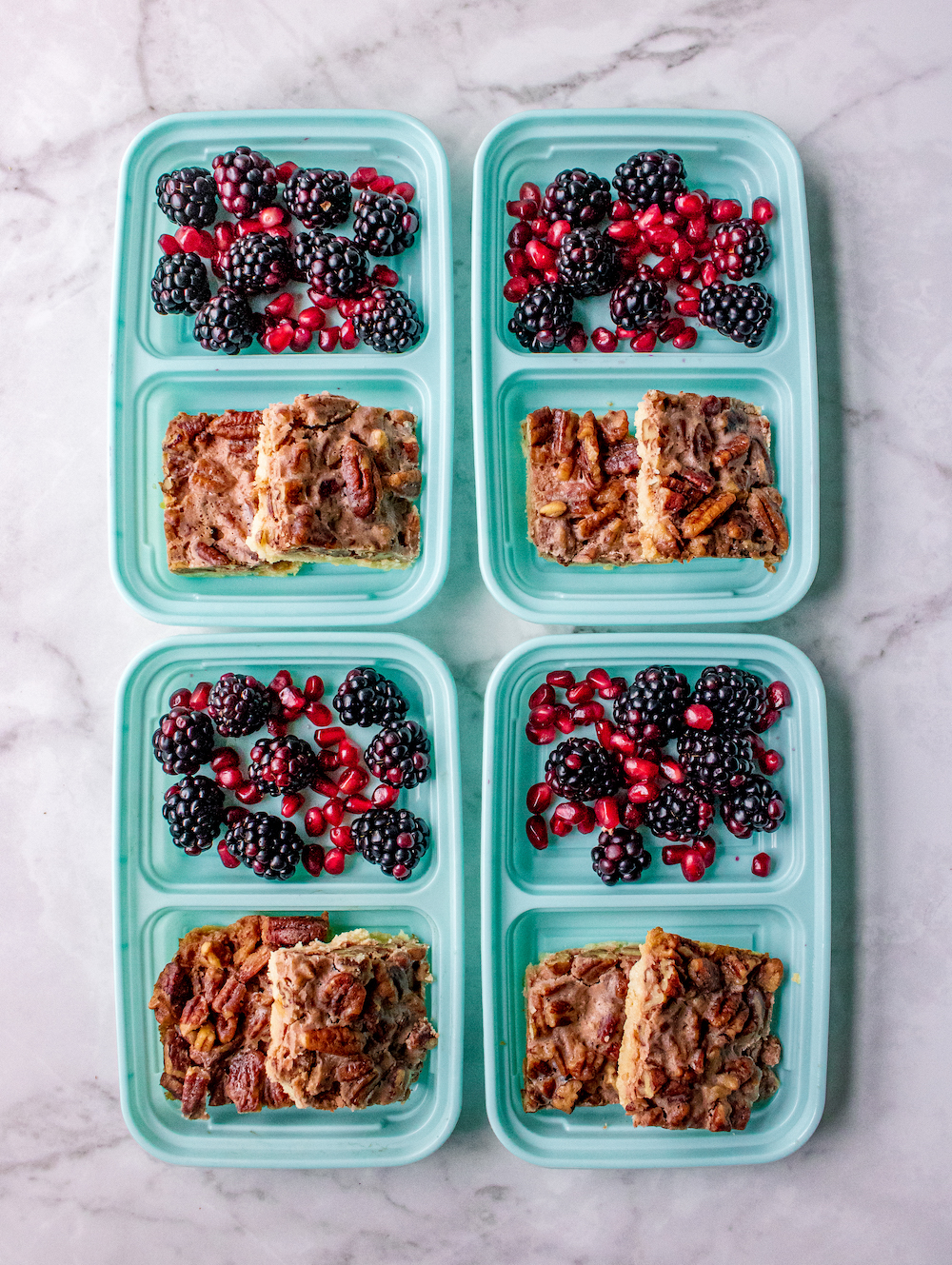 Ingredients
For Pecan Filling
¼

cup

whole milk

2

tablespoon

coconut oil

2

tablespoon

unsalted butter

1

teaspoon

vanilla extract

½

teaspoon

maple extract

½

teaspoon

sea salt

¼

cup

NOW Foods Organic 1:1 Monkfruit Sweetener

1

cup

chopped raw pecans

toasted
For Serving
2

cups

blackberries

⅔

cup

pomegranate seeds
Instructions
Preheat oven to 350ºF and line a 8x8 baking pan with parchment paper overlapping sides. In a medium mixing bowl, combine ingredients for shortbread crust and stir well until moistened. Pour into baking pan and press using the bottom of a glass or mug to form to the pan. Bake for 8 minutes. Cool crust at room temperature while preparing the filling

For Filling: heat milk, coconut oil, butter, and NOW Foods Organic Monk Fruit Sweetener over medium heat in a saucepan until boiling, about 3-4 minutes stirring regularly.

Turn heat off and stir in pecans, vanilla extract, maple extract, and sea salt. Cool mixture for 5 minutes.

Pour pecan mixture over the crust evenly to completely cover crust. Bake for 15-20 minutes, until edges are bubbly and tops of pecans are lightly toasted. Remove pan from oven and cool at room temperature for 30 minutes. Transfer to refrigerator for 15-20 minutes longer to firm the filling before slicing into 16 bars.

Place 2 bars in 1 compartment of 8 light blue MPOF snack containers. Divide blackberries and pomegranate seeds between the remaining 8 compartments. Store in the refrigerator until enjoying.
Video
Nutrition
Calories:
293
kcal
|
Carbohydrates:
13
g
|
Protein:
6
g
|
Fat:
28
g
|
Sodium:
148
mg
|
Fiber:
8
g