No Bake Collagen Brownie Cups. We know, we had you at no bake, and kept you with brownie cups. But what the heck is collagen? You're probably seeing it all over the place lately: in smoothies, in cosmetics, and now in your dessert?! We're here to give you the scoop about collagen: what it is, why it benefits you, and why we're adding it to our meal prep recipes.
Collagen is actually a protein that occurs naturally in the human body. And though it's found throughout our physical system, it is especially prevalent in the skin, bones, and connective tissues. If you imagine your body as a skyscraper, think of collagen as the scaffolding holding the whole structure together. It's insoluble and incredibly strong: gram for gram, some types are stronger than steel! With that kind of strength, collagen is obviously much of our body's support, but it is also what gives our skin its elasticity. That's why this ingredient is so common in modern skin and beauty care products. Our natural production of this important protein depletes as we age and with specific stressors on the body such as smoking and exposure to UV light. So what better way to replenish our natural stores than with a delicious collagen brownie?
This vegan and gluten-free collagen brownie packs a delicious punch with all of the rich cocoa flavor you'd expect from the traditional chocolate-lovers dessert, plus the added savory smoothness of peanut butter. Though we love the taste of peanut butter, that extra protein boost ain't so bad either! Combine that with almond flour and almond milk and you've got yourself a collagen brownie with more than 6 grams of protein per serving! So does this meal prep recipe get filed away as a sweet treat or pre/post-workout snack? Or both? ? You decide!
No Bake Collagen Brownie Cups Ingredients:
1 cup dairy-free chocolate chips
1/4 cup almond flour
1/4 cup unsweetened cocoa powder
1/2 cup collagen peptides
½ cup unsweetened almond milk
3 TBS maple syrup
¼ cup peanut butter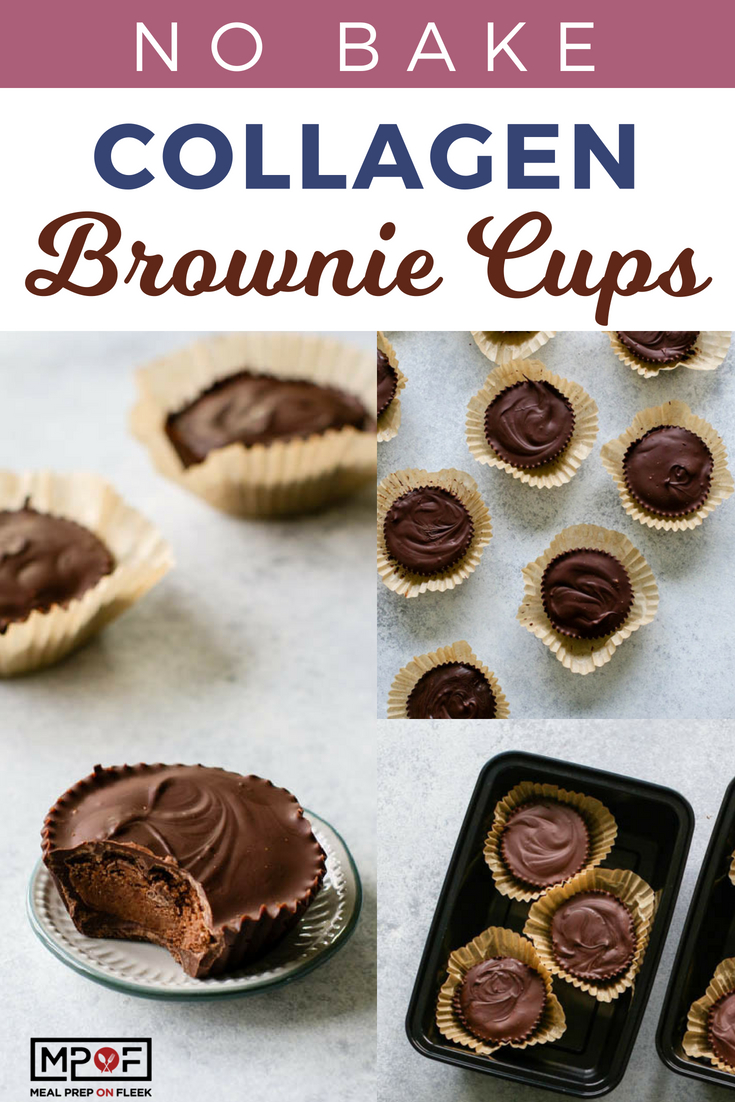 Ingredients
1

cup

dairy-free chocolate chips

1/4

cup

almond flour

1/4

cup

unsweetened cocoa powder

1/2

cup

collagen peptides

1/2

cup

Unsweetened Almond Milk

3

tbs

maple syrup

1/4

cup

peanut butter

or nut/seed butter of choice
Instructions
Line a muffin pan with 12 muffin liners and set aside.

Add 2/3 cup of the chocolate chips to a microwave safe bowl and microwave in 30 second increments until the chocolate is fully melted.

Fill each muffin liner with ~1 TBS of melted chocolate and swirl with the back of a spoon to coat the sides. Place the pan in the freezer to set.

While the chocolate is freezing, prepare the brownie filling by adding the remaining ingredients (almond flour through peanut butter) to a large mixing bowl and mixing until ingredients form a sticky dough. The mixture should be thick and stick together.

Using a tablespoon, roll the dough between your hands to form individual balls and then flatten them into discs. Place discs into each muffin cup and use your fingers to gently flatten them so they press up against the sides.

Melt the remaining 1/3 cup of chocolate chips the same method as before, then cover the top of the discs with the melted chocolate. Place back in the freezer to set.

Store the cups in an airtight container the fridge for a week or freeze for long-term storage.
Notes
Nutrition for 1 out of 12 cups:
6.4g Protein | 19.8g Carbs | 9.5g Fat | 2.6g Fiber | 182 Calories
Nutrition
Serving:
1
cup
|
Calories:
182
kcal
|
Carbohydrates:
19.8
g
|
Protein:
6.4
g
|
Fat:
9.5
g
|
Fiber:
2.6
g