Air fryer apples are so delicious. It's a quick and easy way to prepare and serve apples without adding a lot of sugar! Paleo and gluten free!
Consider these air fryer-baked apples something of a super shortcut to the most concentrated experience of all that is wonderful about an apple, without adding a ton of sugar. It's kind of ideal.
If you've ever dehydrated apples before in a food dehydrator or a low oven, you know how delicious they are. But if you've also ever baked apples as a dessert, you know, too, how amazing those are. Especially when they're served with ice cream, some chopped nuts, a drizzle of some kind of sauce or another. Ok, we're getting ahead of ourselves here, but suffice to say, you'll love this dessert. Or maybe it's a snack. It can happily serve as either. Once you use your air fryer to make these baked apples, which are a healthy indulgence, you'll do it again. Think of air fryer apples like a deconstructed apple pie, minus the crust and oh, did we mention, the sugar?
Air Fryer Baked Apples Ingredients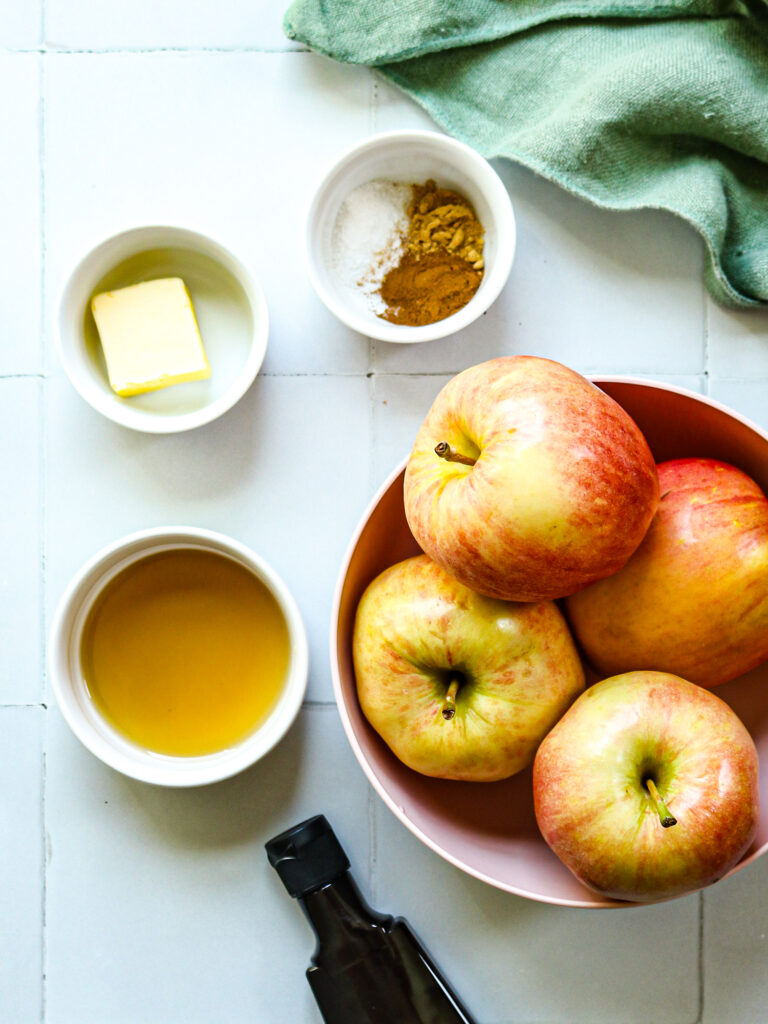 1 ½ Tbsp. maple syrup
1 Tbsp. melted unsalted butter or coconut oil
½ tsp. vanilla extract
½ tsp. ground cinnamon
¼ tsp. ground ginger
Large pinch fine sea salt
2 medium apples, sliced ½-inch thick (about 3 cups total)
Nonstick cooking spray
Greek yogurt and chopped toasted walnuts, optional, for serving
How to Make Air Fryer Apples
Slice your favorite apples (about will work) about a half-inch thick and set aside. You can leave them unpeeled if you like; it adds flavor and nutrition. Toss the apples in some maple syrup, along with the melted butter (or coconut oil), some vanilla extract, and some spices. We like cinnamon and ginger. Pop it all in the air fryer and let it do its magic!
How to Store and Serve Air Fryer Apples
Once these air fryer apples are made, they're best eaten almost immediately, nice and warm. We like them alongside some plain Greek yogurt (or regular yogurt) topped with chopped toasted walnuts (or pecans!). But you do you! If eating this immediately isn't possible, just set them aside in an airtight container. They'll keep for a day or so and it's possible to warm them up briefly again in the air fryer, but as with most air-fried items, savory or sweet, they really are best right out of the fryer. You could go more decadent with this, and serve with vanilla ice cream. We don't judge.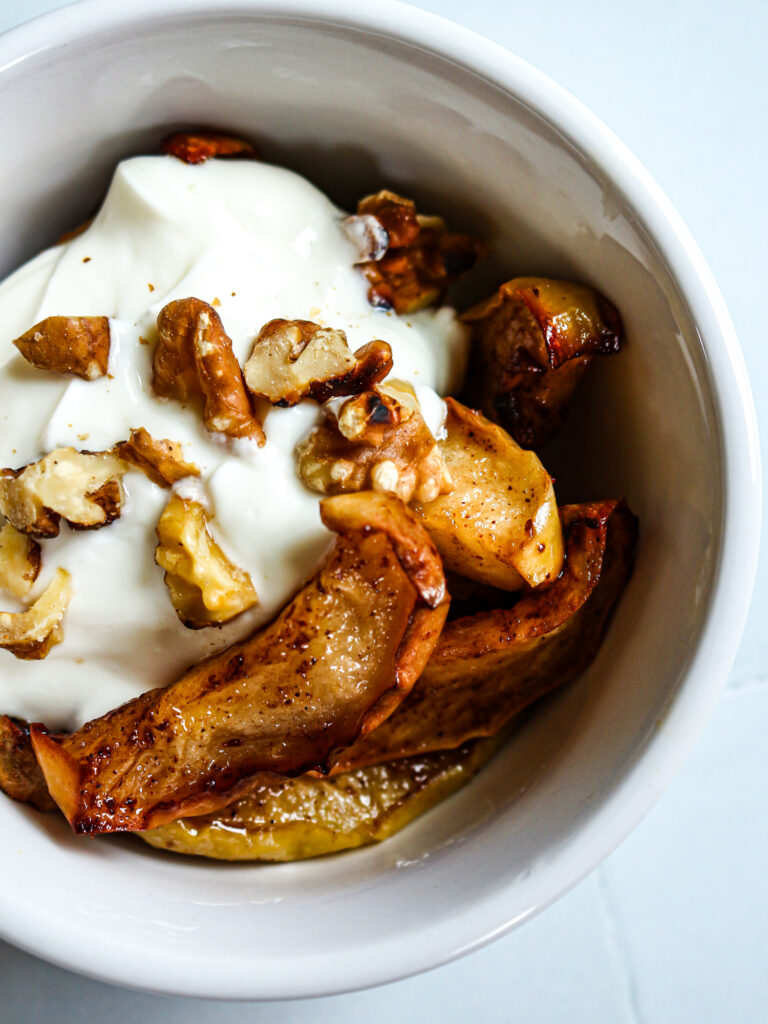 Substitutions and Alterations
This recipe would work with pears, too, or a combination of pears and apples. Depending on how ripe the pears are, they might bake faster, so just keep an eye on the timing if you're experimenting with pears.
You can use any kind of apple you want for these air fryer apples, as long as it's firm and good for baking. Granny Smith would be more tart and less sweet, Pink Lady would be tart-sweet, Fuji apples are always crisp and delicious, and Gala are available all year round. Making these baked apples while apples are in season, or even after you go apple picking, would be even more fun, because you could mix and match different types. Try experimenting with different types of apples and see which ones you like the best.
Use allspice, nutmeg, cardamom, and cloves; all of those spices are great. We recommend any of them! You can even shortcut the whole thing and use apple pie spice. That contains most of the key fall apple baking spices you might want.
We wouldn't recommend switching the maple syrup for honey, without a caveat: honey is sticky! Maple syrup is not. You could, however, use agave nectar instead of maple syrup.
MORE AIR FRYER AND APPLE MAGIC!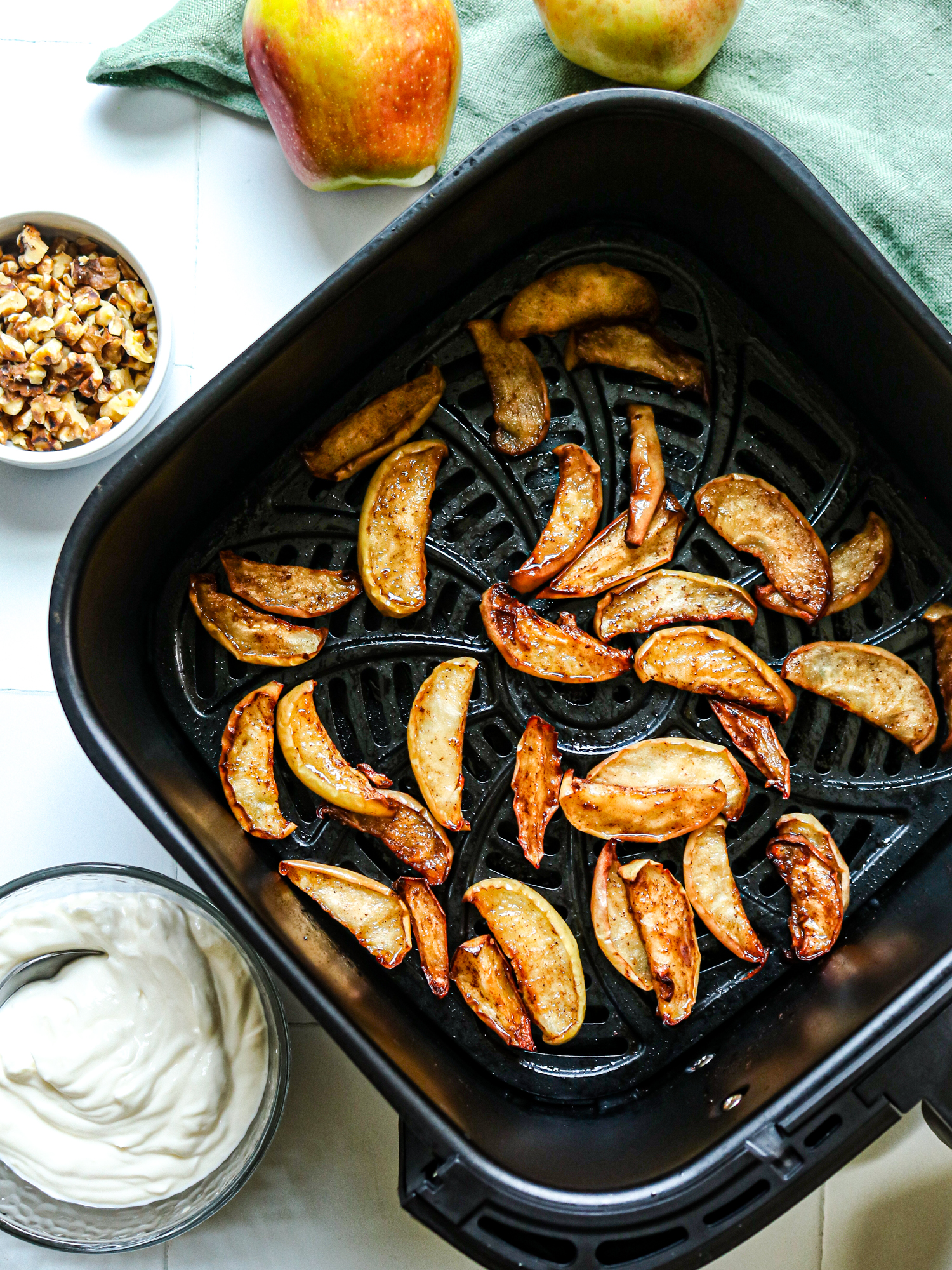 Ingredients
1 ½

tablespoon

maple syrup

1

tablespoon

unsalted butter

melted, or coconut oil

½

teaspoon

vanilla extract

½

teaspoon

ground cinnamon

¼

teaspoon

ground ginger

Large

pinch

sea salt

2

medium

apples

sliced ½-inch thick (about 3 cups total)

Nonstick cooking spray

Greek yogurt

optional, for serving

Walnuts

toasted and chopped, optional, for serving
Instructions
In a large bowl, mix together the maple syrup, melted butter, vanilla, spices, and salt.

Add the apples to the maple syrup mixture and toss well to combine.

Preheat air fryer to 375°F. Spray the tray of your air fryer with nonstick cooking spray. Add the apples in a single layer (cook in batches if necessary). Cook for 12 to 14 minutes, tossing at least once during cook time, or until tender and golden brown around the edges.

Serve warm topped with Greek yogurt and walnuts.
Notes
Note: The macros for this recipe are calculated without Greek yogurt and chopped walnuts, which are optional. 
Nutrition
Calories:
190
kcal
|
Carbohydrates:
36
g
|
Protein:
1
g
|
Fat:
6
g
|
Saturated Fat:
4
g
|
Polyunsaturated Fat:
0.3
g
|
Monounsaturated Fat:
1
g
|
Trans Fat:
0.2
g
|
Cholesterol:
15
mg
|
Sodium:
4
mg
|
Potassium:
237
mg
|
Fiber:
5
g
|
Sugar:
28
g
|
Vitamin A:
275
IU
|
Vitamin C:
8
mg
|
Calcium:
34
mg
|
Iron:
0.3
mg