Easy One Dish Spaghetti Squash & Spicy BBQ Chicken Drumsticks turn out tender and juicy! Whole30, Paleo, Glute-Free.
We're always looking for new ways to use spaghetti squash. This veggie is so versatile and works great for an easy meal prep. This is ideal for a simple weeknight meal or a lazy Sunday afternoon. We like the way the spicy barbecue flavors work against the spaghetti squash. It's a welcome twist because this veggie is most often used in Italian food prep, such as our One Skillet Spaghetti Squash and Meatballs. And that's all well and delicious, but it's fun to mix up the flavors and find new ways to use veggies.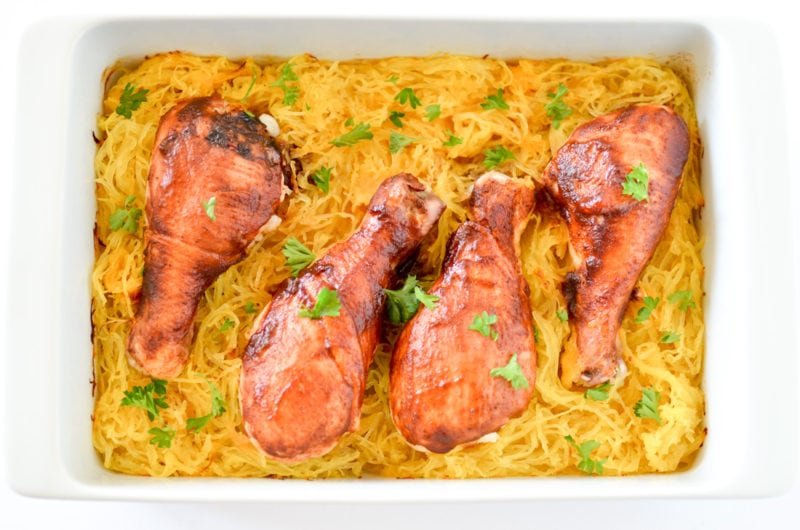 One Dish Spaghetti Squash & Spicy BBQ Chicken Drumsticks Ingredients
How to Make Spaghetti Squash and Spicy BBQ Chicken Drumsticks
First, we start by roasting the spaghetti squash in the oven until it's softened enough that the "spaghetti" strands inside are easily pulled out. You can even prep this ahead of time if you like, to really make this meal in stages. Then it's a simple matter of baking the squash and chicken together in the oven in a shallow baking dish. Layer the chicken pieces on top, and then bake for half an hour. Then, brush the top of the chicken with the magical combo of barbecue sauce and hot sauce, and return to the oven to finish baking. Easy!
How to Serve Spaghetti Squash and Spicy BBQ Drumsticks
You've got a protein and veggie in this healthy meal prep, and that's a great start. You could add a green salad to round out the veggies for the day. And someone would probably use a little extra hot sauce or barbecue sauce (or both) if you served it alongside this meal prep.
How to Store
This will keep great in the fridge for up to 4 or 5 days. Transfer to an oven-safe baking dish, cover loosely with foil, and reheat at 350 F for about 15-20 minutes until hot.
You can also very easily freeze the cooked chicken and use it at another point if desired. Just transfer to a zip-close bag and label it with the contents and the date. It's good for at least three months.
Substitutions and Alterations
Feel free to mix up drumsticks and wings, or cook this with all wings. You can also make this dish with bone-in chicken breasts or bone-in thighs (or even boneless versions), but the cooking time will vary. Bone-in pieces typically take a few minutes longer, so if you're opting for boneless, check the chicken after 10-15 minutes and then brush with the hot sauce-bbq sauce mix.
Feel free to substitute your favorite hot sauce for the one we've specified here, if you can't find it or would just rather have something different.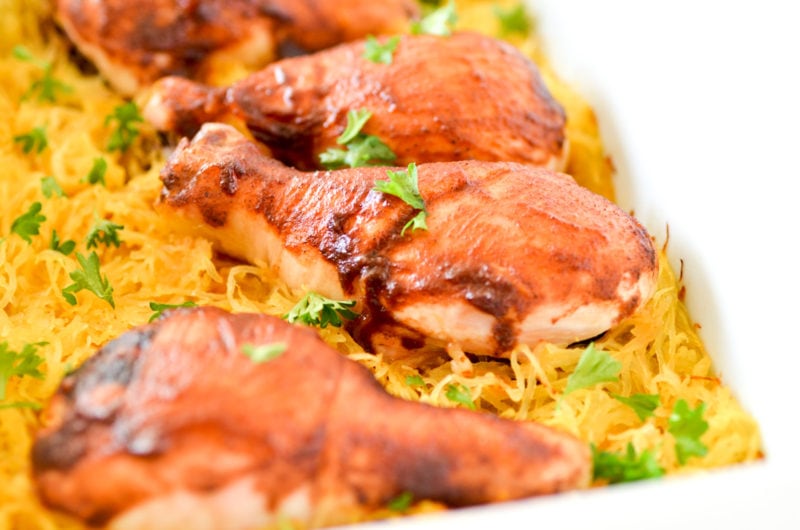 That sweet and spicy BBQ sauce will leave you feeling satisfied!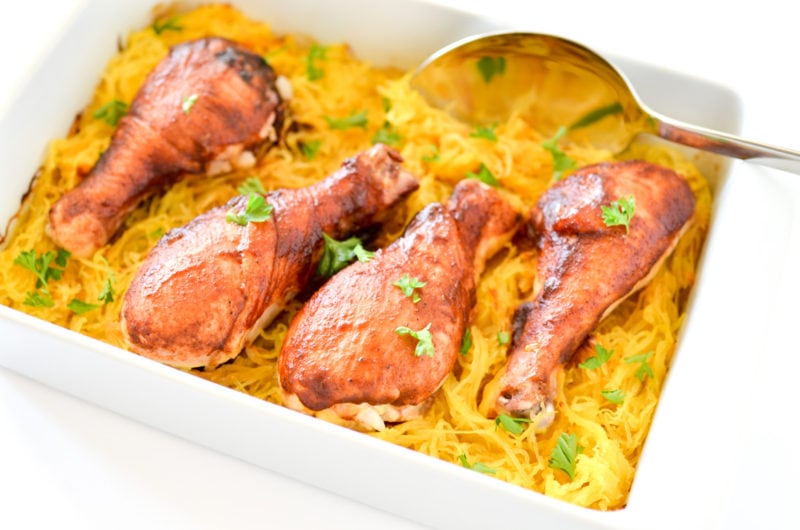 Evenly divide your chicken and spaghetti squash among 4 meal prep containers and enjoy all week!