Falafel Meal Prep is easy, loaded with protein, gluten-free, and plant-based. Comes together with a blender or food processor and freezes great, too!
Falafel is a traditional and insanely delicious Middle Eastern dish made from ground chickpeas, fava beans, or both. If you've never had it before, think of falafel as deep-fried savory donut holes with tons of flavor!
We, of course, wanted to lighten ours up a bit, so no deep-frying for this particular falafel meal prep. Instead, you'll get all of the traditional flavors: cumin, tahini, garlic, and lemon, without the added fat and oxidation of high-temperature immersion frying. All you need to cook these little guys is some avocado oil and a skillet. This falafel meal prep is an excellent sway from the norm, and a super easy way to try something new! It's also vegetarian and loaded with protein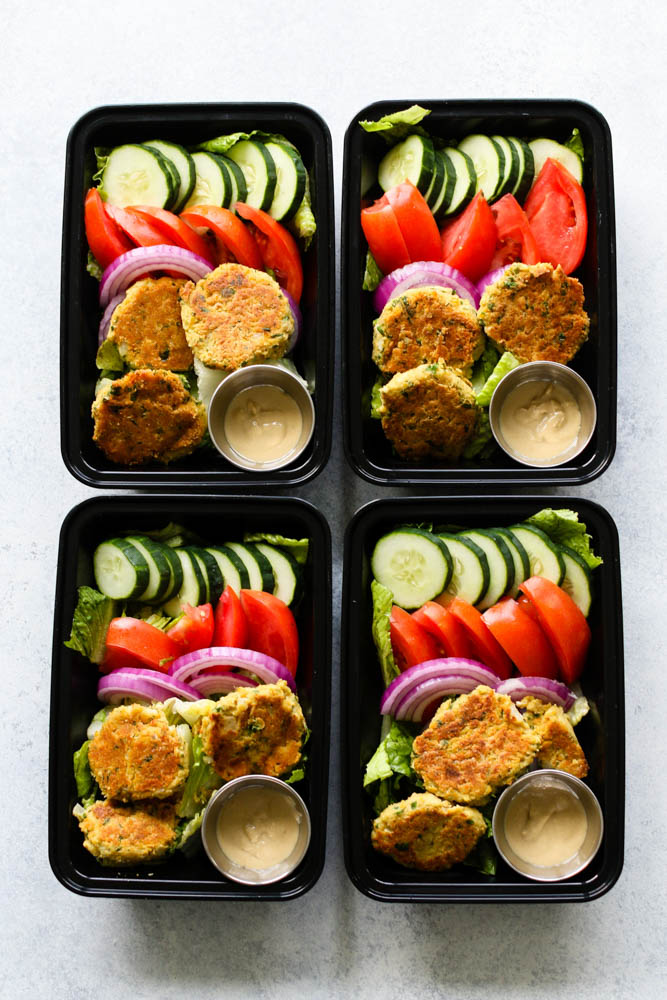 Easy Falafel Meal Prep Ingredients
1 (15-ounce) can chickpeas, drained and rinsed
⅓ cup chopped fresh parsley
¼ teaspoon garlic powder
½ cup white onion
2 tbsp tahini
1 ½ tsp cumin
Pinch of Himalayan sea salt
Pinch of black pepper
¼ cup oat flour
3-4 tablespoon avocado oil
4 cups lettuce
2 tomatoes, diced
1 cucumber, diced
1 red onion, sliced thin
Optional for serving: fresh lemon, ¼ cup tahini
How to Make Falafel Meal Prep
Traditional falafel typically uses wheat flour as a binding agent; it helps to keep the ground chickpeas in their ball or patty shapes while cooking. We experimented with oat flour for this falafel meal prep, and found it works just as well. So we're thrilled to offer this to you as not only a deliciously easy meal prep, but also a gluten-free one!
All of the ingredients come together in a food processor or blender to make a paste. Chickpeas, parsley, cumin, garlic powder, onion, tahini, and salt and pepper come together. Once they've come together, add the oat flour, which will help bind the falafel patties and also makes these gluten-free, too. They're ready to be cooked at this point, in a hot skillet with some avocado oil (or other healthy oil).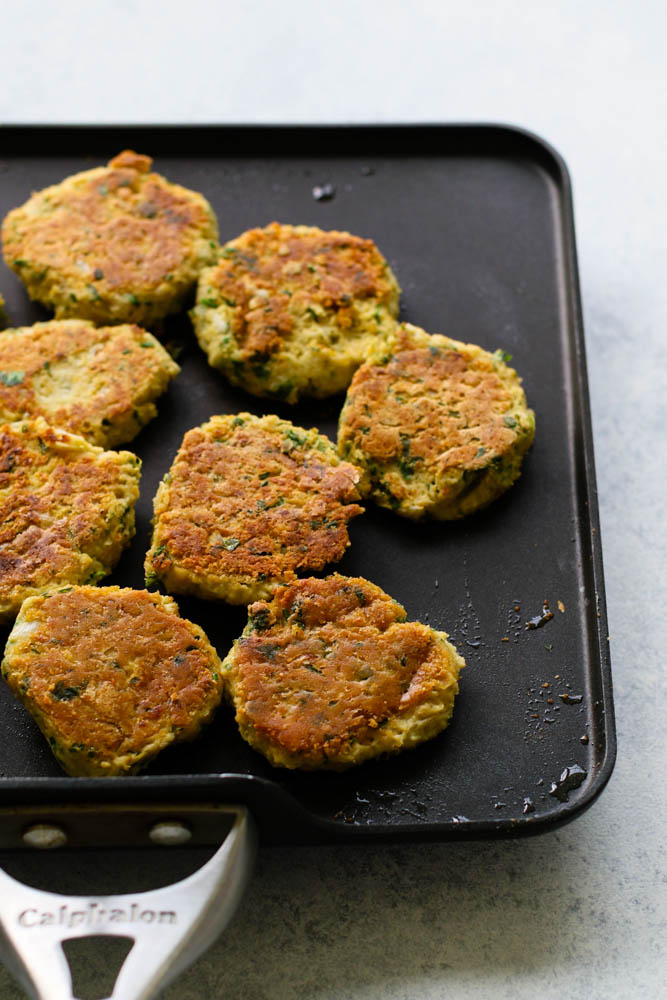 How to Store and Serve Falafel Meal Prep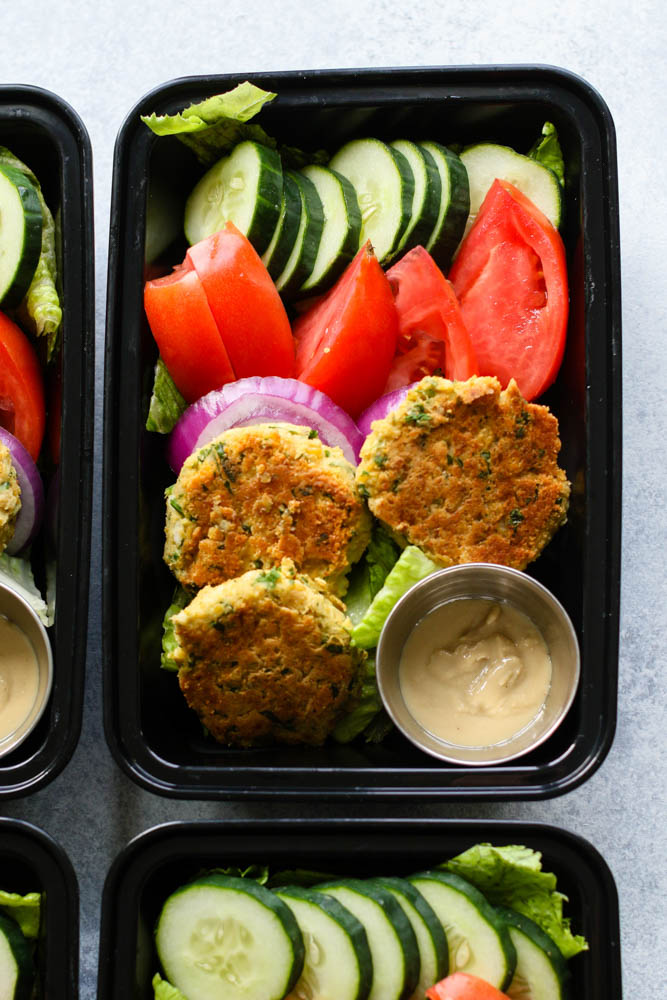 This will keep, all meal prepped and ready for you, in the fridge in airtight containers for up to 4 days. It's not unusual to serve falafel over a salad, but there are a lot of ways you can serve this dish.
To keep the calorie count low, we like using our falafel as the protein component of a delicious salad: romaine, tomato, cucumber, and onion, to keep it traditional. But falafel can also be used in sandwiches (pop all these ingredients into a wrap, perhaps), on rice bowls, in a mezze platter, etc. The possibilities are endless! We highly recommend making a double batch and freezing them for later use. They're a fantastic thing to have on hand for those dreaded day-before-grocery-day meals.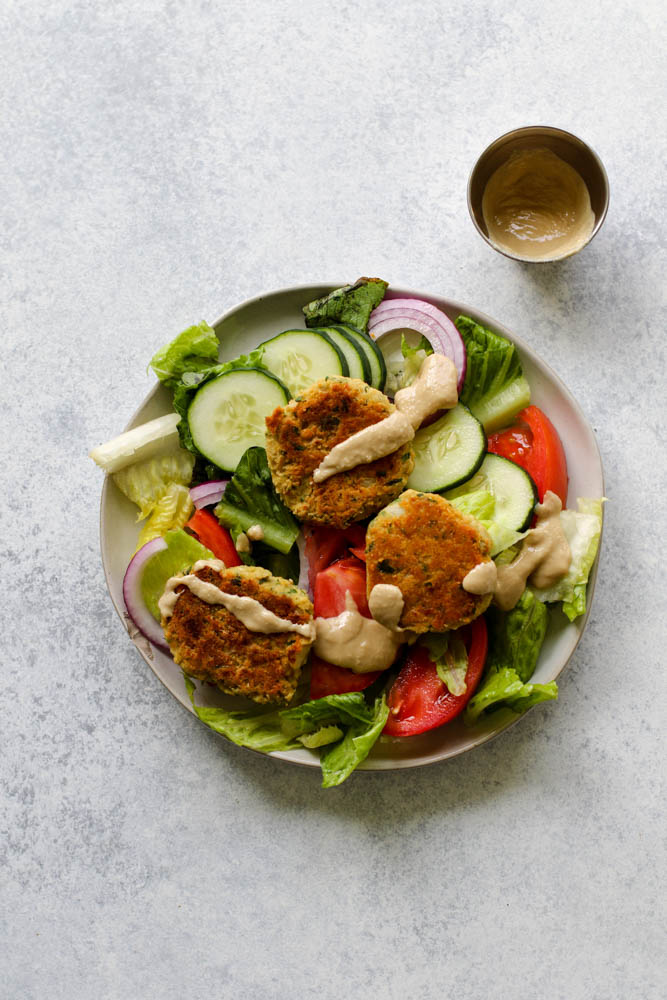 Chickpea Nutrition
Let's talk chickpeas! First of all, yes, they are the same as garbanzo beans. They are prominent in Mediterranean and Middle Eastern cuisine and are a wonderful source of protein, complex carbs, and fiber. Chickpeas are also a great food ally for skeletal health. They contain good amounts of the nutrients calcium, magnesium, manganese, and iron, among others- all aiding in bone structure and strength. Chickpeas are also a good source of potassium, one of the most elusive (but important!) nutrients missing from the average American diet. This easy meal prep is a winner for both vegetarians and meat-eaters alike! Source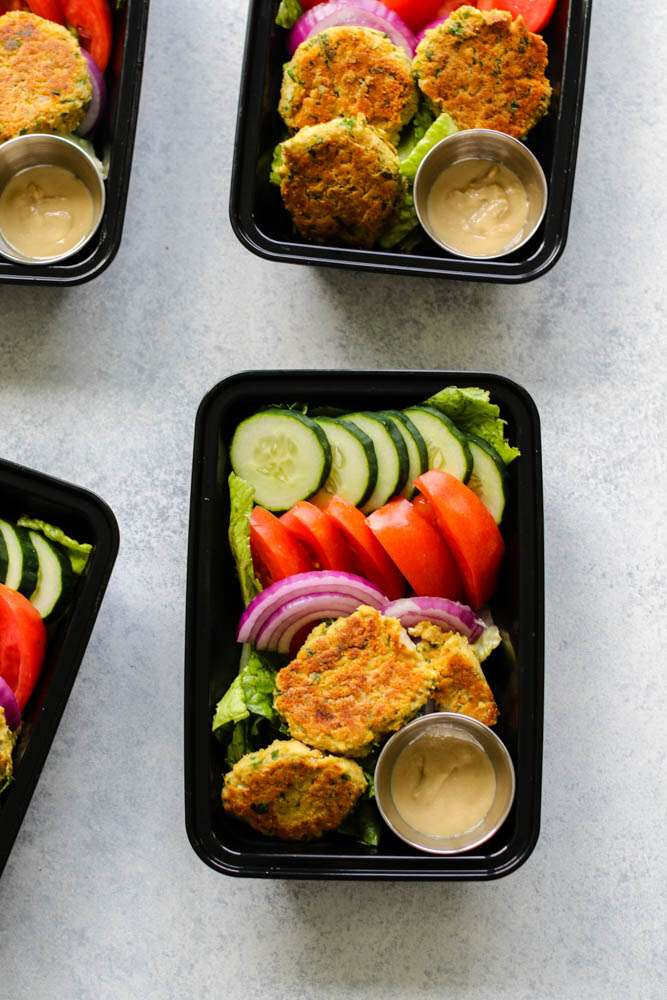 More Awesome Plant-Based Meals