We're making chicken carnitas nachos healthy again! Our Chicken Carnitas Nachos lunch meal prep recipe is a unique and flavorful meal that can be enjoyed guilt-free. We made chicken carnitas nachos Whole30 compliant by swapping out tortilla chips for sweet potato chips. The creative replacement adds depth to the flavor profiles of this meal while making it nutritious.
This Whole30 compliant nacho recipe uses baked sweet potato chips instead of tortilla chips and instant pot carnitas-style chicken, for a protein-rich meal that satisfies!
How long will Chicken Carnitas Nachos last for?
Chicken carnitas will last for 3 to 5 days. To optimize the time of freshness, store chicken carnitas in a shallow airtight container or gallon bag. Be sure to let all of the air out of the bag before sealing and storing it in the refrigerator.
Can Chicken Carnitas Nachos be frozen?
Absolutely! You can freeze chicken carnitas for up to 3 months. The sweet potato chips can be frozen as well. Store them in a quart-sized freezer bag, letting out all the air before sealing and storing. This entire meal can be frozen, but we recommend making fresh pico de gallo.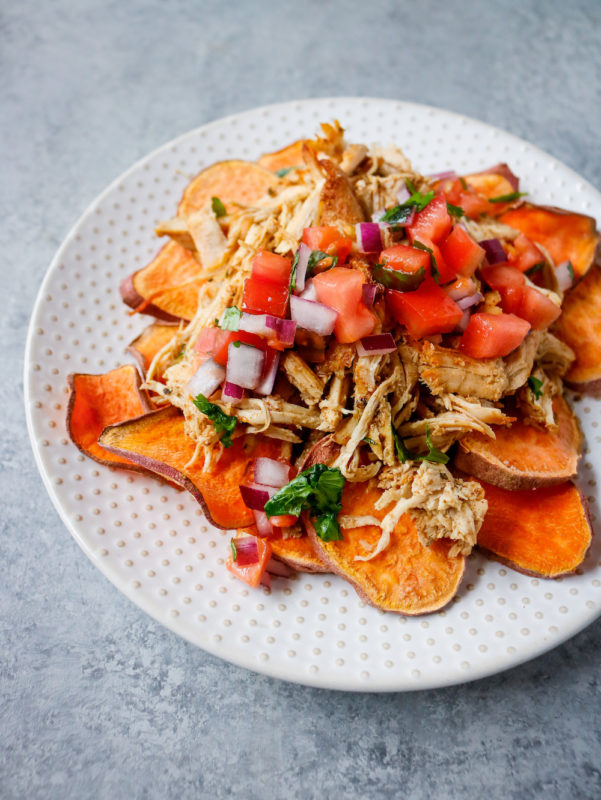 Chicken Carnitas Nachos Ingredients:
For Carnitas
1 ½ lb. boneless skinless chicken breast
2 tsp ground cumin
1/2 tsp chipotle powder or smoked paprika
1/2 cup chicken stock
1/2 tsp garlic powder
1 tsp dried oregano
1/2 tsp sea salt
For Pico De Gallo
1 cup chopped tomato
1/3 cup chopped red onion
1/3 cup chopped cilantro
1/4 tsp sea salt
For Sweet Potato Chips
1 lb. sweet potatoes, thinly sliced to 1/8 inch
1/2 tsp sea salt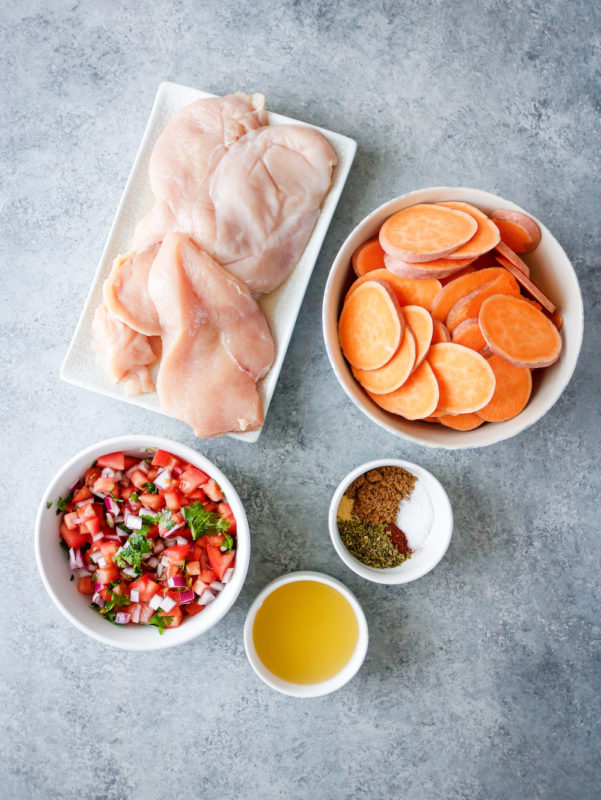 How do you make Chicken Carnitas Nachos?
Chicken Carnitas Nachos is a pretty simple lunch meal prep recipe that's done in an hour. The meal takes just 10 minutes to prep and your instant pot and oven do all of the work for you.
Take care of the easiest part first. Makes sense, right? Make your pico de gallo and separate it into 4 plastic sauce cups. Refrigerate the pico de gallo portions until the rest of your meal is ready. Next, preheat your oven to 400 degrees. Then get a wire cooling rack and place it onto a medium-sized baking sheet Get your sliced sweet potato pieces and place them on the baking sheet. You'll need to make the chips in two batches, with each batch taking 20-22 minutes to cook. You also need to flip them halfway through baking. So bake your sweet potatoes for 10 minutes, flip, and continue baking for 10-12 minutes longer. While your sweet potato chips are baking, make the chicken carnitas. For the carnitas, grab your instant pot and carnitas ingredients. Combine the ingredients and put them in the instant pot. Lock the lid, close the pressure valve, and cook using the chicken setting for 15 minutes.
Once the instant pot timer goes off, let the pot depressurize. Then open the pressure valve and shred chicken with two forks. Transfer shredded chicken to the baking sheet and pour the remaining liquid from the pot onto your chicken carnitas. Lastly, boil the carnitas on the middle oven rack for 6-7 minutes until the chicken is crispy. We're so excited for you!
How to portion Chicken Carnitas Nachos?
Portioning is easy since you're doing it as you cook. Your pico de gallo is already divided into 4 plastic cups, right? So all you need now is 4 dual-compartment meal prep containers, sweet potato chips, and chicken carnitas. Place your chicken carnitas and pico de gallo in the bigger part of the container and the sweet potato chips in the smaller part. Cover, store, and enjoy for lunch!
More Carnitas meal prep recipes:
Did you enjoy this lunch meal prep recipe? Then try our Mushroom Carnitas Burrito Bowls and Slow Cooker Keto Pork Carnitas Bowls.
We also have 16 Keto Crock-Pot Recipes for Easy Low-Carb Meals.
Other tips for making Chicken Carnitas Nachos:
Make yourself extra chicken carnitas for a deliciously fun Taco Tuesday.
Use fresh lime juice in your carnitas for extra flavor. Also, try cilantro or ground coriander.
Taste your food as you go. Every good chef does!
Carnitas is a versatile dish. You can use chicken, pork, or go vegan. See our other carnitas meal prep recipes above.
Allow your shredded chicken to sit its juices for an additional 20-30 minutes for extra juicy chicken carnitas!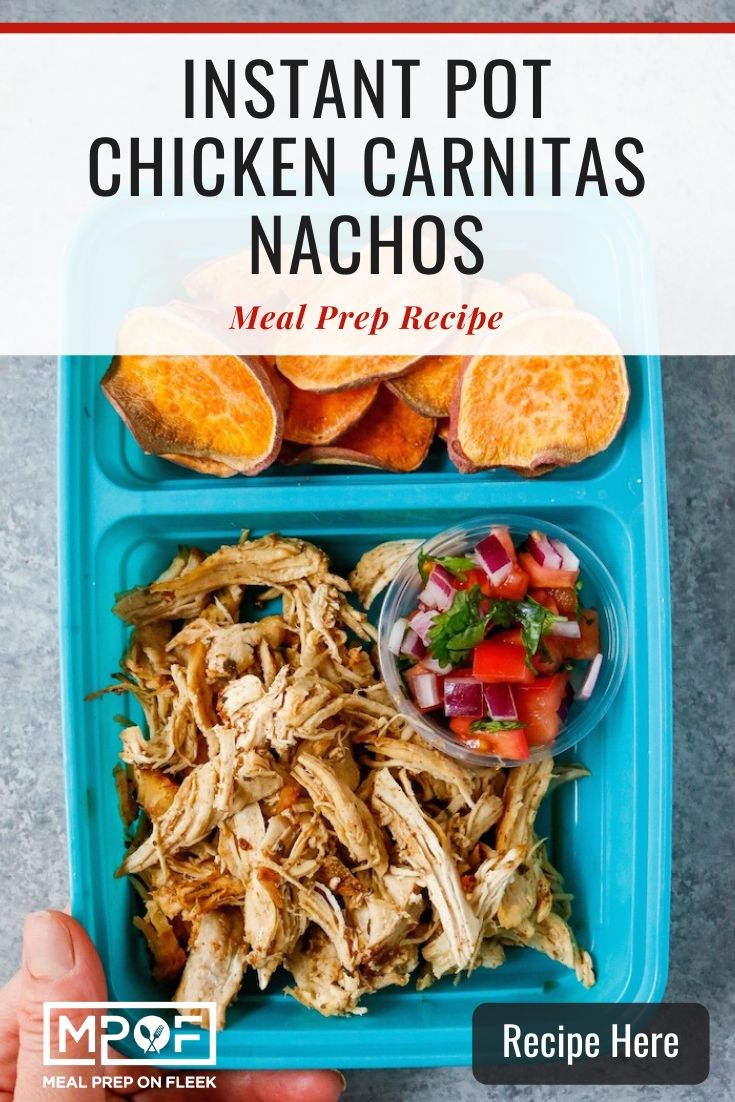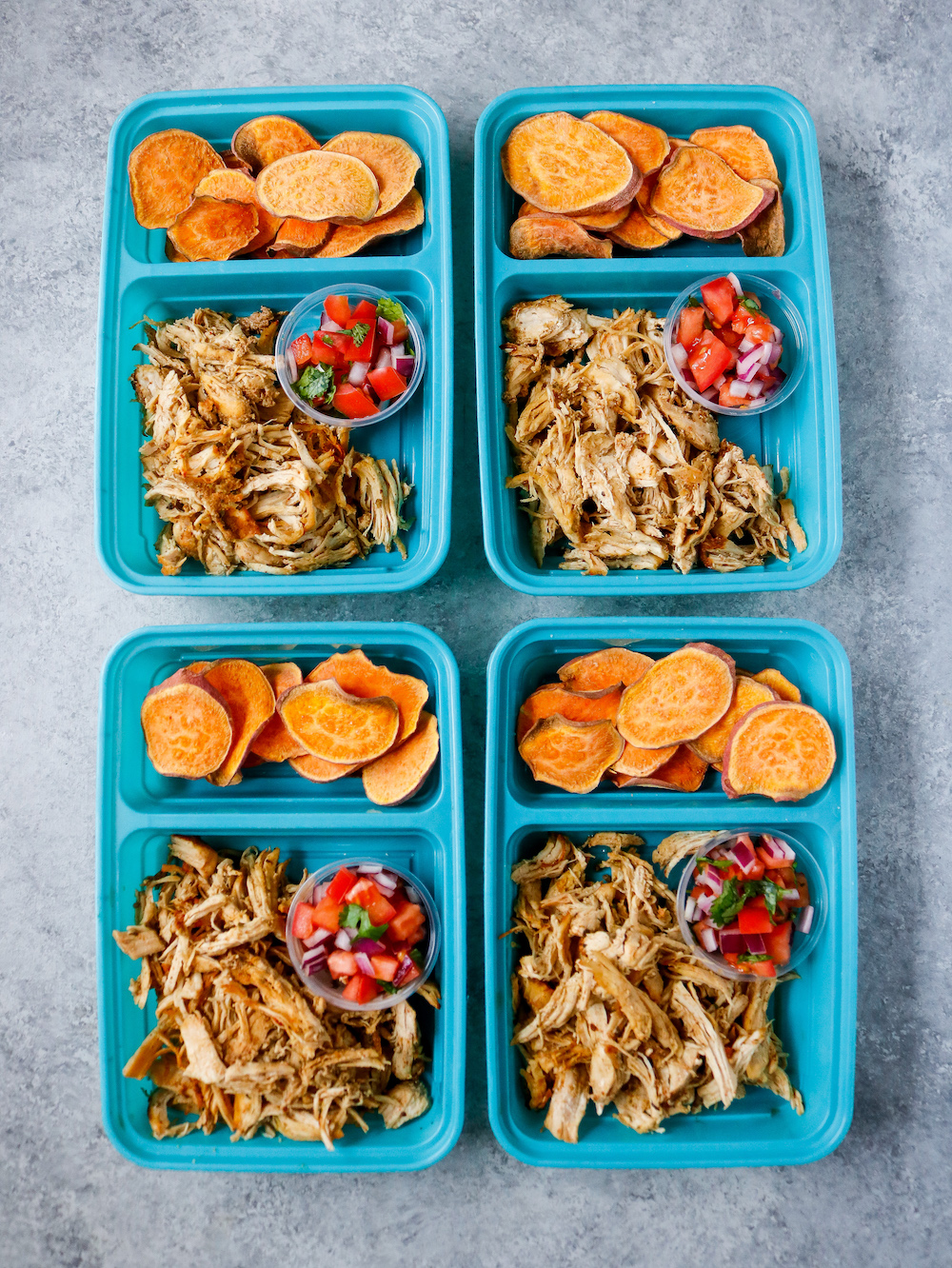 Ingredients
For Carnitas
1 ½

lbs.

boneless skinless chicken breast

2

tsp

ground cumin

1/2

tsp

chipotle powder or smoked paprika

1/2

cup

chicken stock

1/2

tsp

garlic powder

1

tsp

dried oregano

1/2

tsp

sea salt
For Pico De Gallo
1

cup

chopped tomato

1/3

cup

chopped red onion

1/3

cup

chopped cilantro

1/4

tsp

sea salt
For Sweet Potato Chips
1

lb.

sweet potatoes

thinly sliced to 1/8 inch

1/2

tsp

sea salt
Instructions
Stir together ingredients for pico de gallo and divide between 4 small sauce cups. Refrigerate until assembling meal prep containers.

Preheat oven to 400ºF and place a wire cooling rack on top of a medium baking sheet. Working in two batches, spread sweet potato slices on the baking sheet and bake for 10 minutes. Carefully flip sweet potatoes and bake an additional 10-12 minutes, or until edges of sweet potatoes are curled. Repeat with remaining sweet potatoes. Sprinkle baked sweet potato chips with sea salt and transfer to the 1 cup compartments of 4 MPOF teal containers.

While sweet potato chips bake, combine ingredients for carnitas in an instant pot. Lock lid and close pressure valve. Press chicken setting for 15 minutes. Once the timer goes off, allow the instant pot to depressurize and open the pressure valve. Shred chicken with 2 forks and transfer to a baking sheet. Pour liquid from the instant pot over shredded chicken and broil on center rack of the oven for 6-7 minutes to crisp chicken lightly. Evenly divide carnitas between 4 large compartments of teal containers and place a cup for pico de gallo next to carnitas.
Notes
WW Smart Points= Green:6  Blue:3  Purple:0
Nutrition
Calories:
318
kcal
|
Carbohydrates:
29
g
|
Protein:
56.6
g
|
Fat:
2.3
g
|
Fiber:
4.4
g