Vegan Shakshuka Meal Prep
The culinary tradition of the Middle East is one of the most universally delicious we know. There's just a true multiplicity of flavors and ingredients to choose from, and many of them are vastly different from those in Westernized dishes. We at MPOF air on the more adventurous side, so we're always just as down to make new meal prep ideas as we are old favorites. Make no mistake though, the meal prep idea we have for you doesn't require you to have a super adventurous palette to be enjoyed, just an appreciation of great food! For your consideration, today we have a delicious vegan shakshuka for your prepped meals this week!
Shakshuka (alternatively spelled shakshouka or chakchouka) is a staple cultural food of North Africa and Arab nations. The word "shakshouka" itself is actually derived from an Arabic slang term meaning "a mixture", and traditionally consists of a tomato and pepper base with eggs, spices, and/or feta cheese. However, the animal products contained in traditional shakshuka make it unsuitable for the vegan lifestyle, and so that's why we've brought you this alternative shakshuka meal prep idea that uses vegan ricotta cheese instead! We always really love using Kite Hill Almond Milk Ricotta (retail $8.99) for any recipe calling for vegan or dairy-free ricotta cheese, you can use cashew or tofu-based ricotta too if you have an almond allergy.
This vegan take on the classic Middle Eastern dish is so simple to make and full of warming spices, satiating plant-based protein, as well as a subtle kick thanks to the addition of mild Harrisa pepper sauce and complete with a side of thickly cut bread for dipping and scooping — YUM!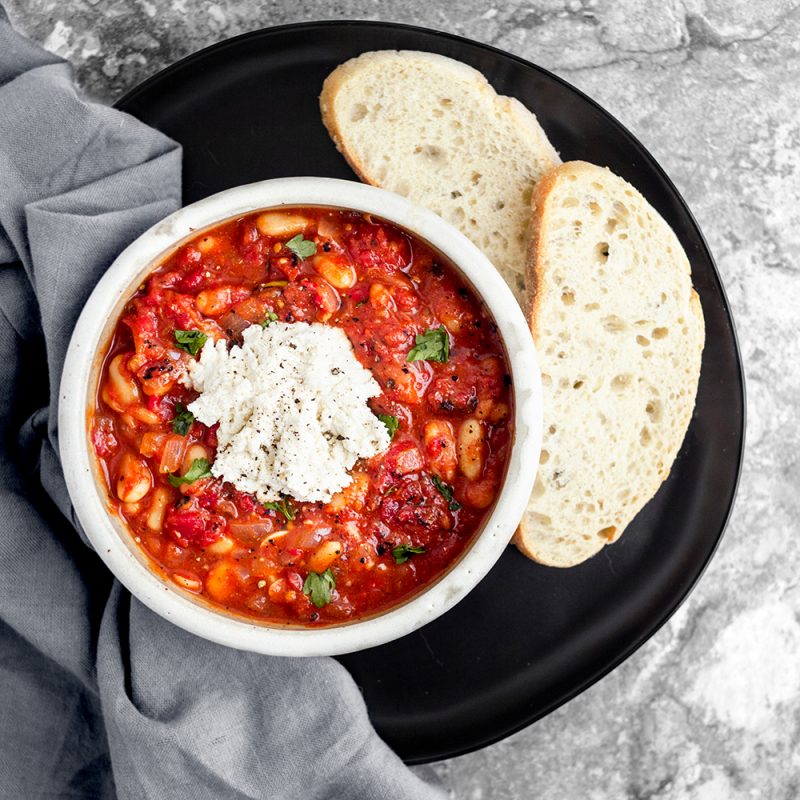 How long will this Vegan Shakshuka Meal Prep Recipe last for?
Because of its canned tomato base, we found this meal prep to last between 5-7 days when properly stored in the refrigerator! Perfect for stretching your meal prep efforts out for your entire work week!
Can this Vegan Shakshuka Meal Prep Recipe be frozen?
Yes! Store in an airtight container, and it should last you roughly 2-3 months.
How do you make this Vegan Shakshuka Meal Prep?
This is such a fantastic meal prep idea for when you're looking for something tasty, yet relatively simple to create! The first step is to add oil to a large heated frying pan and wait until heated., and then add the rest of the ingredients (besides ricotta, parsley, and bread), and let simmer for 15 minutes. Once you've achieved that, you're done! Just add ricotta for protein and parsley/bread for garnish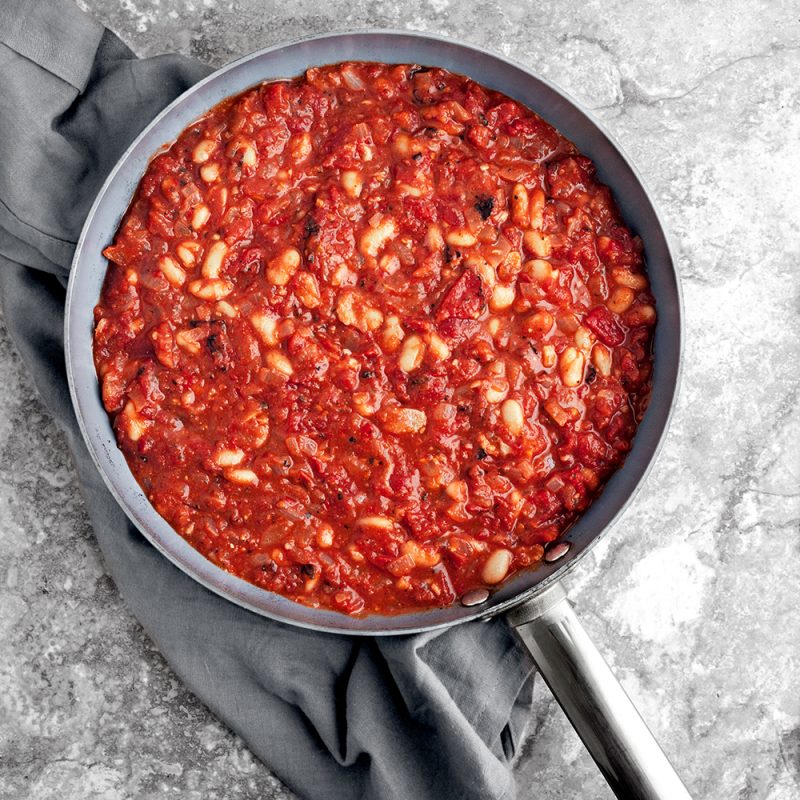 How to portion this Vegan Shakshuka Meal Prep?
When we made this meal, we used two-compartment meal prep containers, to keep the bread separate from the shakshuka itself, however, we definitely encourage you to do your own research by checking out our Ultimate Guide to Meal Prep Containers!
More Middle Eastern meal prep ideas:
If you want even more Middle Eastern inspiration for your weekly meals, consider this appropriately-named Middle Eastern Breakfast Salad Bowl, or classic Easy Falafel Meal Prep recipe.
Other tips for making this Vegan Shakshuka Meal Prep:
We recommend using:

Muir Glen brand diced tomatoes

Organic 365 cannellini beans (available at Whole Foods), and

Mina brand mild harissa in addition to the Kite Hill almond milk ricotta cheese for most accurate macro results.
Vegan Shakshuka Meal Prep Ingredients:
1 (28 oz.) Canned Diced Fire Roasted Tomatoes (including liquid)
1 C. (8 oz. pkg.) Vegan Ricotta Cheese
1 (15 oz.) Canned Cannelini Beans (rinsed and drained)
½ Red Onion, diced
4 Garlic Cloves, thinly sliced
3 Tbsp. Mild Harissa
2 Tbsp. Chopped Italian Parsley
5 Tbsp. Ground Cumin
1 Tbsp. Olive Oil
½ tsp. Pink Himalayan Salt
½ tsp. Ground Black Pepper
4 Slices Gluten-Free Bread