These sweet and salty crunchy quinoa-oat bars are full of fiber, healthy fats, and protein for a vegan snack that satisfies. Enjoy them any time hunger strikes.
How sweet do these vegan quinoa-oat bars look?
We're always in search of snacks that can check off a couple of different boxes at once. These vegan bars happen to be nutrient-dense (hooray!); specifically, they're good sources of protein and fiber. You might be tempted to say they look a little like bird food, what with all the seeds jammed into these bars, but they taste nothing like it. They're hearty, nutty, and crunchy, and just sweet enough to satisfy a craving that might otherwise send you elsewhere.
How to Make Vegan Quinoa-Oat Bars
It's simple. You stir together the almond butter and agave nectar (the latter makes this a vegan snack), and then add the rest of the ingredients. These include chia and sunflower seeds, pistachios, quinoa, and oats. The ingredients are baked in a parchment-lined loaf pan. Then, you remove them from the oven to cool. Once they're cool, you slice them into six (or four, if you're feeling greedy) chunks and pop them into your prep containers. Voila!
Substitutions and Alterations
If desired, you can use peanut butter or cashew butter instead of almond butter for these quinoa-oat bars, but we like how almond butter tastes in these vegan quinoa-oat bars.
For those who aren't following a vegan diet, feel free to swap honey or maple syrup instead for agave syrup.
Feel free to mix in ⅓ cup of add-ins, whether that's mini chocolate chips, chopped ginger, or dried cranberries. (Bear in mind, however, that the total caloric intake and all the nutritional info will be different once you start tinkering with the recipe.)
Don't like pistachios? Double up on almonds and use those, or opt for pecans, walnuts, or cashews in this recipe. Just make sure to chop them well, so you don't have big chunks in these vegan quinoa-oat bars.
Add a dash of cinnamon, ginger, or cardamom when you're combining the ingredients.
Tips
Rolled oats are naturally gluten-free, but sometimes they are produced in a facility where other gluten-containing items are also found. So, if you need to follow a very strict gluten-free diet, source your oats from a certified gluten-free facility. It's usually indicated right on the package. (We happen to like the ones from Bob's Red Mill).
How to Store and Serve These Vegan Quinoa-Oat Bars
These will keep at room temperature for up to 5 days. We kind of like a snack that doesn't need the fridge, because with all this meal prepping going on, the refrigerator gets jammed in a hurry. Right?
Clementine segments make a great companion to these vegan quinoa-oat bars, but feel free to serve them with sliced apples, bananas, or even strawberries or blueberries. The bit of sweetness in the fruit plays nicely with the agave in these bars.
READ MORE: No Bake Chocolate Peanut Butter Bars. 'Nuff said.
Vegan Quinoa-Oat Bars Ingredients:
⅓ cup natural unsalted almond butter

¼ cup agave nectar

⅔ cup old-fashioned oats

⅔ cup quinoa

2 tablespoon chopped pistachios

2 tablespoon raw pepitas

1 tablespoon chia seeds

¼ teaspoon sea salt
For Serving
6 peeled/segmented clementines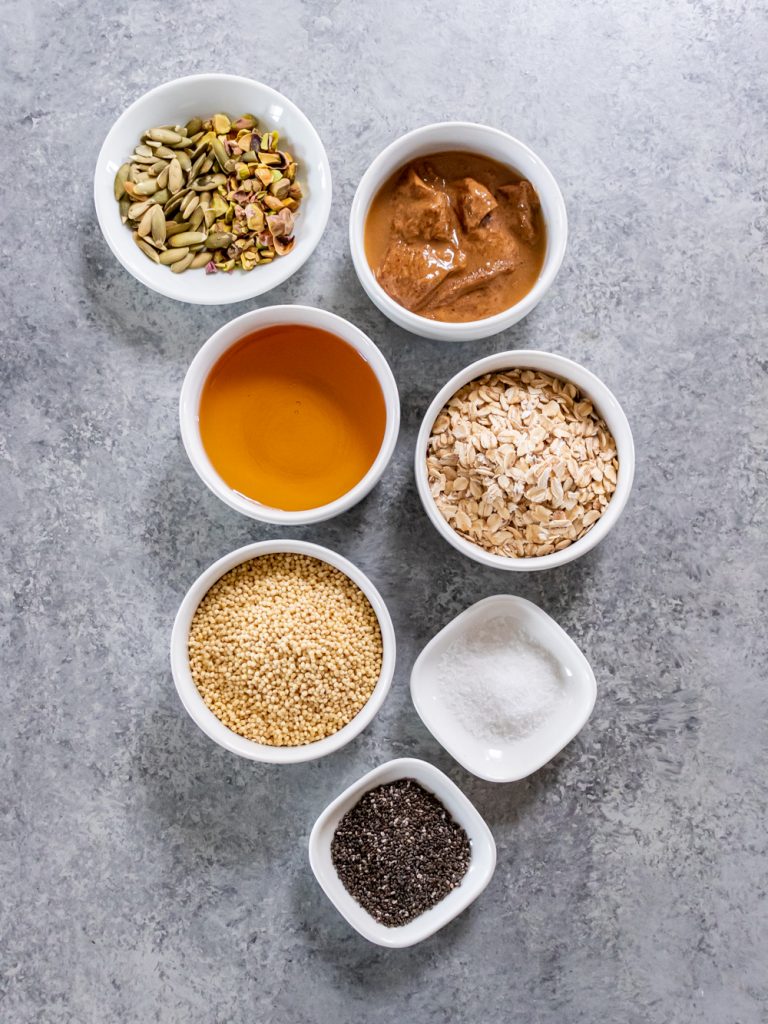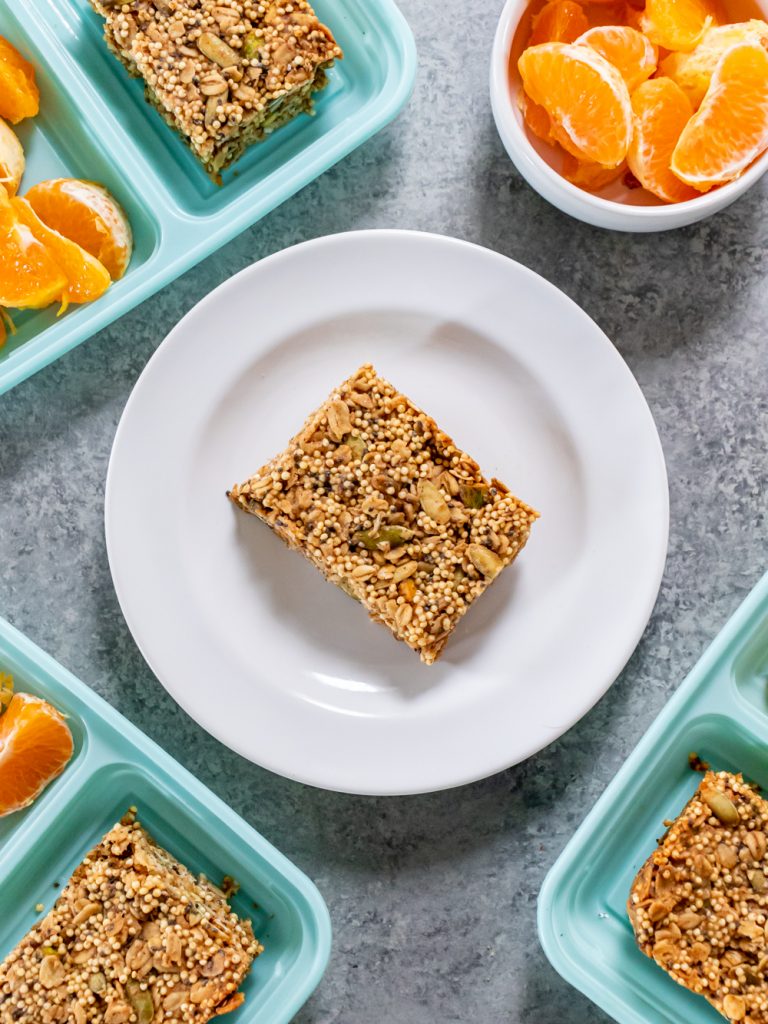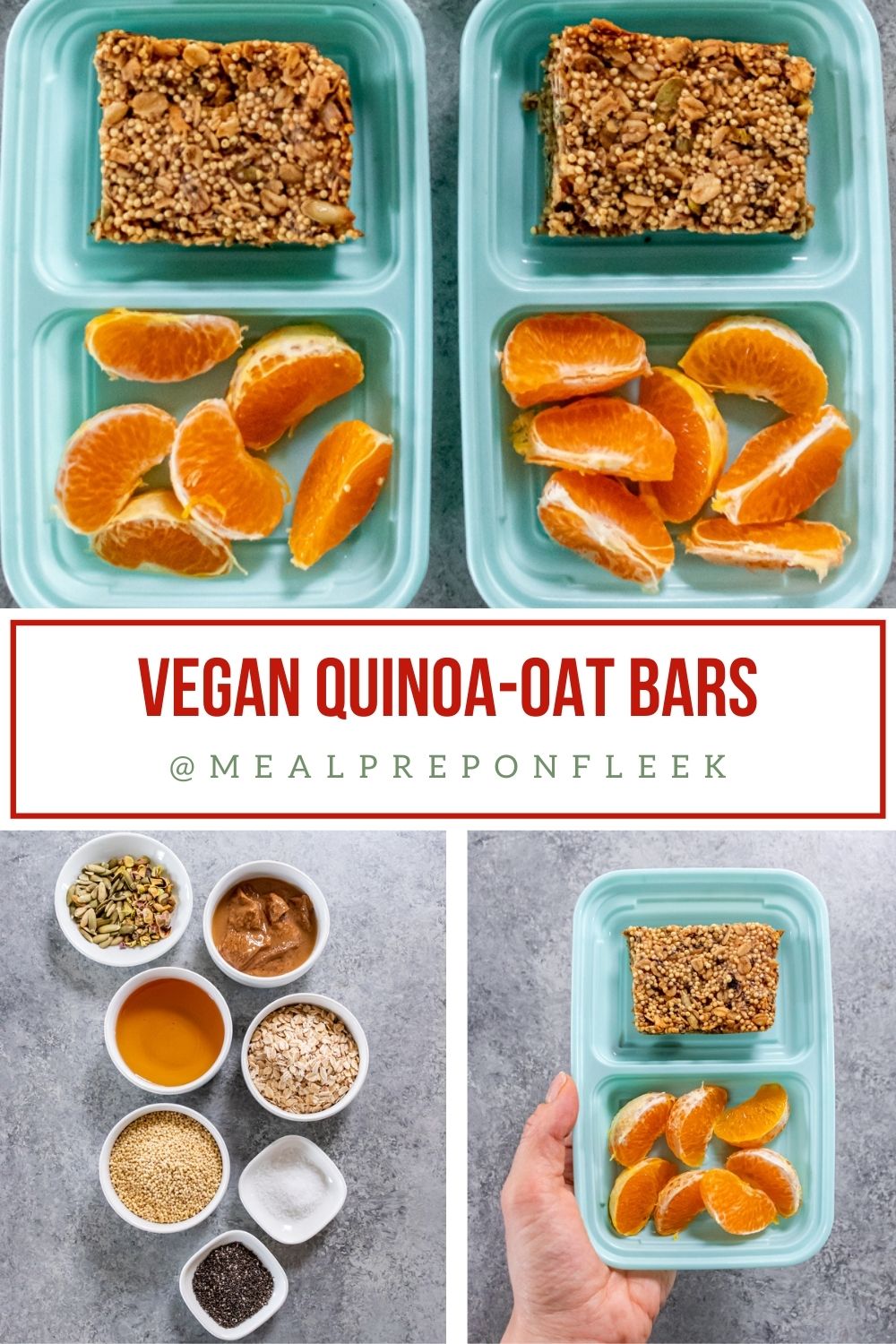 If you make these, please let us know what you think in the comments below!
Can't get enough snack bar combos? Try out these Sheet Pan No-Bake Paleo Energy Bars!