Thai Sweet Chili Pork Tenderloin Meal Prep
Ah, Bangkok—The world's most visited city! You won't have to spend $1500 or more on airfare to get a taste of authentic Thai cuisine though. Let MPOF be your travel guide and local food expert, with this Thai sweet chili pork tenderloin meal prep recipe!
About this Thai Chili Sauce recipe:
We all know that famous green-capped, rooster-adorned bottle of bright red Thai chili sauce. Unfortunately, that sauce, like many other Thai chili sauces found in stores, are loaded with processed sugar and preservatives. Plus they don't usually give a traditional flavor! Don't worry though, this Thai sweet chili pork tenderloin meal prep recipe gives a healthy solution to that problem—By incorporating honey as a natural sweetener, and rice vinegar as an unprocessed preservative!
Thai Sweet Chili Pork Recipe Health Notes:
This Thai sweet chili pork is good, and good for you! In just one of the six servings this meal prep recipe makes, you get a highly satisfying 35g of protein, and less than 450 calories (a perfect amount for a meal based on a 2000 calorie diet)! We also love it because the pork is marinated in coconut aminos, a healthy and very nutritious soy-free soy sauce replacement. While we recommend green beans as a side vegetable, feel free to substitute and go hog-wild (pun intended ??) with any other veggie you love! Enjoy with a side of steamed rice (ALL rice is gluten-free) or cauliflower rice for a lower-carb option.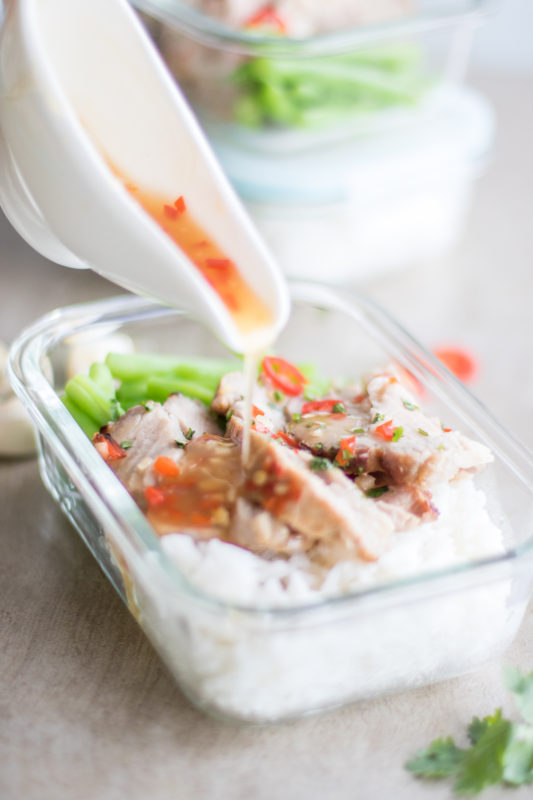 Pro Tip: We absolutely love the fact that this recipe calls for a baking process, instead of pan-frying! When we made this Thai sweet Chili pork tenderloin meal prep recipe, we found that the meat was given an absolutely delicious baked outer crust! To enhance flavor, feel free to marinate the pork longer than 30 minutes. In fact, we suggest you try marinating overnight so that authentic Thai sambal flavor gets really locked in.
We think this Thai sweet chili pork tenderloin would fit excellently into any one-compartment meal prep container. We found the combined flavors of the sauce, pork, and veggies to be complementary and delicious. However, a three-compartment meal prep container would work very well also, if you like to keep things separate. Need more clarification on containers? No problem, we all have to start somewhere! Check out our very own Ultimate Guide To Meal Prep Containers. There you'll find our top recommendations for both plastic and glass meal prep containers, plus real Amazon customer reviews.
There is actually a plethora of traditional Thai chili sauces (well over 20!), all possessing their own unique flavor profiles. The tangy sauce we'll be making today for this Thai sweet chili pork tenderloin most closely resembles what is known as sambal oelek—a chili sauce of Indonesian origin! Sambal oelek is traditionally made with a variety of peppers, minced garlic, and any other combination of shrimp paste, ginger, shallot, scallion, palm sugar, or lime juice. When made properly, sambal chili sauces can have an incredible umami flavor profile; the very same flavor profile of rare truffle mushrooms! For even more spicy umami goodness, check out our Coconut Sugar Sriracha Shrimp meal prep recipe!
Thai Sweet Chili Pork Tenderloin Meal Prep Ingredients:
1 ½- 2 lb pork roast or pork tenderloin
¼ cup coconut aminos
½ teaspoon salt
3 cups rice, steamed
3 cups green beans or favorite vegetables
Thai Sweet Chili Sauce:
1 tablespoon sesame oil
¼ cup red Thai chilis or red jalapenos, finely minced
2 tablespoons garlic, finely minced
1 cup water
½ cup honey (light colored has the lightest taste)
½ cup rice wine vinegar (unseasoned)
1 tablespoon arrowroot powder
¾ teaspoon sea salt
Ingredients
1

2lb

pork tenderloin

1/4

cup

Coconut Aminos

1/2

tsp

Salt

3

cups

steamed rice

3

cups

steamed green beans
Thai Chili Sauce
1

tbs

sesame oil

1/4

cup

red Thai chilis or red jalapenos, finely minced

2

tbs

garlic, finely minced

1

cup

Water

1/2

cup

Honey

1/2

cup

rice wine vinegar

1

tbs

arrowroot powder

3/4

tsp

Salt
Instructions
Prepare the Thai sweet chili sauce by adding the sesame oil to a small frying pan over medium high heat.

Add the minced chilis and garlic, and saute for about 5 minutes until both have softened.

Add the rest of the ingredients, including arrowroot, and whisk until the sauce begins to simmer and thicken. Set aside.

Marinate the pork roast with coconut aminos, salt, and ½ cup of the Thai sweet chili sauce. Allow to marinate for 30 minutes up to overnight.

Preheat oven to 425 degrees F.

Add the pork to a baking dish, and add all the marinade into the dish along with the pork.

Cover the baking dish with foil, and bake for 20-30 minutes, depending on the size of your roast.

Uncover, and baste with the juices. Allow to continue baking for 10-20 minutes, depending on desired doneness.

Serve with rice and vegetables, and drizzle with additional Thai sweet chili sauce.
Notes
Nutrition for 1 out of 6 servings:
35g Protein | 62.3g Carbs | 6g Fat | 3g Fiber | 446 Calories
Nutrition
Serving:
1
meal
|
Calories:
446
kcal
|
Carbohydrates:
62.3
g
|
Protein:
35
g
|
Fat:
6
g
|
Fiber:
3
g